Midseason grades for top transfers
January 24, 2014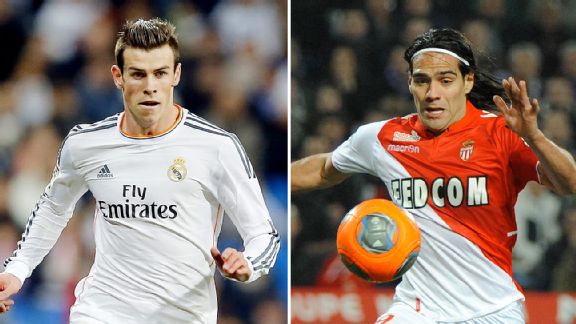 Getty ImagesHow have Real Madrid's Gareth Bale and Monaco's Radamel Falcao performed with their new clubs?
The 2013 summer transfer window was one of the most exciting in recent memory, with some of the world's premier players moving leagues for record fees. Moreover, the moves that were made in August and September continue to have a huge impact on domestic title races across Europe.
Many of the top transfers were acquired to provide immediate assistance to their new clubs, and their individual production thus far, or lack thereof, has directly affected their team's overall success. Further, although the top transfers and their former clubs all received big paydays, some players have quickly adapted to their new surroundings and flourished but others were slow to start and/or continue to struggle.
Here are my midseason grades for the 10 highest-profile transfers of the 2013-14 season.
---
Gareth Bale | Tottenham to Real Madrid | Fee: 91 million euros
It is virtually impossible for a player commanding the highest-ever transfer fee to exceed expectations, but Bale's eight goals and seven assists this season have proved that he is unaffected by that kind of pressure. The Welsh star is scoring goals at a faster rate (per 90 minutes) than last season, an impressive accomplishment considering that Bale also has successfully made the transition to the right side of the field with Real Madrid.
To read the rest of the article on why this is a defining week for Manchester City and how the team compares to last season, you must be an ESPN Insider.