Auditing the World Cup Power Ranks
December 24, 2013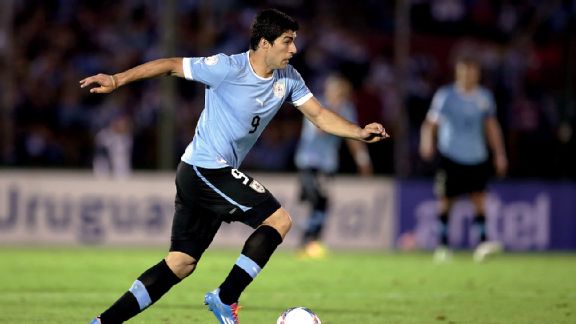 Allsport Should Luis Suarez and No. 10 Uruguay be higher in the World Cup Power Rankings?
Ranking World Cup favorites can be a very difficult task, as it is often filled with multiple variables. Talent, system and recent form are typically the main ingredients, but every World Cup champion catches a break or two in the tournament -- whether it is a favorable draw, avoiding a specific knockout-round matchup or simply having the fortune of catching a good team on a bad day.
That said, it's hard to doubt the placement of the four teams at the top of ESPN FC's World Cup Power Rankings, as all are loaded with talent at virtually every position. Brazil, Spain and Germany are all incredibly deep, while Argentina features three strikers who rank in the top five in scoring in three of Europe's best leagues.
The next tier of top teams (Nos. 5-10) may offer a more interesting debate, as there are clubs trying to return to that top tier (Netherlands, Italy), teams that are talented but unproven (Belgium, Colombia) and clubs that are consistently successful but have yet to take the next step (Uruguay, Chile).
In this second-tier group, a case could be made for overrated and underrated squads. Two teams that are particularly interesting are Colombia and Uruguay. Both teams are blessed with great attacking talent, and both utilize that talent in different ways to earn a place in our Power Rankings. However, Uruguay appears to have an extra level of versatility in its attack given its pair of world-class strikers, while Colombia struggles when one of its key attacking players is effectively marked out of a game, in addition its defensive issues.
Here's a look at both squads, why they are overrated or underrated, and where they should be ranked.
To read the rest of the article on why Spain won't repeat as World Cup champs in 2014, you must be an ESPN Insider.