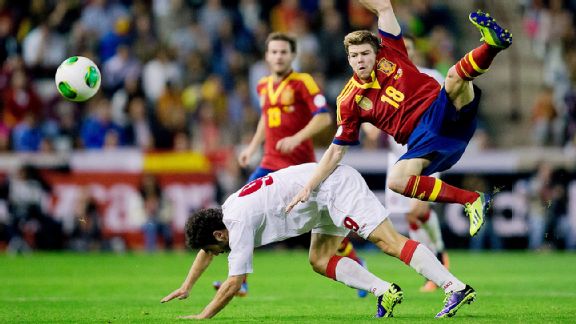 AllsportDoes Spain have what it takes to repeat as World Cup champions?
By and large, the modern era has been defined by Spanish football. The Spanish national team is the undisputed king of Europe after consecutive European Championships in 2008 and 2012, with a 2010 World Cup victory in between. The domestic league boasts two of the historically great European clubs, which feature the two best players of our generation.
Yes, it is impossible to deny the impulse to pick Spain as the favorite in the 2014 World Cup. But nothing lasts forever in world football, and that is evidenced in the history of the tournament itself. Italy (1934 and 1938) and Brazil (1958 and 1962) are the only teams to ever repeat as World Cup champions, and the last defending champion to even reach the final was Brazil in 1998. All four previous World Cups held on the continent were won by South American sides, with host nations winning twice (Uruguay in 1930 and Argentina in 1978).
Even before the draw, manager Vicente del Bosque repeatedly stated that he did not care where Spain was drawn in the tournament. He has that luxury, as Spain's individual talent alone could keep them competitive with any team in the field.
But Spain's ascent to the top of the football world has led to a seemingly endless string of friendlies and appearances over the past four years. After winning the World Cup in 2010, Spain immediately booked travel dates to play Mexico, Argentina, the United States, Venezuela, Costa Rica and Puerto Rico -- all before defending their European title in the summer of 2012. Add in the fact that the Barcelona and Real Madrid players are subject to a similar off-peak travel schedule and it is almost impossible for Del Bosque to enter Brazil with a team that has the mental stamina to continue absorbing every team's best punch.
This fatigue, along with the inevitable decline of some of Spain's key players and the slow regression of Spain's attack, will be what keeps La Roja from returning home with a second consecutive World Cup trophy.
To read the rest of the article on why Spain won't repeat as World Cup champs in 2014, you must be an ESPN Insider.