Can Liverpool sustain early success?
November 22, 2013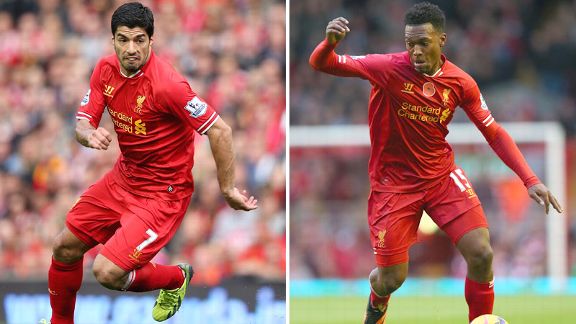 AllsportLuis Suarez, left, and Daniel Sturridge have propelled Liverpool to the top of the table.
When Liverpool signed Brendan Rodgers as manager in 2012, few Liverpool fans knew what to expect from the overachieving 38-year-old tactician. Rodgers, however, has been well-aware of the looming expectation for Liverpool to return to the Premier League's top four, and the Northern Irish manager is expected to deliver.
Rodgers became a public figure after leading Swansea to an 11th-place finish in the 2011-12 season. Although he surprised doubters with his team's ability to hold its own and even out-possess some of the best teams in the Premier League, some were skeptical about whether Rodgers could translate that success to a bigger club. Rodgers' teams were maligned for not being creative enough on the ball, and critics were quick to point out that even though the 2011-12 Swansea team averaged 58 percent possession, 31 percent of that possession was in the Swans' own half of the field.
That perception changed this season, as Rodgers is currently in charge of one of Europe's best attacking groups. Strikers Daniel Sturridge and Luis Suarez are tied at the top of the Premier League with eight goals each, while Steven Gerrard's four assists put him at the top of that category. Liverpool is now being hailed as an offensive force, and the tactical adjustments that Rodgers has made to accommodate his attacking players show that he can be one of the best managers in the Premier League. The Reds, who sit in second place in the standings heading into Saturday's derby match versus Everton, have proved they have an elite offensive attack. But will that be enough to push Liverpool to the top of the table at season's end?
Here's a look at the keys to Liverpool's early-season success, how the Reds stack up against a tough upcoming stretch of opponents, and whether they ultimately are a legitimate Premier League contender that can earn a Champions League berth.
To continue reading this article you must be an Insider