The undisputed two-sport champ
The Mag ranks 10 college football and hoops teams to find the ultimate No. 1
Originally Published:
September 24, 2013
By
Jeff Phillips
| ESPN The Magazine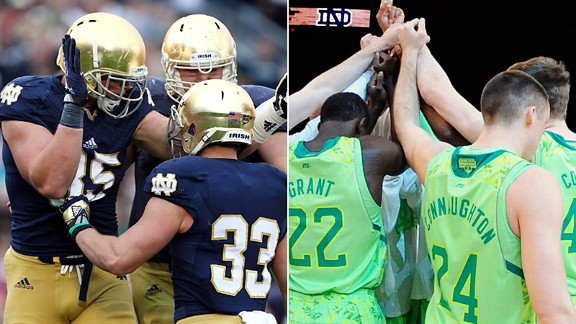 USA TODAY Sports, Getty ImagesFootball, not basketball, makes the money for Notre Dame.
FOOTBALL AND BASKETBALL rule college sports. Mind-blowing? No. But determining which programs reign on both the gridiron and the hardwood required The Mag to enlist someone supremely smarter than we are. Using our Ultimate Standings as a model, Jeff Phillips, principal at the Parthenon Group and alumnus of the MIT Sloan Sports Analytics Conference, identified three major categories of success and split them into nine factors: on-field performance (title track, head coach and schedule strength); off-field success (academics, recruiting and NCAA violations); and traditions of success (player success, stadium edge and revenue). For each factor, he analyzed data from the past 15 years (unless noted) to rank each FBS/D1 program against its 119 competitors and then weighted those results with an emphasis on title track, the category that most reflects an established winning program. [Ed.'s note: Georgetown is the lone basketball-only school that would've cracked that sport's top 25; 2,500 SportsNation voters helped shape stadium edge; and NCAA violations received a subjective grade.] Finally, Phillips combined the scores for each sport to get an overall ranking.
If your team didn't make the top 10, you'll just have to check out The Mag.
To continue reading this article you must be an Insider
Insider
ESPN The Magazine: September 30, 2013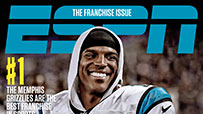 The Mag on Twitter | Facebook | iPad
FEATURES
COLUMNS
MORE
MOST SENT STORIES ON ESPN.COM