Crazy crap analytics can prove
Nobody likes a know-it-all. But when did you start caring about what people think? Get ready to annoy friends and win arguments!
Updated:
August 13, 2012, 4:36 PM ET
ESPN The Magazine
Andrew Luck won't save Indianapolis
By KC Joyner
IF INDY DRAFTS Andrew Luck No. 1, Colts fans had better hope history doesn't repeat itself. While the franchise has drafted a QB in the top overall spot four times (Peyton Manning, Jeff George, John Elway and George Shaw), only Manning and Elway reached elite status -- and Elway did so in Denver. Luck is not likely to end up a bust like Shaw (who was replaced in his second year by rookie Johnny Unitas), but a closer look at his numbers suggests he won't be like Manning either.
To find out why Andrew Luck won't save Indianapolis, why Floyd Mayweather will beat Manny Pacquiao, why Chris Paul is the best point guard in NBA history and more, become an ESPN Insider today!
Insider
ESPN The Magazine: March 5, 2012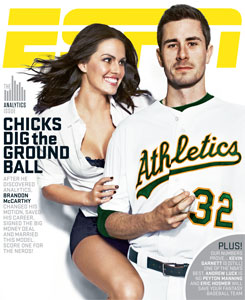 FEATURES IN THE "ANALYTICS ISSUE"

COLUMNS

MORE FROM THE ISSUE
MOST SENT STORIES ON ESPN.COM