Commentary
The Good Fight
Outside the cage, MMA stars like Jon Jones keep their skills under wraps -- unless a bad guy does a bad thing
Updated:
May 18, 2011, 7:38 PM ET
By
Alyssa Roenigk
| ESPN The Magazine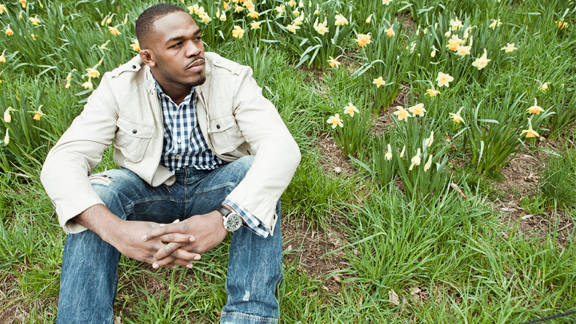 Elizabeth Weinberg for ESPN The MagazineOn the same day he stopped a mugging, Jon Jones became the youngest UFC champ ever.
This story appears in the May 30, 2011 issue of ESPN The Magazine.
A FEW HOURS BEFORE the biggest fight of his life, UFC star Jon "Bones" Jones and two of his coaches pull into a public park in Paterson, N.J. No matter the city or the opponent, before each fight, Jones seeks out a tranquil location to clear his mind, center himself and borrow energy from the surrounding beauty. Somewhere inside this lush Garden State park, a wooden bridge spans a stream beside a powerful waterfall. That seems like just the place to transport a man far from Newark's Prudential Center and the pressures of a first career title bout.
But before Jones can even undo his seat belt, he hears a woman's scream. Looking out the car window, he sees an older couple run past, shouting in Spanish and motioning toward another man several yards ahead. Jones had been warned that the park sits in a rough neighborhood known for gang violence and muggings. And now he's witnessing one.
To read the full story, you must be an ESPN Insider.
Insider
ESPN The Magazine senior writer
Alyssa Roenigk is a senior writer for ESPN The Magazine and ESPN.com whose assignments covering action sports, Olympics and football have taken her to six continents and caused her to commit countless acts of recklessness. In 2012, she joined the X Games TV broadcast team and ordered additional pages for her passport. Follow her on Twitter at @espn_alyssa.
ESPN The Magazine: May 30, 2011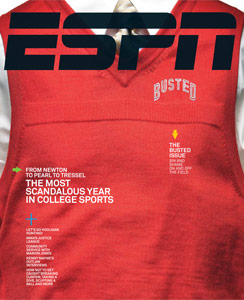 Features
Columns & Go/Play
MOST SENT STORIES ON ESPN.COM