Commentary
La Esquina: Five questions with Giants' prospect Gary Sanchez
The place to read about and talk Latino Baseball.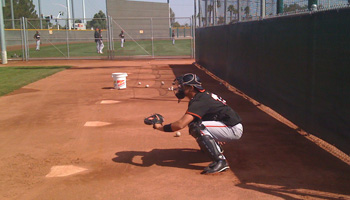 Jorge Arangure Jr.Gary Sanchez at the Giants' Scottsdale compound.
The rise of the Latino player in baseball has been well documented: Last year, more than 150 major leaguers hailed from Spanish-speaking countries. But the players themselves haven't received as much coverage. We aim to change that with "La Esquina Caliente" ("The Hot Corner" for you gringos), Insider's new blog devoted to all things involving Latino ballplayers. We'll follow the international amateur signing market and spotlight current Latino big leaguers. We'll also offer news and lighter, off-beat items. Think of it as your place to talk Latino baseball on the web.
To continue reading this article you must be an Insider
Insider
Senior writer for ESPN The Magazine
Joined ESPN in May 2007
SPONSORED HEADLINES
ESPN TOP HEADLINES
MOST SENT STORIES ON ESPN.COM