Commentary
2014 Recruit Tracker: OL
Michigan's offensive line class for 2013 is arguably the best in the country, but don't think the coaching staff is going to rest on its laurels. It already has begun to go after the top offensive linemen in the nation in the 2014 class.
The Wolverines have put out quite a few offers, though only one in state. But Michigan's offensive line offer list reads like a who's who in the 2014 offensive line class. Most Wolverines targets share offers with the Alabamas, LSUs and Oregons of the world.
Offensive Linemen
Needs: 3-4
MICHIGAN'S 2014 RECRUITING RADAR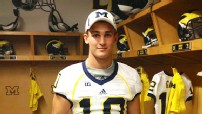 LB Michael Ferns was Michigan's first commit for 2014. Tom VanHaaren and Chantel Jennings have a look at the rest of the class and the players who either have offers from the Wolverines or could be in line for them.
Quarterbacks
•
QB tracker

Running backs
•
RB tracker

Wide receivers
•
WR tracker

Tight ends
•
TE tracker

Offensive line
•
OL tracker

Defensive line
•
DL tracker

Cornerbacks
•
CB tracker

Safeties
•
S tracker

MORE COLLEGE FOOTBALL HEADLINES
MOST SENT STORIES ON ESPN.COM