Fact or Fiction: UA Game edition
Making sense of the ever-changing recruiting rumor mill
Updated:
January 2, 2013, 11:16 AM ET
By
Jeremy Crabtree
| ESPN RecruitingNation
Thanks to recruiting, words like decommitment, soft commitment and silent commitment are now part of every college football fan's vocabulary. At the root of every one of these terms is the recruiting rumor mill. You can't go a day without a rumor erupting about what this five-star recruit is going to do, or if this blue-chipper is secretly committed to a school.
That's where RecruitingNation's mythbuster Jeremy Crabtree comes in.
Crabtree asked fans via Twitter (@JeremyCrabtree) and Facebook which questions they wanted fact-checked from the recruiting rumor mill surrounding the Under Armour All-America Game.
See which rumors are Fact ... or Fiction.
Want your recruiting questions answered? Be sure to submit yours to Jeremy Crabtree on Twitter @JeremyCrabtree using the hashtag #RecruitingRumors or on Facebook
To read more about if Tennessee has a shot at an elite inside linebacker or if Washington can land a highly coveted prospect, you must be an Insider.
Insider
RecruitingNation, Reporter
Jeremy Crabtree is a senior coordinator
Spent 12 years with Rivals.com/Yahoo! Sports
Graduated from Kansas State
UNDER ARMOUR ALL-AMERICA GAME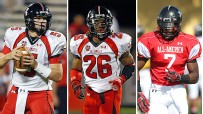 The nation's top football players faced off in the 2013 Under Armour All-America Game. Story
FEATURES
NEWS
VIDEOS
MORE FROM RECUITINGNATION
MORE COLLEGE FOOTBALL HEADLINES
MOST SENT STORIES ON ESPN.COM