Looking back at The Opening
Our scouts sort through the players who stood out
Quarterbacks
I still have concerns about
Max Browne
's (Sammamish, Wash./Sammamish) mechanics, but his aptitude and ability to understand concepts is very strong. He has got a big arm and can make all the throws. I am curious to see how quickly he can get rid of the ball when he's under duress, but those aren't things that can be judged in a seven-on-seven environment. Overall, Browne is a very productive player.
Christian Hackenberg
(Fork Union, Va./Fork Union Military) is as good as a gets from a physical standpoint, but can sometimes be inconsistent. He has got all the tools and sometimes he will make you jump out of your seat. Other times he's not quite where he needs to be on some of his reads.
THE OPENING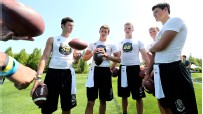 Many of the nation's top prospects battled it out at The Opening at Nike Headquarters.
Day 4
• Luginbill and Haubert: Who stood out


• Luginbill: QB, RB, WR review


• Luginbill: LB, DB review


• NFL stars teach more than just football
• Linemen get downright nasty at The Opening
• Day 4 notebook


• Lone reps from schools represent
• ESPN 150 LB Anzalone picks Notre Dame


• Four-star WR Jenkins picks Clemson


• Worst part about being recruited


• Strange things fans say


• Morris-Swoopes battle


• Hackenberg and Morris battle it out


• Browne-Hackenberg meet


• OL-DL one-on-ones: Morning session

Day 3
• How much is too much for recruits to ask for?
• Mitchell keeps low profile, but coming up big
• Day 3 notebook


• Henry, Kamara on a similar path
• Players impersonate coaches


• Hutchings groomed for success


• Day 3 one-on-ones: OL vs. DL


• WR Samples commits to Oklahoma State
• ESPN 300 OT Hunt picks Cal