Ultimate 300: Best class by position
Often, the focus of recruiting is on which team signs the best overall class in a given year, but here we have taken a look at programs that have had the most positional success since the first edition of the ESPN 150 in 2006 through the expanded set of rankings that are now known as the ESPN 300. It's essentially our ranking of the programs that have had the best long-term success signing players at each position over that eight-year span.
Of course, not all players remain with the school they originally sign to, but for the purpose of these rankings, the focus and direct credit goes to the programs that actually signed the talent. We also understand that players sometimes change positions from the ones at which they were recruited, but here we have kept the prospects at their projected positions coming out of high school. By keeping players at the position they signed, we recognize that the "athlete" category is the most difficult position to dissect for any program but can also show the value of positional development.
Tough decisions had to be made as many programs have a legitimate claim to signing the top position groups so we have added several of runners-up where they apply. This ranking should create some good debate, but also some fun discussion as looking back will remind us all of the thousands of players that travel through the process. Some pan out, some don't, but one thing is for sure—you will see in this list why schools sustain long term viability as continued success on the field year in and year out are reflected in our complied list of the top position groups by school over an eight-year period.
Best Quarterbacks Class: Georgia
• Matthew Stafford (2006, No. 5): One of UGA's all-time passing leaders; threw for 3,459 yards and then-school record 25 touchdowns in 2008.
• Aaron Murray (2009, No. 13): Four-year starter; SEC passing touchdown leader; SEC career passing yards leader; Georgia's all-time passing leader.
• Zach Mettenberger (2009, No. 123): Two-year starter for LSU after opting for the juco route. Signed in the same class as Murray.
• Nick Marshall (2011): Transferred to juco then Auburn; led Tigers to BCS national title appearance as first-year starter in 2013.
Honorable mention
Florida
• Tim Tebow (2006, No. 15): Heisman Trophy winner in 2007; two-time Maxwell Award winner; two-time national champion.
• Cam Newton (2007, No. 58): Transferred to juco then Auburn; Heisman Trophy winner, Maxwell Award winner and national champion in 2010.
• Jeff Driskel (2011, No. 10): Current Florida starter, productive when healthy.
• Jordan Reed (2009, No. 141): Moved to tight end and had a successful career.
Clemson
• Tajh Boyd (2009, No. 58): Three-year starter; 2012 ACC Player of the Year; All-American in 2012; two-time All-ACC; holds ACC record for career touchdowns.
• Kyle Parker (2008, No. 34): Two-year starter who then opted for baseball after being taken in the first round of major league draft.
Alabama
• AJ McCarron (2009, No. 36): Two-time national champion; Heisman Trophy finalist in 2013.
• Greg McElroy (2006): Led Alabama to a 14-0 record and national championship in 2009.
Ultimate ESPN 300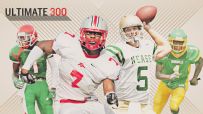 Since 2006, our scouts have evaluated thousands of prospects. Here's a look at
the best -- those we saw coming
and those who caught us by surprise.
EDITORS' PICKS
Louisiana's best earned a trip to The Opening.
Crabtree

ESPN Jr. 300 QB K.J. Costello commits to Stanford.
Story »

Is Georgia now producing the most talent?
Hamilton
MORE COLLEGE FOOTBALL HEADLINES
MOST SENT STORIES ON ESPN.COM