Commentary
Double take
The BCS championship isn't the only game featuring like-minded foes
Updated:
December 16, 2011, 10:36 AM ET
By
Alyssa Roenigk
| ESPN The Magazine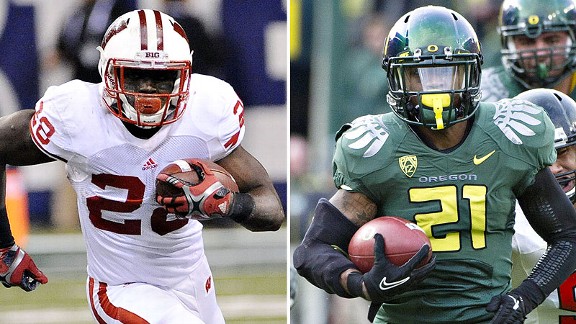 US PresswireBoth Rose Bowl participants possess elite running games.
THE BCS CHAMPIONSHIP on Jan. 9 is not the only game featuring two like-minded foes. but in the four other BCS Bowls, it's the differences between the opponents that will make the difference in the end.
ROSE BOWL GAME PRESENTED BY VIZIO
Wisconsin RB Montee Ball
Oregon RB LaMichael James
Jan. 2, 5 p.m. ET (ESPN)
Mirror Images: The Ducks and Badgers average more than 40 ppg (No. 3 and No. 4, respectively, in FBS) and attack with potent pass-run combos. QB Russell Wilson and RB Montee Ball accounted for 69 of UW's 79 TDs, and QB Darron Thomas and RB LaMichael James combined for 51 of Oregon's 79 scores.
Exact Opposites: Oregon is flat-out fast in its quick-snap spread, using gifted blocking wideouts to spring its backs on the perimeter. "We'll at least try to replicate their speed with scout teams," says Wisconsin coach Bret Bielema. Meanwhile, the Badgers' size makes up for mediocre team speed: The team's O-line outweighs the in-state Packers' by 56 pounds.
One Last Look: Oregon is known for its lame Duck results when teams have time to prep for Chip Kelly's offense. But UW struggles vs. the run (138 ypg) and will in Pasadena too.
To continue reading this article you must be an Insider
Insider
ESPN The Magazine senior writer
Alyssa Roenigk is a senior writer for ESPN The Magazine and ESPN.com whose assignments covering action sports, Olympics and football have taken her to six continents and caused her to commit countless acts of recklessness. In 2012, she joined the X Games TV broadcast team and ordered additional pages for her passport. Follow her on Twitter at @espn_alyssa.
ESPN The Magazine: December 26, 2011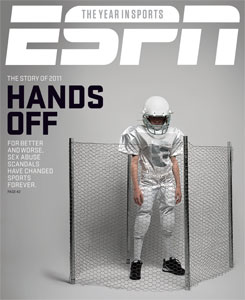 Features
More from the issue
MORE COLLEGE FOOTBALL HEADLINES

MOST SENT STORIES ON ESPN.COM