December, 19, 2014
Dec 19
10:15
PM ET
Associated Press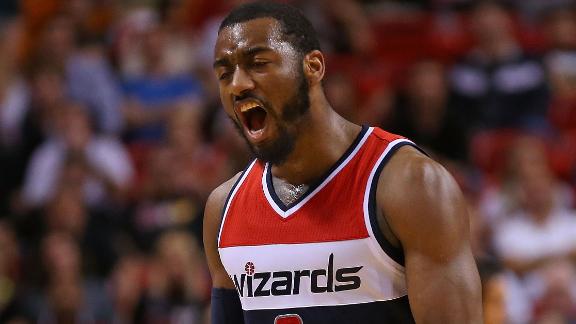 MIAMI -- John Wall scored 20 points and added 10 assists, Nene scored 20 off the bench and the Washington Wizards rallied to beat the Miami Heat 105-103 on Friday night.
Bradley Beal scored 16 and Paul Pierce added 14 for the Wizards, who won their sixth straight.
Dwyane Wade finished with 28 points for Miami, which dropped its fifth straight home game and is now 4-9 on its own floor this season. Luol Deng scored 19, Mario Chalmers had 14 and Udonis Haslem 11 for the Heat.
Miami had a shot to tie the game with 11 seconds left, but Beal intercepted a pass by Wade and made two free throws to clinch the win. Wade hit a 3-pointer as time expired.
The Heat led by as many as eight in the third and took a 79-76 lead into the final quarter, and the lead was still five midway through the fourth.
December, 18, 2014
Dec 18
11:11
PM ET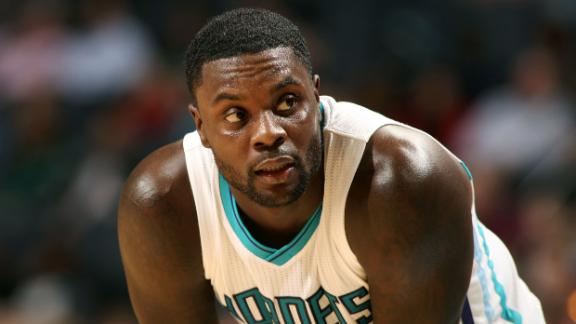 Underwhelmed by the quality of trade offers they've received for Lance Stephenson, the Charlotte Hornets have decided to keep the volatile guard "for now,'' according to league sources.
A stunningly poor start to the season, chemistry issues and Stephenson's sub-par play had led the Hornets (6-19) to explore trade possibilities for their prized offseason acquisition just a few months after signing him to a three-year, $27 million deal.
But while sources say as many as seven teams registered interest, including Miami and Brooklyn, no offers intrigued Charlotte and several teams that called did not make trade proposals.
Another factor in the Hornets' decision to keep Stephenson is their growing belief that a groin injury has hindered him all season and played a significant role in his lack of production. Stephenson is expected to miss the next two games because of the groin and did not travel to Philadelphia for Friday's game against the 76ers.
Charlotte feels the injury has affected Stephenson's movement and conditioning, according to sources, and that just as he was getting healthy, he reinjured the groin Wednesday against Phoenix. The Hornets want to rest Stephenson, let him heal and see if he can either fit in with Charlotte or re-establish his trade value.
December, 18, 2014
Dec 18
2:52
AM ET

By Michael Wallace
ESPN.com
Archive
MIAMI -- Apparently,
Dwyane Wade
can shake off a stomach virus with a few vintage performances but there's little he can do to remedy the headache that's become of this
Miami Heat
season.
Wade scored a total of 70 points over two games played in a span of 48 hours, and all he had to show for it Wednesday night was an injury-riddled, confidence-rattled team that squandered one of his best games in four years in yet another demoralizing loss at home.
After scoring 28 points in Tuesday's victory in Brooklyn, Wade battled through illness again Wednesday to put up a season-high 42 points in a 105-87 loss to the lottery-bound
Utah Jazz
. Despite the effort, the Heat were beaten badly again at AmericanAirlines Arena, where they are 4-8 this season and have dropped four straight at home by double-figure margins.
[+] Enlarge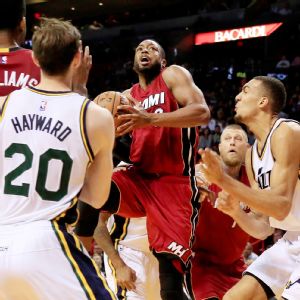 Robert Mayer/USA TODAY SportsWhen Dwyane Wade checked out of the game in the fourth quarter he had half (42) of the Heat's points.
For Wade, it's gotta be frustrating to feel this healed yet simultaneously helpless.
It's growing more difficult by the game to determine whether the Heat are this bad because they're hurting or whether they're hurting because they're this bad. Either way, Wednesday was a bit of a waste for Wade. The only thing that kept this from feeling like a
Los Angeles Lakers
game was the high level of efficiency from Wade, who was 12-of-19 from the field and 16-of-21 from the free-throw line.
But otherwise, this essentially had Kobe's fingerprints all over it.
By the time Wade left the game with less than two minutes remaining, he had scored 42 of his team's 84 points. Wade simply kept shooting, kept attacking, kept pressing because he was on a roll -- even as the Heat were getting steamrolled by a Jazz team that came in having lost nine of its past 10 games.
"You want to win games like that so you can feel good about yourself," Wade said after his first 40-point game since the 2012 playoffs and highest total since he scored 45 against Houston in 2010. "It's hard to feel good about yourself when you lose, even when you have a good individual performance."
It's the sort of disconnect that's beginning to painfully define the Heat's season, one that on Wednesday forced Wade to take solace in his game within the game. He needs help, but it likely won't come again at all this season from
Josh McRoberts
, who is scheduled for knee surgery next week. It may not come for a few more games from
Chris Bosh
, who missed his third game to recover from a strained calf.
And consistent help has yet to come from
Luol Deng
,
Danny Granger
,
Mario Chalmers
,
Norris Cole
or any of the primary players coach Erik Spoelstra has shuffled through on his way to using 11 different starting lineups this season, largely because of injuries. But this was a statement game from Wade.
Wade refused to bite on numerous questions after the game about whether there is enough adequate help on the roster to help avoid squandering one of his few remaining productive seasons. Instead, Wade steered his answers toward a focus on patience and perseverance.
What Wade no longer has time for are stretches in games when he sees waning effort.
"We don't have as much as other guys; we are depleted," Wade said. "We could put a better effort out. I can't say we're going to win every game or we are more talented than every team we are playing, but our effort can be there. This kind of effort as a group is just unacceptable for us. That is our problem."
That lack of effort has contributed to the Heat having trailed by at least 18 points at one stage or another in three consecutive home games. The lack of continuity has played a role in an offense that has sputtered along for most of the season with very little spark. And the lack of defensive disposition has led to the Heat stumbling from an elite unit to one that now ranks among the worst in the league.
There is no shortage of problems facing the Heat right now.
Answers, however, are another story completely.
"I don't have that right now," said Spoelstra, with the Heat off to their worst start in his seven seasons as coach. "That's what we're trying to figure out. It's not for a lack of want."
Only Wade got everything he wanted Wednesday. Well, aside from a victory to reward his effort.
"I don't have an explanation -- it's just disappointing," Wade said. "We wasted so much energy just trying to get back into the game. We just didn't have enough to get over the hump."
That hump presents a massing uphill challenge for the Heat in their current state.
This was hardly the way they wanted to start their climb back toward stability at the start of a seven-game homestand that continues Friday against the surging Wizards and is highlighted by a Christmas showdown with
LeBron James
and the
Cleveland Cavaliers
.
Wade insists he's healthy and completely over the strained hamstring that sidelined him for seven games earlier this season. He's since shown he can deliver a few breakout performances.
But they'll have little impact if the Heat continue to break down around him.
December, 17, 2014
Dec 17
10:12
PM ET
Associated Press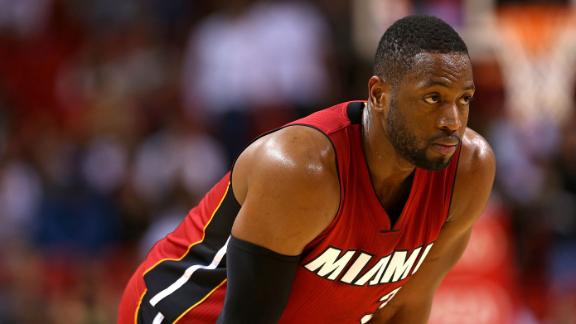 MIAMI -- Gordon Hayward scored 29 points, Enes Kanter added 18 and the Utah Jazz overcame 42 points from Dwyane Wade to beat the Miami Heat 105-87 on Wednesday night.
Alec Burks scored 12, Derrick Favors added 11 and Dante Exum had 10 for Utah, which won for just the second time in its last 14 games. Those two wins have come against last year's NBA finalists, San Antonio and now the Heat -- who are simply reeling at home.
Wade shot 12 of 19 for Miami, which has lost seven of its last eight home games and has dropped four straight on its floor for the first time since 2011. The Heat trailed by 17 in the first quarter and never recovered.
December, 17, 2014
Dec 17
12:21
AM ET
By Mike Mazzeo
ESPN.com
Archive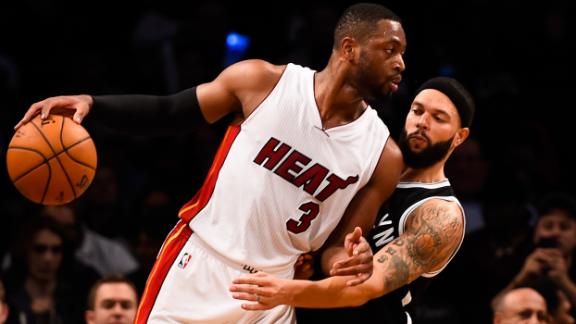 NEW YORK -- The
Brooklyn Nets
have had four chances to string together three straight wins this season -- and all four times, they've failed.
In yet another underwhelming showing, the Nets lost to the undermanned
Miami Heat
95-91 on Tuesday night at Barclays Center and dropped to 10-13 on the season.
"Because we're not good enough," Nets coach Lionel Hollins replied when asked why his team is 0-4 when going for three wins in a row. "You have to be good enough to win multiple games. You win two, then you lose. You win one, then you lose. You gotta be a good team, and we're struggling to be that right now. We're trying to be that, we're working at it, we're making progress, but we're just not there yet."
[+] Enlarge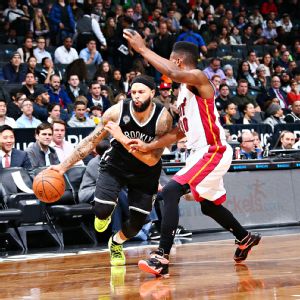 Reid Kelley/NBAE/Getty ImagesDeron Williams had 15 points and 11 assists in a team-high 39 minutes on Tuesday.
Asked about Hollins' comments, swingman
Joe Johnson
, who looked visibly frustrated as he walked off the court, replied: "I would agree. I just think we're only helping each other sometimes on defense, night-in and night-out, and it hurts us. Our pick-and-roll defense was pretty good, but we gave up a few easy baskets tonight, and we have to do better."
Added point guard
Deron Williams
: "We've just gotta play better on both ends of the floor, just be more aggressive. I think we've gotta pick up our pace a little bit, and avoid giving these teams runs. We give teams these massive leads, and we've gotta stop that from happening."
The Heat, who were without
Chris Bosh
,
Josh McRoberts
and
Danny Granger
, built an early 15-point lead on the Nets. That lead was 10 with 1:39 left, but became two after a quick 8-0 Brooklyn run. Still, the Heat were able to survive because
Bojan Bogdanovic
fouled
Luol Deng
as the two were fighting for a rebound with 11.8 seconds remaining and Deng knocked down the ensuing free throws to seal the deal. Plus,
Dwyane Wade
fought through a stomach virus and was the best player on the court, finishing with 28 points.
The Nets, on the other hand, shot just 39 percent and went 8-for-28 from 3-point range. They also had 11 opportunities for second-chance points and scored only five points off those 11 opportunities. Williams had two critical turnovers down the stretch as well. It appeared as though he tried to finish a dunk during the second half, only to realize he couldn't before laying the ball awkwardly in the basket. In his last three games, he's racked up 31 assists but shot just 8-for-31 from the field.
"I just think we have to do a better job as a team and as players," said Johnson after the Nets fell to 5-7 at home. "Whether it is getting your shots up when we have shootaround or before the game, we have to do whatever it takes. We can't be bad at home. This is where you have to come out and know you're going to get a win."
December, 16, 2014
Dec 16
11:08
PM ET
Associated Press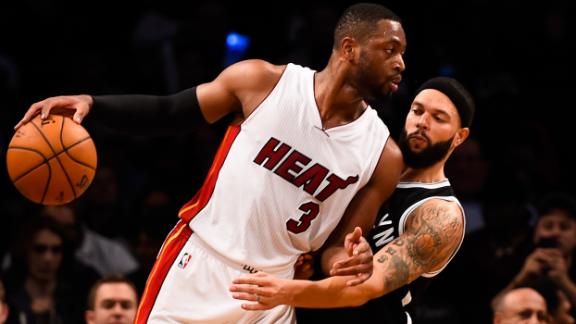 NEW YORK -- Dwyane Wade scored 28 points, and the Miami Heat beat the Brooklyn Nets 95-91 on Tuesday night.
The Heat had five players score in double figures, including three reserves. Starting forward Luol Deng had 18 points, and rookie Shabazz Napier scored 11.
The game was delayed for 29 minutes in the first quarter when the installation of a new green roof at Barclays Center led to a water leak.
Mason Plumlee had 21 points and nine rebounds for Brooklyn, and Joe Johnson scored 16 points.
December, 16, 2014
Dec 16
10:49
PM ET
By Mike Mazzeo
ESPN.com
Archive
NEW YORK -- Tuesday night's game against the
Miami Heat
began with a beautiful tribute to late "superfan" Jeffrey Gamblero.
Well done,
Brooklyn Nets
. Well done.
But things got worse from there.
A leak in the Barclays Center roof caused a 31-minute delay, and the Nets ended up losing to the shorthanded Heat for the second time this season, 95-91.
The Nets (10-13) have yet to win three games in a row this season.
One step forward and two steps back. ...
The Heat were without
Chris Bosh
,
Josh McRoberts
and
Danny Granger
.
Dwyane Wade
played through a stomach virus.
Deron Williams
had two critical turnovers late in the fourth quarter that cost the Nets a chance at a possible comeback.
Brooklyn used an 8-0 run to get within 93-91 with 35.1 seconds left, but
Bojan Bogdanovic
fouled
Luol Deng
as the two were going for a rebound with 11.8 seconds remaining, and Deng made both free throws to seal the deal.
Player of the game:
Wade scored Miami's first 10 points and finished with 28 overall.
Stat of the game:
The Nets shot 39 percent from the field and went 8-for-27 from 3-point range.
Play of the game:
The two that come to mind are
Mason Plumlee
's reverse dunk and
Sergey Karasev
's circus layup -- both in the first quarter.
Injury update:
Karasev suffered a left-side injury in the third quarter, and the team later announced he would not return.
Up next:
The Nets head north to take on the
Toronto Raptors
on Wednesday night at Air Canada Centre.
December, 16, 2014
Dec 16
8:32
PM ET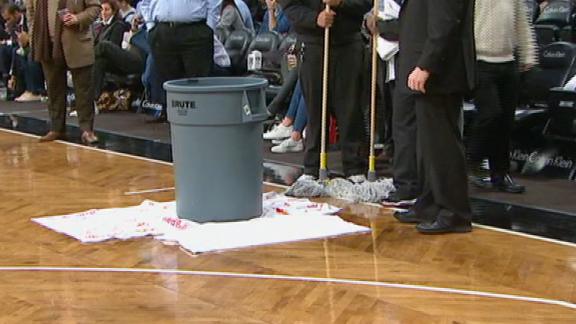 NEW YORK -- A leaky roof caused Tuesday night's Miami Heat-Brooklyn Nets game to be delayed 31 minutes.
Play at Barclays Center was stopped with 1:47 remaining in the first quarter and the Nets trailing the Heat 24-21.
A massive trash can was brought over to collect the water falling from the roof of the $1 billion arena, which was falling near the courtside seats opposite the Brooklyn bench. Towels placed on the floor were not enough.
Players shot around for a bit before heading back to the locker rooms while the problem was addressed. They returned after the floor was mopped up, and the trash can was removed. The Heat went on to win 95-91.
Center officials addressed the leak via Twitter:
Nets coach Lionel Hollins said the delay didn't contribute to his team's loss.
"We just stood out there and waited until they told us to go into the locker room -- and we did, nothing special," he said. "I don't think that [the Heat] did anything special, either. They just came out with more energy afterwards. I was saying to myself that I hope it didn't get postponed. I hate when games get postponed and you have to make them up. It just makes the schedule even tighter down the road, so that's what I was thinking."
Joe Johnson said some of the Nets watched the Golden State Warriors-Memphis Grizzlies game in the locker room during the delay.
"It was a little weird, but it's part of it," Johnson said.
December, 15, 2014
Dec 15
3:17
PM ET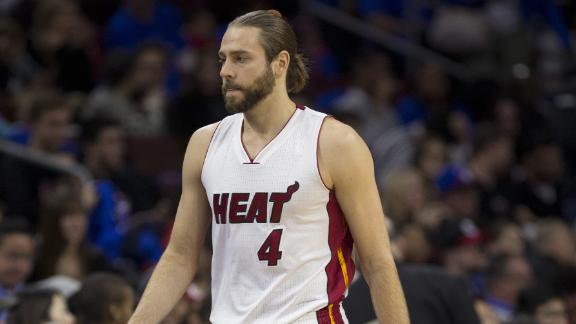 MIAMI -- An already injury-riddled Heat team absorbed two significant blows Monday, with Josh McRoberts likely lost for the season to a right knee injury and All-Star center Chris Bosh sidelined indefinitely with a strained calf.
Heat coach Erik Spoelstra announced the status of both players after Monday's practice, a session in which the team had just eight players available in advance of Tuesday's game in Brooklyn. The Heat also could be without star guard Dwyane Wade, who missed Monday's practice with a stomach virus.
"Injuries are a part of this game -- how you respond to adversities, to things that are tough, that's what reveals your collective character as a group," Spoelstra said. "I told the guys there will be brighter days. It always usually evens out at the end. We're being hit pretty strong with the injury bug right now."
The Heat (11-13) are off to their worst start in Spoelstra's seven seasons as coach and now face the challenge of moving forward for the next several weeks with a severely depleted roster. McRoberts, one of the team's top free-agent additions this past summer after the departure of LeBron James, is scheduled for surgery to repair a torn meniscus within the next few days.
McRoberts injured the knee late in the fourth quarter of the Heat's win in Phoenix last Tuesday when he fell awkwardly to the court while pursuing a loose ball. He played in 17 games this season and averaged 4.2 points, 2.6 rebounds and 1.9 assists, but had been recovering from one injury or another since he signed a four-year, $23 million deal with the Heat in July. He had toe surgery in the offseason and was also limited through the initial months of the season with foot and back injuries.
"You have to fight yourself from [feeling sorry]," Spoelstra said after McRoberts' tear was confirmed following an MRI on Monday. "It was a kick to the gut when we heard about Josh. You feel for him more than anything, because he wanted to come in here and contribute. And you started to see flashes of it."
The Heat aren't certain when Bosh will be healthy enough to return. Miami's leading scorer and rebounder, Bosh felt his left calf tighten after the Heat's victory in Utah on Saturday, and he was held out of Sunday's blowout loss at home against Chicago. Until then, Bosh had been the only starter to play in every game of the season for the Heat, who have used 10 different lineups through 24 games.
Bosh was on the practice court Monday but was limited to free throw shooting. He did not travel with the team to Brooklyn on Monday afternoon, with Spoelstra saying Bosh would focus on rest and treatment for the immediate future. Bosh did not speak to the media after Monday's practice, but he said Sunday night that he would err on the side of caution as he recovers from the strain.
"It's a wear-and-tear thing that kind of sprung up on me," said Bosh, who is averaging 21.6 points and 8.2 rebounds. "It just seems to be a dark cloud over everything right now. Everything seems to be tough. You have to find a way to deal with the tough times right now, find out a way to keep everybody mentally stimulated around here. I'm going to make sure I do what's necessary to get back."
The lack of continuity has had a crippling effect on the Heat, whose preferred starting lineup of Bosh, McRoberts, Wade, Norris Cole