Biggest questions for next three years
June, 21, 2013
6/21/13
7:54
AM ET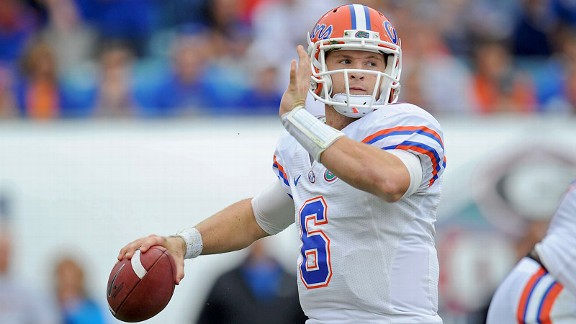 Kevin Liles/US PRESSWIREFlorida quarterback Jeff Driskel has the Gators in prime position to contend for an SEC title.
In one sense, college football in 2013 finds itself at a crossroads. The sport is on the eve of a new playoff system that, even if it is not further expanded, alters the method by which a champion is crowned. I know coaches who like things the way they are, some who don't care either way and some who can't wait for the change. That divisiveness should only further entrench itself once the first event arrives in early 2015.
In another sense, though, college football -- at least for those residing outside the South -- is in need of a shakeup. The Southeastern Conference has won its seventh consecutive national championship. It's getting more and more difficult to recall seasons when the SEC didn't win. The running narrative in the sport these days is about someone knocking the league from its pedestal.
We'll get to that in a moment, as we look at college football's most pressing questions for the next three years, which correspond with the three-season window we used in our
Future Power Rankings
released this week.
---
1. Will there be high-profile job openings in Austin and L.A.?
Mack Brown and Lane Kiffin are still employed by their respective institutions, but will that be the case by 2016?
Brown is just 61, but he nearly retired a couple of years ago and feels closer to his North Carolina mountain home than his age might suggest.
The endgame could play out a couple of different ways. The Longhorns win a Big 12 title and get into a BCS game or the playoff, and Brown could leave on top. Another middling year or two, and the retirement might be encouraged by the Exes.
[+] Enlarge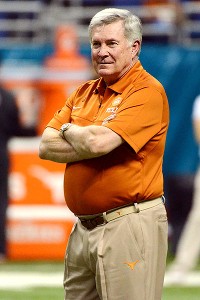 Brendan Maloney/USA TODAY SportsHow many more seasons will Mack Brown be at Texas?
What then? I suggested Art Briles to Twitter as a replacement, and had OU fans' attention. They said that would be an alarming thought. But someone sensibly reminded me that Briles is only a couple of years younger than Brown, so that wouldn't be a strong move for the extended future.
Presuming UT wants to go younger, who fits the bill? You know TCU's Gary Patterson would be vetted, but is the blossoming spot he has created in Fort Worth already enough for him? You name any high-end targets -- Will Muschamp, even Nick Saban -- and no one's off limits with the truckloads of cash in play.
It would be bold of the Horns to take a chance on a younger guy with a Texas background, someone like Chad Morris. But you'd figure the Clemson offensive coordinator, 44, would need to cut his teeth somewhere as a head coach before going into that big of an undertaking. Gus Malzahn did the same before being hired at Auburn, temporarily stationing himself at Arkansas State.
As for Kiffin, he still has some time left to resuscitate USC. From what I'm told by those who know L.A., he will likely get until the scholarship limitations are not an issue so he's at least playing with a full deck. But to be clear, going to and losing the Sun Bowl after you're expected to be a conference and national title contender is never a good look.
You saw it some in 2012, but this coming season is when the depleted roster could really affect depth. Maybe they'll be a surprise because there's still plenty of talent in place -- but things have to go just right, especially when it comes to health.
This current roster aside, bigger questions still hover over Kiffin's career as a whole. He was 5-15 with the Raiders and he has two seven-win college seasons -- one at Tennessee and one with USC -- when postseason-eligible.
"At some point, you look up and say, 'Wait, what has this guy really ever done as a coach?'" one coach told me. "I like the guy, but that isn't the standard we're judged by, whether you're a good guy or a cool guy. I don't think that's going to cut it at USC."
What would? Chris Petersen would be a good place to start if you're Pat Haden. Evidently, according to those who know him, Petersen has admired USC's tradition and stature from afar for a number of years. And I'm told he was left a touch bitter by not getting more of a look at Oregon when Chip Kelly was hired. USC might suit him well, if he ever does want to change scenery.