Five QB battles that could produce stars
April, 3, 2013
4/03/13
11:39
AM ET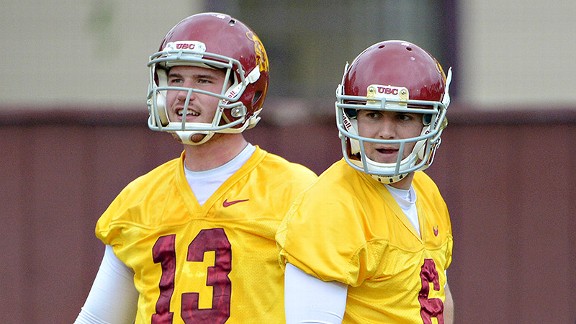 Kirby Lee/USA TODAY SportsMax Wittek (left) and Cody Kessler both have what it takes to be USC's starting QB this fall.
A year ago, we were only beginning to hear about Oregon quarterback
Marcus Mariota
. And Texas A&M's
Johnny Manziel
was not a known commodity, really, until the 2012 season started -- or just before it, when he won the starting job.
Much has changed the past year. Manziel, as a freshman, won the Heisman Trophy, and Mariota could be a dark-horse candidate to win the Heisman this fall as a sophomore.
So sometimes it doesn't take long to go from battling for a starting QB job to college football stardom. On the other end, the players who were competing with Mariota (
Bryan Bennett
) and Manziel (
Jameill Showers
) since have transferred.
What about 2013? Are there breakout candidates among those vying this spring and summer for starting QB spots? And could offensive systems or surrounding casts -- Manziel and Mariota were certainly beneficiaries, independent of their own talent -- be assets to boost these first-year starters?
Here are the nation's top five quarterback battles that could produce stars this fall.
---

Leader:
Max Wittek
In pursuit:
Cody Kessler
Let's be honest: Throwing to wide receiver
Marqise Lee
should make a star out of whoever wins what is a blossoming duel between Wittek and Kessler. And it is a blossoming battle, because Kessler is making it one.
Some presumed Kessler might transfer after Wittek got the bulk of the late-season snaps when
Matt Barkley
went down with a shoulder injury. That presumption really took hold with highly regarded freshman
Max Browne's
enrollment in January.
But Kessler showed guts in staying, and that fortitude has extended to the spring. WeAreSC's Garry Paskwietz posted earlier this week that coach Lane Kiffin has been
highly complimentary
of Kessler, admitting that he's pushing Wittek -- whose 52.2 completion percentage, 5.62 yards per attempt and 3-to-5 TD-to-INT ratio in relief of Barkley did, in fairness, leave the door open.
Of course, when dealing with programs like USC, it's important to remember that Kessler is not just some dude who rolled in from out of nowhere. He was a prep All-American who got a look from Alabama.
"I have to look twice sometimes to see who just threw the last pass," USC receivers coach and former Tennessee QB Tee Martin told me. "[Wittek and Kessler] are both doing that well. We're going to have a good quarterback, no matter who it is."
Martin also didn't dismiss how well Browne has done in his first spring.
"We treat these guys like they're NFL guys, even the freshmen," he said. "We throw the whole playbook at you. He's done really well. He's a sharp guy."
---

Leader:
Clint Trickett
In pursuit:
Jameis Winston
Trickett had some experience relieving
EJ Manuel
, but Winston is the player whom most people close to the program are buzzing about -- and that's with Winston's focus theoretically divided between pitching for the baseball team and spring football practice.
What would seem to be a distraction actually has started to become a point in Winston's favor because he's handling his responsibilities so well. That, after all, is the only way coach Jimbo Fisher would sign off on the incredibly difficult two-sport commitment. Fisher has told reporters that Winston will not miss a meeting or practice in lieu of baseball; football is still the priority, because Fisher has plans for the young Alabamian.
ESPN NFL analyst Trent Dilfer, who worked with Winston a couple of years ago at the Elite 11 camp, told reporters at this past Super Bowl that he sees Winston as an emerging "rock star" and a future No. 1 overall draft pick.
"I know what's coming," Dilfer said of Winston, who went viral this winter for airmailing a football over a frat house from across the street.
From the sounds of it, Winston is Manuel -- but with the turbo button held down.
---

Leader:
Blake Bell
In pursuit:
Trevor Knight
It felt like
Landry Jones
was going to stick around and be Bob Stoops' all-time quarterback. Alas, his time ran out.
A year ago, especially after a strong spring game performance, it was assumed that Bell would be the successor. But Knight, who enrolled in June 2012 despite the fact he initially wanted to go to Norman in January, has been coming on strong.
When I was in town a couple of weeks ago, those who follow the program told me they thought the Knight talk was more than lip service. Some are even tossing around the idea that he might be some sort of "Johnny Football-lite." It is extremely early for those comparisons, but it does give you the idea that the Oklahoma offense could look a bit different this fall.
Really, the Sooners' offense figures to have a running element either way. That's what Bell, a junior, is most known for at this point in his career. The 6-foot-6, 255-pound hulk has already run for 24 touchdowns in the "Belldozer" short-yardage package.
However, don't believe that he's just a one-trick Sooner. One Big 12 coach I spoke with last fall theorized that OU might have been better off playing Bell over Jones, just because of the element of surprise -- and because Bell's arm is more effective than you might think.
---

Leaders:
Jared Goff
,
Austin Hinder
,
Zach Kline
The Bears and first-year coach Sonny Dykes already had their spring game, and it didn't give much of an indication as to which of the three quarterbacks has the lead entering the summer. Goff threw 15 times, Kline 14 and Hinder nine.
Perhaps Cal is this season's version of Oklahoma State -- with all three QBs getting playing time. Hinder, a junior, is the veteran, but Dykes got a long look this spring at Kline, a redshirt freshman, and Goff, who just arrived in January.
Goff, a top Elite 11 performer who had offers from Boise State and Washington State, was the first quarterback in the spring game. He reportedly faltered some on deep throws, but no worries -- there's time (and opportunity) to refine.
While playing for Dykes last season at Louisiana Tech,
Colby Cameron
ranked fifth in the country in attempts (522). He also ranked seventh in the country in yards (4,147) and tied for 12th in touchdowns (31).
Regardless of who lands the starting QB position, expect monster numbers this fall. That, after all, is why Cal went after Dykes. It was tired of having highly rated quarterbacks and skill players but putting up unsexy results (relative to the rest of the offensively driven Pac-10/Pac-12).
The Bears ranked seventh in the league last season in yards per play (5.75) and eighth in yards per pass attempt (6.83).
---

Leader:
Justin Worley
In pursuit:
Nathan Peterman
This will be a position to watch for a couple of seasons as Butch Jones settles into his Knoxville digs. Worley, a sophomore, and Peterman, a freshman, could not have felt great about the Volunteers signing two quarterbacks in the 2013 class. But it will take time for
Josh Dobbs
and
Riley Ferguson
to get a feel for the offense, so Worley or Peterman could be entrenched by then.
Or perhaps not.
Worley is a mercurial case. He put up silly numbers in high school (13,385 yards, 157 TDs) and won the Gatorade National Player of the Year award two seasons ago -- even though
Jadeveon Clowney
played ball across talent-rich Rock Hill, S.C., from Worley. Yet the in-state schools did not really look Worley's way, as the Vols were his only major offer.
It wasn't anything personal, people in the Palmetto State have told me; Clemson and South Carolina were set at QB and he did not figure into their plans. Derek Dooley liked Worley, and Jones told me in February that he does, too. Then again, he did sign those two freshmen.
Haven't heard of Peterman? Don't worry. One of my friends on the beat joked that there are a lot of unsung types in the mix for positions. A part of it is the fairly bare offensive cupboard that Jones and offensive coordinator Michael Bajakian have inherited. And a part of it is how Tennessee's staff is encouraging competition this spring. This should be Worley's job. How long he has it is up to him -- and how much the newcomers push him.
---
Other notable quarterback situationsArkansas Razorbacks:
In addition to the new coach on the sideline this season, there will be a number of new faces on offense. That includes the QB position, where
Brandon Allen
and
Brandon Mitchell
are competing this spring.
[+] Enlarge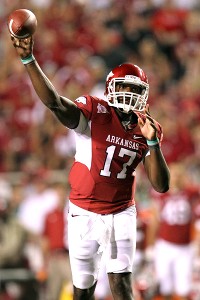 Nelson Chenault/US PresswireSenior Brandon Mitchell is battling sophomore Brandon Allen for the starting QB job at Arkansas.