Will Penn State suffer SMU's fate?
July, 26, 2012
7/26/12
12:02
PM ET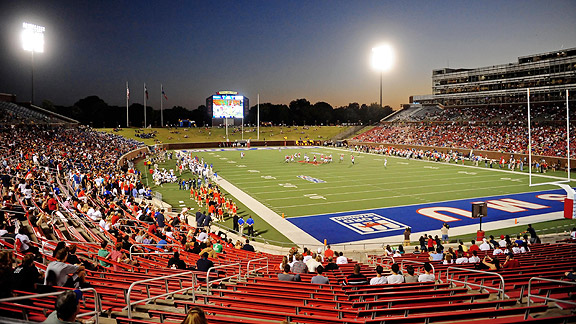 Mark J. Rebilas/US PresswireIn the early 1980s, SMU won 45 of 51 games in five years. It has had three winning seasons since its famed suspension.
DALLAS -- For just a few minutes Tuesday morning, Gate 3 at Gerald J. Ford Stadium was ajar. It created a short window for a peek inside SMU's football home. The stadium was quiet and empty, just as you'd suspect on a late-July morning.
It has been 24 years since it was just this quiet and empty during the football season, since the NCAA handed down the so-called "death penalty" on the program. It was a successful program -- the Mustangs had gone 45-5-1 in the first five years of the 1980s -- but it was also a program teeming with corruption, built by bucks and bullying.
A lot of time has passed, sure, but there are always reminders of that dark and damning time on the north side of Big D. Some reminders are starker than others.
Penn State on Monday was given an "unprecedented" catalog of punitive swats from the NCAA, a leveling that hasn't been seen, really, since what happened here, even if the sickening crimes at Happy Valley were far, far different than the football-related offenses at SMU.
As we currently sit, there is no real way to know what the long-term effects, or even those in the shorter run, will be at Penn State. But we could have an idea. By looking at SMU, even if it isn't a perfect comparison, it might just provide some perspective on what's to come at PSU.
While Nittany Lions coach Bill O'Brien, in an unimaginably difficult spot, has said the Penn State sentence is better than the SMU death penalty -- "We're still playing," he told reporters Tuesday -- others believe the penalties might have a very similar impact to what has happened in Dallas.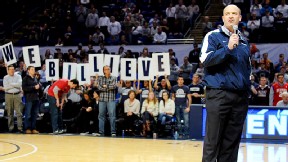 AP Photo/Centre Daily Times, Abby DreyBill O'Brien will now need recruits to believe.
Tom Rossley is uniquely qualified to make the connection. He was the offensive coordinator at SMU in 1989, its first year back after the shutdown.
That first season back, the Mustangs made the decision to play with only freshmen. That was probably a mistake, said Rossley, now 65 and retired in the Texas Hill Country. The team was then playing in the Southwest Conference -- Texas, Texas A&M and Notre Dame were among the opponents that first season.
"We ran out of strength," Rossley said. "We couldn't stay with them." He added there were an inordinate number of injuries, many requiring surgery, because so many young players were being put into use when they were too small, too inexperienced.
While Penn State will not be left with solely freshmen, the 2013 and 2014 rosters could potentially resemble a similar disaster.
That hinges, to some degree, on O'Brien and his staff's ability to retain the current players -- the younger players, more specifically. While some veterans have pledged to stay, the young talent is the key to this whole challenge for O'Brien, several coaches agreed this week. (Of course, most of those coaches would probably accept a call from a willing-to-transfer PSU player.)
"



There's not a lot you can sell. [The players] can read just like everybody else. [The Penn State coaches] are going to have to do a heck of a sales job.



"


-- Texas Tech head coach Tommy Tuberville