The GM's Office:

winter meetings
February, 17, 2015
Feb 17
12:51
PM ET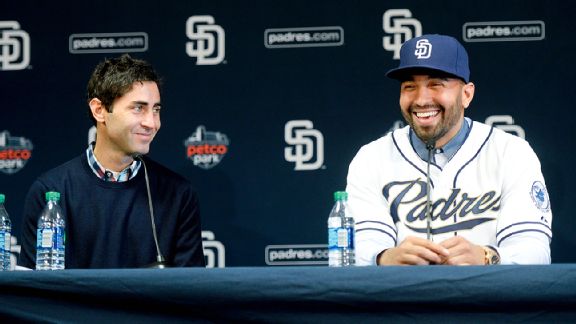 Andy Hayt/San Diego Padres/Getty ImagesA.J. Preller's acquisition of Matt Kemp was only part of a busy offseason for the Padres.
Report card time! With most of the offseason moves complete, it's time to check in and see how teams graded this offseason. My
last check-in was Dec. 12
, just after the crazy winter-meetings week of moves, but plenty has changed since then.
With that, here are my final offseason grades, including key additions and an explanation. I've ranked them from best grade to lowest:

1. San Diego Padres
Key additions:
James Shields
,
Matt Kemp
,
Justin Upton
,
Wil Myers
,
Derek Norris
,
Will Middlebrooks
Padres GM A.J. Preller had perhaps the best offseason of any rookie GM in baseball history, wheeling and dealing while making San Diego not only relevant again but a serious contender for the NL West title or a wild-card berth.
December, 12, 2014
12/12/14
2:54
PM ET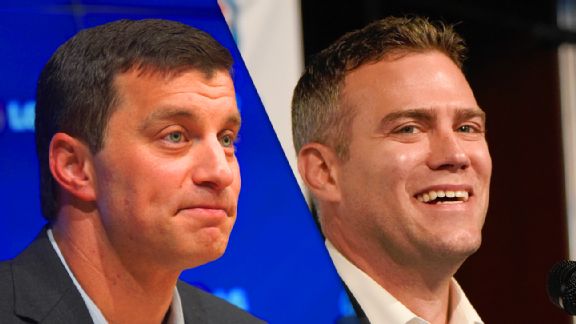 Getty ImagesAndrew Friedman (Dodgers) and Theo Epstein (Cubs) were busy during the winter meetings.
With the (transaction-filled) winter meetings complete, it's time to check in on how teams have done so far this offseason. Below, each team received a letter grade, with explanation. There's plenty of action left to happen, of course, but with the number of moves already made, it's time for a "mid-offseason" progress report.
AL East

Baltimore Orioles -- Grade: D
The Orioles have made no signings or trades this offseason. They weren't willing to go four years on
Nelson Cruz
and were concerned enough about
Nick Markakis
' neck situation that they let both players go via free agency. The Orioles have been working hard to replace at least one of them -- they have been in contact with the Phillies on
Marlon Byrd
and with free agent
Michael Morse
-- but so far have fallen short. For a team that was just in the ALCS, it has been a disappointing offseason.
---

Boston Red Sox -- Grade: B
The Red Sox flubbed the
Jon Lester
situation, losing him to the Cubs. However, they have solved third base with one of the game's best postseason performers in
Pablo Sandoval
and added an impact middle-of-the-order bat in
Hanley Ramirez
.
To continue reading this article you must be an Insider
December, 5, 2014
12/05/14
10:20
AM ET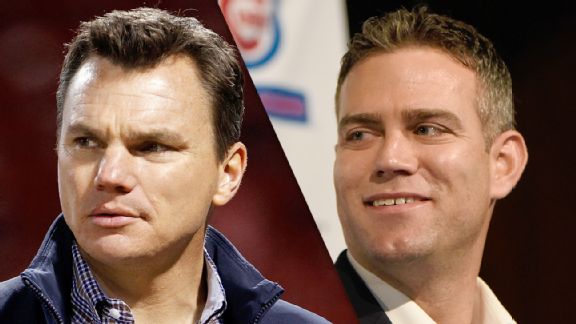 Getty ImagesBen Cherington (Red Sox) and Theo Epstein (Cubs) figure to be busy at the MLB winter meetings.
With the MLB winter meetings right around the corner, there's no better time to check in and look at where all 30 MLB teams stand as of now.
Below we examine each team, using five categories: biggest needs, the current free agents they could be interested in, players they might be interested in trading for, their players on the block and their "aggressiveness scale," which is how aggressive we expect each team to be at the winter meetings only, with 1 being least aggressive and 10 being most aggressive.
Baltimore Orioles

Biggest team needs:
Outfield and bullpen help
Free agents they could be interested in:
Melky Cabrera
,
Andrew Miller
,
Colby Rasmus
,
Michael Morse
,
Norichika Aoki
,
Alex Rios
,
Delmon Young
,
Kendrys Morales
,
Luke Gregerson
,
Sergio Romo
,
Rafael Soriano
,
Francisco Rodriguez
,
Casey Janssen
,
Pat Neshek
,
Jason Grilli
Trade options:
Matt Kemp
,
Andre Ethier
,
Carl Crawford
,
Justin Upton
,
Yoenis Cespedes
,
Dayan Viciedo
,
Brandon Moss
,
Dexter Fowler
,
Charlie Blackmon
,
Carlos Gonzalez
,
Nick Swisher
,
Marlon Byrd
Players on the block:
Ubaldo Jimenez
,
Chris Davis
Aggressiveness scale:
6
---
Boston Red Sox

Biggest team needs:
Starting pitcher, catcher and bullpen depth
Free agents they could be interested in:
To continue reading this article you must be an Insider
December, 9, 2013
12/09/13
8:00
AM ET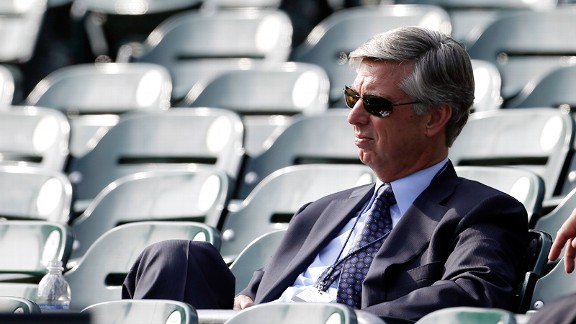 AP Photo/Paul SancyaDave Dombrowski has made some odd moves, but they will likely work out.
LAKE BUENA VISTA, Fla. -- The hot stove season typically doesn't get white-hot until the winter meetings, but general managers decided to break the rules this year and we've seen tons of action already, with the
Robinson Cano
contract and
Prince Fielder
-
Ian Kinsler
trade being the most notable.
As we head into the winter meetings, I thought it would be a good idea to take a step back and reflect on what has happened thus far. Here are three key takeaways from everything we've seen leading up to the winter meetings.
Lesson No. 1: The Tigers improved despite being on the wrong end of two big trades
Detroit Tigers
GM Dave Dombrowski is no stranger to blockbuster trades, and he made a pair of surprising deals this winter that left many in the industry puzzled.
First, he sent Fielder and $30 million in cash to Texas for Kinsler. Fielder is younger and a much more potent hitter, and despite a down year, he hasn't shown the same kind of decline Kinsler has over the last couple of seasons.
The other deal was sending right-hander
Doug Fister
to the
Washington Nationals
for lefty reliever
Ian Krol
, utilityman
Stephen Lombardozzi
and lefty pitching prospect Robbie Ray. Again, a light return even if you think Ray is a solid prospect, which he is.
To make matters worse, this was the worst time to trade Fister.
To continue reading this article you must be an Insider
December, 2, 2012
12/02/12
4:30
PM ET
Not every team will make a trade at this week's winter meetings in Nashville, but every team could. With that in mind, let's take a look at one player (or more) who could be on the trade block this week from each of the 30 teams.
American League

Baltimore Orioles
Player:
Brian Matusz
, LHP
Reason:
There are several teams that believe what Matusz did in relief for the Orioles down the stretch he can also do in the starting rotation if given another opportunity. The Orioles want a corner guy/DH, and they might have to use Matusz to fill that hole.
Possible trade partners:
Mets, Padres, Indians, Cubs
To continue reading this article you must be an Insider
December, 4, 2011
12/04/11
3:00
PM ET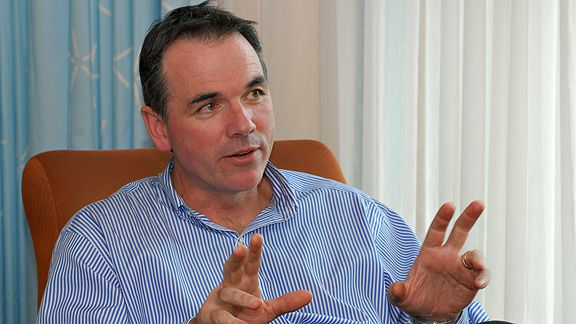 AP Photo/Phelan M. EbenhackBilly Beane has used the winter meetings to get deals done or start dialogues for deals.
During baseball's offseason, there's no better place to get face time with a potential trade partner than the winter meetings.
Major League Baseball's winter meetings have evolved considerably since the days when teams used the meetings solely as way for team personnel to gather with their counterparts on other teams and exchange ideas and feedback. Media relations people, traveling secretaries, trainers and, of course, baseball operations personnel all used the winter meetings to discuss the industry with little fanfare.
These days, those same people still meet, but the winter meetings have become a major event.
Inside the Hotel Anatole in Dallas, each team is settting up its general manager's suite as the nerve center of information and interaction. It is every team's war room to perhaps begin talks with teams or agents or to pull off a deal. On average, each club will have about 20 baseball operations personnel ranging from the team president and owner, general manager and assistant general manager, scouting director, farm director, AL and NL scouts, traveling secretary, media relations and medical staff.
To continue reading this article you must be an Insider