The GM's Office:

Wil Myers
April, 5, 2014
4/05/14
10:15
AM ET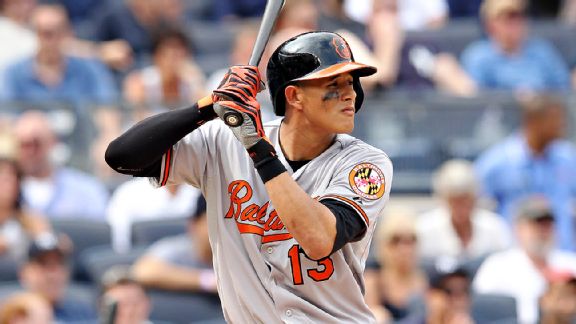 Brad Penner/USA TODAY SportsManny Machado is one of several young stars Jim Bowden would lock up long term now.
As baseball's revenues continue to break records year over year, clubs are well aware that, based on baseball history, those revenues normally get passed right down to the players.
Indeed, we've recently seen a flurry of six-year contract extensions by clubs for non-arbitration-eligible players in the past few months, including:
•
Mike Trout
,
Los Angeles Angels
, $144.5 million
•
Yan Gomes
,
Cleveland Indians
, $23 million
•
Julio Teheran
,
Atlanta Braves
, $32.4 million
•
Chris Archer
,
Tampa Bay Rays
, $25.5 million
•
Jason Kipnis
, Cleveland Indians, $52.5 million
In addition to those six-year deals, there was also Freddie Freeman's eight-year, $135 million extension, which is the longest contract in Braves history.
This proactive method benefits the team and the player. For the teams, they get to pre-emptively buy out some of the player's free-agent years, which should save them millions of dollars considering the ridiculous pace at which free-agent salaries are escalating. In exchange, the players receive lifetime security yet are still able to test the free-agent market again at a reasonably young age.
The Trout deal broke records at almost every aspect, and the Teheran and Archer deals were riskier because of pitchers' greater chance of landing on the disabled list at some point in their six-year contract.
Gomes was the biggest gamble because he hasn't established the track record the others did to justify committing those types of dollars. Regardless of the risk, clubs cannot ignore the opportunity to save so much money, making contracts such as these no-brainers.
When I look around the league, I see a number of other candidates for these kind of long-term deals. Here are nine pre-arbitration players I think teams would have a chance to lock up, plus four Boras Corp. clients who probably have very little chance to sign now -- Scott Boras almost always recommends his players hold out for free agency ASAP -- but should try anyway.
As always, agents will use recent deals as a framework when negotiating, and I've noted some recent deals that would provide a guideline for each player in question.
Non-arbitration-eligible players clubs should extend now
1. Manny Machado | 3B | Service time: 1+056 | Agent: MVP Sports
Note: Service time is as of Opening Day, and "1+056" means one year, 56 days.

Machado had offseason knee surgery and started the year on the disabled list, so of course the Orioles will need to make sure he is 100 percent upon his return before doing a deal. However, once he is back to full strength, they should be aggressive in getting him locked up. The time will never be better, the price and value never lower.
November, 8, 2013
11/08/13
9:21
AM ET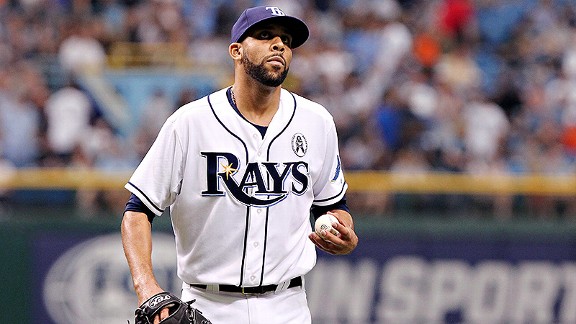 Kim Klement/USA TODAY SportsDavid Price might be wondering just where he'll land if he's traded this offseason.
There might be several quality free agent starting pitchers available this offseason, but the best pitcher on most teams' radars is a former Cy Young Award winner whose team simply can't afford him anymore.
Tampa Bay Rays
left-hander
David Price
has two more years left on his contract. With the cost of ace pitchers soaring toward $30 million per season and no new stadium deal in sight, the fiscally strapped Rays realize it's only a matter of time before they must deal Price.
To continue reading this article you must be an Insider
September, 6, 2013
9/06/13
10:00
AM ET
As we head into the final weeks of the season, the one thing that really stands out is how much stronger the National League rookie class is than that of the American League and how deep this rookie class is in starting pitching -- with six hurlers making my top 10.
Of course, some rookies have dominated so thoroughly that they've either sat in the top position for months or have done so at one point. However, some rookies are surging with at-bats and innings under their belts. Here's how my monthly rookie rankings stacked up through August.
(For a look at last month's version of the rankings,
click here
.)
---

In August, Fernandez was named NL Rookie of the Month for the second consecutive month, becoming the first pitcher to win the award twice in a single season since
Atlanta Braves
closer
Craig Kimbrel
did it in 2011.
Fernandez made six starts in the month, finishing with a 3-1 record and an impressive 1.15 ERA and limiting opposing batters to a .158 batting average. In 15 of his past 16 starts, he hasn't allowed more than two runs and is averaging 9.8 strikeouts per nine innings on the season with a WHIP below 1.00. His mid-to-upper 90s fastball and devastating secondary pitches have not only cemented his spot as the season's best rookie but as one of the game's best pitchers.
To continue reading this article you must be an Insider
August, 21, 2013
8/21/13
10:14
AM ET
Major League Baseball is loaded with more impact stars who are non-arbitration eligible than the game has seen in decades. Although teams can control the salaries of these young stars for the first three years of their service time, it won't be long before they become arbitration eligible and their salaries skyrocket to record-breaking levels.
The fact is that for young superstar players, the closer they get to free agency, the more likely they are to reach it. So smart teams are locking them up early and buying out their arbitration years in order to save money in the long run.
Signing their non-arbitration-eligible young stars to long-term contracts keeps the players relatively cost efficient. In turn, these young stars net millions of guaranteed dollars early in their careers, which sets them up for life and eliminates any injury and/or baseball risk. And everyone agrees that it's difficult for a player in his early 20s to turn down approximately $100 million to instead wait four or five more years with the hopes of getting more. It's a smart play for both the team and the player.
Before this type of action is taken, however, position players must prove to the team they can hit all types of pitches and can sufficiently counter all the adjustments pitchers have when facing them. Teams need to make sure these guys are two-way players (offensively and defensively), low medical risks and that their makeup and character fits the team in the long term. Clubs also have to make sure that long-term security won't negatively impact these young players' work ethic, passion and will to be the best they can be.
It should be noted that two of the best young starting pitchers in baseball,
Jose Fernandez
of the
Miami Marlins
and
Matt Harvey
of the
New York Mets
, should also be under consideration for long-term deals if their respective teams aren't afraid of the inherent injury risk that often accompanies pitchers.
The deliveries of both Harvey and Fernandez are so clean that both pitchers are solid bets to succeed and stay healthy. Both are No. 1 starters and, in my mind, represent the lowest risks of any non-arbitration-eligible pitchers in baseball. But to be clear, I am not a proponent of signing pitchers to long-term deals until they have logged at least four consecutive years of approximately 200 innings pitched without arm troubles.
Therefore, here are the six position players who match the criteria I laid out above. Their long-term contracts should avoid the three years of salary arbitration and tie up at least two years of free agency, ending no later than when the players are between the ages of 30 and 32.
To continue reading this article you must be an Insider
August, 9, 2013
8/09/13
8:49
AM ET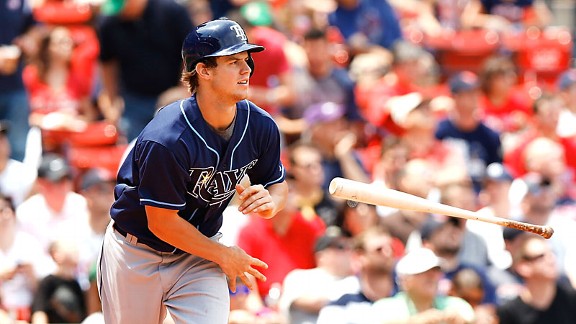 Jared Wickerham/Getty ImagesWil Myers has been quickly rising up these rankings since his debut.
With less than two months left in the 2013 season, we're heading down the stretch for this season's top rookies.
It's been a list dominated thus far by National League pitchers such as
Shelby Miller
,
Jose Fernandez
and
Julio Teheran
, to name a few, as well as outfielder
Yasiel Puig
. However, an American League outfielder and shortstop finally cracked the top 10.
Keep in mind that most minor league campaigns conclude at the end of August. For some, this will be far more innings pitched or games played than they've ever experienced, so September and the postseason could be taxing.
Regardless, below are my monthly rookie rankings, and there are some new names on the list, mostly because I've extended it from 30 names to 50.

For the second month in a row, Fernandez leads the way, this time after going 6-2 with a 1.79 ERA in 11 starts since the start of June. Batters still are hitting just .182 against Fernandez after starting an at-bat with
a first-pitch ball
. He was named July NL Rookie of the Month and co-player of the week for the week of July 29.
To continue reading this article you must be an Insider
May, 3, 2013
5/03/13
10:00
AM ET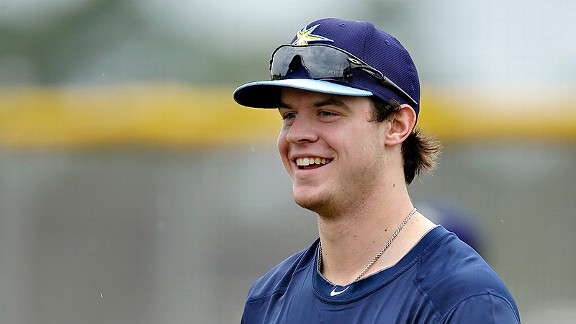 AP Photo/Chris O'MearaWil Myers could be all smiles if a long-term contract comes his way.
In 2011,
Tampa Bay Rays
pitching prospect
Matt Moore
and his electric left arm were lighting up the minor leagues. Between Double-A and Triple-A, Moore posted a combined 12-3 record with a 1.92 ERA and amassed a ridiculous 210 strikeouts in 155 innings.
If ever there was a super prospect, it was Moore.
With the Rays clinging to postseason hopes, they promoted Moore that September, and he contributed. He won his only start of the regular season and posted a 2.89 ERA in just three appearances. Perhaps Moore's most impressive feat was winning Game 1 of the American League Division Series with a two-hit shutout over the
Texas Rangers
.
The win capped off a tremendous season for Moore, who subsequently signed a backloaded five-year deal worth $14 million, all this while he still was technically a rookie with just three regular-season appearances in the majors to his name. The Rays' modus operandi regarding Moore aligned with what the Rays have now done twice -- lock up the young talent by buying out their arbitration years at a very club-friendly rate. They did this with third baseman
Evan Longoria
whose first extension in 2008 was a similar six-year, $17.5 million deal just a few weeks into his big league career.
So what happens when another top prospect comes along?
To continue reading this article you must be an Insider
April, 17, 2013
4/17/13
10:55
AM ET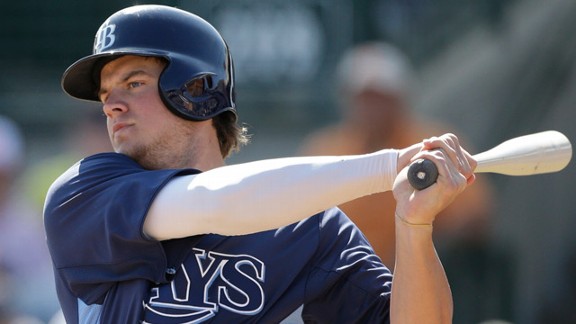 AP Photo/Carlos OsorioWith Tampa's offense ailing, is Wil Myers the panacea for the Rays?
General managers should be patient and measured. Over the course of 162 games, rash decisions don't often portend success. A team's slow start is worrisome, but making knee-jerk reactions can make things only worse. In 1995, when I was GM of the
Cincinnati Reds
, the team began the season 1-8, but I kept calm and we ended up facing the
Atlanta Braves
in the National League Championship Series.
That being said, a glaring hole in the lineup or rotation, a weakness in the bullpen or a major injury that continues to cost the team wins cannot be ignored, and it can't be patched up with bit players. If there's a viable, quality solution within the organization or via trade, it must be considered. Patience then gives way to impulse. And sometimes these moves work.
Let's look at five contending teams that had a palpable weakness entering the regular season and now are losing games because of it. Indeed, the GMs of these teams might be tempted to do something impulsive to right the ship. These five moves might actually work if they address the problems now.
To continue reading this article you must be an Insider
January, 24, 2013
1/24/13
2:00
PM ET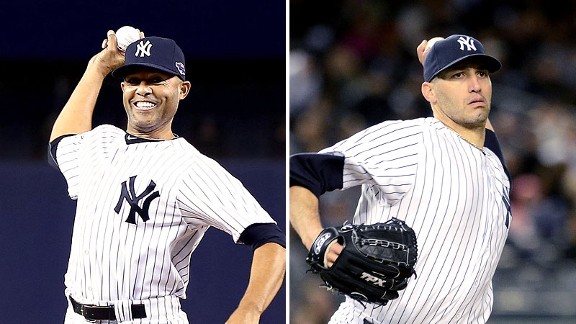 Getty ImagesWith Rivera and Pettitte back, the Yanks can contend. But so can everone else in the AL East.
During my entire 15-year career in baseball as a GM and through today, commissioner Bud Selig has emphasized improving the game's competitive balance.
He said his goal was for all 30 clubs' fan bases to have "hope and faith" on Opening Day that their team would be able to contend for a postseason berth. However, full parity has eluded one division for more than a decade. The American League East stood as an example of how wide the chasm can be between winning and losing teams.
To continue reading this article you must be an Insider
January, 1, 2013
1/01/13
10:00
AM ET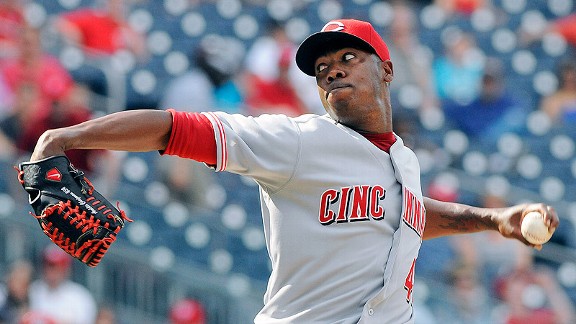 Brad Mills/US PresswireMoving Chapman to the rotation is a major gamble for the Reds.
To win a World Series you have to take some risks. And this offseason, plenty of contenders have been taking them. Here are the biggest risks I've seen this winter.
Cincinnati Reds
The risk:
Moving
Aroldis Chapman
to the rotation and
Shin-Soo Choo
to center field
To continue reading this article you must be an Insider
December, 15, 2012
12/15/12
2:54
PM ET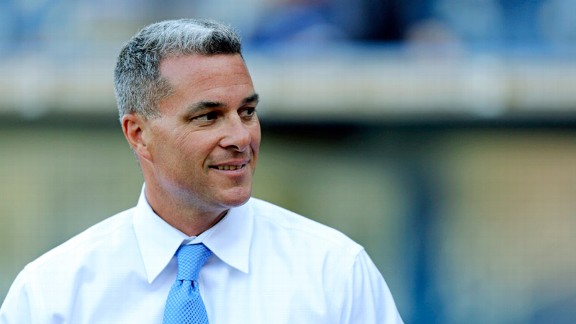 Ed Zurga/Getty ImagesRoyals GM Dayton Moore rebuilt his rotation and expects his team to contend in 2013.
Consider the following about the American League Central:
- Its division champion, the
Detroit Tigers
, won just 88 games.
- It was the only five-team division with three teams with losing records.
- The second-place
Chicago White Sox
won 85 games despite its lowest attendance since 2004.
- The
Minnesota Twins
won 66 games -- actually an improvement on 63 in 2011.
- The
Cleveland Indians
have not had a winning record in five years.
- The
Kansas City Royals
last won the division in 1985.
The AL Central was the weakest division in baseball last season, and it has been for some time. The Royals haven't had sustained success since the days of Dick Howser, George Brett and
Bret Saberhagen
. The Indians fired manager Manny Acta and long for the days of Mike Hargrove,
Kenny Lofton
and
Carlos Baerga
, while the Twins can't seem to shake the injury bug.
When the best days of three of its teams are in the rearview mirror, there's a problem.
Though it might be the weakest division in baseball, it's had arguably the strongest offseason. Each team has made significant progress toward heading back to respectability and, in the Tigers' case, perhaps back to the World Series.
Here is a quick look at how the AL Central teams have already improved this offseason:
To continue reading this article you must be an Insider
November, 30, 2012
11/30/12
11:50
AM ET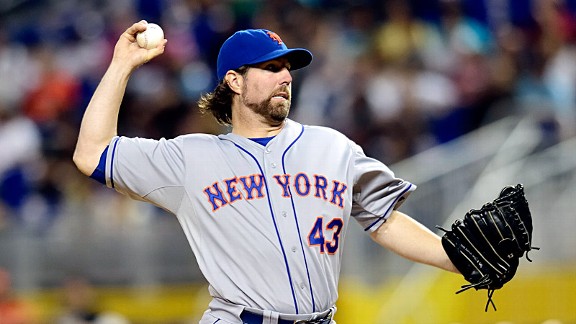 Steve Mitchell/US PresswireJim Bowden thinks the New York Mets will end up trading R.A. Dickey at the winter meetings.
Despite my being a veteran of countless winter meetings, baseball's annual gathering still manages to surprise me. Whether it's a blockbuster trade or an out-of-the-blue free-agent signing, the winter meetings always provide a handful of happenings.
However, experience does offer me a little insight into what could happen. Last year, we saw the
Los Angeles Angels
reel in
Albert Pujols
and
C.J. Wilson
, and the
Miami Marlins
signed
Mark Buehrle
,
Jose Reyes
and
Heath Bell
. And, well, we know how that turned out. So here are my five bold predictions for the winter meetings:

1. The New York Mets will trade R.A. Dickey
With the Mets extending third baseman
David Wright
for
eight years for about $138 million
, I expect them to then turn around and trade right-hander R.A. Dickey to the
Kansas City Royals
or the
Los Angeles Dodgers
or Angels for two good prospects. Wright is the face of their franchise, their version of
Chipper Jones
or
Derek Jeter
, and it was essential they get him locked up. With the Tampa Bay Rays' extension of
Evan Longoria
this past month and the Washington Nationals'
Ryan Zimmerman
sewn up, as well, this was a relatively simple negotiation for general manager Sandy Alderson. In regards to Dickey, it's more about selling high on an overachieving pitcher and being realistic on when the Mets will be ready to contend. Although the public thinks it could be sooner, realistically, the Mets won't be contending until at least 2015.

2. The Cleveland Indians will make more trades than any other team
The Indians are waiting for the top free agents to sign. Once that happens, teams that lose out will be calling them to make deals. The Indians have the highest-quality tradable players currently on the market. Right fielder
Shin-Soo Choo
is one of the most underrated right fielders in baseball. He's a complete player and is about to enter his free-agent walk year. He is represented by Scott Boras, which means it's unlikely he'll sign a contract extension before testing the open market. Therefore, once
Josh Hamilton
,
Cody Ross
and
Nick Swisher
have inked deals, the clubs that missed out will attempt to trade for Choo.
Several teams are pursuing shortstop
Asdrubal Cabrera
, including the
Arizona Diamondbacks
,
Detroit Tigers
and
Oakland Athletics
. If anyone of those teams puts together the right package of young starting pitching, it might be able to pry him loose. Closer
Chris Perez
is well respected throughout the game as a straight shooter who speaks his mind without filter, which is fine unless you're always bashing the ownership, the front office and the fans. His trade value is at an all-time high, and now is the best time to get the best return. With starting pitching always at a premium, the Tribe also will listen to offers for
Justin Masterson
and
Ubaldo Jimenez
. The bottom line is the Indians will be an interesting team to watch in Nashville.

3. The Miami Marlins will sign a free agent and give him a full-no trade clause
The Marlins' trades of Buehrle, Reyes and Bell this offseason have left agents with such a bad taste in their mouths that many of them are saying they won't even talk to the Marlins on behalf of their clients. Interestingly, a year ago, the Marlins all but had
Albert Pujols
signed, but their refusal to include a no-trade clause allowed him to make the right choice and sign with the Angels. If he had signed with the Marlins, he probably would be with the
Toronto Blue Jays
today. The Marlins are under scrutiny from the commissioner's office and the players' association to spend rather than pocketing what look to be significant revenue-sharing gains the next few years. The Marlins need to step up and surprise baseball by adding a significant free agent and will have no choice this time but to change their policy and give a full no-trade clause so players they sign won't have to worry about being dealt in a year.

4. The Royals will finally trade for an elite starter, and fans will rebel
Royals general manager Dayton Moore is in a Catch-22 situation. Royals fans have been begging for the team to trade for a top-of-the-rotation starter instead of their continued plan of back-of-the-rotation innings eaters such as
Jeremy Guthrie
,
Bruce Chen
,
Ervin Santana
and
Luke Hochevar
. But it will cost Moore one of the young, talented position players he has. Moore definitely feels the pressure and is doing everything possible to make such a trade this coming week in Nashville. Even though I think the best move would be to sign a free agent such as
Kyle Lohse
or
Anibal Sanchez
and keep his position players intact, I predict that the Royals are going to trade Wil Myers,
Alex Gordon
or
Eric Hosmer
to get their top-of-rotation young starter. If and when they do this, Royals fans will show their disapproval. Damned if you do, damned if you don't.

5. The Texas Rangers will re-sign Josh Hamilton to a four-year contract
Some believe Hamilton and Rangers definitely will part ways, but I'm making the bold prediction that he'll stay. Despite all the reports that the Rangers won't go more than three years on a deal for Hamilton, I fully expect them to give him a fourth year with a club option for a fifth at an average annual value of approximately $23 million. There has been interest in Hamilton from several teams, including the Red Sox,
Philadelphia Phillies
,
Milwaukee Brewers
,
Seattle Mariners
, and
Baltimore Orioles
.
His family lives in the Dallas/Fort Worth area and plans to stay there regardless. Having been to two World Series in the past three years, Hamilton and the Rangers have unfinished business of bringing a world championship to Rangers fans, and both parties know the best way to accomplish that is for them to try again together rather than apart.
November, 1, 2012
11/01/12
10:55
AM ET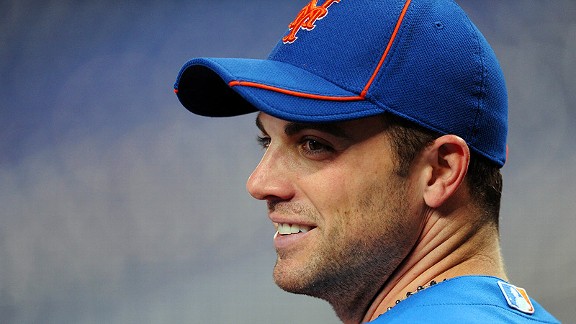 Steve Mitchell/US PresswireDavid Wright is the face of the Mets, but it's feasible that he could be somewhere else next season.
After the
New York Mets
picked up
David Wright
's $16 million club option for 2013 earlier this week, the club is officially on the clock. The Mets have exactly one year of control left to lock down the face of their franchise. In essence, Wright is to the team what
Derek Jeter
is to the
New York Yankees
or
Chipper Jones
was to the
Atlanta Braves
.
However, Wright's long-term future in New York is hardly guaranteed.
First, discussions between Wright's agents -- Sam and Seth Levinson -- and the Mets have been slow and grinding. Most negotiations with this team usually plod along, but the Mets also have shown the same cavalier attitude they demonstrated in the failed
Jose Reyes
negotiations in 2011. Not a good sign.
Second, for those who think the Mets won't let the face of the franchise walk away, remember that current Mets general manager Sandy Alderson is the one who said goodbye to future Hall of Famer
Trevor Hoffman
while in San Diego. Alderson also allowed then-Padres manager Bruce Bochy to depart for the NL West rival
San Francisco Giants
, where he would go on to win two World Series titles. In 1992, Alderson also traded
Jose Canseco
to the
Texas Rangers
in a blockbuster that was headlined by
Ruben Sierra
. Arguably the best trade of Alderson's career might end up being the swap of All-Star outfielder
Carlos Beltran
to the Giants at the July 2011 trade deadline for top pitching prospect Zack Wheeler, who should join the Mets' starting rotation in 2013.
Needless to say, Alderson isn't afraid to trade star players.
That said, I still think the Mets and Wright will have a news conference sometime between now and the winter meetings next month in Nashville, Tenn., to announce a seven-year extension in the range of $18 million per season. If the Mets aren't willing to commit, they don't need to worry because most other teams will be. To trade Wright, the assignee club would have to ask for a window to sign him first because no team will fork over top prospects to the Mets without the assurance that Wright will sign a long-term deal.
Just in case the negotiations fall apart with the Mets, here are five trade partners that would make sense for Alderson.

The Red Sox have money off the books after trading
Carl Crawford
,
Josh Beckett
and
Adrian Gonzalez
to the
Los Angeles Dodgers
in August. Wright's swing would be ideal for Fenway Park, and he would instantly change the culture with his leadership ability. He would give the Red Sox a new, fresh franchise face to go with
Dustin Pedroia
and
David Ortiz
. The discussion by Alderson would have to start with young third-base prospect
Will Middlebrooks
and one of Boston's top starting pitching prospects, such as Allen Webster, who recently was acquired from the Dodgers, or Matt Barnes, the Red Sox's first-round selection in 2011 out of the University of Connecticut.

This conversation would have to commence with top first-base prospect C.J. Cron, a middle-of-the-lineup bat who was the Angels' first-round selection in the 2011 draft out of the University of Utah. Cron possesses incredible power and has a chance to be an impact bat with the ability to drive in 100 runs. The second player in the deal would have to be fleet-footed outfielder
Peter Bourjos
, who became expendable with the emergence of
Mike Trout
. Bourjos has Gold Glove defensive ability with special range. However, how much he's going to hit is still debatable. Of course, with a deal like this, the Mets would then have to try to trade incumbent first baseman
Ike Davis
for another need.

The Diamondbacks have tremendous depth in young starting pitchers. The roll call is impressive:
Tyler Skaggs
,
Trevor Cahill
,
Patrick Corbin
,
Daniel Hudson
,
Wade Miley
and
Ian Kennedy
. Therefore, they might be willing to make former No. 1 pick
Trevor Bauer
available for Wright, especially given that some of the Arizona field staff is frustrated with Bauer's stubbornness and work plan.
Bauer has struggled with his command and control in the zone, and it might take time before he reaches his full, unlimited potential. To acquire an arm of this caliber and team it with
Matt Harvey
and Wheeler would establish an impressive young rotation capable of competing with the Washington Nationals' elite young starters. The Mets should ask for a second player, as well, possibly center fielder
Adam Eaton
, a player who's not blessed with special tools but can hit and really play the game with blue-collar grittiness.

The Royals could use a veteran leader in the clubhouse to develop all of their great young players such as
Eric Hosmer
,
Salvador Perez
and
Alex Gordon
. Wright would bring them that leadership. Alderson could start the conversation asking for young third baseman
Mike Moustakas
, who could give the Mets a minimum of 20 home runs and 80 RBIs at third base for minimal cost.
However, a second player in the deal would be the key. Although Kansas City can't afford to trade any of its top young pitching prospects or top position prospect Wil Myers (unless it was getting front-line pitching back), the Royals might be willing to include Cheslor Cuthbert or 2010 first-rounder Christian Colon to make a deal like this. However, given that the Royals' only real need is starting pitching, it is doubtful they would want to spend this type of money -- or trade this kind of talent -- on anything but starting pitching.

I know this does not look like a fit because the Rangers already have the best overall third baseman in baseball in
Adrian Beltre
. However, if
Josh Hamilton
and
Mike Napoli
leave in free agency, Texas will have to add another impact bat for the middle of its lineup. The Rangers have never been afraid to ask players to change positions -- just ask
Michael Young
-- so it's probably worth making the phone call to see whether they would consider a
Mike Olt
,
Derek Holland
and
Craig Gentry
type of deal for Wright. Olt would solve third base; Holland would improve the rotation; and Gentry would give them a tremendous defensive center fielder with blazing speed and a bat that is still developing.
To be sure, the possibility of any of these five trade ideas actually coming to fruition is slim. Indeed, 98 percent of all deals that are discussed are never made, but the Mets must do their due diligence and Alderson must do himself that favor and explore all possibilities to maximize Wright's value and price tag. If Wright's value is highest by returning to the Mets -- and I think he'll re-sign when all is said and done -- you can count on that price tag to be in the neighborhood of seven years and $126 million.
And for Mets fans, who can't stand the thought of the face of their favorite franchise in another uniform, that's a bargain.
August, 28, 2012
8/28/12
10:40
AM ET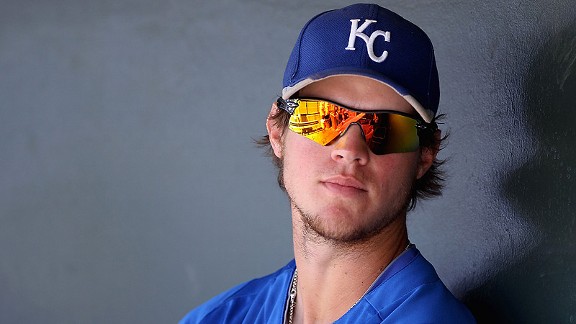 Lisa Blumenfeld/Getty ImagesWil Myers has the look of a big leaguer. He's also got the bat, so it's time to bring him up.
Even with the minor league season ending, the education of some top prospects will continue. Whether their big league clubs are in the pennant race or looking toward next year, the opportunity to learn at the big league level exists -- if they get called up. Of course, because of concerns about roster limits, service time and starting arbitration and free-agent clocks, some of these clubs won't promote the players even though they deserve it. But considering the success these 10 players have had this season as well as the impact they could have on their teams, it's time to bring them up.
Billy Hamilton, SS

Hamilton broke Vince Coleman's pro baseball record of 145 stolen bases in a single season last week. He's got 149 and counting between high Class A and Double-A. Despite that, the Reds are leaning away from bringing up Hamilton due to roster and service-time issues. And even if he is brought up, he probably won't get a chance to play much in the final month of the season with the Reds in the heat of a pennant race. However, a call-up before Aug. 31 is important so that he is postseason-eligible.
To continue reading this article you must be an Insider
July, 12, 2012
7/12/12
11:15
AM ET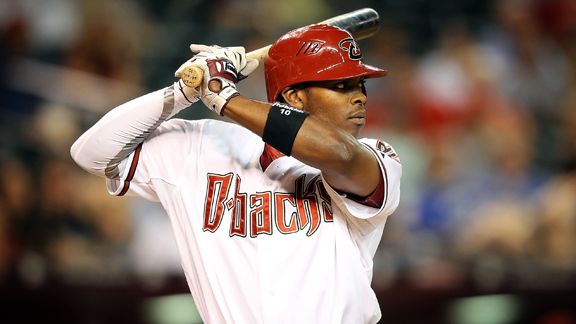 Christian Petersen/Getty ImagesTrading Justin Upton is not impossible. It'll just be really expensive.
Let's clear up some things about
Arizona Diamondbacks
outfielder
Justin Upton
and the rumors he might be traded.
First, understand that general manager Kevin Towers is always willing to listen to trade ideas when other GMs ask about Upton, his best position player. Of course, that doesn't mean Towers is going to trade him. The fact is he isn't close on any deal involving Upton right now.
Rumors have swirled about a potential deal to the
Pittsburgh Pirates
, but the reality is Towers has had very few conversations with the Pirates. GM Neal Huntington did call Towers, as he has every other general manager as he seeks a young middle-of-the-order bat. However, the fact is the two teams don't match up well, and a third team probably would need to be involved for the Pirates to have a chance to trade for Upton.
Despite a slow start, Upton remains one of the best right fielders in baseball, and I can't imagine Arizona actually trading him. He's just a year removed from being an NL MVP candidate and leading the D-backs to an NL West title. At 24, his prime years are ahead of him, and his potential of hitting .300 with 35 home runs and 120 RBIs undoubtedly will be realized in time.
Further complicating matters is Upton's limited no-trade clause to four teams. The teams change from year to year, and ESPN The Magazine's Buster Olney reported that the no-trade clause centers on big-market teams, and almost certainly includes the Yankees.
Nonetheless, where there is smoke there is usually fire, and these trade rumors are not completely without merit. With that in mind, I thought I would try to find five potential deals that might make sense for the D-backs to trade Upton. Keep in mind that these are simply deals I think would make sense for both parties, not necessarily deals that are on the table.
To continue reading this article you must be an Insider