The GM's Office:

Ubaldo Jimenez
February, 14, 2014
2/14/14
9:00
AM ET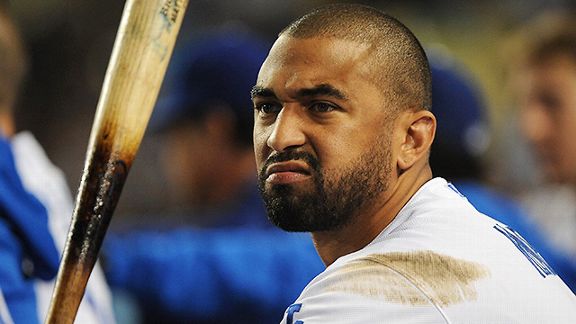 Lisa Blumenfeld/Getty ImagesIs it possible Matt Kemp might miss all of spring training? Could be.
It was in March 2013
that I predicted
that some time during the season,
Yasiel Puig
would become a star on the level of past star rookies such as Fernando Valenzuela and
Hideo Nomo
and create his own mania -- "Puigmania."
Well, it's time for more bold predictions, and I'm beginning with spring training. Let's take a look at my 10 bold predictions for 2014 spring training. (Don't worry, I'll make more bold predictions for the regular season.)
1. Matt Kemp doesn't play in a single major league spring training game.

Kemp is still recovering from microfracture surgery on his left talus bone (a major weight-bearing bone in his ankle), and I think he will begin the season on the disabled list.
February, 3, 2014
2/03/14
2:20
PM ET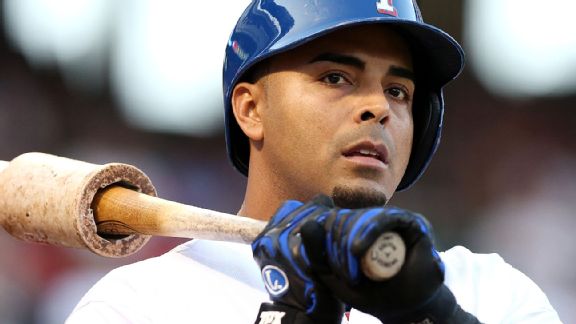 Matthew Emmons/USA TODAY SportsNelson Cruz is still looking for a home. Will he find one in Seattle?
With pitchers and catchers due to report to spring training in a couple of weeks, the rumor mill continues to churn because many quality free agents are still on the market, including:
Ubaldo Jimenez
,
Ervin Santana
,
A.J. Burnett
,
Bronson Arroyo
,
Paul Maholm
,
Stephen Drew
and
Nelson Cruz
.
Why are so many players still on the market? Well, the agents and union have their theory, while the clubs have a different view. Multiple agents representing free agents who are still on the market told me over the weekend that they, as well as the players' union, are concerned that social networking and the media's advanced coverage of the sport are hurting the market value of their clients.
Some even went so far as to suggest that teams are possibly violating the clause in the collective bargaining agreement that prevents clubs from influencing a free agent's market value by relaying to the media the offers they've made to free agents, and whether clubs plan to make an offer or decline to make an offer. Certainly media coverage of baseball's offseason is the best it's ever been, but these conclusions have very little merit when you look at the enormous contracts that were given out this offseason to the likes of
Robinson Cano
,
Clayton Kershaw
and
Masahiro Tanaka
, among others.
On the other hand, general managers and assistant GMs have a different opinion. The majority believe the main reason so many free agents remain on the market is that all have some type of negative issue surrounding them, whether that's injury history, a performance-enhancing drug suspension, career inconsistency or draft-pick compensation. GMs also point to the agents' inflated expectations in terms of years and dollars considering the risks associated with these players.
With that in mind, here's the latest scuttlebutt from the front offices around the league.
Where will they land?

•
David Price
is staying in Tampa. Rays GM Andrew Friedman has listened to every club that had a trade proposal for Price and came away knowing his best decision is to keep him and try to win this year.
The Rays know that trading Price at the deadline probably won't be an option because the team will be in a pennant race, so it will be next offseason when he's finally traded.
To continue reading this article you must be an Insider
January, 22, 2014
1/22/14
2:38
PM ET
January, 10, 2014
1/10/14
11:45
AM ET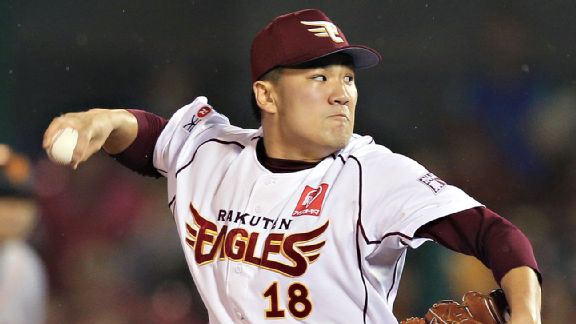 AFP/Getty ImagesCan Masahiro Tanaka put the Yankees into playoff contention? We asked some GMs.
Being a former general manager, I know full well what this period in the offseason is like. There's a lot of waiting and posturing by players, teams and agents. And everyone is sizing up exactly what the competition has done or still needs to do.
So I thought it would be interesting to ask some current general managers what they thought of some of the offseason moves thus far, and what other things they think still need to be done. Here's what they had to say, as well as my take on each issue. (The GMs have been granted anonymity so they can be a bit more candid.)
1. Which available free agent immediately puts his team into playoff contention?
AL GM:
"Masahiro Tanaka I think would make us instant playoff contenders.
To continue reading this article you must be an Insider
September, 25, 2013
9/25/13
9:10
AM ET
On Monday, I ranked all the
National League aces of postseason contenders
. The list featured a mixture of young power arms and seasoned veterans with postseason experience. What's more important: ability or experience? While veteran savvy is important and can help to a point, as I wrote, velocity is effective. I lean toward the best and most successful power arms. Usually postseason teams have the best lineups in the game, so the best way to win is with velocity and pitch-ability.
With the postseason almost upon us, I've ranked the No. 1 starters on all the teams still mathematically alive for an AL playoff spot.
20-3, 3.00 ERA, 230 K's, 0.97 WHIP

I asked Tigers manager Jim Leyland this week whether he would have believed me if I had told him in spring training
Justin Verlander
would be his third best starter come October? He responded with a resounding "No!" But that's exactly where the Tigers are, as both Scherzer and
Anibal Sanchez
have not only outpitched Verlander, but outpowered him, too, giving the Tigers arguably the best 1-2 punch in the AL this postseason. Scherzer is the frontrunner for AL Cy Young Award and his power fastball/slider combo and devastating changeup will be formidable in the postseason's short series.
To continue reading this article you must be an Insider
April, 1, 2013
4/01/13
2:30
PM ET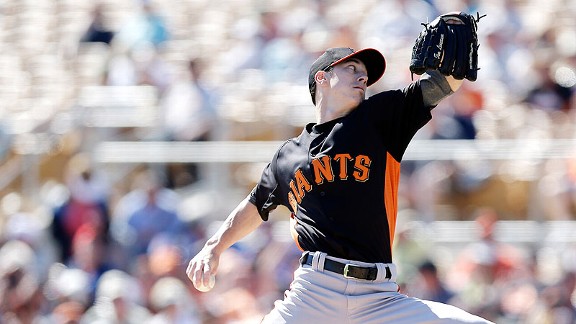 AP Photo/Marcio Jose SanchezCan Tim Lincecum ever regain his Cy Young Award-winning form? He had better do it soon.
Potential and upside, even track record, can carry a career only so far. At some point, a player has to put up or shut up. Baseball is a results-oriented industry and if the production isn't there, neither are you.
With it being Opening Day in many ballparks around the major leagues, the following are 10 guys for whom it's now or never. The 2013 season must amount to some form of success and some relative progress after two or three seasons of failure and disappointment.
Tim Lincecum | RHP | San Francisco Giants
By now the narrative on Lincecum is well-documented: the Giants' first-round selection and 10th overall pick in the 2006 draft burst on the major league scene in 2008 and achieved rock star status in San Francisco, when he went 18-5 with a 2.62 ERA, led the league with 265 strikeouts and won the first of his two Cy Young awards. That began a run of four consecutive All-Star appearances and culminated in a World Series championship in 2010.
To continue reading this article you must be an Insider
October, 30, 2012
10/30/12
11:30
AM ET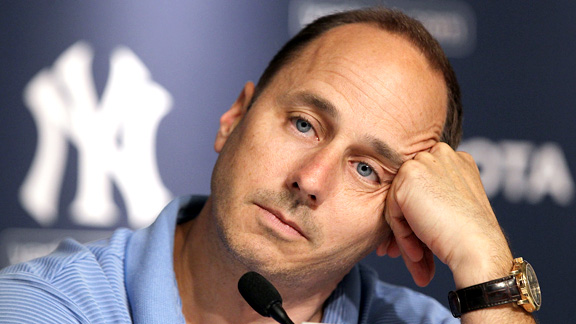 Jim McIsaac/Getty ImagesYankees GM Brian Cashman has an exhausting task ahead of him this offseason.
Even though the offseason has only just commenced for the
San Francisco Giants
and
Detroit Tigers
, general managers of 28 other teams already have been pondering their futures for some time.
For five GMs in particular, their jobs for the next three months are uniquely difficult, perhaps the most difficult in baseball. A variety of obstacles stand in their way of effectively making over their teams. They will have to hurdle those obstacles in order to improve their teams, and that's easier said than done.
Here are the five general managers who have the toughest jobs this winter. For the Giants and Tigers, it's finally time to rest. For these guys, their work has already started.

1. Brian Cashman, New York Yankees
Hands down, Cashman has the most difficult path facing him of any general manager of baseball. Perhaps it just comes with the territory of being the GM of baseball's uber-team, but this offseason is especially difficult. With the Yankees' mandate of "anything less than a World Series is failure" hovering over him, the fixes Cashman faces are not easy. Additionally, the Yankees are trying to get under the luxury tax threshold by 2014, and their best prospects are not close to contributing.
The Yankees have never had the luxury of going with a full-scale youth movement -- they are expected to contend every year, so Cashman must resolve the situation with
Alex Rodriguez
, whose declining skills, massive contract and no-trade clause make him nearly impossible to move. Picking up the contract options for
Robinson Cano
and
Curtis Granderson
was a good first step, but
Mariano Rivera
might retire and
Rafael Soriano
might opt out of his deal. And then you have
Derek Jeter
returning from injury, and who knows what to expect from
Michael Pineda
?
In other words, Cashman must retool a World Series contender with limited money, a fallow farm system and an aging roster rife with no-trade clauses. Toughest job, indeed.

2. Dayton Moore, Kansas City Royals
Moore can position the Royals as 2013's version of the
Baltimore Orioles
or Oakland A's. Position players
Mike Moustakas
,
Eric Hosmer
,
Alex Gordon
and
Billy Butler
are all ready to lead a playoff team. But Moore must completely rebuild his starting rotation, and to do that, he will have to make some uncomfortable decisions, including trading one of the aforementioned players.
Moore has talked about 2014 as the Royals' year to compete. But he has the talent to win now, and he should start by acknowledging the failure of
Luke Hochevar
. Dumping him would serve as a philosophical change for a club that has become enamored with "stuff" rather than results. While
Danny Duffy
and
Jake Odorizzi
are good pitching prospects, the majority of them have been way overhyped. Their only way to improve the rotation so quickly is to bring back
Zack Greinke
or sign
Kyle Lohse
or
Anibal Sanchez
and trade one of those young hitters. I know Moore has gone down this free-agent pitching path before, with the disastrous
Gil Meche
signing, but he can't keep waiting for 2014. It's time to win now.

3. Ben Cherington, Boston Red Sox
The fact is, nearly every move Cherington made last season did not work. From hiring Bobby Valentine, to trading
Jed Lowrie
to Houston and
Kevin Youkilis
to Chicago and
Josh Reddick
to Oakland, to the failed conversion of
Daniel Bard
to the starting rotation, it was a rough rookie year for Cherington.
However, what did work was the massive trade with the
Los Angeles Dodgers
that shed the Red Sox of
Adrian Gonzalez
,
Josh Beckett
,
Carl Crawford
and
Nick Punto
. That move shaved approximately $58 million in 2013 payroll alone. And with the acquisition of manager John Farrell, Cherington is effectively starting from scratch. And he's on the clock now, too.
Cherington's a bright guy and he will have ample opportunity to show what he can do with what almost amounts to a clean slate. He will have some cornerstones such as
Dustin Pedroia
and
Will Middlebrooks
, but he has to also hope
Jon Lester
and Bard return to form in their respective roles. His priority will be to figure out what to do with
Jacoby Ellsbury
, who is a free agent in 2013 and is represented by Scott Boras, so it won't be an easy negotiation. Cherington's team has plenty of holes, and he will have some financial freedom, so there will be opportunities to show last season's disaster was an aberration.

4. GM Mike Hill, president Larry Beinfest, Miami Marlins
It is a difficult situation when you're the general manager of a ballclub, but not really the general manager, or when you're the president of a ballclub, but not really the president. Essentially, owner Jeffrey Loria calls the shots on all personnel decisions and managers, and Ozzie Guillen was the latest casualty. Don't be surprised if outspoken outfielder
Logan Morrison
is next.
Of course, Guillen wasn't without fault here, alienating the Cuban section of the Marlins' fan base early last season. But after signing
Heath Bell
last winter and then trading him to Arizona, free agents will pause before going to Miami. So will managers who see no job security in South Beach -- in a span of six years, three managers (Joe Girardi, Fredi Gonzalez and Guillen) have held the job.
The Marlins will be competing with a resurgent
Philadelphia Phillies
team that still boasts the best rotation in the National League. The
New York Mets
will have lots of money coming off the books in time for the 2014 offseason and the
Atlanta Braves
and
Washington Nationals
are both built to compete for the next five years. But the Fish have some core pieces to work with, namely
Mark Buehrle
,
Jose Reyes
and
Giancarlo Stanton
, as well as some good youngsters in
Rob Brantly
,
Jacob Turner
and Nathan Eovaldi, as well as prospects
Jose Fernandez
and Christian Yelich. If Hill and Beinfest can do something this offseason with some autonomy, they could compete in the NL East.

5. Chris Antonetti, Cleveland Indians
When I say Cashman doesn't have any money and is restricted by his payroll, remember the Yankees' yearly payroll is near $200 million. Cleveland's 2012 Opening Day payroll was $65 million.
So Antonetti really doesn't have any money, nor does he have much of anything else to work with. His hiring of Terry Francona as manager is a step in the right direction. But a manager will only win if he has winning players. The "best" pitching pieces he has to trade are
Ubaldo Jimenez
and
Justin Masterson
, who don't have a ton of value right now. His farm system is below average at best, with the exception of shortstop Francisco Lindor.
Shin-Soo Choo
, arguably Antonetti's best player, is a free agent after 2013, and Boras is his agent. Antonetti simply can't let Choo walk away for only draft-pick compensation.
Further, the AL Central is surprisingly deep with Detroit's dominance, Chicago's surprise and the Royals' rise. Exacerbating things is his team and fan base seem to have lost faith in the front office, with closer
Chris Perez
openly criticizing him in the media. A rough road lies ahead for Antonetti and team president Mark Shapiro, whose own deal is up after 2013.
April, 4, 2012
4/04/12
10:00
AM ET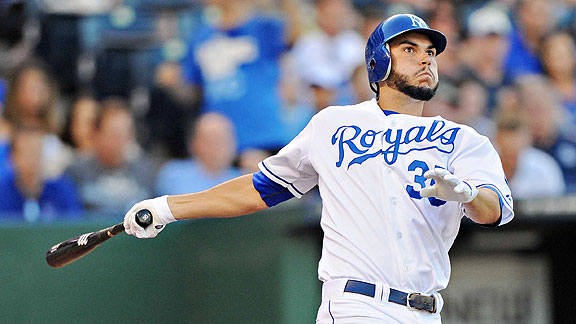 Peter G. Aiken/US PresswireEric Hosmer's explosive spring hints at a huge season for the sophomore first baseman.
There has never been a proven statistical correlation between spring training and regular season performances of players or teams.
That doesn't mean players who are poised for breakout seasons won't show you early indications or an aging veteran won't show signs of decline or a young prospect can't make an impact in spring training's six-week period. Managers and general managers historically make more mistakes with spring training evaluations than at any other time of year because of the spectrum of competition in camp, ranging from Class A to the big leagues, all playing in games together.
Statistics are one way to look at players, but scouting evaluations and the naked eye will often tell you more. Here are some of my evaluations of several spring training studs and duds. Depending on which list he's on, 2012 might spell either boom or doom for these eight players.
Studs

Eric Hosmer, 1B
Hosmer put together an impressive rookie season last year, batting .293 with 19 home runs. However, based on what I saw this spring, Hosmer isn't just another talented first baseman. This player is special. He is an elite first baseman who clearly fits in the same talent category as first basemen such as Adrian Gonzalez and Joey Votto. From what I saw this spring, Hosmer's bat speed, barrel awareness, use of the all fields, pitch recognition and swing path are very similar to Votto and Gonzalez. Likewise, he's also a plus defender. Hosmer's not Albert Pujols, but putting up Pujols-type numbers in a couple years is a distinct possibility.

To continue reading this article you must be an Insider
July, 30, 2011
7/30/11
11:35
PM ET
For months, the
Cleveland Indians
were saying that they weren't going to mortgage the future at the trade deadline. Team president Mark Shapiro said it, so did club GM Chris Antonetti, and manager Manny Acta echoed those same sentiments. However, when it got right down to it at the trade deadline, with an opportunity to acquire one of the top 30 starting pitchers in the game of baseball, the strategy changed.
[+] Enlarge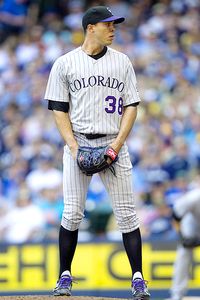 Jeff Hanisch/US PresswireAdding an ace like Ubaldo Jimenez helps now and later.
In a stunning blockbuster deal, the Indians sent their top two starting pitching prospects (left-hander Drew Pomeranz and right-hander
Alex White
), along with first baseman Matt McBride and Double-A starter Joe Gardner, to the
Colorado Rockies
for ace
Ubaldo Jimenez
.
Jimenez, 27, was 6-9 with a 4.20 ERA and had the highest single-season WHIP of his career (1.336) at the time of the transaction. Last year, after a 15-1 start with a 2.20 ERA, he finished the year with a 4-7 record and a 3.80 ERA after the All-Star break. His career splits include a home record of 30-19 with an ERA of 3.67, and a 26-26 record with a 3.58 ERA on the road, clearly dispelling any issues he had with pitching at Coors Field. In 2010, he represented the Rockies in the All-Star Game and finished third in the Cy Young Award voting. Jimenez's contract includes salaries of $2.8 million this year and $4.2 million next year, with club-friendly team options in 2013 (for $5.75 million) and 2014 ($8 million).
To continue reading this article you must be an Insider