The GM's Office:

Trevor Rosenthal
October, 16, 2014
10/16/14
11:13
PM ET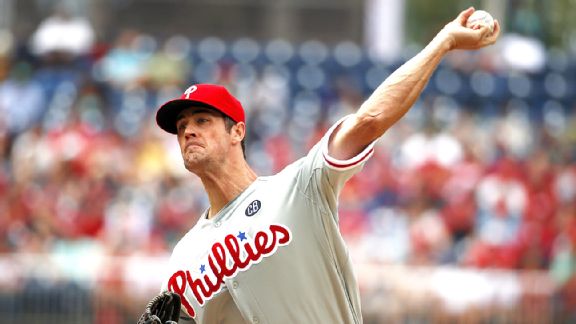 AP Photo/Alex BrandonCould the St. Louis Cardinals look to trade for Cole Hamels this offseason?
Of all the postseason teams, the
St. Louis Cardinals
have the least amount of work to do this offseason. GM John Mozeliak has built this team for the long haul, and the only significant free agent he has to be concerned about is All-Star reliever
Pat Neshek
.
The Cardinals' needs are a short list that include a right-handed-hitting backup first/third baseman with power who could start against certain left-handed starters and upgrading the bullpen with one significant arm. They also might try to deal one of their young elite arms for a top-of-rotation starter such as
Cole Hamels
.
Here is a breakdown of what's next for the Cardinals in each position area:
Starting pitchers
The Cardinals' starting rotation should remain mostly intact. Staff ace
Adam Wainwright
will continue to anchor this steady rotation, and while the Cardinals will make sure his elbow is OK this offseason, there is little doubt he'll once again be a Cy Young Award candidate next year.
October, 3, 2013
10/03/13
9:57
AM ET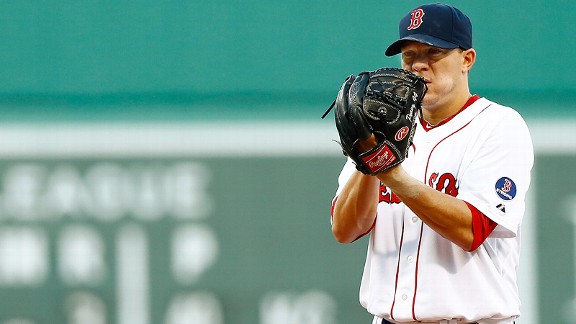 Jared Wickerham/Getty ImagesOther pitchers might have better stuff, but nobody competes harder than Jake Peavy.
This October, most of the ink will be used on the likes of
Clayton Kershaw
,
Miguel Cabrera
and
Dustin Pedroia
, but it's nondescript, under-the-radar players who write history in the postseason. Winning championships isn't about stars; it's about players who step up at a critical time.
Consider some past World Series MVPs:
New York Yankees
third baseman
Scott Brosius
in 1998; the White Sox's
Jermaine Dye
in 2005;
St. Louis Cardinals
shortstop
David Eckstein
in 2006; Boston's
Mike Lowell
in 2007 and San Francisco's
Edgar Renteria
in 2010.
This type of player or pitcher can play a key role in any team's postseason success. So here is one player from each LDS club who might not be his team's best player but will prove crucial to his team's aspirations to advance deep into the postseason.
To continue reading this article you must be an Insider
June, 12, 2013
6/12/13
11:16
AM ET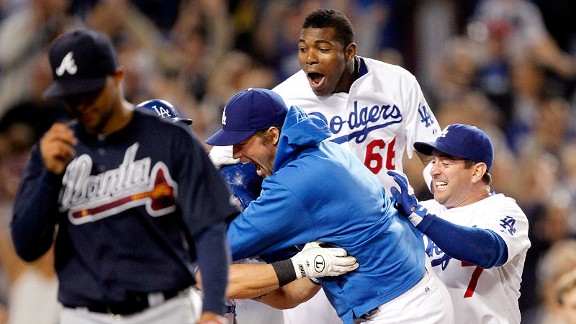 AP Photo/Alex GallardoYasiel Puig, top, has had one highlight after another during the first week of his rookie season.
"Puig-mania" is alive and well in Los Angeles.
Los Angeles Dodgers
rookie
Yasiel Puig
has been in the big leagues for just a little more than a week, but he already has skyrocketed to the No. 2 spot on my Rookie Rankings after a historic debut week. He became the first Dodger since 1916 to have five multihit games among his first seven, and has quickly drawn comparisons to some of the most athletic five-tool players who have ever played the game.
To continue reading this article you must be an Insider
May, 1, 2013
5/01/13
11:30
AM ET
With a month of the season in the books, rookies are making impacts on their teams across the majors. For some, their arrivals and performances were expected; others have been pleasant surprises.
I'll be keeping track of this season's rookie class in this regular rookie report, monitoring their performances and possible trade stock for when the July 31 trade deadline approaches. So here are the top 15 rookies in the major leagues right now based on how they are
performing this year
, as well as the next 15 ranked in chart form below.
For the
first installment of the rookie report, click here
.
1. Shelby Miller | RHP | Stock: Up

Miller is pitching up to the expectations of a first-round pick (picked 19th in 2009). After earning a spot in the rotation out of spring training, he has posted a 3-1 record with an ERA of 1.44 and a WHIP of 0.84. Miller is a strikeout/ground ball machine. He pounds the strike zone with a 91-95 mph fastball with nasty sink and provides plenty of ground ball outs. He consistently gets ahead of batters, which sets up a devastating 12-6 curveball. He's the early front-runner for NL Rookie of the Year.
To continue reading this article you must be an Insider
April, 17, 2013
4/17/13
10:55
AM ET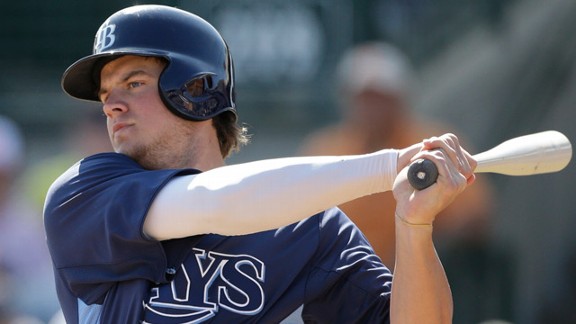 AP Photo/Carlos OsorioWith Tampa's offense ailing, is Wil Myers the panacea for the Rays?
General managers should be patient and measured. Over the course of 162 games, rash decisions don't often portend success. A team's slow start is worrisome, but making knee-jerk reactions can make things only worse. In 1995, when I was GM of the
Cincinnati Reds
, the team began the season 1-8, but I kept calm and we ended up facing the
Atlanta Braves
in the National League Championship Series.
That being said, a glaring hole in the lineup or rotation, a weakness in the bullpen or a major injury that continues to cost the team wins cannot be ignored, and it can't be patched up with bit players. If there's a viable, quality solution within the organization or via trade, it must be considered. Patience then gives way to impulse. And sometimes these moves work.
Let's look at five contending teams that had a palpable weakness entering the regular season and now are losing games because of it. Indeed, the GMs of these teams might be tempted to do something impulsive to right the ship. These five moves might actually work if they address the problems now.
To continue reading this article you must be an Insider
February, 7, 2013
2/07/13
2:00
PM ET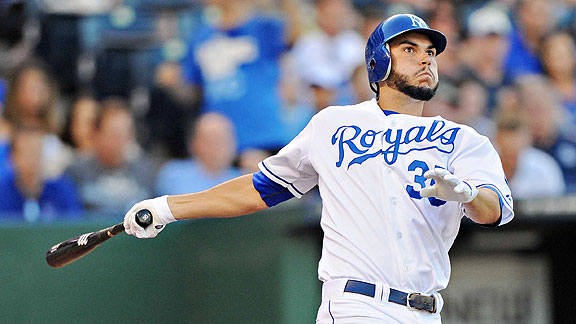 Peter G. Aiken/US PresswireHe had a solid rookie year, but Hosmer is primed for true a breakout year in 2013.
There's an old scouting adage: "He'll tell us when he's ready."
While that mainly pertains to gauging minor league players and their major league readiness, it also applies to young major leaguers trying to live up to their potential and looking for that "breakout" season.
It's that season when all the tools, talent and abilities come together to fulfill the many high expectations on all the scouting reports. It offers the talent evaluators confirmation that they got it right while proving the critics wrong.
Take a look at the breakout seasons
Matt Kemp
,
Andrew McCutchen
and
Carlos Gonzalez
enjoyed over the past several years. Long regarded as five-tool players with elite physical talent, their teams and fans waited and waited for the corresponding elite production to come. It happened for a 24-year-old Kemp in 2009, when he hit 26 homers with 101 RBIs and won his first Gold Glove and Silver Slugger awards after slowly increasing his production since his major league debut in 2006. Likewise, the same explosion happened for Gonzalez in 2010 at age 24, and then for McCutchen in 2012 at age 25.
The 2013 season should be no different. Here are seven individuals, all just about the same age as our aforementioned trio, who have barely scratched the surface of their massive potential and are primed to be among baseball's breakout players in 2013.
1. Justin Upton | OF | Age: 25

With six years of experience, Upton is primed to finally reach his potential. He's different than Kemp, McCutchen and Gonzalez because he's already had a successful start to his career that includes two All-Star appearances, a Silver Slugger Award and a top-five showing in 2011 NL MVP voting. He has the potential to produce 35 homers and 100 RBIs annually, but he has yet to put together a consistent year from start to finish that would really signify his arrival. Being traded to the
Atlanta Braves
might just be the trigger. Playing beside his brother B.J. and surrounded in the lineup with other elite young players such as
Jason Heyward
and
Freddie Freeman
could spur him to bring his game to another level. The Diamondbacks didn't believe in him and he will be motivated to show them that they were wrong to trade him.
To continue reading this article you must be an Insider
November, 9, 2012
11/09/12
9:30
AM ET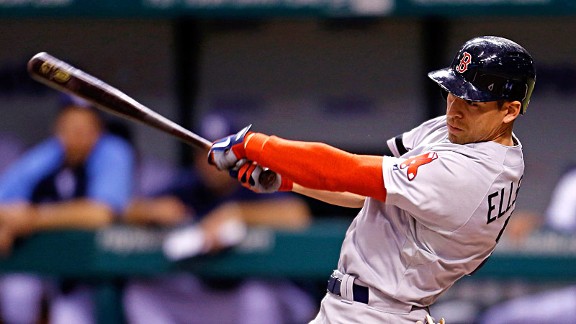 J. Meric/Getty ImagesThe Red Sox have several options with Jacoby Ellsbury.
It wasn't long ago that outfielder
Jacoby Ellsbury
looked like the face of the
Boston Red Sox
. His All-Star campaign in 2011 was highlighted by a .321 average, 32 home runs, 105 RBIs and 39 stolen bases. His five-tool prowess had finally developed, and he looked firmly entrenched as Boston's center fielder for years to come.
Only a season later, things have spun 180 degrees. Ellsbury slogged through an injury-marred 2012 season, still managing to hit .271 in just 303 at-bats, but that 2011 season now seems long ago. Further, Ellsbury is eligible for free agency in a year and is represented by agent Scott Boras, who owns a healthy track record of taking his clients to free agency to maximize their financial opportunities.
Considering that, it looks like the Red Sox have three options:
1.) Settle with Ellsbury on a one-year deal
2.) Take Ellsbury to arbitration, where he will make about $9.5 million on a one-year contract
3.) Trade Ellsbury
While Boston would love to sign Ellsbury to a long-term deal and keep him at Fenway Park, they most likely will have no choice but to test the trade waters to see what they can get for Ellsbury. With the Red Sox a couple seasons away from contention, this move makes sense.
But first, Red Sox general manager Ben Cherington must identify the teams that need a center fielder, would be willing to trade for a "rental" player and could afford to add a $9.5 million player to its payroll.
Because Ellsbury will be a one-year rental, Cherington probably knows he won't get equal return. However, he will start with a high asking price -- in some cases unreasonable -- and negotiate downward. And the Red Sox could have another shot at Ellsbury after the 2013 season since Boras will make certain he reaches the free agent market.
Here are seven conversations Cherington should have with teams:
1. Atlanta Braves | trade targets: SS Nick Ahmed, RHP Julio Teheran
The first place to look is the NL East, where the Braves,
Washington Nationals
and
Philadelphia Phillies
are all looking for short- and long-term solutions for center field. The Braves are set at shortstop for years to come with
Andrelton Simmons
, which makes Ahmed expendable. Ahmed, 22, was the Braves' second-round pick in the 2011 draft and had a solid year at high Class A Lynchburg both offensively and defensively. He stole 40 bases. Teheran remains the Braves' top pitching prospect, and once his command and control arrive, he should be a solid No. 2 or No. 3 starter for years to come.
If the Red Sox could add Teheran to the young starters they acquired in the blockbuster deal with the
Los Angeles Dodgers
last summer (Allen Webster and
Rubby De La Rosa
), it would be a huge step forward in their retooling. Ellsbury would take Bourn's spot in center field and keep the Braves primed for another postseason berth in 2013.
2. Los Angeles Angels | trade target: 1B C.J. Cron, OF Peter Bourjos
How about an Angels outfield of
Mike Trout
, Jacoby Ellsbury and
Mark Trumbo
, with all three combined making less than
Torii Hunter
made in 2011? The Red Sox would get their long-term solution to first base in Cron and a middle-of-the-order bat that they can count on for years to come. Bourjos would give them Gold Glove defense in center field, and perhaps his bat would develop enough to eventually hit at the top of the lineup. Ellsbury for Cron straight up might even be fair value.
3. Los Angeles Dodgers | trade target: OF Andre Ethier
This deal would give the Red Sox cost certainty and their long-term right fielder, as Ethier just signed a six-year $95.5 million deal through 2017 with a vesting option for 2018. The Red Sox have top center field prospect Jackie Bradley Jr. waiting in the wings to eventually take over the position long term. The Dodgers would then have an outfield of
Matt Kemp
, Ellsbury and
Carl Crawford
. When healthy, it would be the best in the National League with an incredible combination of speed and power. More importantly, the Dodgers would have their leadoff hitter.
4. St. Louis Cardinals | trade targets: RHP Trevor Rosenthal, OF Jon Jay
Rosenthal has ability and potential to be a
Craig Kimbrel
or
Aroldis Chapman
-type closer right now, and Jay could take over in center field in Boston. The Red Sox should stop dreaming about
Andrew Bailey
,
Daniel Bard
and
Alfredo Aceves
taking care of the final three outs of the game. Rosenthal can do that now with his 100-mph fastball. Odds are this discussion goes no further than the phone call, as the Cardinals love Rosenthal (who they might also try as a starter) and seem happy with Jay.
5. San Francisco Giants | trade targets: OF Gary Brown, RHP Heath Hembree
The Giants have a chance to win three World Series in four seasons, and Ellsbury would help that cause immensely. He would give them a dynamite leadoff hitter and table-setter for
Pablo Sandoval
,
Buster Posey
and
Hunter Pence
in the middle. He'll be able to run down balls in center field and will give them the additional power they have lacked. Brown is supposed to be their leadoff hitter of the future, but if they were willing to trade top pitching prospect Zach Wheeler for
Carlos Beltran
, they should consider this deal, too. The Red Sox should also ask for Hembree because he throws in the high 90s, and if his command in the zone ever arrives, he could be a candidate to be Boston's closer down the line.
6. Seattle Mariners | trade target: RHP Taijuan Walker
The Mariners have had the worst offense in the American League for three straight seasons, and they have approximately $30 million dollars to spend. Do they trade one of their top pitching prospects for offense as they did last year when they shipped
Michael Pineda
to the
New York Yankees
for catcher
Jesus Montero
? The Red Sox should ask for Walker, but my gut says Cherington would get a polite "no, thank you" from Mariners GM Jack Zdurinecik, who will then counter with an offer of one of lefties James Paxton or
Danny Hultzen
. If that happens, the Red Sox certainly should consider it.
7. Washington Nationals | trade targets: OF Brian Goodwin and RHP Alex Meyer
Goodwin has been wowing scouts in the Arizona Fall League with his range, defense and bat. Meyer was very impressive in his pro debut last season in A-ball, where he went a combined 10-6 with a 2.86 ERA in 25 starts. Meyer was the Nationals' first-round choice in 2011, and the Red Sox have been following him closely since they selected him the 20th round of the 2008 draft but weren't able to sign him. Ellsbury would allow the Nationals to put Bryce Harper in one of the corners with
Jayson Werth
. A deal of this magnitude would put them among the NL's early favorites to reach the World Series.
In the end, it's doubtful any of these trade discussions will end up in a deal. The most likely scenario is Ellsbury ends up with a one-year deal at $9.5 million, and the Red Sox will revisit the trade market for him at next July's trade deadline. That said, perhaps then we'll revisit these trade discussions again when the probability of one of them happening will have increased significantly.