February, 7, 2014
Feb 7
11:55
AM ET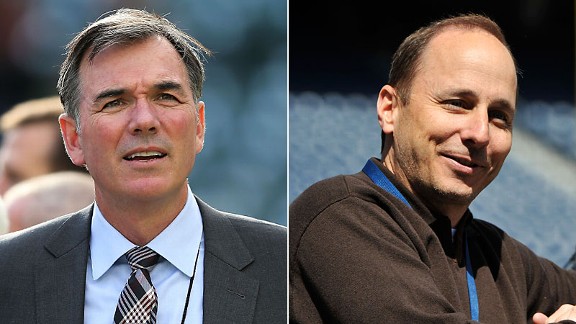 Getty Images, AP PhotoBilly Beane and Brian Cashman enjoyed very fruitful offseasons.
I'm all packed with spring training just days away. So before I depart I thought it was time to give my offseason awards and hand out some hardware to the general managers for their offseason work.
BEST OFFSEASON -- BIG-MARKET GM: Brian Cashman | New York Yankees

It was the most expensive free-agent spending spree in baseball history when the Yankees committed a combined $438 million for 22 years of contracts to
Masahiro Tanaka
,
Jacoby Ellsbury
,
Brian McCann
and
Carlos Beltran
. The Yankees quickly rebuilt their outfield, catching and starting pitching with All-Star caliber players and imported the best overall talent of any team in baseball this offseason. They also get credit for walking away from
Robinson Cano
by refusing to acquiesce to 10 years and approximately $240 million for a player in his 30s.
Runners-up:
Jon Daniels, Texas Rangers:
To continue reading this article you must be an Insider
December, 4, 2013
12/04/13
10:30
AM ET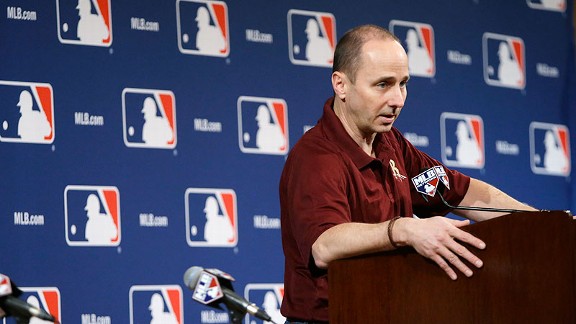 AP Photo/Mark HumphreyExpect Brian Cashman at the podium sometime during the Winter Meetings.
Baseball's annual winter meetings in Orlando, Fla., don't commence until Sunday, Dec. 8, but several general managers already have made waves this offseason.
Tigers president/GM Dave Dombrowski has made the biggest splash of the offseason so far after dealing first baseman
Prince Fielder
and right-hander
Doug Fister
, and signing free-agent closer
Joe Nathan
.
But
St. Louis Cardinals
GM John Mozeliak isn't far behind after trading for center fielder
Peter Bourjos
and signing free-agent shortstop
Jhonny Peralta
. Likewise,
Minnesota Twins
GM Terry Ryan has been active, bolstering his starting rotation by signing free-agent pitchers
Ricky Nolasco
and
Phil Hughes
to long-term deals.
However, 12 out of the top 15 free agents this offseason are still without homes, and there are several prominent players being mentioned in trade rumors, including
David Price
and
Jeff Samardzija
.
So let's take a look at some of the GMs who could join Dombrowski, Mozeliak and Ryan in making a huge splash of their own at the winter meetings.
Brian Cashman | Needs: starting pitching, second base, closer

I know what you are thinking: Cashman already made a splash by signing
Brian McCann
to a five-year, $85 million contract and
Jacoby Ellsbury
to a seven-year pact. But as I see it, that was just the appetizer.
Cashman remains focused on second baseman
Robinson Cano
, and once CAA and RocNation move a little closer to Cashman's numbers, an eight-year, $200 million deal could get done before Cashman leaves the winter meetings.
To continue reading this article you must be an Insider
May, 17, 2013
5/17/13
11:22
AM ET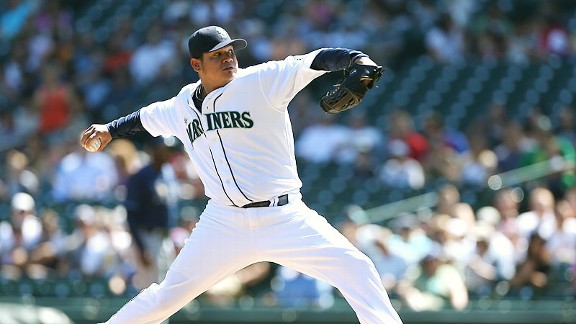 Otto Greule Jr/Getty ImagesLed by Felix Hernandez, the Seattle Mariners have the pitching to contend for a wild-card berth.
After another win in the Bronx last night, the
Seattle Mariners
are just a game below .500 and in second place in the AL West. This club was built on pitching and defense, and it's strong in both areas. However, with an offense that ranks 14th in the AL in runs, there are some issues.
The good news for the Mariners is that they have one of the deepest farm systems in the majors and can fix some of those problems from within via promotions and by trading some of that depth. When I look around the American League, I don't see any team that is going to run away with a wild-card berth. And while I don't think the Mariners can catch the Rangers in the AL West, I expect them to compete for a playoff spot all summer. They just need to make a few key adjustments.
To continue reading this article you must be an Insider
February, 12, 2013
2/12/13
1:40
PM ET
It was an active offseason that witnessed the trade of a Cy Young Award winner, several large, multiteam trades and an inflated free-agent market. So to evaluate and rank the offseason of all 30 teams, I took into account the following factors:
• How it improved the team for 2013, as well as the next five years.
• How it affected payroll and budgets -- both short and long term.
• How it affected team chemistry and clubhouse culture.
• How effectively needs were filled -- through free agency, trade or farm system.
• The amount of money committed compared with the value received.
• Aggressiveness.
With spring camp upon us, we'll see whose offseason produces the best results. Here are the rankings of all 30 teams' offseason campaigns.
1. Toronto Blue Jays | GM: Alex Anthopoulos

Acquired:
RHPs
R.A. Dickey
,
Josh Johnson
, LHPs
Mark Buehrle
,
Darren Oliver
, SS
Jose Reyes
, C's
Josh Thole
and
Mike Nickeas
, IFs
Emilio Bonifacio
,
Maicer Izturis
, OF
Melky Cabrera
Analysis:
Anthopoulos had a tremendous offseason, making two of the biggest offseason trades in baseball history. It cost him some prospects, and when the dust settled the Blue Jays added three top-of-the-rotation starters to complement
Ricky Romero
and
Brandon Morrow
to give the Jays the best five-man rotation in the division -- on paper. They now have the veteran leadership, speed, energy and enthusiasm to be a legitimate World Series contender.
To continue reading this article you must be an Insider
December, 21, 2012
12/21/12
1:00
PM ET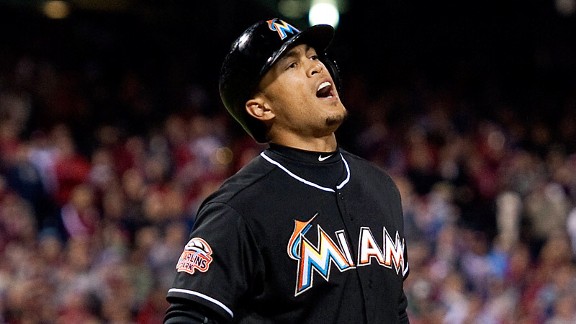 Howard Smith/US PresswireGet used to it, Giancarlo. Unless Stanton gets traded, life will be frustrating.
An emotional reaction was not a surprise and probably warranted. Shortly after the
Miami Marlins
' blockbuster trade of
Jose Reyes
,
Mark Buehrle
and
Josh Johnson
to the
Toronto Blue Jays
in November, Marlins outfielder
Giancarlo Stanton
sent out the following tweet:
@Giancarlo818: "Alright, I'm pissed off!!! Plain & Simple"
He watched as his team's management decimated the roster for a package of prospects. Now Stanton sits in the wreckage of what used to be a team most thought would contend for the National League East Division title. Now they'll be lucky not to lose 100 games.
Stanton has been very open about his desire to be traded, but the Marlins have control of his contract through 2016. The question now will be whether he gets his wish. If you believe the Marlins' front office, it's not happening.
When great players are stuck in bad situations, they must possess and display great character and intensity to perform at the same level as if they were on a contending team. Here are five examples of great players who will have to perform in bad situations in 2013, as well as a look at how these players might be able to get out of their current mess:
To continue reading this article you must be an Insider
December, 19, 2012
12/19/12
11:55
AM ET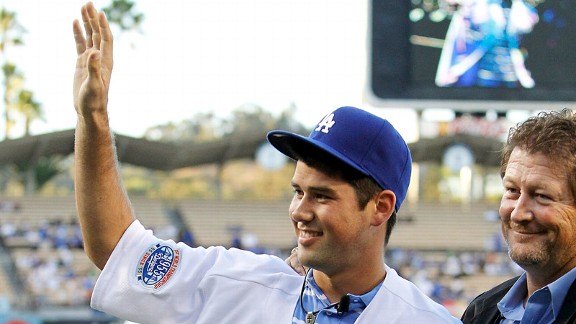 Ric Tapia/Icon SMIZach Lee might wave good-bye to the Dodgers if they need to make a trade at the July deadline.
It's not very often we have an offseason in which so many of the game's top prospects are traded, but that's exactly what's happened this winter with the
Kansas City Royals
dealing Wil Myers to the
Tampa Bay Rays
as part of the package for starter
James Shields
, as well as the
Toronto Blue Jays
trading catcher
Travis d'Arnaud
to the
New York Mets
in a blockbuster deal for NL Cy Young Award winner
R.A. Dickey
.
So naturally all of this movement raises the question: Who will be the next highly-touted prospect to be traded?
I don't think it will be
Texas Rangers
rookie
Jurickson Profar
, largely because the Rangers already have turned down opportunities to trade him for Shields, Dickey and
Justin Upton
. Nor do I think any of the following prospects will be traded: Taijuan Walker (
Seattle Mariners
), Gerrit Cole (
Pittsburgh Pirates
), Francisco Lindor (
Cleveland Indians
),
Dylan Bundy
(
Baltimore Orioles
).
However, we are seeing teams show a willingness to trade elite young talent, and here are seven top prospects who could be dealt in 2013 for the right starting pitcher or middle-of-the-order impact bat:
To continue reading this article you must be an Insider
July, 8, 2012
7/08/12
12:24
PM ET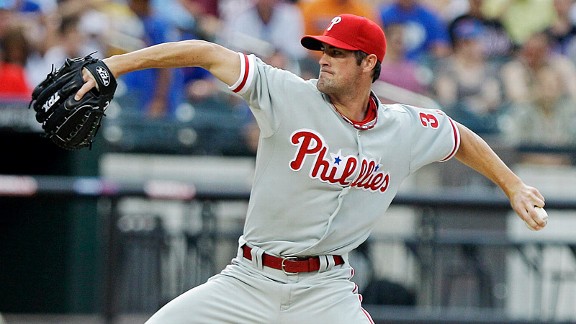 AP Photo/Frank Franklin IIHamels would fetch top prospects in return, but only if the team knew he would sign long-term.
There are scant few occasions when the minor leagues' best players are gathered in one setting, but MLB's Futures Game is one such instance.
The game offers all 30 clubs' general managers the opportunity to evaluate the game's best young talent all at once, and more importantly, the chance to rank them side by side for future trade possibilities. Usually general managers will make sure that the organization sends two of its top evaluators.
However, the reality is most of baseball's 30 GMs actually will not have a majority of these elite players available to them in trades even for superstar-caliber players. You won't see the
Kansas City Royals
part with Wil Myers even for
Philadelphia Phillies
lefty
Cole Hamels
, just like the
Texas Rangers
won't deal top prospects Jurickson Profar or Mike Olt even if the return is
Milwaukee Brewers
righty
Zack Greinke
.
Still, there remains a handful of young players in the Futures Game who could be dealt if their teams could net an important piece that vaults them to a shot at the World Series. Here are five players who I think could be included in a blockbuster-type transaction.
To continue reading this article you must be an Insider
December, 29, 2011
12/29/11
10:00
AM ET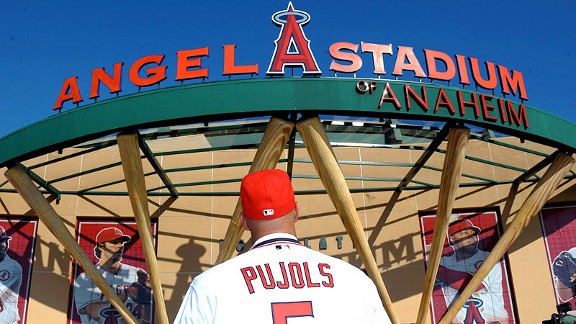 Kirby Lee/US PresswireIn 2011, Pujols found greener pastures in a land bathed in Angels red, not Cardinals.
Albert Pujols' name already is often mentioned among a trio of baseball legends – Babe Ruth, Hank Aaron and
Barry Bonds
. His prodigious career thus far has earned him that nod of respect, as well as a mammoth 10-year, $254 million contract in December from the
Los Angeles Angels
, which is justifiably the 2011 Transaction of the Year.
The speed with which the deal was completed, as well as the sheer financial numbers turned baseball's annual winter meetings on its head. But there also was symmetry; Pujols left the only team he's ever known, similar to Ruth, Aaron and Bonds. And as the sport's best active player his departure was made all the more curious by St. Louis' zeal to sign teammate
Matt Holliday
to an extension rather than Pujols. Despite his accolades and production Pujols never felt he got a full market value offer from the Cardinals. Likewise, the
Pittsburgh Pirates
knew Bonds would leave after the 1992 season, seemingly too expensive to re-sign.
To many, the historical significance of his deal was on par with Boston's selling of Ruth's contract to the
New York Yankees
in 1919, if not equal to Bonds leaving for San Francisco or an aging Aaron traded from Atlanta. Indeed, there's little doubt Pujols eventually will rank among that trio of home run hitters, so perhaps it was a move destined to happen.
---
Honorable mention:
1. Colby Rasmus traded to the Toronto Blue Jays
In a complex, three-team trade that involved 11 players, the Cardinals netted several players who were integral to their World Series championship run. On July 27, they sent former No. 1 pick Rasmus to Toronto, which had coveted the 24-year-old Rasmus for some time. Knowing that the departures of Pujols and manager Tony La Russa were distinct possibilities after the season, trading a talent like Rasmus was worth the risk to try and win now. Without role players such as
Edwin Jackson
,
Octavio Dotel
, Mark Rzepczynski, the Cardinals' run might never have reached the heights that it eventually would.
2. Doug Fister traded to the Detroit Tigers
Tigers President/CEO and general manager Dave Dombrowski's main intent in acquiring right-hander Doug Fister on July 30 from the
Seattle Mariners
was to improve his team's fifth starter. Production from that slot in the first half of the season had proven disastrous. In Fister, however, they got a No. 3 starter. With Fister's off-balance approach, the Tigers said good bye to the rest of the American League Central and said hello to the playoffs. Like the Cardinals, it is likely their postseason run would never have started without this trade.
3. Hunter Pence traded to the Philadelphia Phillies
The
Houston Astros
were selling, and the Phillies needed another right-handed bat. Pence had always been an above-average player, but after he arrived in Philadelphia on July 30, he completely changed the offense and became one of the team's best players. Even more significant was the fact the Phillies did not surrender either No. 1 prospect
Domonic Brown
or emerging right-handed starter
Vance Worley
. Instead, the Phillies gave up a decent package including pitcher Jarred Cosart and first baseman Jonathan Singleton.