The GM's Office:

Torii Hunter
October, 7, 2014
10/07/14
10:32
AM ET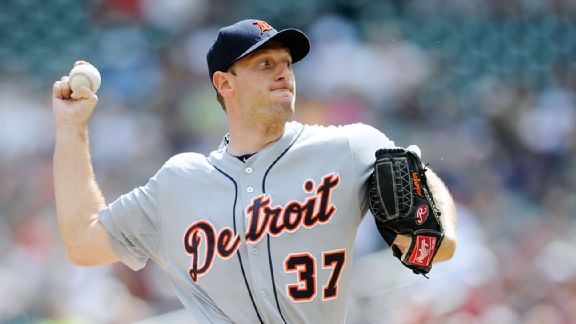 Hannah Foslien/Getty ImagesWill Tigers ace Max Scherzer return to the club for 2015 or leave via free agency?
The
Detroit Tigers
' first order of business this offseason will be to address their impending free agents. This includes their staff ace
Max Scherzer
, team MVP
Victor Martinez
, clubhouse leader
Torii Hunter
and setup man
Joba Chamberlain
. The Tigers would like to bring them all back, but it's highly unlikely to happen. Scherzer already has turned down a six-year, $144 million offer, and Martinez will be the most sought-after American League bat on the free-agent market.
Detroit must have special emphasis this offseason in rebuilding its bullpen to a championship level, a weakness that was exposed during the regular season and postseason.
May, 10, 2013
5/10/13
10:30
AM ET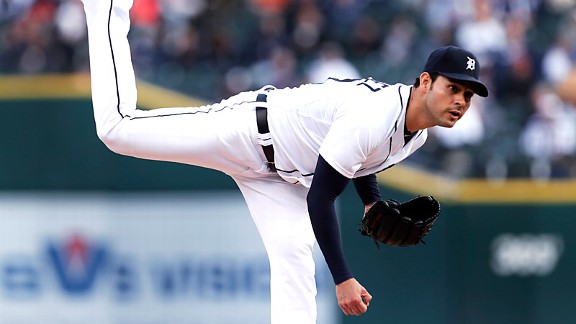 AP Photo/Paul SancyaAnibal Sanchez has helped give the Tigers arguably the best rotation in baseball.
The cream of the 2013 free-agent crop was obvious and expensive.
Teams entered the offseason flush with cash and spent prodigiously. Outfielder
Josh Hamilton
was the best position player, while
B.J. Upton
and
Michael Bourn
followed not far behind. Right-hander
Zack Greinke
was clearly the top free-agent pitcher available. All together, the four top free agents signed multiyear contracts worth close to $300 million.
And what do those teams have to show for it? The trio of outfielders has hit a combined .205 with a paltry nine home runs, five stolen bases and 93 strikeouts. Greinke added a lone win and a broken collarbone.
Conversely, there are a number of lower-priced free agents who are more than earning their paychecks. Since the top four free agents haven't lived up to their usual performance levels, which free agents have been the best bargains in baseball so far? Here's a ranking of the top 10 so far:
Note: Performance to date, salary and long-term commitment were all considered for this ranking.
To continue reading this article you must be an Insider
November, 13, 2012
11/13/12
11:30
AM ET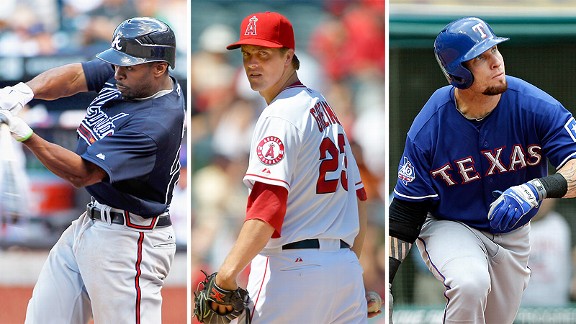 AP PhotoWith which team will Michael Bourn, Zack Greinke and Josh Hamilton sign?
Every team entering the offseason would love a shot at even one (if not several) of the top available players on the free-agent market. But that often only comes with a particular equilibrium of financial resources and baseball needs.
Below are 10 of the top available free agents, and I've ordered them based on
how much I think they will earn in their next contract
. I've also indicated where they fit best -- never listing a team more than once -- as well as how probable that signing might be.
(Check out the
Bowden Big Board
, which ranks the top 50 free agents based on what I expect them to earn on their next contact based on average annual value or AAV.)
Josh Hamilton | OF | Best fit: Texas Rangers
I won't be surprised if Hamilton's best offer comes from a surprise team like the
Seattle Mariners
,
Baltimore Orioles
or
Milwaukee Brewers
. But I think the best fit for Hamilton remains the Rangers. They are the most familiar with Hamilton and all the issues that come with him. They have a strong support team in place for him and are willing to give him a competitive average annual value. I don't think three years will get it done, and I'll be shocked if the Rangers don't go to a fourth or even a fifth year for him. Simply, the Rangers have been a much better team over the past three years with Hamilton in the lineup and he won't be easily replaced if he leaves.
Probability:
Medium
Zack Greinke | RHP | Best fit: Los Angeles Dodgers
Greinke might end up the highest-paid right-handed starting pitcher in baseball history by the time the winter meetings conclude in Nashville, Tenn., next month. The
Los Angeles Angels
, Dodgers and Rangers appear to be the teams with the most interest and wherewithal to make a play at this level, though the Nationals could be a dark horse.
I think Southern California is the best spot for Greinke, and he proved last September that he can handle the pressure of the large market. In fact, he pitched his best games against contending teams down the stretch. I think he ends up signing with the Angels because they're more likely than the Dodgers to give him an extra year. However, the Dodgers would be a tremendous fit for him, pitching alongside
Clayton Kershaw
at the top of the Dodgers' rotation. And by signing Greinke, the Dodgers certainly would assume sole possession of the highest payroll in baseball. West Coast
New York Yankees
, indeed.
Probability:
Medium
Michael Bourn | CF | Best fit: Washington Nationals
Bourn is the best leadoff hitter available on the free-agent market. Possible fits for the two-time Gold Glove Award winner include the
Philadelphia Phillies
,
Cincinnati Reds
and
Atlanta Braves
. However, he's potentially a postseason game-changer for the Nationals. They would love to move
Bryce Harper
to one of the outfield corners and put a defender in center field who can run down fly balls as well as anyone.
Offensively, having a leadoff hitter who can help manufacture runs with his speed would really improve the Nats' chances of winning the World Series, but general manager Mike Rizzo told me this week that
Adam LaRoche
is his top priority this offseason. If the Nationals re-sign him, they will probably keep Harper in center field until their top center field prospect, Brian Goodwin, is ready. It sounds like the only way they make a play on Bourn is if LaRoche signs with the
Boston Red Sox
, Rangers or Orioles.
Probability:
Low
B.J. Upton | CF | Best fit: Philadelphia Phillies
The Phillies' No. 1 priority this offseason is improving center field with a long-term solution and Upton is their No. 1 free-agent target. Upton would be an excellent fit with the Phillies because they need another right-handed bat to better balance their lineup, and his raw power should result in more than 30 home runs per season at Citizens Bank Park.
Upton would also give the team some much-needed speed, and he's a No. 2 or No. 6 hitter in a championship-caliber lineup. From my discussions with Rays manager Joe Maddon it sounds like Upton's really starting to mature. Sure, he's going to strike out 160 times, but with his power, speed and above-average defense, Upton would be a huge plus for the Phillies.
Probability:
Medium
Anibal Sanchez | RHP | Best fit: Baltimore Orioles
The Orioles made their mark in 2012 and are set up as a solid contender in the AL East for the next several years. However, to win the division or a wild-card berth next year, they'll have to count on their starting pitchers to repeat their 2012 success, which is easier said than done with so many first-year pitchers.
Sanchez would really help improve the Orioles' chances, and he looks like he's finally figured it out, as illustrated by his impressive postseason performances with the Tigers. Sanchez, 29, was throwing mostly 93-95 mph down the stretch with a nasty change, solid slider and decent curveball and his free-agent value might have soared more than any other free agent this past season.
Probability:
Medium
Rafael Soriano | RHP | Best fit: Los Angeles Angels
The Angels are not going to spend the kind of money Soriano's seeking on a closer because it's against the philosophy of GM Jerry DiPoto, who would prefer to fill the role with more inexpensive options like
Ernesto Frieri
or
Jordan Walden
. However, Soriano would be a perfect fit for the Angels, who suffered in 2012 without a lockdown closer. The Angels had a whopping 22 blown saves and would have made the playoffs if the bullpen was more effective protecting leads late in games.
Probability:
Low
Hiroki Kuroda | RHP | Best fit: New York Yankees
The Dodgers, Red Sox and Yankees all have strong interest in Kuroda, who I expect will either return to the Yankees or go back to Japan. Kuroda had a solid first year with the Yankees and handled New York like he'd pitched there his entire career. He had his best ground ball rate of his career in 2012 and developed a strong working relationship with Yankees pitching coach Larry Rothschild.
Probability:
High
Kyle Lohse | RHP | Best fit: Kansas City Royals
The Royals' early acquisitions of
Ervin Santana
and
Chris Volstad
were a start, but the Royals must be aggressive this offseason in building up their starting rotation. Lohse was the Cardinals' best starting pitcher in the regular season this year, going 16-3 with an ERA of 2.86 and he pounds the zone with the ability to keep it on the black on both sides of the plate and rarely misses in the middle.
Lohse will consider his family needs when making a choice, and it appears that the Royals and Kansas City fit that criteria. Seems like a solid fit for both Lohse and the Royals.
Probability:
Medium
Torii Hunter | RF | Best fit: Detroit Tigers
I expect Hunter to sign with the Tigers or another team before Thanksgiving. Hunter is a perfect fit for the Tigers, who can use his leadership and positive energy on the field, in the dugout and around their young players. With the Angels, Hunter was a great influence on
Mike Trout
,
Peter Bourjos
and
Mark Trumbo
, and would be a phenomenal teacher for the Tigers' young outfielders
Avisail Garcia
and
Austin Jackson
. Manager Jim Leyland told me that he'd like to add a 15-20 home run bat who can drive in 80 and play above-average defense on one of the corners. Obviously, Hunter fits the bill better than anyone else on the open market.
Probability:
High
Stephen Drew | SS | Best fit: St. Louis Cardinals
Drew is the best available free agent on the market at his position, and there isn't much else out there. He owns a strong arm and plus range to both sides. He has the ability to hit 20 home runs and should be close to 100 percent health by spring training. Drew's consistent play at shortstop and offensive game would be a significant upgrade.
With an aging
Rafael Furcal
trying to come back from injury, there is a high probability his decline will continue and include future injuries. If they can sign Drew and Furcal shows up to camp healthy, they can trade him during spring training. The Cardinals liked what they saw from
Pete Kozma
in September, but after his NLCS meltdown, I'm not so sure it wouldn't make sense to park him in Triple-A for a year and let him keep developing.
Probability:
Medium
August, 20, 2012
8/20/12
12:40
PM ET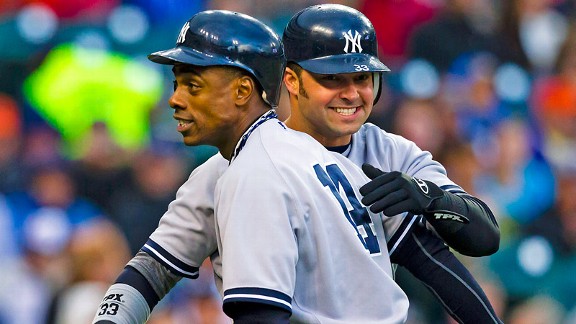 Rick Osentoski/US PresswireNick Swisher keeps his teammates loose and has produced consistently over the last six years.
For most people watching
San Francisco Giants
outfielder
Melky Cabrera
, his 2012 season so far seemed almost too good to be true. Turns out it was.
His dream season began in May when he earned the 100th hit of 2012 in his 291st plate appearance, breaking Willie Mays' 54-year-old team record of fewest plate appearances needed to achieve 100 hits. Cabrera then added All-Star Game MVP honors, and his offensive production helped keep the Giants in first place for much of the season.
The dream soured into a nightmare after Cabrera tested positive for performance enhancing drugs and was suspended for 50 games. He's exacerbated the situation with new reports that he paid a consultant to
create a phony website to fool the players' union and MLB
into believing he had accidentally ingested a supplement spiked with testosterone.
Investigations are ongoing, but the upshot of it all is that Cabrera had nearly paved the way for a potential contract in the range of five to six years between $12 and $15 million per season or a total package of $72 million-$90 million.
Not anymore. And the great beneficiary of this mess?
New York Yankees
outfielder
Nick Swisher
.
To continue reading this article you must be an Insider
June, 6, 2012
6/06/12
10:52
AM ET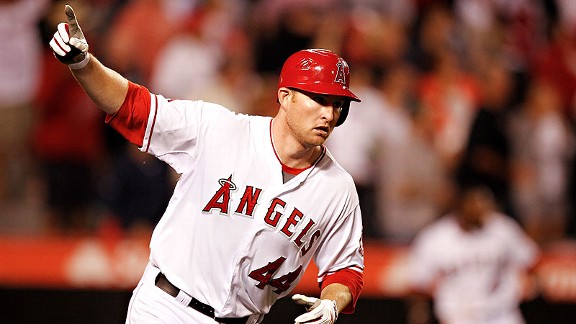 AP Photo/Chris CarlsonTrumbo's versatility and production makes him the Angels' MVP so far.
When the
Los Angeles Angels
dropped a 10-year, $240 million contract on
Albert Pujols
, the No. 1 free agent this past offseason, the media and fans immediately turned their attention toward Anaheim. The three-time National League Most Valuable Player quickly became the front-runner to win the AL version this year. But his early season slump, as well as the team's losses, dominated April's headlines.
When the Los Angeles Angels sought an elixir for what ailed them, they called up outfielder
Mike Trout
, who ESPN's own Keith Law deemed the game's No. 1 prospect in the minor leagues. Pujols and the Angels' play improved while talk continued of Trout as a candidate for AL Rookie of the Year.
But perhaps lost in the shuffle of all the news and bombast surrounding Trout and Pujols has been the consistency and versatility of
Mark Trumbo
. Quietly, Trumbo has done all that has been asked of him and more and has been arguably the Angels' MVP this year.
To continue reading this article you must be an Insider