The GM's Office:

Stephen Drew
April, 1, 2014
4/01/14
9:27
AM ET
A large slate of games Monday offered glimpses of what could be an exciting 2014 season. There were unexpected performances (
Alejandro De Aza
's two home runs) and disappointing ones (
Cliff Lee
's eight earned runs in five innings), too, as well as a walk-off win in Pittsburgh.
There's still a long way to go for any of my
bold predictions
to play out, but here are my five best takeaways from Opening Day 2014.
1. So far, so good for Sizemore and Sox

Grady Sizemore
was the best and biggest story of spring training, and he kept it going Opening Day with a single in his first at-bat and a long home run in his second.
February, 21, 2014
2/21/14
10:30
AM ET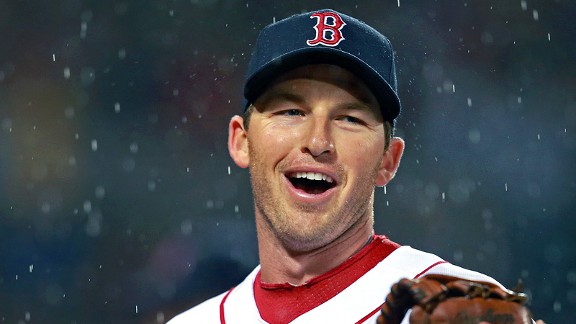 Jim Davis/The Boston Globe via Getty ImagesStill searching for a home this spring, Stephen Drew would fit perfectly with the Mets.
Over the past few years, the
New York Mets
have made great strides in improving the franchise. Under the leadership of general manager Sandy Alderson, they've had a productive offseason and are cultivating a healthy crop of young pitching in their farm system.
However, despite all the moves Alderson has made this offseason, the Mets' one glaring weakness remains at shortstop. The Mets have left no stone unturned in searching outside the organization for an upgrade at the position. Indeed, there was little available on both the free agent or trade markets -- just ask the
St. Louis Cardinals,
who had to turn to free agency, finally overpaying shortstop
Jhonny Peralta
with a four-year deal worth $53 million.
That said, one player who matches up perfectly with the Mets' needs is free agent
Stephen Drew
. Unlike Peralta, Drew received a qualifying offer, which has crushed the demand for his services because he will cost the team that signs him a draft pick.
However, circumstances have aligned perfectly for the Mets, who should step up and sign Drew, offering a contract in the neighborhood of two years at $22 million (with no limited no-trade clause or opt-out clause). Alderson and Drew's agent, Scott Boras, should put their egos aside and get this deal done. Let's take a look at why.
Drew versus Tejada
Right now, the Mets' starting shortstop (by default) is light-hitting
Ruben Tejada
. At the plate, he's done little to prove he's the Mets' long-term solution, and his numbers bear that out, posting a weak 2013 slash line of .202/.259/.260.
Conversely, Drew finally is completely healthy and as such, his projected production is in.265/.330/.440 range, with 12-15 homers.
To continue reading this article you must be an Insider
February, 14, 2014
2/14/14
9:00
AM ET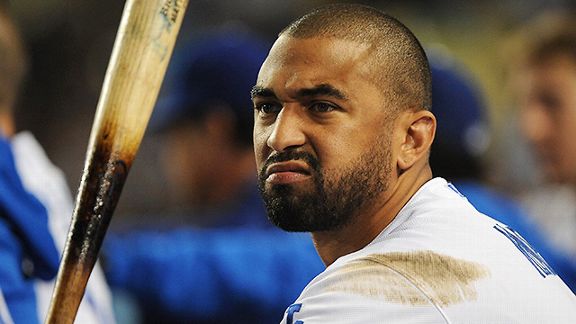 Lisa Blumenfeld/Getty ImagesIs it possible Matt Kemp might miss all of spring training? Could be.
It was in March 2013
that I predicted
that some time during the season,
Yasiel Puig
would become a star on the level of past star rookies such as Fernando Valenzuela and
Hideo Nomo
and create his own mania -- "Puigmania."
Well, it's time for more bold predictions, and I'm beginning with spring training. Let's take a look at my 10 bold predictions for 2014 spring training. (Don't worry, I'll make more bold predictions for the regular season.)
1. Matt Kemp doesn't play in a single major league spring training game.

Kemp is still recovering from microfracture surgery on his left talus bone (a major weight-bearing bone in his ankle), and I think he will begin the season on the disabled list.
To continue reading this article you must be an Insider
January, 14, 2014
1/14/14
12:22
PM ET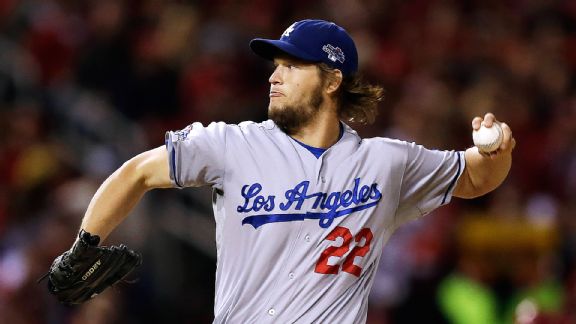 AP Photo/Jeff RobersonThe Dodgers likely will cease chasing Masahiro Tanaka after Clayton Kershaw gets his extension.
For the vast majority of major league teams, pitchers and catchers will report to spring training exactly a month from now. Usually teams are simply fine-tuning their rosters, whether it's that last utility bench guy or an additional bullpen arm.
But with teams from both leagues waiting on the fate of free-agent pitcher Masahiro Tanaka, many teams still have significant moves they must make to shape their team into a championship club. What is the missing link for each team? On Tuesday I will focus on the National League teams and Wednesday I'll present the American League.
NATIONAL LEAGUE WEST
Arizona Diamondbacks
Missing link:
Top-of-the-rotation starter
Solution:
Sign RHP Masahiro Tanaka or
Ervin Santana
or
Matt Garza

Both general manager Kevin Towers and manager Kirk Gibson's option years for 2015 were not picked up, leading Towers to admit that both are on the hot seat to win this year. Every move they've made this offseason has involved trading future assets for win-now results. With this type of pressure on him, Towers knows the best way to keep his job is to add an elite starter.
To continue reading this article you must be an Insider
December, 17, 2013
12/17/13
8:52
AM ET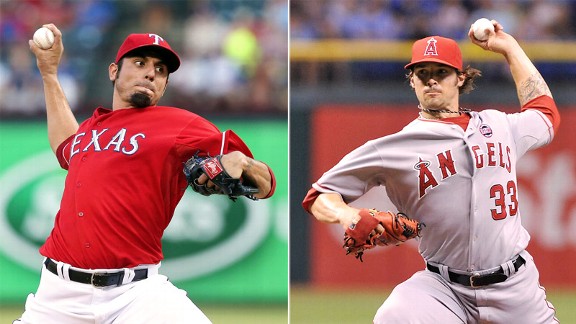 Getty ImagesMatt Garza might look pretty good in the Angels' rotation with C.J. Wilson.
This has been a wild offseason so far, with blockbuster trades and free-agent signings taking place even before we got to Orlando for the Winter Meetings. Yet, with two weeks left in 2013, the free-agent and trade markets still have a lot of unfinished business.
As I look around the league, I can see 10 more moves that make a lot of sense and should to get done for their teams to remain viable contenders for 2014. Let's take a look:
1. Los Angeles Angels | Move: Sign free-agent RHP Matt Garza

The Angels have worked hard
To continue reading this article you must be an Insider
November, 2, 2013
11/02/13
9:00
AM ET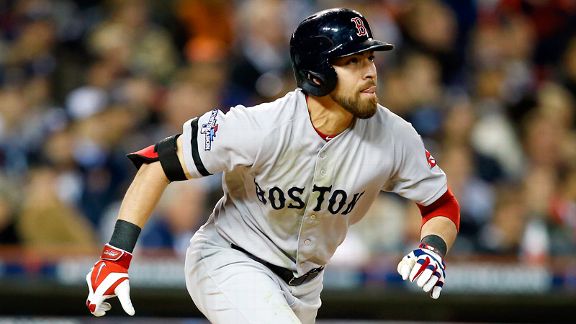 Rick Osentoski/USA TODAY SportsIt's hard to envision the Red Sox ponying up the kind of deal Jacoby Ellsbury is seeking.
Right now, the most pressing thing for the
Boston Red Sox
is the parade celebrating their World Series championship -- the first won in Fenway Park since 1918.
However, once all the celebrations are completed, the Red Sox will begin the same arduous offseason campaign 29 other teams will be engaged in -- preparing for the 2014 season by addressing some significant baseball issues facing them this winter.
Here is a quick look at what Boston must do to repeat.
To continue reading this article you must be an Insider
October, 25, 2013
10/25/13
9:50
AM ET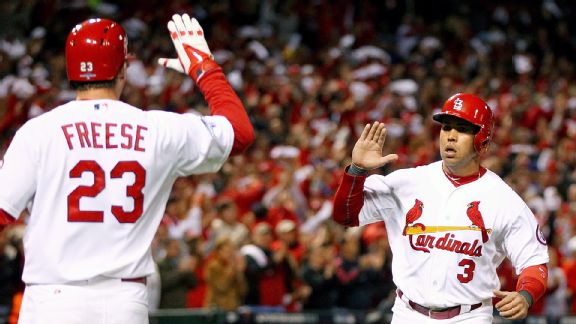 Dilip Vishwanat/Getty ImagesDavid Freese and Carlos Beltran could be playing elsewhere next season.
As the
Boston Red Sox
and
St. Louis Cardinals
battle it out in the 2013 World Series, no one's thinking past the next game, with perhaps the exception of the two managers as they plan out their pitching and lineups. For the players, it's the here and now.
However, there's a very good chance that several key players for both teams will be wearing different uniforms come February, when spring training arrives. And as the players try to win today, their general managers already have started looking at the roster adjustments they will have to make.
Here are nine players in the Fall Classic who could very easily be playing for different teams next season.
1. Jacoby Ellsbury | OF | Boston Red Sox

The Red Sox would love to be able to re-sign Ellsbury to a long-term contract, and Ellsbury would prefer to stay in Boston. However, he's also represented by Scott Boras, who has a proven track record of negotiating record-breaking deals for his clients, leveraging for the most money and most years unless his client insists otherwise.
To continue reading this article you must be an Insider
December, 7, 2012
12/07/12
2:08
PM ET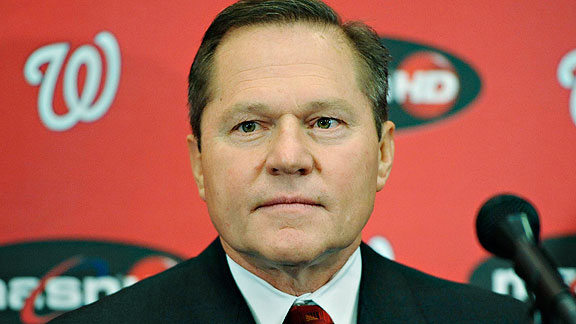 Rafael Suanes/US PresswireScott Boras has plenty of clients still in play, and there is money out there.
NASHVILLE, Tenn. -- Last year, well into January,
Prince Fielder
remained unsigned. But as colleague Jerry Crasnick
wrote at the time
, it wasn't going to cause his agent, Scott Boras, to sweat: "In Boras' world view, the trade market is almost tapped out, the non-tenders have been picked over and teams are seriously assessing their rosters and coming to the realization that they still have holes to fill and a need to act before spring training."
So when Fielder got a jaw-dropping $200-million-dollar-plus contract from the
Detroit Tigers
, it may have shocked the marketplace, but not the agent. This is the Boras M.O. -- there are a lot of teams, there's plenty of money, and for every client it's only a matter of time.
This year is no different. The 2012 MLB winter meetings will be defined by so many deals that didn't happen, but for Boras, that's by design. The sense here is that players aren't in a hurry to sign because almost
everybody
has at least something to spend, and when they're ready to start writing checks, Boras' guys will get their cut.
Here are four key free agents he reps, the sense of the market for each, and some teams that should be taking a close look.
To continue reading this article you must be an Insider
December, 3, 2012
12/03/12
2:30
PM ET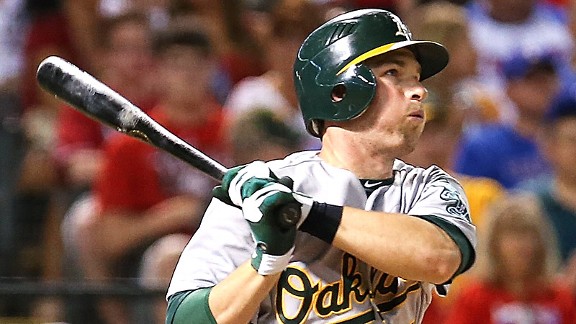 Kevin Jairaj/US PresswireStephen Drew could solve a lot of the Yankees' problems on the left side.
Even before
Alex Rodriguez
needed
another hip surgery
that is almost certain to keep him out for a huge chunk of the 2013 season, if not the full year, he was being dominated by right-handed pitching. What you saw in the playoffs wasn't an anomaly or something new. It's been my position going back well into
last
season that New York would be best served to get A-Rod into the role of designated hitter, primarily against left-handed pitching. By the time he gets back from this latest setback, A-Rod could be 38 with diminished bat speed and range. If you want to maximize him, DH is your only hope.
That said, in analyzing this from a purely baseball sense, the injury offers the Yankees a no-excuses transition point. But to whom do they transition? The obvious option here is to bring back
Eric Chavez
, but my sense in talking to folks is the Yankees will be looking hard at other options.
Really, there isn't an obvious solution, not only internally but also in the free agency or trade markets. Nevertheless, I came up with five calls the Yankees could make to try to put a Band-Aid on the position in the year to come.
1. Sign Stephen Drew
Drew, a former first-round pick, has come back from his own recent injuries, but he could shift to third base and play shortstop. The Yankees will need guys who offer positional flexibility, as
Derek Jeter
will also be coming back from a significant injury. Drew's career .762 OPS won't look special to Yankees fans, but he's a good stopgap solution for a team that should be able to score runs, and his ability to play more than one position adds value. He moves well both directions on defense and could save some runs on the left side of the infield.
2. Call the Astros about Jed Lowrie
Everybody's favorite trade target last season before the deadline, Lowrie had put up career-best totals and was showing routine power (16 homers in 97 games) before he got injured down the stretch. Lowrie doesn't have a great arm at third base, but he's another guy who can play multiple positions, and Houston would certainly be willing to listen on pitches. The concern is that Lowrie, who will be 29 in April, has never managed to stay healthy himself.
3. Call the Padres about Jedd Gyorko
This is a really tough sell, and the Padres would start any conversation about Gyorko by bring up Yankees center-field prospect Mason Williams, which could make it a non-starter for New York as well. Gyorko is a solid prospect whom San Diego plans to move to second base, but after hitting .328 with 24 homers last year in Triple-A (yes, in the admittedly hitter-friendly Pacific Coast League), he's ready for his promotion. Again, I don't think the Padres would be willing to make the deal unless they got a lot in return, but it's a call worth making.
4. Sign Kevin Youkilis
Purely a bandage purchase, Youkilis doesn't have great range at third, to say the least, and he's coming off a season in which he hit just .236. That said, Youk can still grind out at-bats and will always find ways to get on base. Despite his low average, his OBP was still .346 this past season.
5. Call the Nationals about two options
First, Yankees GM Brian Cashman could at least ask about the price for third-base prospect
Anthony Rendon
. Nationals GM Mike Rizzo will probably give a good laugh, but the Nats could listen. Their plan is to move Rendon to second base when he's finally ready. If and when the Rendon idea goes nowhere,
Danny Espinosa
should be discussed. Espinosa is limited at the plate and strikes out way too often but offers punch from down in the lineup -- he could hit 20-plus homers in Yankee Stadium -- and can play the position.
November, 26, 2012
11/26/12
10:25
AM ET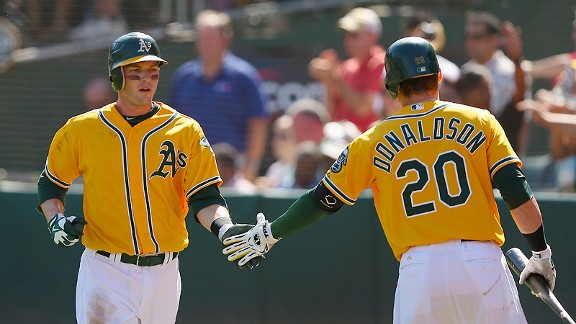 Ezra Shaw/Getty ImagesStephen Drew (left) got his groove back after being traded to Oakland last season.
The
Toronto Blue Jays
might have signed the most undervalued free agent position player from this year's class when they inked outfielder
Melky Cabrera
to a two-year, $16 million deal. Melky was in line for a four-year deal in the $50 million range before he failed a PED test over the summer, but could still prove to be a great signing if he shows that his performance over the last two seasons was not a PED mirage.
Likewise, the Chicago Cubs' signing of right-hander
Scott Baker
to a one-year, $5.5 million deal might be the most undervalued starting pitching signing of the offseason so far. Baker was undervalued because he's coming back from Tommy John surgery. However, he should be able to give the Cubs some solid innings and, perhaps more importantly, a trade chip come next July.
Here are five other potential undervalued free agents who are still available on the open market:
Why he's undervalued:
Drew is the best shortstop on the free agent market. Period. He has the offensive capability for a .330 OBP with 30 doubles and 15 home runs annually. Defensively, he possesses above-average range to both sides with a strong arm. But he's had to overcome numerous injuries in his career, the worst being a severely broken ankle back in July 2011 that took more than a year to heal. Drew didn't come back from injury as quick as the Diamondbacks hoped and was sent to Oakland at midseason, where he played an integral part in helping the A's leapfrog the
Texas Rangers
for the AL West title. Drew's offense and defense looked like it was all coming back by late September, and a big 2013 could be in store. Drew is quiet and thus seen by many as aloof and selfish. But watch him play day in and day out, and it's easy to see why he's one of the most underrated shortstops in the majors.
Best fits
: Athletics,
Detroit Tigers
,
Pittsburgh Pirates
and
Boston Red Sox
---
Why he's undervalued
: He missed all of the 2012 season after undergoing Tommy John surgery on his right elbow. The Royals declined his $8 million club option for 2013, making Soria a free agent. Soria was one of the AL's best closers from 2008-11, when he averaged close to 36 saves per season. Soria has a career 2.40 ERA and 1.043 WHIP, and he's saved 40 games and had an ERA under 1.80 twice in his career, all with the Royals. His rehabilitation is going well, and there is a good chance that by July or August he could be back being a dominant closer and difference maker in a pennant race.
Best fits
:
Los Angeles Angels
, Tigers,
Cincinnati Reds
,
New York Yankees
and Red Sox
---
Why he's undervalued
: Young has two strikes against him: He is a very poor defender, and he has had some off-field problems. Young pleaded guilty earlier this month to aggravated harassment for yelling an anti-Semitic slur and wrestling a man to the ground outside of the New York Hilton last spring. He handled this incident as well as he could, sincerely apologizing to all parties involved, and he will perform some community service and attend a tolerance seminar as part of his punishment.
The Tigers moved him to full-time DH during the season, which seemed to help his bat, and I think he could have value as a full-time DH. The market isn't big for that kind of player, so he'll probably come cheap, but his impressive postseason success the past four years -- including winning the ALCS MVP award last month -- will be enough for someone to take a chance on him.
Best fits
:
Cleveland Indians
,
Seattle Mariners
,
Houston Astros
---
Why he's undervalued
: Uehara was so bad down the stretch in 2011 that the Rangers left him off their postseason roster. And his subpar performance left a bad taste with many scouts who had a hard time adjusting to his incredible turnaround this past year. Uehara's 43 strikeouts and three walks for Texas gave him an incredible 14.33 strikeout-to-walk ratio. His 88-89 mph fastball with command and control and unhittable splitter were so impressive that anyone who evaluated him in 2012 had to just completely forget about 2011. Uehara should be a lockdown setup man for someone in 2013.
Best fits
:
Philadelphia Phillies
, Rangers,
Milwaukee Brewers
, Red Sox and
Baltimore Orioles
.
---
Why he's undervalued
: Grilli's age and inconsistent career make some wonder if his 2012 season was a fluke. While Grilli has had longevity in the major leagues -- pitching 10 years with an ERA of 4.34 – he's also had an unimpressive 1.413 career WHIP. So what's there to undervalue?
Grilli has been dominant out of the bullpen in each of the past two years for the Pirates. His success started in 2011 when he finished with a 2.48 ERA and a WHIP of 1.19 in 28 games after not even pitching in the major leagues in 2010. There weren't any clubs buying his success as he signed a $1.1 million deal to go back to Pittsburgh. This season he not only proved 2011 was no fluke but also showed he could take his arm to an even higher level. In 2012 he pitched 58 2/3 innings and punched out a whopping 90 hitters. His 92-94 mph fastball and nasty slider are good enough to help any team's bullpen.
Best fits
: Phillies, Pirates, Red Sox, Brewers, Rangers,
Miami Marlins
,
New York Mets
July, 21, 2011
7/21/11
11:52
AM ET
The
Arizona Diamondbacks
lost shortstop
Stephen Drew
, who
broke his right ankle
while sliding across home plate Wednesday night. As a former general manager, I can sympathize with what Kevin Towers and his staff are going through this morning. Even though every GM tries to add depth to prepare for injuries, shortstop is one of those positions for which most clubs don't have an alternative who is even close to having the same capabilities, especially when they lose a star player. The Giants went through the same situation in May when they lost catcher
Buster Posey
for the season; they're still looking for a trade partner to upgrade at catcher.
Willie Bloomquist
is the D-backs' best in-house alternative to replace Drew. Bloomquist is a utility player who only has only 13 starts this year at short, and is hitting .271/.318 with two home runs and 11 RBIs. The biggest dropoff, however, is on defense, where Drew has much better range to both sides and can make the play in the hole.
Every non-contending team with an available shortstop will raise the price when Towers makes the phone call over the next couple of days. However, in the middle of a pennant race, Towers has no choice but to make the calls.
To continue reading this article you must be an Insider