The GM's Office:

Scott Boras
March, 24, 2014
3/24/14
8:24
AM ET
For those who weren't interested in the Dodgers-Diamondbacks series in Australia -- and the latest
Yasiel Puig
controversy -- the big story of the weekend was the
Detroit Tigers
' announcement that
Max Scherzer
has turned down a "substantial" contract extension, and that talks will be tabled until next winter.
The offer was reportedly worth a little more than $25 million per season over six years, for a total value of $150 million or so. Scherzer supposedly wanted something closer to
Clayton Kershaw
's recent seven-year, $215 deal. With the two sides so far apart, it's no surprise they decided to call off negotiations.
The Boras factor
It's no secret that Scott Boras, Scherzer's agent, prefers to take his clients to free agency, believing that is how he can maximize their value. And while he may have misread the market for players such as
Kendrys Morales
and
Stephen Drew
this winter, his strategy generally works for players at the top end of the market, such as Scherzer.
Now, once in a while, a player will overrule Boras and take a deal that is below market value if he is in a situation he likes. A prime example is
Jered Weaver
, who surprised a lot of people by signing a five-year, $85 million extension in 2011.
February, 21, 2014
2/21/14
10:30
AM ET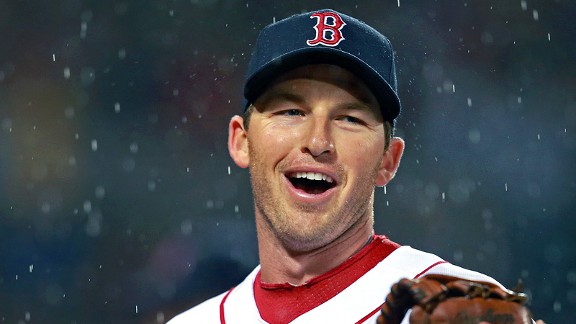 Jim Davis/The Boston Globe via Getty ImagesStill searching for a home this spring, Stephen Drew would fit perfectly with the Mets.
Over the past few years, the
New York Mets
have made great strides in improving the franchise. Under the leadership of general manager Sandy Alderson, they've had a productive offseason and are cultivating a healthy crop of young pitching in their farm system.
However, despite all the moves Alderson has made this offseason, the Mets' one glaring weakness remains at shortstop. The Mets have left no stone unturned in searching outside the organization for an upgrade at the position. Indeed, there was little available on both the free agent or trade markets -- just ask the
St. Louis Cardinals,
who had to turn to free agency, finally overpaying shortstop
Jhonny Peralta
with a four-year deal worth $53 million.
That said, one player who matches up perfectly with the Mets' needs is free agent
Stephen Drew
. Unlike Peralta, Drew received a qualifying offer, which has crushed the demand for his services because he will cost the team that signs him a draft pick.
However, circumstances have aligned perfectly for the Mets, who should step up and sign Drew, offering a contract in the neighborhood of two years at $22 million (with no limited no-trade clause or opt-out clause). Alderson and Drew's agent, Scott Boras, should put their egos aside and get this deal done. Let's take a look at why.
Drew versus Tejada
Right now, the Mets' starting shortstop (by default) is light-hitting
Ruben Tejada
. At the plate, he's done little to prove he's the Mets' long-term solution, and his numbers bear that out, posting a weak 2013 slash line of .202/.259/.260.
Conversely, Drew finally is completely healthy and as such, his projected production is in.265/.330/.440 range, with 12-15 homers.
To continue reading this article you must be an Insider
August, 14, 2013
8/14/13
9:33
AM ET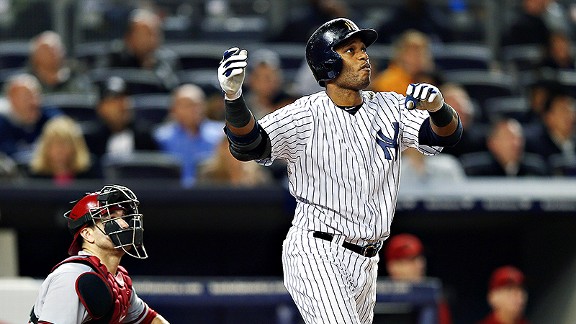 Elsa/Getty ImagesRobinson Cano will command a hefty contract this offseason.
Throughout baseball, general managers and their scouting departments are already out in force evaluating this offseason's impending free-agent class. They're watching every at-bat, every pitch and every defensive touch. They're also conducting background checks on player character and medical reports. The preparation is essential, rigorous and exhaustive considering the millions of dollars that might be invested.
Here is an early breakdown of some of the top free agents who will be available in this year's market:
---
Top position players
Robinson Cano | 2B | .291, 22 HR, 73 RBIs
Cano remains baseball's best second baseman since
Roberto Alomar
. He'd like to start and finish his career with the Yankees. However, with one of the best negotiators in baseball in CAA's Brodie Van Wagenen as his agent and Jay-Z as his marketing/promotional engine, it won't be easy. The length of Cano's contract will be the biggest barrier.
Best fits:
New York Yankees
,
Los Angeles Dodgers
To continue reading this article you must be an Insider
March, 19, 2013
3/19/13
10:05
AM ET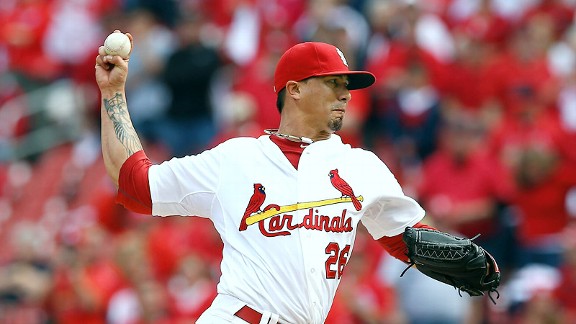 Elsa/Getty ImagesThe new CBA could force Kyle Lohse to take some drastic measures.
How does a veteran pitcher post a 16-3 record last season and not have a job just two weeks away from Opening Day?
Such is the plight of right-hander
Kyle Lohse
. The Scott Boras client remains jobless and the market for him is razor thin. With teams steadfastly refusing to surrender a draft pick in order to sign Lohse, there lurks the real possibility that Lohse could be without a team for a long time, well after Opening Day.
How long? It could be June before he has a job -- after the MLB first-year player draft. And part of the reason is the new collective bargaining agreement.
To continue reading this article you must be an Insider
December, 24, 2012
12/24/12
9:00
AM ET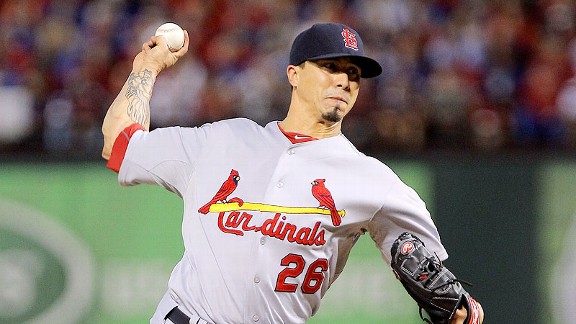 Doug Pensinger/Getty ImagesThe Brewers and Orioles could both desperately use a starter like Kyle Lohse.
The
Baltimore Orioles
and
Milwaukee Brewers
are two good teams that have been curiously quiet this offseason. Sure, the Orioles did re-sign left fielder
Nate McLouth
and make a bevy of small deals that included the acquisitions of third baseman
Danny Valencia
, left fielder
Trayvon Robinson
and second baseman
Alexi Casilla
. And yes, the Brewers did improve their bullpen by inking free-agent left-hander
Tom Gorzelanny
and trading for
Burke Badenhop
. But besides those moves, it's basically been crickets for Orioles and Brewers fans.
Both of these clubs are playoff contenders, capable of winning their divisions or at the very least securing wild-card berths. One problem: The teams around them have spent the winter improving, while they have stood still. The good news for the O's and Brewers is that there is one free agent still out there who could help them save their respective offseasons, and his name is
Kyle Lohse
.
To continue reading this article you must be an Insider
December, 7, 2012
12/07/12
2:08
PM ET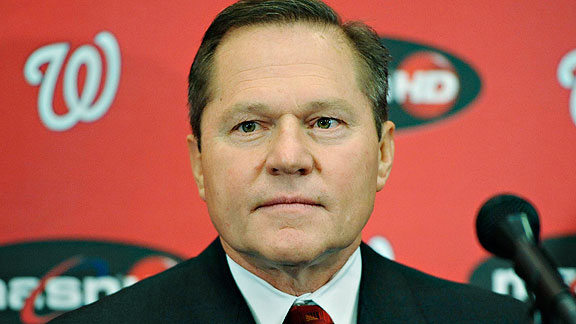 Rafael Suanes/US PresswireScott Boras has plenty of clients still in play, and there is money out there.
NASHVILLE, Tenn. -- Last year, well into January,
Prince Fielder
remained unsigned. But as colleague Jerry Crasnick
wrote at the time
, it wasn't going to cause his agent, Scott Boras, to sweat: "In Boras' world view, the trade market is almost tapped out, the non-tenders have been picked over and teams are seriously assessing their rosters and coming to the realization that they still have holes to fill and a need to act before spring training."
So when Fielder got a jaw-dropping $200-million-dollar-plus contract from the
Detroit Tigers
, it may have shocked the marketplace, but not the agent. This is the Boras M.O. -- there are a lot of teams, there's plenty of money, and for every client it's only a matter of time.
This year is no different. The 2012 MLB winter meetings will be defined by so many deals that didn't happen, but for Boras, that's by design. The sense here is that players aren't in a hurry to sign because almost
everybody
has at least something to spend, and when they're ready to start writing checks, Boras' guys will get their cut.
Here are four key free agents he reps, the sense of the market for each, and some teams that should be taking a close look.
To continue reading this article you must be an Insider
December, 3, 2012
12/03/12
6:11
PM ET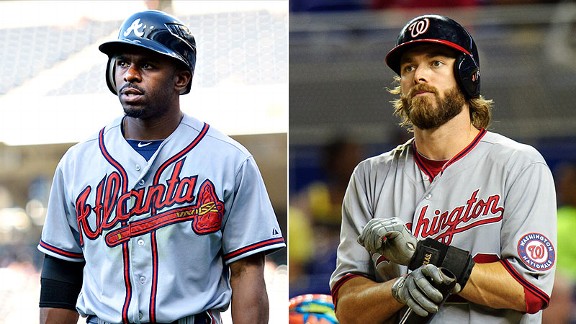 USA TODAY SportsMichael Bourn is right where Jayson Werth was a couple of years ago.
When I made my predictions for how much each of the top free agents would get this winter, I had
Michael Bourn
getting the third-biggest deal of anyone, behind
Josh Hamilton
and
Zack Greinke
.
Not only is Bourn coming off the best season of his career, but his agent is Scott Boras, who always knows how to get the most for his clients. That's a recipe for a monster deal.
However, things are quiet on the Bourn front this week, and there isn't an obvious destination for him. For that reason, I think he could end up with a team that no one expects, much like
Jayson Werth
, one of Boras' high-profile clients from a couple of years ago.
Allow me to explain.
Given the availability of
B.J. Upton
(who already signed with the
Atlanta Braves
),
Angel Pagan
(who has agreed to terms with the Giants),
Shane Victorino
and Hamilton, there is no shortage of good center fielders on the free-agent market this winter. This means demand isn't what it might be in other years. (Not to mention
Dexter Fowler
and
Drew Stubbs
, who are being shopped on the trade market.)
With Pagan and Upton off the board, two fewer teams will be vying for Bourn. The
Philadelphia Phillies
might be interested, but GM Ruben Amaro Jr. and Boras aren't on great terms because of the ill-fated
Ryan Madson
deal that fell apart at the last minute a year ago. That could make negotiations difficult.
When faced with this situation in the past, Boras has been able to find a deal for his player from a source you wouldn't expect. In 2010, there was no obvious fit for Werth, but Boras shocked the baseball world by getting him a seven-year, $126 million deal from the
Washington Nationals
, a team that was a bottom-feeder at the time.
Flash back a few more years, and you might remember that
Ivan Rodriguez
(a Boras guy) signed a four-year, $40 million contract with the
Detroit Tigers
when they were coming off of a 119-loss season. People said the Tigers were nuts, but Pudge led them to the World Series two years later.
When the money isn't there from one of the "obvious" teams, Boras will go find it. So where will he find it for Bourn? I have some theories.
For starters, the
Chicago Cubs
: They're rebuilding, but they have a very low payroll and plenty of money to spend. Boras could try to convince the Cubs that Bourn would give them some excitement at the top of their lineup, along with
Starlin Castro
, and keep fans interested while they rebuild.
The
Seattle Mariners
might be a destination for Bourn. They could have as much as $30 million to spend, and they're looking to make a big signing (or two) this winter.
Another possibility: the
Miami Marlins
. I know this sounds crazy, but I could see Boras making this pitch to Jeffrey Loria: "You need some good PR, the players' union is going to be on your back about not spending money, and you can replace
Jose Reyes
in the leadoff spot for less money."
Remember, no one saw Pudge signing with Detroit back in 2004, and no one saw Werth to the Nats. Bourn is a man without an obvious destination right now, and don't be shocked to see Boras deliver him to someone you wouldn't expect -- like the Cubs.
November, 28, 2012
11/28/12
11:05
AM ET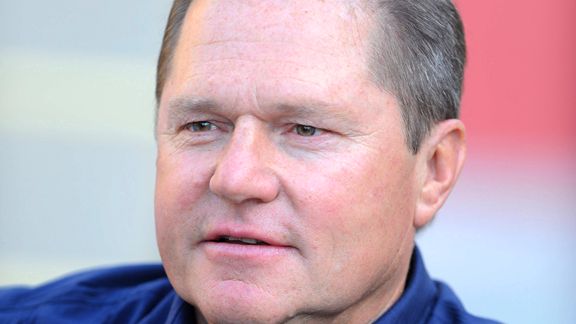 Kirby Lee/Image of Sport/US PresswireScott Boras won't be the only agent to watch at baseball's annual Winter Meetings this weekend.
Make no mistake -- Scott Boras is always the headliner among agents at baseball's annual winter meetings.
He loves the limelight and will make sure to walk by the media area at optimum times and hold court. He's always entertaining, and his strong and often controversial opinions make the TV cameras' red lights go on and writers fill their notepads. This year will be no different with his representation of free agents
Michael Bourn
,
Kyle Lohse
and
Rafael Soriano
, among many others.
However, there's been a not-so-subtle changing of the guard. For decades, high-profile agents like Tom Reich and Adam Katz, Ron Shapiro, Jim Bronner and Bob Gilhooley and Randy and Alan Hendricks often stood front and center with Boras, dominating the meetings from behind the scenes. But now, larger corporations such as CAA and SFX have taken over a lot of the game's player representations.
Regardless, the game's top power brokers will gather this weekend at the Gaylord Opryland Hotel in Nashville, Tenn. Here is a quick glance at some of this year's most important agents to watch:
---
Excel Sports Management | Lead agent: Casey Close
Top free agent
:
Zack Greinke
| Others:
Andy Pettitte
,
Scott Hairston
,
Jeremy Guthrie
(recently signed three-year, $25M deal with Royals),
Casey Kotchman
,
Jamey Wright
Greinke's likely suitors:
Los Angeles Dodgers
,
Texas Rangers
,
Los Angeles Angels
and
Washington Nationals
Background brief:
After beginning his career at IMG and accruing 20 years of experience, Close joined Excel in 2011, partnering up with Jeff Schwartz and Mark Steinberg. Their client list is cross-sport, ranging from
Derek Jeter
and
Clayton Kershaw
to the NBA's Paul Pierce, Blake Griffin and Deron Williams, as well as golf's Tiger Woods.
Style/strategy:
They are well-prepared, engaging and have a tremendous track record. They operate in a very private and professional manner and seem to attract the kind of players who handle their own business the same way. Excel is particularly good at recognizing its clients' value and market and often gets top dollar for its clients. Excel's honest, straightforward approach has gained the respect of the industry.
Problems/barriers in negotiations:
There are not a lot of clubs that have the financial wherewithal to play on Greinke.
---
MVP Sports Group | Lead Agent: Dan Lozano
Top free agent:
Nick Swisher
| Others:
Brian Wilson
,
Jonny Gomes
(recently signed two-year, $10M deal with Boston)
Swisher's likely suitors:
Boston, Atlanta, Philadelphia and Texas
Background brief:
Lozano boasts 24 years of experience, negotiating some of the game's largest deals, including
Albert Pujols
' $240 million deal with the Angels last December and
Joey Votto
's $225 million contract extension with the
Cincinnati Reds
during spring training. The two deals totaled more than half a billion dollars, a record for any agency in any one offseason.
Style/strategy:
Lozano and his staff are hard-working, loyal, passionate and treat their clients like family. His firm uses a stealth approach, as demonstrated by the Albert Pujols negotiations last December, when the Angels swooped in to get him at the last minute. Lozano doesn't play games, preferring direct and straightforward negotiations with club executives. He always comes extremely prepared with top-notch communication skills.
Problems/barriers in negotiations:
Swisher's poor postseason performance could undermine the fact he's had eight straight years of 20-plus home runs.
---
Reynolds Sports Management | Lead agent: Larry Reynolds
Top free agent:
B.J. Upton
(recently signed a five-year, $75 million deal with Atlanta) | Others:
Torii Hunter
(recently signed a two-year, $26M deal with Detroit)
Upton's likely suitors:
Atlanta, Philadelphia, mystery team
Background brief:
Reynolds possesses 28 years of experience as an agent, and prior to negotiating Hunter's recent two-year deal, he got him a five-year, $90 million contract with the Angels in 2007, which was then the largest contract in club history.
Style/strategy:
Reynolds makes a concerted effort to tailor each negotiation to the player and club he is dealing with. He spends a great deal of time studying the negotiating styles of the club executives in order to formulate the best plan to maximize the player's compensation. Reynolds has a wide array of knowledge of the collective bargaining rights, performance comparables and how to stretch the present market. Negotiations can get adversarial and difficult depending on the situation. At the same time, Reynolds always tries to be reasonable and isn't afraid to close deals earlier in the process than most agents.
Problems/barriers in negotiations:
Getting a sixth year for Upton could be difficult.
---
Paragon Sports International | Lead agent: Brian Grieper
Top free agent:
Mike Napoli
Napoli's likely suitors:
Red Sox, Rangers and Mariners
Background brief:
Paragon is a medium-sized baseball agency with offices in Miami, Los Angeles and Chicago and represents some of baseball's top young talent and prospects. Grieper has cultivated relationships with club officials at all levels over a decade in the agent business. Many of these officials have gone on to become GMs, assistant GMs and scouting directors.
Style/strategy:
Grieper stresses open dialogue, intense preparation and creative analytical and statistical analysis. He develops personal relationships with clients through trust and loyalty. The quality of representation was best illustrated when Grieper made Napoli -- who he has represented since high school -- the highest paid catcher during arbitration, earning him a one-year deal worth $9.4 million. His raise of $3.6 million is the second highest in the history of third- or fourth-time eligible hitters, ranking behind only
Prince Fielder
. Grieper is very direct and accurate with information, and he negotiates in a respectful and professional manner.
Problems/barriers in negotiations:
Napoli is best suited with an American League team because of his value being able to DH along with playing first base and catcher. Obviously this could limit the number of teams that bid on Napoli's services.
For more on Michael Moye, who is representing Josh Hamilton, check out
Jerry Crasnick's piece today
.
January, 5, 2012
1/05/12
12:07
PM ET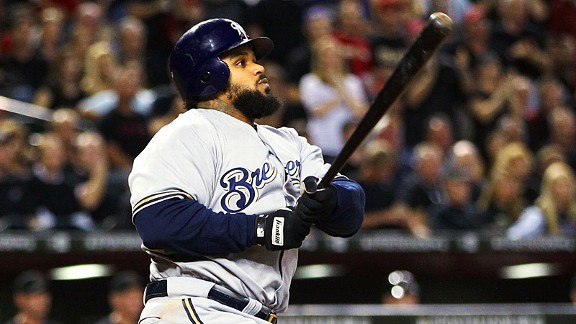 Christian Petersen/Getty ImagesNot only would Prince Fielder bolster the Nats' offense, he would draw more fans to the ballpark.
With pitchers and catchers reporting to spring training in little more than a month, teams and free agents will start scrambling like a game of musical chairs in order to ensure they have a place to sit when the music stops. One free agent who should not have that problem is first baseman
Prince Fielder
. However, as the number of legitimate suitors dwindles for him and agent Scott Boras, it has become clear the
Washington Nationals
are the favorites to land Fielder. And they should be; he makes sense. Here are five of best reasons the Nationals should sign Prince Fielder:
Reason 1: The chance to win now
Signing Fielder gives the Nationals a legitimate chance to win the National League East or at least a wild-card berth in 2012. They have three starters at the top of their rotation who can conceivably win 15-20 games this year, as well as an impact closer in
Drew Storen
and strong setup arms such as
Tyler Clippard
. The have emerging young stars in
Danny Espinosa
and
Wilson Ramos
up the middle and one of the best third basemen in the game in
Ryan Zimmerman
. With uber-prospect Bryce Harper knocking on the big-league door, Fielder could be the final piece needed for a solid run at the postseason.
To continue reading this article you must be an Insider
December, 13, 2011
12/13/11
12:18
PM ET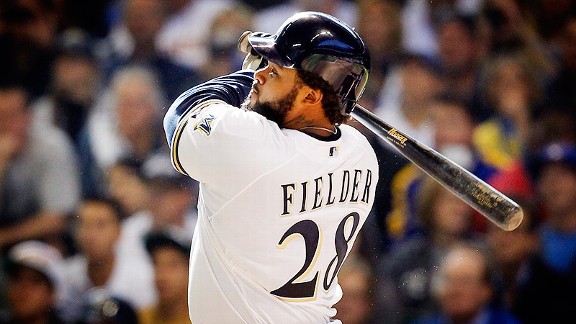 AP Photo/Jeffrey PhelpsHave bat, will travel: Prince Fielder is still trying to find a home.
With
Albert Pujols
off the free-agent market, the biggest question that remains is where first baseman
Prince Fielder
will end up.
Yesterday's news puts to rest at least one location, as the
Milwaukee Brewers
moved on by signing third baseman
Aramis Ramirez
to a three-year, $36 million contract. With Ramirez signed and reliever
Francisco Rodriguez
accepting arbitration, the Brewers seemingly would not have room for Fielder in their payroll.
Realistically, just four teams remain in contention for Fielder's services. Here's a look at those four teams with a breakdown of what they have to do to convince him to come and what other measures they will take should they sign him. They are listed in order of likelihood of signing Fielder, beginning with the most likely.
Why they need Fielder:
General manager Jon Daniels does an excellent job of staying in touch and remaining involved with the representatives of all the top free agents just in case anything changes quickly either among his opposition or within the free agents' camps. At the winter meetings, there was a massive shift in the balance of power in the American League West and Daniels knows he must address it. Not only did the
Los Angeles Angels
sign Pujols, they took the Rangers' best pitcher,
C.J. Wilson
. The Rangers now find themselves in a similar position to last offseason, when they struck out on signing lefty
Cliff Lee
. Instead of settling for mediocrity, they found something besides pitching to make their team better: third baseman
Adrian Beltre
. This year, their alternative could be Fielder, and Dan Szymborski does an excellent job of explaining why
Texas needs him more than any other club
.
To continue reading this article you must be an Insider
December, 4, 2011
12/04/11
3:00
PM ET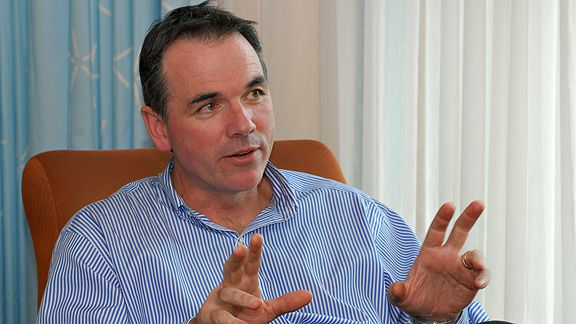 AP Photo/Phelan M. EbenhackBilly Beane has used the winter meetings to get deals done or start dialogues for deals.
During baseball's offseason, there's no better place to get face time with a potential trade partner than the winter meetings.
Major League Baseball's winter meetings have evolved considerably since the days when teams used the meetings solely as way for team personnel to gather with their counterparts on other teams and exchange ideas and feedback. Media relations people, traveling secretaries, trainers and, of course, baseball operations personnel all used the winter meetings to discuss the industry with little fanfare.
These days, those same people still meet, but the winter meetings have become a major event.
Inside the Hotel Anatole in Dallas, each team is settting up its general manager's suite as the nerve center of information and interaction. It is every team's war room to perhaps begin talks with teams or agents or to pull off a deal. On average, each club will have about 20 baseball operations personnel ranging from the team president and owner, general manager and assistant general manager, scouting director, farm director, AL and NL scouts, traveling secretary, media relations and medical staff.
To continue reading this article you must be an Insider
November, 11, 2011
11/11/11
4:31
PM ET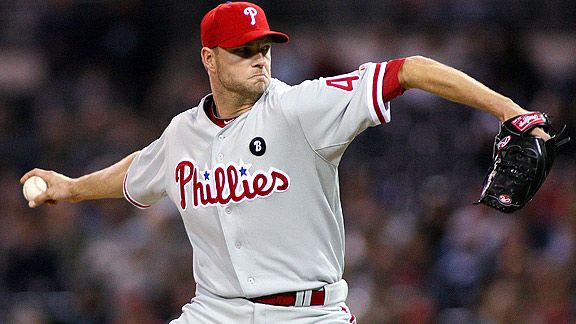 Jake Roth/US PresswireRyan Madson had a $44 million contract offer, until he didn't.
When a team and a player engage in contract talks, there's still one golden rule -- nothing is binding unless there is a signed, written agreement.
Ryan Madson
learned that they hard way when the four-year, $44 million deal he agreed to with the
Philadelphia Phillies
fell apart earlier this week, then the club turned around and agreed to terms with
Jonathan Papelbon
instead.
Sure, Phillies general manager Ruben Amaro Jr. might have offered a four-year, $44 million deal to Madson through his agent, Scott Boras. And Madson might have said those kinds of dollars and terms were acceptable to him. And Phillies president David Montgomery might have nixed the deal or simply not approved it. But bottom line, since Madson didn't sign anything, there's simply no binding agreement. No signed agreement, no deal.
Sources close to the negotiations say Amaro and Boras had five negotiating sessions, and by Monday, Nov. 7, Amaro had increased his offer from $9 million a year to $11 million a year. Boras had consented to reduce the years of the deal from five years to four with a vesting option based on games finished. The vesting option, award bonuses and limited no-trade clause were eventually agreed upon before Amaro mentioned that Montgomery needed to approve the deal, which never happened.
Concurrently, the Phillies were pursuing Papelbon. Though early reports of Madson's terms made it sound as if a deal was done, Amaro insists no deal was imminent. What they did acquire, however, was the knowledge of what it would take to sign Madson. Armed with that information, they could use that as a basis to sign Papelbon. And
Jim Salisbury is reporting that they did just that
, in the neighborhood of four years and $50 million, which is
pretty much what I predicted
. The Phillies somehow managed to hedge their bets and constructed a seemingly win-win situation for themselves.
The only loser in the matter? Ryan Madson. In this case, he has been hung out to dry and used as leverage.
To continue reading this article you must be an Insider
September, 2, 2011
9/02/11
4:00
PM ET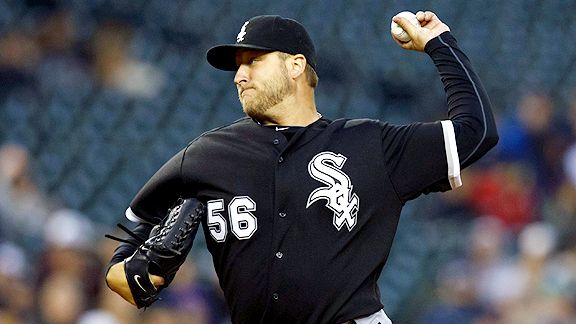 Rick Osentoski/US PresswireWhite Sox left-hander Mark Buerhle will lean heavily on his agents at CAA for what could be the biggest payday of his career.
We've discussed scouting out the top free agents this week, but what about the people representing those free agents? Here's a scouting report on the agents who will play an integral part in negotiations for four big free agents this offseason.
Mark Buehrle, LHP,
Chicago White Sox
To continue reading this article you must be an Insider