The GM's Office:

Rafael Soriano
February, 12, 2015
Feb 12
10:52
AM ET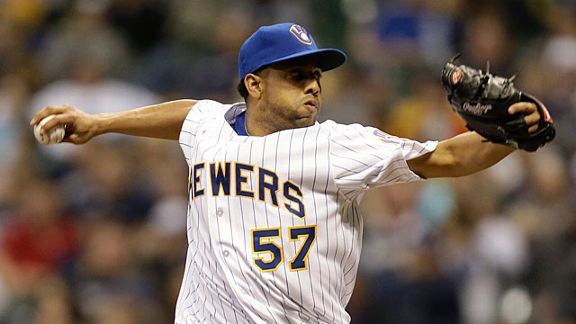 Mike McGinnis/Getty ImagesFrancisco Rodriguez led the National League in games finished (66), including 44 saves.
Major League Baseball officially opens spring training next week, when pitchers and catchers report to Florida and Arizona. However, there are still some free agents without teams, including three valuable relievers in
Francisco Rodriguez
,
Rafael Soriano
and
Joba Chamberlain
.
The
Milwaukee Brewers
appear to be the team holding up the reliever market as they wait to see if they can work out a deal with the
Philadelphia Phillies
for their closer,
Jonathan Papelbon
. If they conclude that it's not going to happen -- for either financial or prospect-return reasons -- they are prepared to turn their attention to a reunion with Rodriguez. That won't be an easy negotiation with the Boras Corporation, but should get done because K-Rod wants to return.
The
Miami Marlins
are the next team in line, and it appears they also are looking to add a reliever before next week.
January, 23, 2015
Jan 23
5:08
PM ET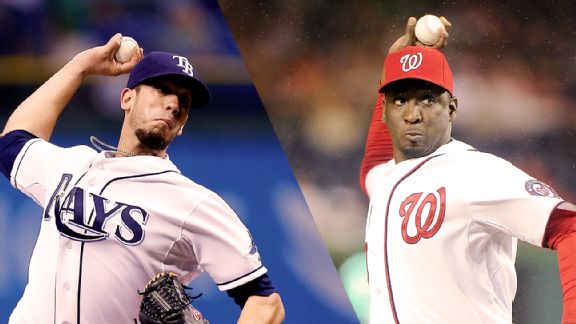 Getty ImagesJames Shields and Rafael Soriano check in as the top available free agents.
We're less than a month before pitchers and catchers report, and several free agents are still stranded on the market looking for jobs, or in most cases improved offers. The list of free agents has been pared down considerably since I posted my
top 50 free agents
and financial expectations for them, but some big names remain. Sooner or later, however, they will find new homes, and here's my opinion on where I think they'd fit best (i.e., not necessarily where they're currently rumored to land):
1. James Shields, SP
The
Washington Nationals
didn't even get involved in the
Max Scherzer
sweepstakes until the calendar turned to 2015, and according to multiple sources, Shields' market has changed as well. Some teams who had bowed out initially have stepped back into the fray with the suggestion that the asking price of five years for $110-120 million drop.
Several American League teams would be a nice fit for Shields, including the Red Sox, Yankees, Blue Jays, Rangers and Tigers.
To continue reading this article you must be an Insider
May, 10, 2013
5/10/13
10:30
AM ET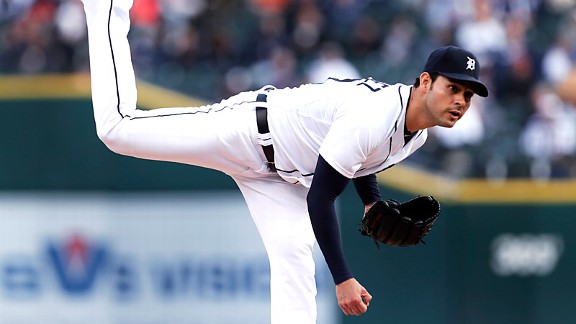 AP Photo/Paul SancyaAnibal Sanchez has helped give the Tigers arguably the best rotation in baseball.
The cream of the 2013 free-agent crop was obvious and expensive.
Teams entered the offseason flush with cash and spent prodigiously. Outfielder
Josh Hamilton
was the best position player, while
B.J. Upton
and
Michael Bourn
followed not far behind. Right-hander
Zack Greinke
was clearly the top free-agent pitcher available. All together, the four top free agents signed multiyear contracts worth close to $300 million.
And what do those teams have to show for it? The trio of outfielders has hit a combined .205 with a paltry nine home runs, five stolen bases and 93 strikeouts. Greinke added a lone win and a broken collarbone.
Conversely, there are a number of lower-priced free agents who are more than earning their paychecks. Since the top four free agents haven't lived up to their usual performance levels, which free agents have been the best bargains in baseball so far? Here's a ranking of the top 10 so far:
Note: Performance to date, salary and long-term commitment were all considered for this ranking.
To continue reading this article you must be an Insider
January, 11, 2013
1/11/13
11:00
AM ET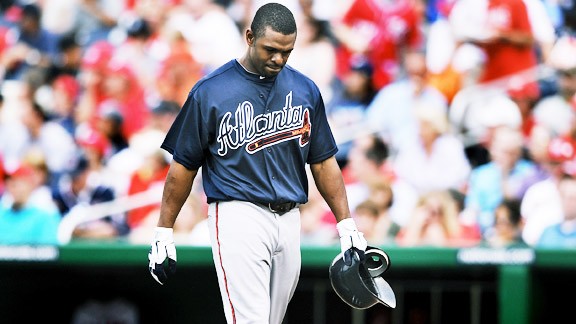 Patrick Smith/Getty ImagesMichael Bourn remains a free agent as many teams quickly filled their center field needs.
In about a month, pitchers and catchers will be reporting for spring training, and yet several significant free agents remain unemployed. Some were even once thought to be among the best in this offseason's free agent class, but because of bad timing, trades or teams' reluctance to part with draft picks, the lucrative contracts these players were seeking simply haven't materialized.
Here are the best players left on the free agent market, as well as where they fit best and a prediction of where I think they will sign.
1. Michael Bourn | CF
The center fielder market collapsed pretty quickly for the best leadoff hitter and defensive center fielder in this year's free agent market when the three NL East teams with obvious holes in center field filled their needs right out of the chute: The
Washington Nationals
traded with the
Minnesota Twins
for
Denard Span
. Then the
Atlanta Braves
signed
B.J. Upton
to a five-year, $75 million deal. Soon after, the
Philadelphia Phillies
acquired
Ben Revere
from the Twins.
To continue reading this article you must be an Insider
December, 27, 2012
12/27/12
8:25
AM ET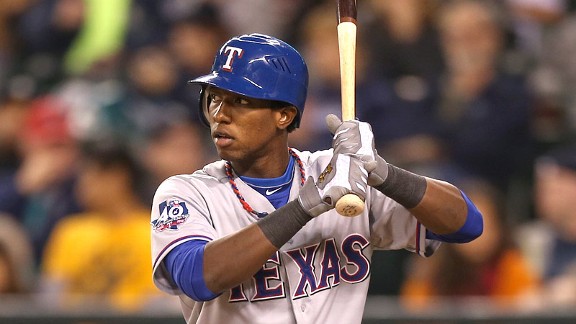 Otto Greule Jr/Getty ImagesTexas is hesitant to trade Jurickson Profar, but a certain slugger could change their mind.
We've already seen plenty of wheeling and dealing this winter, but there are some teams with holes still to fill. Here are five moves out there to be made that would change the fortunes of a few contenders.
1. Texas Rangers-Miami Marlins trade
To continue reading this article you must be an Insider
December, 7, 2012
12/07/12
2:08
PM ET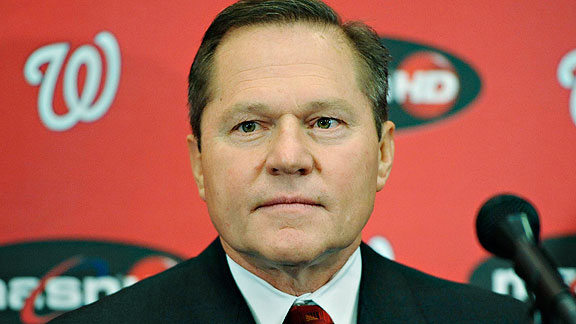 Rafael Suanes/US PresswireScott Boras has plenty of clients still in play, and there is money out there.
NASHVILLE, Tenn. -- Last year, well into January,
Prince Fielder
remained unsigned. But as colleague Jerry Crasnick
wrote at the time
, it wasn't going to cause his agent, Scott Boras, to sweat: "In Boras' world view, the trade market is almost tapped out, the non-tenders have been picked over and teams are seriously assessing their rosters and coming to the realization that they still have holes to fill and a need to act before spring training."
So when Fielder got a jaw-dropping $200-million-dollar-plus contract from the
Detroit Tigers
, it may have shocked the marketplace, but not the agent. This is the Boras M.O. -- there are a lot of teams, there's plenty of money, and for every client it's only a matter of time.
This year is no different. The 2012 MLB winter meetings will be defined by so many deals that didn't happen, but for Boras, that's by design. The sense here is that players aren't in a hurry to sign because almost
everybody
has at least something to spend, and when they're ready to start writing checks, Boras' guys will get their cut.
Here are four key free agents he reps, the sense of the market for each, and some teams that should be taking a close look.
To continue reading this article you must be an Insider
November, 28, 2012
11/28/12
11:05
AM ET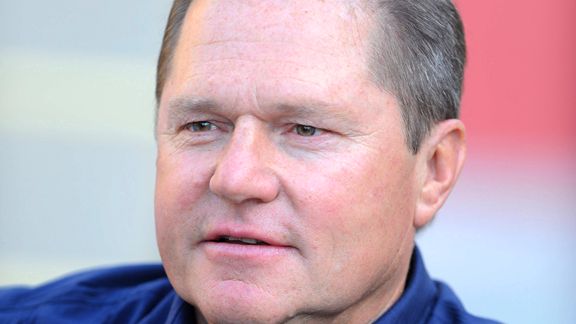 Kirby Lee/Image of Sport/US PresswireScott Boras won't be the only agent to watch at baseball's annual Winter Meetings this weekend.
Make no mistake -- Scott Boras is always the headliner among agents at baseball's annual winter meetings.
He loves the limelight and will make sure to walk by the media area at optimum times and hold court. He's always entertaining, and his strong and often controversial opinions make the TV cameras' red lights go on and writers fill their notepads. This year will be no different with his representation of free agents
Michael Bourn
,
Kyle Lohse
and
Rafael Soriano
, among many others.
However, there's been a not-so-subtle changing of the guard. For decades, high-profile agents like Tom Reich and Adam Katz, Ron Shapiro, Jim Bronner and Bob Gilhooley and Randy and Alan Hendricks often stood front and center with Boras, dominating the meetings from behind the scenes. But now, larger corporations such as CAA and SFX have taken over a lot of the game's player representations.
Regardless, the game's top power brokers will gather this weekend at the Gaylord Opryland Hotel in Nashville, Tenn. Here is a quick glance at some of this year's most important agents to watch:
---
Excel Sports Management | Lead agent: Casey Close
Top free agent
:
Zack Greinke
| Others:
Andy Pettitte
,
Scott Hairston
,
Jeremy Guthrie
(recently signed three-year, $25M deal with Royals),
Casey Kotchman
,
Jamey Wright
Greinke's likely suitors:
Los Angeles Dodgers
,
Texas Rangers
,
Los Angeles Angels
and
Washington Nationals
Background brief:
After beginning his career at IMG and accruing 20 years of experience, Close joined Excel in 2011, partnering up with Jeff Schwartz and Mark Steinberg. Their client list is cross-sport, ranging from
Derek Jeter
and
Clayton Kershaw
to the NBA's Paul Pierce, Blake Griffin and Deron Williams, as well as golf's Tiger Woods.
Style/strategy:
They are well-prepared, engaging and have a tremendous track record. They operate in a very private and professional manner and seem to attract the kind of players who handle their own business the same way. Excel is particularly good at recognizing its clients' value and market and often gets top dollar for its clients. Excel's honest, straightforward approach has gained the respect of the industry.
Problems/barriers in negotiations:
There are not a lot of clubs that have the financial wherewithal to play on Greinke.
---
MVP Sports Group | Lead Agent: Dan Lozano
Top free agent:
Nick Swisher
| Others:
Brian Wilson
,
Jonny Gomes
(recently signed two-year, $10M deal with Boston)
Swisher's likely suitors:
Boston, Atlanta, Philadelphia and Texas
Background brief:
Lozano boasts 24 years of experience, negotiating some of the game's largest deals, including
Albert Pujols
' $240 million deal with the Angels last December and
Joey Votto
's $225 million contract extension with the
Cincinnati Reds
during spring training. The two deals totaled more than half a billion dollars, a record for any agency in any one offseason.
Style/strategy:
Lozano and his staff are hard-working, loyal, passionate and treat their clients like family. His firm uses a stealth approach, as demonstrated by the Albert Pujols negotiations last December, when the Angels swooped in to get him at the last minute. Lozano doesn't play games, preferring direct and straightforward negotiations with club executives. He always comes extremely prepared with top-notch communication skills.
Problems/barriers in negotiations:
Swisher's poor postseason performance could undermine the fact he's had eight straight years of 20-plus home runs.
---
Reynolds Sports Management | Lead agent: Larry Reynolds
Top free agent:
B.J. Upton
(recently signed a five-year, $75 million deal with Atlanta) | Others:
Torii Hunter
(recently signed a two-year, $26M deal with Detroit)
Upton's likely suitors:
Atlanta, Philadelphia, mystery team
Background brief:
Reynolds possesses 28 years of experience as an agent, and prior to negotiating Hunter's recent two-year deal, he got him a five-year, $90 million contract with the Angels in 2007, which was then the largest contract in club history.
Style/strategy:
Reynolds makes a concerted effort to tailor each negotiation to the player and club he is dealing with. He spends a great deal of time studying the negotiating styles of the club executives in order to formulate the best plan to maximize the player's compensation. Reynolds has a wide array of knowledge of the collective bargaining rights, performance comparables and how to stretch the present market. Negotiations can get adversarial and difficult depending on the situation. At the same time, Reynolds always tries to be reasonable and isn't afraid to close deals earlier in the process than most agents.
Problems/barriers in negotiations:
Getting a sixth year for Upton could be difficult.
---
Paragon Sports International | Lead agent: Brian Grieper
Top free agent:
Mike Napoli
Napoli's likely suitors:
Red Sox, Rangers and Mariners
Background brief:
Paragon is a medium-sized baseball agency with offices in Miami, Los Angeles and Chicago and represents some of baseball's top young talent and prospects. Grieper has cultivated relationships with club officials at all levels over a decade in the agent business. Many of these officials have gone on to become GMs, assistant GMs and scouting directors.
Style/strategy:
Grieper stresses open dialogue, intense preparation and creative analytical and statistical analysis. He develops personal relationships with clients through trust and loyalty. The quality of representation was best illustrated when Grieper made Napoli -- who he has represented since high school -- the highest paid catcher during arbitration, earning him a one-year deal worth $9.4 million. His raise of $3.6 million is the second highest in the history of third- or fourth-time eligible hitters, ranking behind only
Prince Fielder
. Grieper is very direct and accurate with information, and he negotiates in a respectful and professional manner.
Problems/barriers in negotiations:
Napoli is best suited with an American League team because of his value being able to DH along with playing first base and catcher. Obviously this could limit the number of teams that bid on Napoli's services.
For more on Michael Moye, who is representing Josh Hamilton, check out
Jerry Crasnick's piece today
.
May, 5, 2012
5/05/12
9:42
AM ET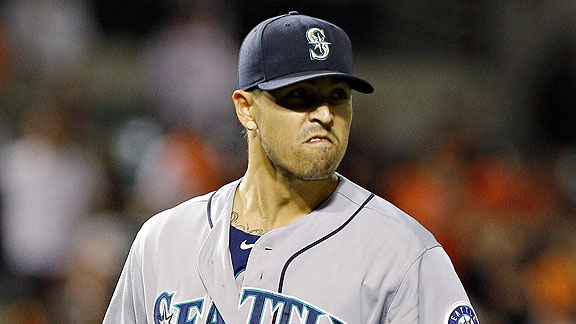 Rob Carr/Getty ImagesBrandon League will be a free agent next winter and could be available via trade.
There aren't many teams that could withstand losing a sure-fire future Hall of Famer. But the
New York Yankees
can.
While much of Gotham was trying to figure out who the Yankees should target in trades, the fact is the Yankees own significant bullpen depth that might make a trade unnecessary.
When
Mariano Rivera
went down in a heap after tearing his ACL shagging a fly ball in Kansas City on Thursday, it already was a natural assumption that setup man
David Robertson
would slide into the closer's role. Similar to how Rivera served as understudy to John Wetteland in the late-1990s, Robertson has cut his teeth under Rivera to become one of baseball's top five closers-in-waiting.
The Yankees also boast bullpen depth with right-hander
Rafael Soriano
, who was the AL's second-best closer to Rivera when the Yankees signed him two years ago. He provides a solid backup plan if Robertson struggles.
Cory Wade
also is ready to step up after starting the year with a 1.46 ERA, with 15 strikeouts and just two walks in 12 1/3 innings. Further, lefty
Boone Logan
has posted an impressive 0.96 ERA in 12 appearances.
On top of that,
Phil Hughes
or
David Phelps
remain candidates to be moved back to the bullpen when
Andy Pettitte
makes his first start in the next 10 days.
Despite losing his all-world closer, Yankees president Hal Steinbrenner must be quietly pleased with himself, as he pushed to sign Soriano, going against general manager Brian Cashman's advice a couple years back. Now that signing looks critical. Because of that depth, the Yankees don't necessarily have to make a trade for relief help. In fact, the Yankees' bigger need is starting pitching, but they are who they are and they'll take the temperature of the relief market anyway.
In fact, they match up extremely well with the
Houston Astros
. Left-hander
Wandy Rodriguez
and closer
Brett Myers
are easily their most tradable pieces would solidify the Yankees' bullpen and rotation. To obtain both Rodriguez and Myers, however, it will be expensive, probably costing a couple of top prospects.
With a 1.17 ERA and six saves in his first eight appearances, Myers has successfully made the transition back to the bullpen after four years of starting. Remember, the last time he closed games on a regular basis was with the Phillies in 2007, when he had 21 saves in 48 relief appearances. Along with Wade, Myers could serve as the Yankees' seventh-inning bridge to Soriano and then Robertson.
Of course, a trade for Myers and Rodriguez would cost the Yankees some farm system depth, and that might not be something they are willing to do. If the Yankees decide to go outside the organization, here are six other relief pitchers who could be available at a lower cost:
To continue reading this article you must be an Insider