The GM's Office:

Ozzie Guillen
October, 30, 2012
10/30/12
11:30
AM ET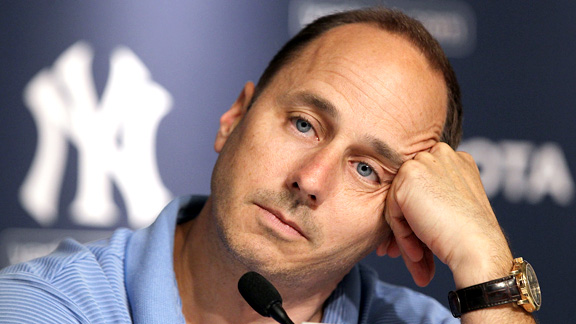 Jim McIsaac/Getty ImagesYankees GM Brian Cashman has an exhausting task ahead of him this offseason.
Even though the offseason has only just commenced for the
San Francisco Giants
and
Detroit Tigers
, general managers of 28 other teams already have been pondering their futures for some time.
For five GMs in particular, their jobs for the next three months are uniquely difficult, perhaps the most difficult in baseball. A variety of obstacles stand in their way of effectively making over their teams. They will have to hurdle those obstacles in order to improve their teams, and that's easier said than done.
Here are the five general managers who have the toughest jobs this winter. For the Giants and Tigers, it's finally time to rest. For these guys, their work has already started.

1. Brian Cashman, New York Yankees
Hands down, Cashman has the most difficult path facing him of any general manager of baseball. Perhaps it just comes with the territory of being the GM of baseball's uber-team, but this offseason is especially difficult. With the Yankees' mandate of "anything less than a World Series is failure" hovering over him, the fixes Cashman faces are not easy. Additionally, the Yankees are trying to get under the luxury tax threshold by 2014, and their best prospects are not close to contributing.
The Yankees have never had the luxury of going with a full-scale youth movement -- they are expected to contend every year, so Cashman must resolve the situation with
Alex Rodriguez
, whose declining skills, massive contract and no-trade clause make him nearly impossible to move. Picking up the contract options for
Robinson Cano
and
Curtis Granderson
was a good first step, but
Mariano Rivera
might retire and
Rafael Soriano
might opt out of his deal. And then you have
Derek Jeter
returning from injury, and who knows what to expect from
Michael Pineda
?
In other words, Cashman must retool a World Series contender with limited money, a fallow farm system and an aging roster rife with no-trade clauses. Toughest job, indeed.

2. Dayton Moore, Kansas City Royals
Moore can position the Royals as 2013's version of the
Baltimore Orioles
or Oakland A's. Position players
Mike Moustakas
,
Eric Hosmer
,
Alex Gordon
and
Billy Butler
are all ready to lead a playoff team. But Moore must completely rebuild his starting rotation, and to do that, he will have to make some uncomfortable decisions, including trading one of the aforementioned players.
Moore has talked about 2014 as the Royals' year to compete. But he has the talent to win now, and he should start by acknowledging the failure of
Luke Hochevar
. Dumping him would serve as a philosophical change for a club that has become enamored with "stuff" rather than results. While
Danny Duffy
and
Jake Odorizzi
are good pitching prospects, the majority of them have been way overhyped. Their only way to improve the rotation so quickly is to bring back
Zack Greinke
or sign
Kyle Lohse
or
Anibal Sanchez
and trade one of those young hitters. I know Moore has gone down this free-agent pitching path before, with the disastrous
Gil Meche
signing, but he can't keep waiting for 2014. It's time to win now.

3. Ben Cherington, Boston Red Sox
The fact is, nearly every move Cherington made last season did not work. From hiring Bobby Valentine, to trading
Jed Lowrie
to Houston and
Kevin Youkilis
to Chicago and
Josh Reddick
to Oakland, to the failed conversion of
Daniel Bard
to the starting rotation, it was a rough rookie year for Cherington.
However, what did work was the massive trade with the
Los Angeles Dodgers
that shed the Red Sox of
Adrian Gonzalez
,
Josh Beckett
,
Carl Crawford
and
Nick Punto
. That move shaved approximately $58 million in 2013 payroll alone. And with the acquisition of manager John Farrell, Cherington is effectively starting from scratch. And he's on the clock now, too.
Cherington's a bright guy and he will have ample opportunity to show what he can do with what almost amounts to a clean slate. He will have some cornerstones such as
Dustin Pedroia
and
Will Middlebrooks
, but he has to also hope
Jon Lester
and Bard return to form in their respective roles. His priority will be to figure out what to do with
Jacoby Ellsbury
, who is a free agent in 2013 and is represented by Scott Boras, so it won't be an easy negotiation. Cherington's team has plenty of holes, and he will have some financial freedom, so there will be opportunities to show last season's disaster was an aberration.

4. GM Mike Hill, president Larry Beinfest, Miami Marlins
It is a difficult situation when you're the general manager of a ballclub, but not really the general manager, or when you're the president of a ballclub, but not really the president. Essentially, owner Jeffrey Loria calls the shots on all personnel decisions and managers, and Ozzie Guillen was the latest casualty. Don't be surprised if outspoken outfielder
Logan Morrison
is next.
Of course, Guillen wasn't without fault here, alienating the Cuban section of the Marlins' fan base early last season. But after signing
Heath Bell
last winter and then trading him to Arizona, free agents will pause before going to Miami. So will managers who see no job security in South Beach -- in a span of six years, three managers (Joe Girardi, Fredi Gonzalez and Guillen) have held the job.
The Marlins will be competing with a resurgent
Philadelphia Phillies
team that still boasts the best rotation in the National League. The
New York Mets
will have lots of money coming off the books in time for the 2014 offseason and the
Atlanta Braves
and
Washington Nationals
are both built to compete for the next five years. But the Fish have some core pieces to work with, namely
Mark Buehrle
,
Jose Reyes
and
Giancarlo Stanton
, as well as some good youngsters in
Rob Brantly
,
Jacob Turner
and Nathan Eovaldi, as well as prospects
Jose Fernandez
and Christian Yelich. If Hill and Beinfest can do something this offseason with some autonomy, they could compete in the NL East.

5. Chris Antonetti, Cleveland Indians
When I say Cashman doesn't have any money and is restricted by his payroll, remember the Yankees' yearly payroll is near $200 million. Cleveland's 2012 Opening Day payroll was $65 million.
So Antonetti really doesn't have any money, nor does he have much of anything else to work with. His hiring of Terry Francona as manager is a step in the right direction. But a manager will only win if he has winning players. The "best" pitching pieces he has to trade are
Ubaldo Jimenez
and
Justin Masterson
, who don't have a ton of value right now. His farm system is below average at best, with the exception of shortstop Francisco Lindor.
Shin-Soo Choo
, arguably Antonetti's best player, is a free agent after 2013, and Boras is his agent. Antonetti simply can't let Choo walk away for only draft-pick compensation.
Further, the AL Central is surprisingly deep with Detroit's dominance, Chicago's surprise and the Royals' rise. Exacerbating things is his team and fan base seem to have lost faith in the front office, with closer
Chris Perez
openly criticizing him in the media. A rough road lies ahead for Antonetti and team president Mark Shapiro, whose own deal is up after 2013.
October, 23, 2012
10/23/12
5:20
PM ET
In a move that surprised few, the
Miami Marlins
fired manager Ozzie Guillen today with three years remaining on his contract. But truth be told, this had been building for a while.
I remember almost a year ago at the winter meetings when the Marlins were the belles of the ball. They knew they were about to open a brand new stadium, and they were ready to spend. Though they didn't get
Albert Pujols
, they did sign
Heath Bell
,
Mark Buehrle
and
Jose Reyes
, and that Reyes signing was the first sign of trouble.
The problem wasn't that they signed Reyes, it's that they didn't tell
Hanley Ramirez
, their in-house star shortstop, that they were planning to sign another All-Star and move him to third base. As a manager, you have to do a better job of managing your stars and make them aware if you are going to move them around, and that showed us right away that Ozzie was not on the same page as Ramirez. To his credit, Ramirez showed up at spring training saying all the right things, but the damage was done.
Then, of course, were Ozzie's infamous remarks about Fidel Castro that antagonized Miami's sizable Cuban-American community and earned him an early-season suspension. The Marlins should have fired him then, but he showed remorse and they had just given him a four-year contract, so they decided to let him stay. The nightmare season was just getting worse, and one has to wonder if Ozzie's comments played a role in the Marlins playing in front of a half-empty stadium all year.
The most remarkable aspect of this situation is that the Marlins were part of a Showtime documentary, so we could all watch their dysfunction on TV. I remember when GM Larry Beinfest went into Ozzie's office to tell him that he had traded
Omar Infante
and
Anibal Sanchez
for
Jacob Turner
,
Rob Brantly
and Brian Flynn, and Ozzie said, "Who's going to play second tonight?"
"Bonifacio," replied Beinfest.
For a manager to be completely unaware of a major trade like that just goes to show how disconnected Ozzie was in Miami. That was another huge red flag.
Even when the Marlins were playing well in May, their front office knew it was smoke and mirrors. Ramirez was still not back to an All-Star level, Bell had turned people off by coming in with a big attitude and not performing, and
Gaby Sanchez
ended up being sent to Triple-A a year after making the All-Star team.
After reaching a high-water mark of 31-23 on June 3, the Fish slumped badly over the next six weeks and were 44-51 when they made the Sanchez/Infante deal, and they then sent Ramirez to the
Los Angeles Dodgers
just two days later, sending a signal to the baseball world that they were giving up on 2012. (The Ramirez trade was particularly egregious since they sold him for 25 cents on the dollar, and probably could have gotten a lot more had they waited until the winter to make a deal.)
The front office was making it clear that they wanted to get rid of any problems, and they traded Sanchez to the Pirates at the trade deadline, and then sent Heath Bell to Arizona just a few days ago. Everyone knew Ozzie was next, but owner Jeffrey Loria, in his unique style, decided to go on a European vacation and let Ozzie twist in the wind.
I respect Ozzie and all the success in Chicago, but his act wore thin there, and you can see the team was revitalized under Robin Ventura this year. The Marlins had no cohesiveness under Ozzie, and he made further mockery of their season when he ended a long Twitter hiatus in September
because he was "bored."
That's not a message you want to send to your boss.
But the fact is that Ozzie dug his own grave with the Castro comments, and did himself no favors by fielding an underachieving team. If you alienate your fan base and can't get the most out of your players, there is no turning back
The Marlins' next hire will be a tough one because no proven skipper will want to go there since there is no job security. If I'm Loria/Beinfest, I'm taking a long look at a guy like
Brad Ausmus
, who is hungry to break in and would bring professionalism, intelligence and levity. After seeing the success that Ventura and
Mike Matheny
had in their first years, a guy like Ausmus would be a good fit. The Fish do not need another fiery guy, but rather someone who can bring a calmness to the clubhouse.
This next hire will be most critical hire Loria has ever made, so he'd better make it count.
October, 1, 2012
10/01/12
12:15
PM ET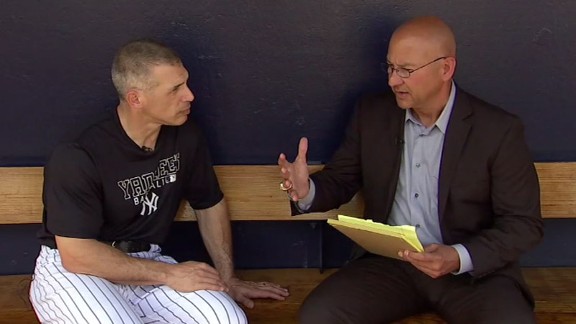 ESPN.comEven as part of the media Terry Francona often has found himself back in the dugout.
Like so many former managers, Terry Francona's preference is to be back in the dugout.
He spent this season in front of the TV camera, and there's little doubt in my mind that if Francona chose to remain as a broadcaster he would be just as successful as he was as the manager of the
Boston Red Sox
. However, based on my conversations with him this year, I got the firm impression that if he had the right opportunity, he would return to managing.
That team would need to have two prerequisites:
1. A team with which he felt he could win in the near future
2. A front office with which he felt he could have a good working relationship
I think both elements exist with the
Cleveland Indians
.
April, 19, 2012
4/19/12
12:15
PM ET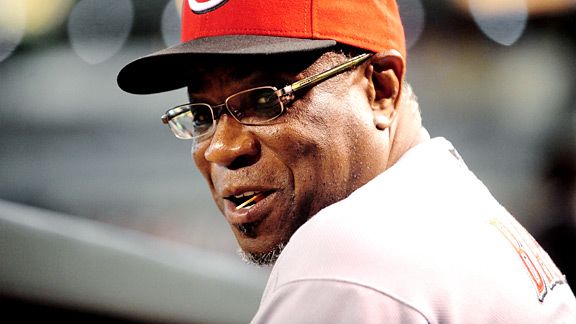 Mark J. Rebilas/US PresswireBaker isn't panicking yet, but he certainly is looking over his shoulder these days.
Big league managers have a hard enough time contending with things they can control, let alone things they can't. A 162-game season is never a cakewalk, but when there are distractions and concerns early in the season, it doesn't portend for smooth sailing for any skipper.
Some skippers are already contending with some unpleasant variables just two weeks into the season. Some came into spring training shouldering issues, while others might have made them with certain personnel decisions. But the kicker to it all is managers don't play the game, so they're somewhat at the mercy of player performance, which means they're really not in control of as much as they think.
Below are five managers and what is distracting each of them. Are they panicking? Perhaps not yet, but they certainly should be feeling the heat.

Dusty Baker
Baker is in the last year of his contract, and despite winning the division in 2010, his contract hasn't been extended yet, though the club has signed general manager Walt Jocketty, first baseman
Joey Votto
and second baseman
Brandon Phillips
to long-term deals. So Baker remains somewhat of a lame duck manager. With the shadows of both Terry Francona and Tony La Russa looming, as well as Hall of Famer
Barry Larkin
, there is a growing sense that Baker must win to keep his job, or else one of those three will replace him. It is not a healthy position for Baker, and he will manage with more immediacy rather than over the long haul of 162 games.
To continue reading this article you must be an Insider
April, 10, 2012
4/10/12
1:15
PM ET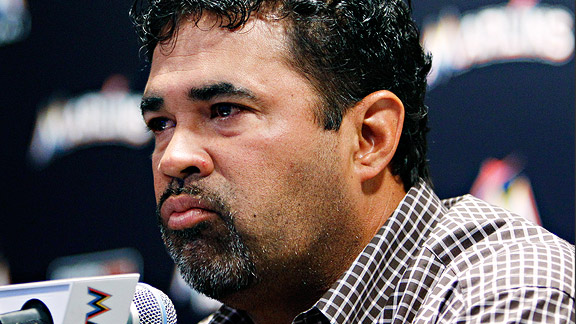 AP Photo/Lynne SladkyOzzie Guillen showed how remorseful he was, but the suspension should have been stronger.
The mess surrounding
Miami Marlins
manager Ozzie Guillen can't be easily resolved with just apologies and a five-game suspension. On Tuesday, the club announced Guillen would miss those games as
disciplinary action for his comments
last week regarding Fidel Castro.
The comments incensed the Cuban-American community (which is particularly large in Miami), and Guillen apologized and tried to clarify what he said.
In 1993, I was in a very similar situation when then-
Cincinnati Reds
owner Marge Schott made racially insensitive remarks regarding African-American players as well as Adolf Hitler. I was a rookie general manager with a rookie field manager dealing with an owner who honestly could not fathom what she did wrong. Frankly, it was a nightmare.
The situation parallels Guillen's situation in the sense that baseball should have made this an industry issue rather than a club issue. The club-mandated five-game suspension on Guillen falls short of the penalty levied on Schott, as well as the consequences faced by former
Los Angeles Dodgers
GM Al Campanis when he made racially insensitive remarks about African-Americans to Ted Koppel on "Nightline" almost 25 years ago.
Like Schott, Guillen has alienated a section of the fan base and he will never win all of them back. For that reason, if I was sitting in the GM's chair, my initial reaction would have been to give him the opportunity to resign before terminating him. After all, in Campanis' case, he was allowed the opportunity to resign or face termination. In Schott's case, MLB suspended her for the 1993 season and fined her $250,000. She later was banned from baseball in 1996 after a second incident.
I know baseball isn't politics, but you can't have a manager (or any employee for that matter) making insensitive comments that will offend the fan base.
To continue reading this article you must be an Insider
March, 14, 2012
3/14/12
11:30
AM ET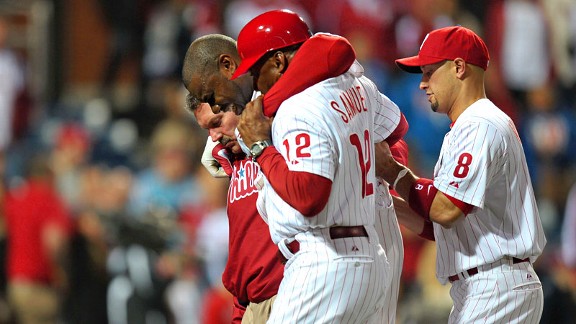 Drew Hallowell/Getty ImagesHow well Howard comes back from his Achilles injury will heavily impact the Phillies' offense.
Last year, the National League East was a two-horse race, with the
Philadelphia Phillies
and
Atlanta Braves
jockeying for position on the strength of deep starting pitching. The
Washington Nationals
and
Miami Marlins
were essentially afterthoughts, but each has made tremendous strides filling out their respective rosters and have nearly caught up to the Phillies and Braves. The NL East pennant race, save for the
New York Mets
, will be a much closer contest than most realize, and don't be surprised if Miami or Washington comes out on top. Here's why:

Phillies ages and injury
Ryan Howard
's Achilles injury will be a major factor and will dictate the Phillies' success. They need his home runs and RBIs and don't have enough at first base and left field when he's not in the lineup. Further, Chase Utley's knees are questionable. Will he have power at the plate and range in the field?
Jimmy Rollins
and
Placido Polanco
are getting long in the tooth and could see more decline this season. As Jayson Stark writes today,
this once great infield is fading
.
To continue reading this article you must be an Insider
September, 27, 2011
9/27/11
4:02
PM ET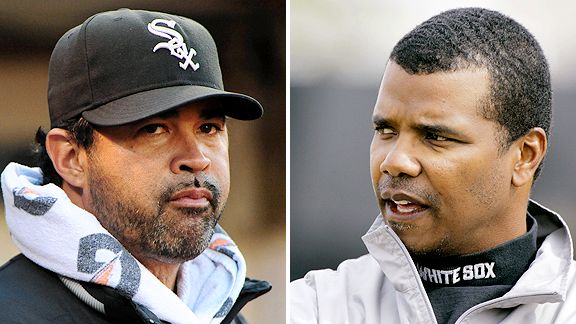 US Presswire, AP PhotoThere was a time that Ozzie Guillen and Kenny Williams were on the same page.
As a player, Ozzie Guillen earned a reputation as a fiery competitor who liked to get his uniform dirty and was never at a loss for words, whether aimed at an umpire, opponent or even a teammate. After 13 years as the
Chicago White Sox
's shortstop, winning the 1985 AL Rookie of the Year Award, and earning three All-Star appearances and a Gold Glove, Guillen became the club's manager in 2004. But after spending much of his baseball career on the South Side of Chicago, Guillen is finally moving on.
Guillen was released from his contract and will manage the
Florida Marlins
in 2012. According to reports, Guillen, 47, will agree to a four-year, $16 million contract, forgoing $2 million still owed to him by the White Sox. Chicago will even get two prospects as part of the deal, one of whom is hard-throwing right-hander Jhan Marinez, who struck out 11.5 men per nine at Double-A Jacksonville this year.
Guillen has a great relationship with Marlins ownership and their front office, having served as Marlins third-base coach during Jack McKeon's first go-round as manager when he led Florida to a championship in 2003. McKeon was expected to announce his retirement Wednesday after the Marlins had finished the regular season, but the timetable was moved up to Monday when the Marlins and White Sox completed the deal.
The question is -- how long will the Marlins' honeymoon with Guillen last?
To continue reading this article you must be an Insider