The GM's Office:

Nick Swisher
January, 14, 2013
1/14/13
11:35
AM ET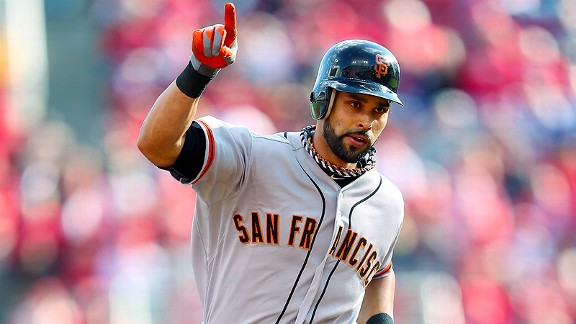 Andy Lyons/Getty ImagesAngel Pagan has never shown the consistency to warrant the contract he earned this offseason.
Recall the saying "it seemed like a good idea at the time" and you'll be able to apply it to a number of baseball's 30 teams. Indeed, most general managers would love to call a mulligan or two during their careers. As such, the following five players are, in my opinion, the most likely to end up as someone's mulligan. Their contracts are simply more than they are worth, whether it be dollars or number of years, and thus could very easily backfire on the general manager.
---
Contract:
Four years, $40 million |
AAV:
$10 million

Giants senior vice president/general manager Brian Sabean is one of the best in the business, with two world championships in the past three years. That doesn't mean he doesn't make his fair share of mistakes on long-term contracts, such as
Barry Zito
's seven-year, $126 million deal or
Aaron Rowand
's five-year, $60 million albatross. Sabean's history also includes being loyal to players (read: overpaying) who helped him win rings. After winning the World Series in 2010, he overpaid
Aubrey Huff
by re-signing him to a two-year, $20 million deal.
November, 28, 2012
11/28/12
11:05
AM ET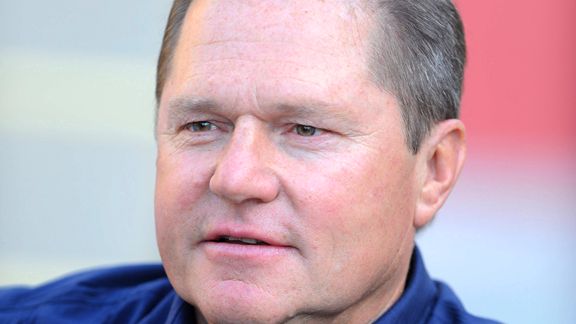 Kirby Lee/Image of Sport/US PresswireScott Boras won't be the only agent to watch at baseball's annual Winter Meetings this weekend.
Make no mistake -- Scott Boras is always the headliner among agents at baseball's annual winter meetings.
He loves the limelight and will make sure to walk by the media area at optimum times and hold court. He's always entertaining, and his strong and often controversial opinions make the TV cameras' red lights go on and writers fill their notepads. This year will be no different with his representation of free agents
Michael Bourn
,
Kyle Lohse
and
Rafael Soriano
, among many others.
However, there's been a not-so-subtle changing of the guard. For decades, high-profile agents like Tom Reich and Adam Katz, Ron Shapiro, Jim Bronner and Bob Gilhooley and Randy and Alan Hendricks often stood front and center with Boras, dominating the meetings from behind the scenes. But now, larger corporations such as CAA and SFX have taken over a lot of the game's player representations.
Regardless, the game's top power brokers will gather this weekend at the Gaylord Opryland Hotel in Nashville, Tenn. Here is a quick glance at some of this year's most important agents to watch:
---
Excel Sports Management | Lead agent: Casey Close
Top free agent
:
Zack Greinke
| Others:
Andy Pettitte
,
Scott Hairston
,
Jeremy Guthrie
(recently signed three-year, $25M deal with Royals),
Casey Kotchman
,
Jamey Wright
Greinke's likely suitors:
Los Angeles Dodgers
,
Texas Rangers
,
Los Angeles Angels
and
Washington Nationals
Background brief:
After beginning his career at IMG and accruing 20 years of experience, Close joined Excel in 2011, partnering up with Jeff Schwartz and Mark Steinberg. Their client list is cross-sport, ranging from
Derek Jeter
and
Clayton Kershaw
to the NBA's Paul Pierce, Blake Griffin and Deron Williams, as well as golf's Tiger Woods.
Style/strategy:
They are well-prepared, engaging and have a tremendous track record. They operate in a very private and professional manner and seem to attract the kind of players who handle their own business the same way. Excel is particularly good at recognizing its clients' value and market and often gets top dollar for its clients. Excel's honest, straightforward approach has gained the respect of the industry.
Problems/barriers in negotiations:
There are not a lot of clubs that have the financial wherewithal to play on Greinke.
---
MVP Sports Group | Lead Agent: Dan Lozano
Top free agent:
Nick Swisher
| Others:
Brian Wilson
,
Jonny Gomes
(recently signed two-year, $10M deal with Boston)
Swisher's likely suitors:
Boston, Atlanta, Philadelphia and Texas
Background brief:
Lozano boasts 24 years of experience, negotiating some of the game's largest deals, including
Albert Pujols
' $240 million deal with the Angels last December and
Joey Votto
's $225 million contract extension with the
Cincinnati Reds
during spring training. The two deals totaled more than half a billion dollars, a record for any agency in any one offseason.
Style/strategy:
Lozano and his staff are hard-working, loyal, passionate and treat their clients like family. His firm uses a stealth approach, as demonstrated by the Albert Pujols negotiations last December, when the Angels swooped in to get him at the last minute. Lozano doesn't play games, preferring direct and straightforward negotiations with club executives. He always comes extremely prepared with top-notch communication skills.
Problems/barriers in negotiations:
Swisher's poor postseason performance could undermine the fact he's had eight straight years of 20-plus home runs.
---
Reynolds Sports Management | Lead agent: Larry Reynolds
Top free agent:
B.J. Upton
(recently signed a five-year, $75 million deal with Atlanta) | Others:
Torii Hunter
(recently signed a two-year, $26M deal with Detroit)
Upton's likely suitors:
Atlanta, Philadelphia, mystery team
Background brief:
Reynolds possesses 28 years of experience as an agent, and prior to negotiating Hunter's recent two-year deal, he got him a five-year, $90 million contract with the Angels in 2007, which was then the largest contract in club history.
Style/strategy:
Reynolds makes a concerted effort to tailor each negotiation to the player and club he is dealing with. He spends a great deal of time studying the negotiating styles of the club executives in order to formulate the best plan to maximize the player's compensation. Reynolds has a wide array of knowledge of the collective bargaining rights, performance comparables and how to stretch the present market. Negotiations can get adversarial and difficult depending on the situation. At the same time, Reynolds always tries to be reasonable and isn't afraid to close deals earlier in the process than most agents.
Problems/barriers in negotiations:
Getting a sixth year for Upton could be difficult.
---
Paragon Sports International | Lead agent: Brian Grieper
Top free agent:
Mike Napoli
Napoli's likely suitors:
Red Sox, Rangers and Mariners
Background brief:
Paragon is a medium-sized baseball agency with offices in Miami, Los Angeles and Chicago and represents some of baseball's top young talent and prospects. Grieper has cultivated relationships with club officials at all levels over a decade in the agent business. Many of these officials have gone on to become GMs, assistant GMs and scouting directors.
Style/strategy:
Grieper stresses open dialogue, intense preparation and creative analytical and statistical analysis. He develops personal relationships with clients through trust and loyalty. The quality of representation was best illustrated when Grieper made Napoli -- who he has represented since high school -- the highest paid catcher during arbitration, earning him a one-year deal worth $9.4 million. His raise of $3.6 million is the second highest in the history of third- or fourth-time eligible hitters, ranking behind only
Prince Fielder
. Grieper is very direct and accurate with information, and he negotiates in a respectful and professional manner.
Problems/barriers in negotiations:
Napoli is best suited with an American League team because of his value being able to DH along with playing first base and catcher. Obviously this could limit the number of teams that bid on Napoli's services.
For more on Michael Moye, who is representing Josh Hamilton, check out
Jerry Crasnick's piece today
.
October, 29, 2012
10/29/12
12:00
AM ET
While the
Detroit Tigers
and their fans are obviously feeling a bit blue Sunday night, they will soon come to realize that the 2012 season was a huge success. They won the AL Central, swept the
New York Yankees
in the American League Championship Series and appeared in the World Series.
Of course, the club's weaknesses were exposed a bit in losing to the
San Francisco Giants
, but they are in a great position to improve their club this winter. Here are five ways I expect GM Dave Dombrowski to try to improve the club this winter.
1. So long, Delmon
Delmon Young
was fantastic in the ALCS and was named MVP of the series, but as a DH/left fielder he's a below-average player, as evidenced by his .267/.296/.411 line this year. He is a free agent, and the club will gladly let him walk, as they will have
Victor Martinez
coming back from a knee injury that cost him the 2012 season. Martinez will be an upgrade at DH, so the team is getting better without doing anything.
2. Bye-bye, Valverde
[+] Enlarge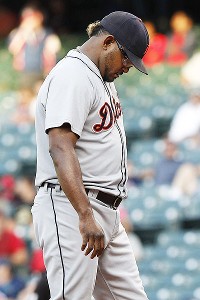 David Maxwell/Getty ImagesAfter repeated postseason failures, Jose Valverde will not be back in 2012.
Speaking of impending free agents,
Jose Valverde
will also be one, and the Tigers, who didn't trust him to pitch in any high-leverage spots in the World Series, won't bring him back. He made $9 million this year, so that will bring some salary relief. Detroit's bullpen was not a strength, and I could see them making a play for
Rafael Soriano
, who will almost certainly opt out of his deal with the Yankees, and would be an upgrade. Yes, he'd be pricey, but owner Mike Illitch has made it clear that he's willing to spend to try to win a World Series, and the club has roughly $90 committed for 2013 as of today. In other words, they have some money to spend.
I could also see the club trying to rebuild their pen by shopping
Rick Porcello
, who is still fairly well-regarded and will turn 24 in December. But as a ground ball pitcher on a team with a bad infield defense, he's a terrible fit. They should shop him to the National League or to clubs with good outfield defense in search of bullpen help. I could see San Diego, Minnesota and Pittsburgh as fits. Maybe Porcello for
Joel Hanrahan
, or possibly to Kansas City for someone such as
Aaron Crow
.
3. Retain Peralta and Sanchez
Jhonny Peralta
has a $6 million option for 2013, and the club will certainly pick that up.
Anibal Sanchez
is set to be a free agent, and he will have suitors, and that's one guy the club will want to make a play for. He has shown this October that he's a solid mid-rotation starter, and if he's paired with
Justin Verlander
,
Max Scherzer
and
Doug Fister
the Tigers will have one of the best rotations in the league.
Further, Sanchez is a strikeout pitcher, which makes him a great fit for the Tigers, as he's less-reliant on his defense, which will always be a team weakness as long as they build their lineup around
Miguel Cabrera
and
Prince Fielder
.
4. Upgrade the outfield corners
Quintin Berry
and
Andy Dirks
are decent role players, but they are not everyday guys. The Tigers have moved top prospect Nick Castellanos from third base to right field because of Miggy, and he could be up some time in the second half of next year. (And one day, don't be surprised if Castellanos is at third with Cabrera in left, a position he played when he came up with the Marlins.)
In the other outfield corner, I could see them making a play for
Nick Swisher
, as he has been one of baseball's most consistent performers over the past few seasons. The Tigers' lineup lacks depth -- something the Giants exposed -- and Swisher would provide that. Again, he won't come cheap, but the Tigers have money. A less pricey alternative would be
Angel Pagan
, who is also a free agent and could be a great No. 2 hitter while upgrading the outfield defense in left.
While they wait for Castellanos, I expect
Avisail Garcia
to man one corner with Berry and/or Dirks on the bench.
5. One more year of Leyland
Manager Jim Leyland's contract is up, and you have to think he wants to get a ring in Detroit. However, at 67 years old, who knows how much longer he will want to manage? I'd bring him back on a one-year deal and let him know that he can have the job as long as he wants it, but at this stage of his career I'd go year-to-year.
Even if they don't do much, the Tigers are probably AL Central favorites. And since Dombrowski will have some payroll flexibility, I could see him turning the Tigers into the dominant AL team next year.
October, 20, 2012
10/20/12
11:30
AM ET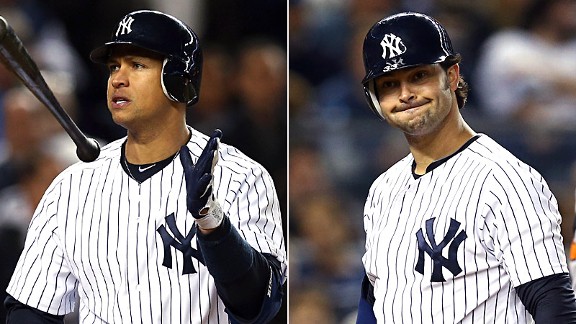 Getty ImagesThe Yankees must resolve the Alex Rodriguez issue and upgrade over Nick Swisher.
Let's consider these facts from ESPN's Stats & Information department regarding the
New York Yankees
' historically poor performance in the American League Championship Series:
• The Yankees' .188 batting average in the 2012 postseason is the lowest in MLB postseason history by any team that played at least seven games. They scored just 22 runs in nine games, for an average of 2.4 runs per game. That's the fourth-fewest runs per game in a single postseason by any team that played at least seven games.
• The Yankees had played 36 consecutive postseason series without being swept -- that was the longest streak in MLB history. This is the first time they've been swept in any series since the 1980 ALCS, when the Royals swept them in a best-of-five series. The last time the Yankees were swept in a best-of-seven series was in the 1976 World Series, when the Reds beat them.
• The Yankees enter an offseason filled with uncertainty. Although they're almost certain to exercise a pair of club options for 2013 on
Robinson Cano
($14 million) and
Curtis Granderson
($13 million), the key players who are eligible for free agency are
Mariano Rivera
,
Andy Pettitte
,
Nick Swisher
,
Ichiro Suzuki
,
Hiroki Kuroda
and
Russell Martin
.
Add the fact that
Rafael Soriano
also has an opt-out clause in his deal, so he is no lock to return.
With all that uncertainty on their roster and questions about things, I've come to one conclusion: It's time to blow up the Yankees.
It's time for the Yankees to get younger and more athletic. For this storied franchise, anything less than a World Series championship is considered a failure. The team is built to withstand a 162-game season in which an aging lineup can routinely feast on fourth and fifth starters. But in the postseason, when those same aging bats see the absolute best pitching in a short series, as the statistics above indicate, they fall short. Outside of
Derek Jeter
and Cano, the lineup's holes and weaknesses were exposed.
But the only way to rebuild and win now is for Hal Steinbrenner to take a page out of his father's strategy -- which sometimes worked, sometimes did not -- and that means spend money and trade prospects.
Start with Rodriguez
The most prudent thing to do is to try to persuade
Alex Rodriguez
to waive his no-trade clause. The Yankees likely would have to pay nearly all of his salary with the exception of perhaps a few million. This would come with the stipulation that the Yankees would pay only if Rodriguez plays and is on an active roster.
There's simply no hiding or denying Rodriguez's decline. As
Dan Szymborski pointed out
, it has been coming for years. Rodriguez at 37 might still be a serviceable player capable of hitting .260 with 20 home runs, but the Yankees would do well to turn the page. Ideally, it would be best to cut ties and pay his salary and move on. But if they cannot, the next move is to convert him to designated hitter.
The Yankees have a track record of leading aging sluggers out to pasture by converting them to designated hitters. In the footsteps of
Bernie Williams
, Paul O'Neill,
Hideki Matsui
,
Jason Giambi
,
Jorge Posada
, Rodriguez should follow suit and join
Raul Ibanez
in what could be turn out to be an effective lefty-righty platoon, albeit perhaps the most expensive DH combination in baseball history.
Resolving Rodriguez would free up the Yankees to chase, well,
Chase Headley
, the Kansas City Royals'
Mike Moustakas
or Washington Nationals prospect Anthony Rendon. To acquire someone like Headley, Yankees general manager Brian Cashman will have to do that which he most despises: trade prospects.
Frankly, I say empty the farm system to get whatever pieces they need. New York's farm system took a hit this year with the poor performance of top pitching prospect Manny Banuelos, and he is going to miss the 2013 season after undergoing Tommy John surgery. Still, the Yankees could get this kind of deal done if they were willing to part with outfield prospect Mason Williams and catching prospect Gary Sanchez. George Steinbrenner never had a problem sacrificing prospects, and New York needs to be aggressive.
Cashman has said repeatedly that he wants complete players, and Headley, for example, is exactly that. Even with Petco Park as his home field, switch-hitting Headley batted .286 with 31 home runs, stole 17 bases and led the NL with 115 RBIs while playing very solid defense. At 28, he enters 2013 in his prime and is about to get very expensive in arbitration. The Padres have built an incredibly deep farm system, and if they sell high on Headley, they can further fortify their farm while freeing payroll to lock up some of their top youngsters.
To get Headley, it probably will take a prospect package similar to what the
Cincinnati Reds
forked over to San Diego for pitcher
Mat Latos
in December.
Buy, buy, buy
Outfielder
Josh Hamilton
will be by far the biggest name on the free-agent market. Fittingly, the team in the biggest market should be the one to reel him in.
Hamilton fits Cashman's proclivity for "complete" players, and his left-handed swing is tailor-made for Yankee Stadium. They Yankees need a better postseason hitter than Swisher, who has been exposed in October, hitting .169 in the playoffs in his career.
Likewise, the Yankees should pursue speedster
Michael Bourn
. Signing Bourn would free Cashman to trade or decline the club option ($2 million buyout) on Granderson and his 195 strikeouts and move
Brett Gardner
to left field. Bourn also would serve as the leadoff man the Yankees desperately need and, once again, add some much-needed speed.
On the mound, Pettitte will announce soon whether he will return in 2013. Outside of
CC Sabathia
, and perhaps Hughes, the rest of the rotation is simply not World Series caliber.
Michael Pineda
should be back from shoulder surgery and could be an upgrade, but there is no way the Yankees can assume he will be an impact player in 2013.
Re-signing Kuroda will help, but signing
Zack Greinke
or
Kyle Lohse
will be necessary to deepen the Yankees' starting rotation. None of the prospects they have will do that, and the Yankees can't afford to wait for kids.
I know there has been talk about the Yankees wanting to avoid the luxury tax, but they're the Yankees -- they should be paying the luxury tax. And let's be honest, George Steinbrenner would have been this aggressive.
Bring back Russell Martin?
As our own Buster Olney suggests, the Yankees
loved Martin's toughness and winning attitude
, but a long-term contract just wouldn't work.
If the Yankees miss out on Hamilton or Greinke, they might think about turning to
Minnesota Twins
catcher
Joe Mauer
. The Twins probably would love the chance to shed Mauer's huge contract, and the Yankees are one of the few teams that can afford him. As noted, the Yankees could end up clearing a lot of payroll this year if Soriano opts out, Swisher leaves and Granderson's option is declined.
As with Hamilton, Mauer's swing is perfect for Yankee Stadium. The Twins are desperate to rebuild their pitching staff, and giving some prospects might appeal to them.
To be sure, the Yankees can't make all of these moves, but the point I'm making is that the team needs to think aggressively. The Yankees have been relatively inactive the past couple of winters, but it's time for them to channel some of The Boss' bold mentality. They are baseball's uber-team, and they should be prepared to lose draft picks and pay the luxury tax. The Yankees have never settled for mediocrity, and they shouldn't now. The time has come for Hal to become George for just a few years to get the Yankees back to where they belong.
October, 3, 2012
10/03/12
10:00
PM ET
In 2004, outfielder
Carlos Beltran
came into the season making $9 million on a one-year contract with the
Kansas City Royals
. By the time 2005 spring training rolled around, he was with the
New York Mets
making $119 million on a seven-year contract with an iron-clad no-trade clause.
Beltran was an All-Star player and soon-to-be free agent peaking for a small-market team that knew it couldn't afford his upcoming contract demands. So the Royals traded him to Houston where he nearly led the Astros to the World Series by hitting .435 with eight home runs, 14 RBIs and six stolen bases in the NLDS and NLCS combined. It was a bonanza postseason en route to a bonanza offseason payday.
Likewise, in this year's postseason there are five players who could use bountiful postseason performances to improve their free-agent value. For a couple, it could mean lucrative paydays. And for one, it offers a shot a redemption.

Josh Hamilton, CF
Hamilton has already publicly stated that there will be no hometown discount for the Texas Rangers. With Hamilton planning on several large charitable endeavors in the near future, he is looking for a maximum contract to help get those plans started.
To continue reading this article you must be an Insider
September, 11, 2012
9/11/12
11:55
AM ET
As end of the regular season approaches, every major league club that plans to delve into the free-agent market has its best scouts at the ballpark looking at the best guys who will be available during the offseason. They are evaluating every plate appearance and/or every pitch while the front office is using video technology to further evaluate prospective free agents. A club simply cannot do enough homework on a player's health, character, work ethic and makeup.
Taking an early look at this year's free-agent class, center field is clearly the position that offers the most depth and quality. However, there will be several quality pitchers available, too, both top-of-the-rotation types as well as closers.
Here is a list of the 11 best free agents -- in no particular order -- who will be on the market this November and with which team they might best fit. (You may notice that
Mariano Rivera
,
David Ortiz
and
Torii Hunter
are not listed here, and that's because I am almost certain they will re-sign with their current teams.)
Josh Hamilton, CF | Best fits: Rangers, Yankees
Hamilton is the best position player in this year's class, and the 31-year-old would like to get a deal in the range of what
Prince Fielder
and
Albert Pujols
received last year, which would mean a 10-year contract for more than $200 million. However, Hamilton's well-documented issues with addiction and nagging health issues will dissuade some teams. Remember, though, it only takes one team to set the market.
To continue reading this article you must be an Insider
August, 20, 2012
8/20/12
12:40
PM ET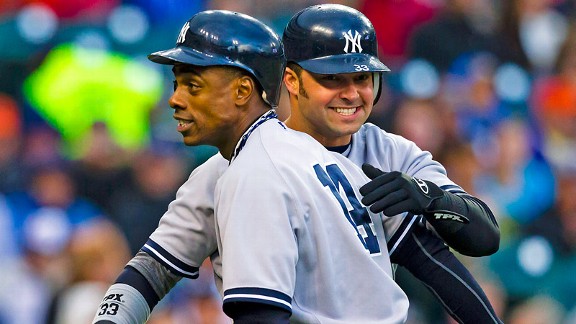 Rick Osentoski/US PresswireNick Swisher keeps his teammates loose and has produced consistently over the last six years.
For most people watching
San Francisco Giants
outfielder
Melky Cabrera
, his 2012 season so far seemed almost too good to be true. Turns out it was.
His dream season began in May when he earned the 100th hit of 2012 in his 291st plate appearance, breaking Willie Mays' 54-year-old team record of fewest plate appearances needed to achieve 100 hits. Cabrera then added All-Star Game MVP honors, and his offensive production helped keep the Giants in first place for much of the season.
The dream soured into a nightmare after Cabrera tested positive for performance enhancing drugs and was suspended for 50 games. He's exacerbated the situation with new reports that he paid a consultant to
create a phony website to fool the players' union and MLB
into believing he had accidentally ingested a supplement spiked with testosterone.
Investigations are ongoing, but the upshot of it all is that Cabrera had nearly paved the way for a potential contract in the range of five to six years between $12 and $15 million per season or a total package of $72 million-$90 million.
Not anymore. And the great beneficiary of this mess?
New York Yankees
outfielder
Nick Swisher
.
To continue reading this article you must be an Insider
February, 29, 2012
2/29/12
1:45
PM ET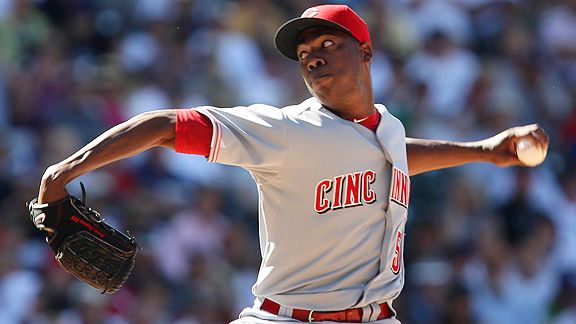 Andrew Carpenean/US PresswireIf the Reds really want to get the most out of their investment in Chapman, they'll send him to Triple-A.
PHOENIX -- The
Cincinnati Reds
are excited about the potential of their rotation for the short- and long-term, but don't be surprised if left-hander
Aroldis Chapman
isn't a part of it come Opening Day as there is strong sentiment that he could start the year in Triple-A. The Reds committed $30.5 million on Chapman to be a starter, but he's spent most of his career in the Reds' bullpen, which hasn't allowed him to develop his secondary pitches or his command. (He walked 7.4 men per nine innings last season.)
In order to develop his off-speed stuff and refine his command, he needs innings. Remember, his 101 mph fastball is supplemented only by an inconsistent slider, which at times can be devastating but he doesn't have command in the zone. He had a forkball when he pitched in Cuba and a changeup he rarely uses. Therefore, to eventually earn the $30.5 million he's being paid, starting in Triple-A and getting the innings to refine those secondary pitches could be the best thing for him and the Reds. It also would give them a starter to go get if one of their top five starters stumbles or gets injured.
The Reds' projected rotation is
Mat Latos
,
Johnny Cueto
,
Bronson Arroyo
,
Mike Leake
and
Homer Bailey
, and they have veterans such as
Jeff Francis
and
Brett Tomko
ready to step in if injury strikes. That means Chapman starting the year in Triple-A is a real possibility.
To continue reading this article you must be an Insider
October, 31, 2011
10/31/11
11:41
PM ET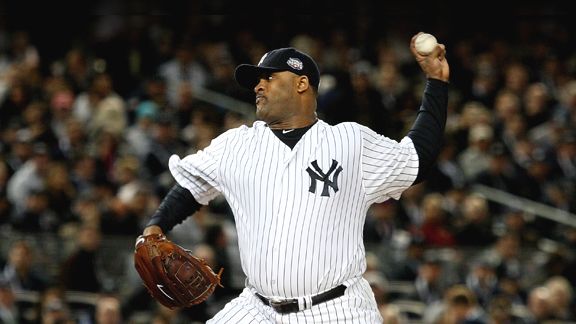 Jim McIsaac/Getty ImagesIn the end, CC Sabathia and the Yankees were each other's best fits.
It isn't often the
New York Yankees
find themselves with their backs against the wall. And yet, that is exactly what happened when facing the possibility of life without left-hander
CC Sabathia
.
The Yankees' ace could have opted out of his contract, which would have allowed him to become a free agent, but Sabathia agreed Monday to a one-year $25 million contract extension plus a $5 million buyout. Added onto the four years and $92 million he had remaining on his deal, Sabathia is effectively sewn up as a Yankee through 2016. The deal also features a $25 million option for 2017 that vests if he avoids serious shoulder problems in 2016.
Why this move?
Credit Sabathia's agent, Greg Genske, with leveraging the Yankees in 2008 by having the moxie to insist on an opt-out clause and the foresight to know what starting pitching in this year's free agent market was going to look like. With starting pitching the Yankees' main area of need going into this off-season Yankees general manager Brian Cashman simply didn't have a choice but to accommodate Sabathia's wishes.
To continue reading this article you must be an Insider