The GM's Office:

Mike Napoli
December, 3, 2014
12/03/14
10:59
AM ET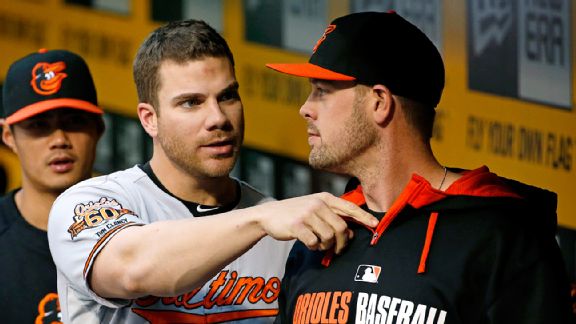 AP Photo/Gene J. PuskarChris Davis, center, and Matt Wieters, right, are both candidates to be traded in 2015.
Much of the talk these days is about the current crop of free agents, but what about next year's crop? Those players could be in demand via trade between now and the July 31 trade deadline. On Tuesday, we looked at top-10 pitchers set to be free agents after the 2015 season who could be traded, and here are the top 10 hitters set to be free agents 11 months from now who could be traded in the coming months.
1. Justin Upton, OF, Atlanta Braves
Braves general manager John Hart told me on my SiriusXM radio show Sunday that he hasn't made a single phone call about trading Upton and doesn't plan to. However, he also said he would listen like he does on all players. I can't imagine what the Braves would look like without Upton in the middle of their lineup, but if they can't extend him, they might have to trade him, just as they did with
Jason Heyward
: for a package of major league players they can control past this year and set them up for the opening of their new stadium in 2017.
---
2. Jason Heyward, RF, St. Louis Cardinals
Speaking of Heyward, the Cardinals plan on doing everything they can to sign him to a long-term deal after trading four years of control of
Shelby Miller
to the Braves.
December, 4, 2013
12/04/13
10:30
AM ET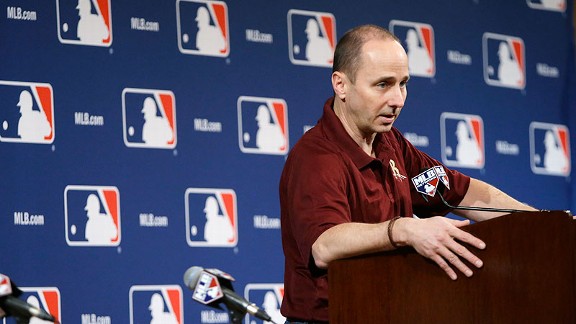 AP Photo/Mark HumphreyExpect Brian Cashman at the podium sometime during the Winter Meetings.
Baseball's annual winter meetings in Orlando, Fla., don't commence until Sunday, Dec. 8, but several general managers already have made waves this offseason.
Tigers president/GM Dave Dombrowski has made the biggest splash of the offseason so far after dealing first baseman
Prince Fielder
and right-hander
Doug Fister
, and signing free-agent closer
Joe Nathan
.
But
St. Louis Cardinals
GM John Mozeliak isn't far behind after trading for center fielder
Peter Bourjos
and signing free-agent shortstop
Jhonny Peralta
. Likewise,
Minnesota Twins
GM Terry Ryan has been active, bolstering his starting rotation by signing free-agent pitchers
Ricky Nolasco
and
Phil Hughes
to long-term deals.
However, 12 out of the top 15 free agents this offseason are still without homes, and there are several prominent players being mentioned in trade rumors, including
David Price
and
Jeff Samardzija
.
So let's take a look at some of the GMs who could join Dombrowski, Mozeliak and Ryan in making a huge splash of their own at the winter meetings.
Brian Cashman | Needs: starting pitching, second base, closer

I know what you are thinking: Cashman already made a splash by signing
Brian McCann
to a five-year, $85 million contract and
Jacoby Ellsbury
to a seven-year pact. But as I see it, that was just the appetizer.
Cashman remains focused on second baseman
Robinson Cano
, and once CAA and RocNation move a little closer to Cashman's numbers, an eight-year, $200 million deal could get done before Cashman leaves the winter meetings.
To continue reading this article you must be an Insider
November, 18, 2013
11/18/13
1:35
PM ET
The hot stove league is already fired up, as the
Philadelphia Phillies struck first
by signing outfielder
Marlon Byrd
last week. With such a weak free-agent class this offseason, teams will look heavily in the trade market.
Below you will find a proposed trade or free-agent signing that could help each National League team. On Tuesday I'll address the American League.
NL East
Atlanta Braves

The move:
Trade top pitching prospect Lucas Sims, shortstop Jose Peraza and
Alex Wood
to the
Tampa Bay Rays
in exchange for left-handed pitcher and former Cy Young Award winner
David Price
and outfield prospect Drew Vettleson.
To continue reading this article you must be an Insider
November, 15, 2013
11/15/13
10:10
AM ET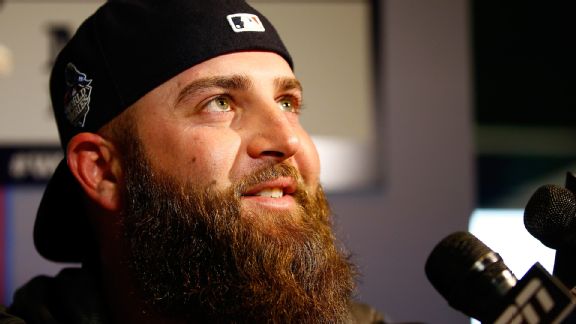 Jared Wickerham/Getty ImagesMike Napoli's bat and personality -- as well as his beard -- buoyed the Red Sox.
The
Boston Red Sox
successfully attacked the free-agent market last winter, signing several players to contracts whose value extended beyond their statistics, including outfielder
Shane Victorino
, first baseman
Mike Napoli
and shortstop
Stephen Drew
.
The trio was instrumental in the Red Sox's world championship season. The Sox valued the character and makeup of all three players, but also had the vision and foresight to know these players were much better than the numbers they had posted the previous season based on either career track records or improved health.
This year there are seven players in that classification. I think the following free agents are significantly better than their statistics indicate, and more importantly have the character and makeup to be leaders. That should make them undervalued free agents who will perform much better in 2014 than they did this past season.
To continue reading this article you must be an Insider
November, 2, 2013
11/02/13
9:00
AM ET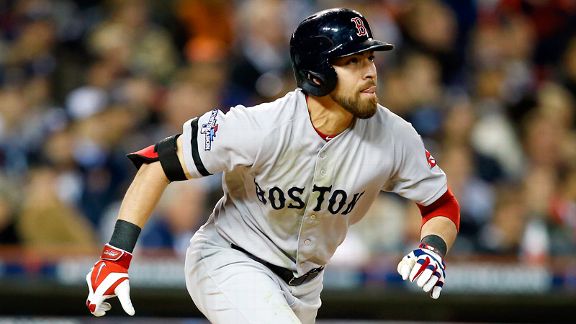 Rick Osentoski/USA TODAY SportsIt's hard to envision the Red Sox ponying up the kind of deal Jacoby Ellsbury is seeking.
Right now, the most pressing thing for the
Boston Red Sox
is the parade celebrating their World Series championship -- the first won in Fenway Park since 1918.
However, once all the celebrations are completed, the Red Sox will begin the same arduous offseason campaign 29 other teams will be engaged in -- preparing for the 2014 season by addressing some significant baseball issues facing them this winter.
Here is a quick look at what Boston must do to repeat.
To continue reading this article you must be an Insider
October, 25, 2013
10/25/13
9:50
AM ET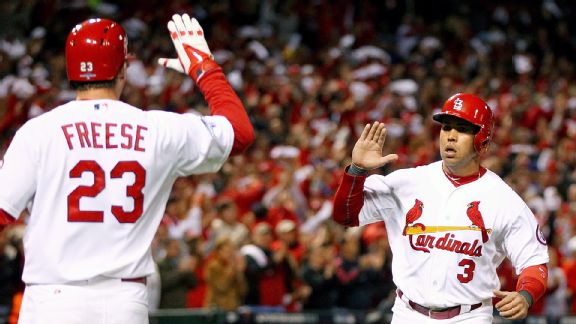 Dilip Vishwanat/Getty ImagesDavid Freese and Carlos Beltran could be playing elsewhere next season.
As the
Boston Red Sox
and
St. Louis Cardinals
battle it out in the 2013 World Series, no one's thinking past the next game, with perhaps the exception of the two managers as they plan out their pitching and lineups. For the players, it's the here and now.
However, there's a very good chance that several key players for both teams will be wearing different uniforms come February, when spring training arrives. And as the players try to win today, their general managers already have started looking at the roster adjustments they will have to make.
Here are nine players in the Fall Classic who could very easily be playing for different teams next season.
1. Jacoby Ellsbury | OF | Boston Red Sox

The Red Sox would love to be able to re-sign Ellsbury to a long-term contract, and Ellsbury would prefer to stay in Boston. However, he's also represented by Scott Boras, who has a proven track record of negotiating record-breaking deals for his clients, leveraging for the most money and most years unless his client insists otherwise.
To continue reading this article you must be an Insider
May, 10, 2013
5/10/13
10:30
AM ET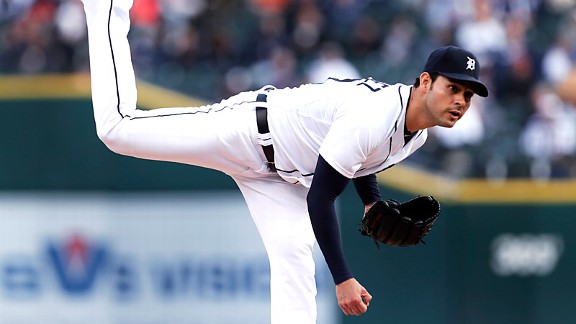 AP Photo/Paul SancyaAnibal Sanchez has helped give the Tigers arguably the best rotation in baseball.
The cream of the 2013 free-agent crop was obvious and expensive.
Teams entered the offseason flush with cash and spent prodigiously. Outfielder
Josh Hamilton
was the best position player, while
B.J. Upton
and
Michael Bourn
followed not far behind. Right-hander
Zack Greinke
was clearly the top free-agent pitcher available. All together, the four top free agents signed multiyear contracts worth close to $300 million.
And what do those teams have to show for it? The trio of outfielders has hit a combined .205 with a paltry nine home runs, five stolen bases and 93 strikeouts. Greinke added a lone win and a broken collarbone.
Conversely, there are a number of lower-priced free agents who are more than earning their paychecks. Since the top four free agents haven't lived up to their usual performance levels, which free agents have been the best bargains in baseball so far? Here's a ranking of the top 10 so far:
Note: Performance to date, salary and long-term commitment were all considered for this ranking.
To continue reading this article you must be an Insider
November, 28, 2012
11/28/12
11:05
AM ET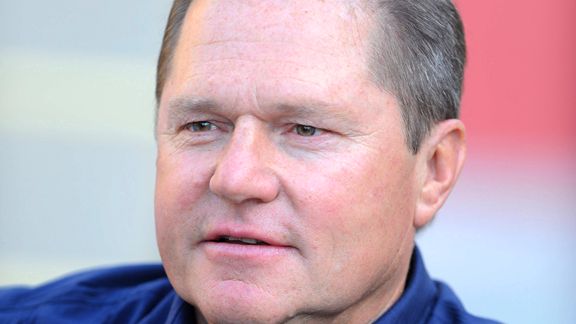 Kirby Lee/Image of Sport/US PresswireScott Boras won't be the only agent to watch at baseball's annual Winter Meetings this weekend.
Make no mistake -- Scott Boras is always the headliner among agents at baseball's annual winter meetings.
He loves the limelight and will make sure to walk by the media area at optimum times and hold court. He's always entertaining, and his strong and often controversial opinions make the TV cameras' red lights go on and writers fill their notepads. This year will be no different with his representation of free agents
Michael Bourn
,
Kyle Lohse
and
Rafael Soriano
, among many others.
However, there's been a not-so-subtle changing of the guard. For decades, high-profile agents like Tom Reich and Adam Katz, Ron Shapiro, Jim Bronner and Bob Gilhooley and Randy and Alan Hendricks often stood front and center with Boras, dominating the meetings from behind the scenes. But now, larger corporations such as CAA and SFX have taken over a lot of the game's player representations.
Regardless, the game's top power brokers will gather this weekend at the Gaylord Opryland Hotel in Nashville, Tenn. Here is a quick glance at some of this year's most important agents to watch:
---
Excel Sports Management | Lead agent: Casey Close
Top free agent
:
Zack Greinke
| Others:
Andy Pettitte
,
Scott Hairston
,
Jeremy Guthrie
(recently signed three-year, $25M deal with Royals),
Casey Kotchman
,
Jamey Wright
Greinke's likely suitors:
Los Angeles Dodgers
,
Texas Rangers
,
Los Angeles Angels
and
Washington Nationals
Background brief:
After beginning his career at IMG and accruing 20 years of experience, Close joined Excel in 2011, partnering up with Jeff Schwartz and Mark Steinberg. Their client list is cross-sport, ranging from
Derek Jeter
and
Clayton Kershaw
to the NBA's Paul Pierce, Blake Griffin and Deron Williams, as well as golf's Tiger Woods.
Style/strategy:
They are well-prepared, engaging and have a tremendous track record. They operate in a very private and professional manner and seem to attract the kind of players who handle their own business the same way. Excel is particularly good at recognizing its clients' value and market and often gets top dollar for its clients. Excel's honest, straightforward approach has gained the respect of the industry.
Problems/barriers in negotiations:
There are not a lot of clubs that have the financial wherewithal to play on Greinke.
---
MVP Sports Group | Lead Agent: Dan Lozano
Top free agent:
Nick Swisher
| Others:
Brian Wilson
,
Jonny Gomes
(recently signed two-year, $10M deal with Boston)
Swisher's likely suitors:
Boston, Atlanta, Philadelphia and Texas
Background brief:
Lozano boasts 24 years of experience, negotiating some of the game's largest deals, including
Albert Pujols
' $240 million deal with the Angels last December and
Joey Votto
's $225 million contract extension with the
Cincinnati Reds
during spring training. The two deals totaled more than half a billion dollars, a record for any agency in any one offseason.
Style/strategy:
Lozano and his staff are hard-working, loyal, passionate and treat their clients like family. His firm uses a stealth approach, as demonstrated by the Albert Pujols negotiations last December, when the Angels swooped in to get him at the last minute. Lozano doesn't play games, preferring direct and straightforward negotiations with club executives. He always comes extremely prepared with top-notch communication skills.
Problems/barriers in negotiations:
Swisher's poor postseason performance could undermine the fact he's had eight straight years of 20-plus home runs.
---
Reynolds Sports Management | Lead agent: Larry Reynolds
Top free agent:
B.J. Upton
(recently signed a five-year, $75 million deal with Atlanta) | Others:
Torii Hunter
(recently signed a two-year, $26M deal with Detroit)
Upton's likely suitors:
Atlanta, Philadelphia, mystery team
Background brief:
Reynolds possesses 28 years of experience as an agent, and prior to negotiating Hunter's recent two-year deal, he got him a five-year, $90 million contract with the Angels in 2007, which was then the largest contract in club history.
Style/strategy:
Reynolds makes a concerted effort to tailor each negotiation to the player and club he is dealing with. He spends a great deal of time studying the negotiating styles of the club executives in order to formulate the best plan to maximize the player's compensation. Reynolds has a wide array of knowledge of the collective bargaining rights, performance comparables and how to stretch the present market. Negotiations can get adversarial and difficult depending on the situation. At the same time, Reynolds always tries to be reasonable and isn't afraid to close deals earlier in the process than most agents.
Problems/barriers in negotiations:
Getting a sixth year for Upton could be difficult.
---
Paragon Sports International | Lead agent: Brian Grieper
Top free agent:
Mike Napoli
Napoli's likely suitors:
Red Sox, Rangers and Mariners
Background brief:
Paragon is a medium-sized baseball agency with offices in Miami, Los Angeles and Chicago and represents some of baseball's top young talent and prospects. Grieper has cultivated relationships with club officials at all levels over a decade in the agent business. Many of these officials have gone on to become GMs, assistant GMs and scouting directors.
Style/strategy:
Grieper stresses open dialogue, intense preparation and creative analytical and statistical analysis. He develops personal relationships with clients through trust and loyalty. The quality of representation was best illustrated when Grieper made Napoli -- who he has represented since high school -- the highest paid catcher during arbitration, earning him a one-year deal worth $9.4 million. His raise of $3.6 million is the second highest in the history of third- or fourth-time eligible hitters, ranking behind only
Prince Fielder
. Grieper is very direct and accurate with information, and he negotiates in a respectful and professional manner.
Problems/barriers in negotiations:
Napoli is best suited with an American League team because of his value being able to DH along with playing first base and catcher. Obviously this could limit the number of teams that bid on Napoli's services.
For more on Michael Moye, who is representing Josh Hamilton, check out
Jerry Crasnick's piece today
.
October, 8, 2012
10/08/12
12:20
PM ET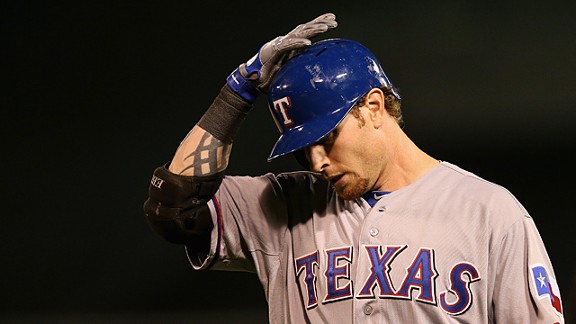 Ezra Shaw/Getty ImagesWilll Texas be able to re-sign Josh Hamilton, or has he played his last game for the Rangers?
After more than seven months and 162 games, the
Atlanta Braves
and
Texas Rangers
won 93 and 94 games, respectively.
Their seasons ended in the span of three hours, as they became the first teams to lose in MLB's new wild-card elimination game format. Such is the new reality for wild-card berth winners.
This also means the offseason has arrived for the Braves and Rangers. So let's take a look at what both teams need and the possible moves that could improve their clubs or at least shore up the weaknesses.

Free agents:
Josh Hamilton
, OF;
Mike Napoli
, C;
Mike Adams
, RHR;
Koji Uehara
, RHR;
Mark Lowe
, RHR;
Roy Oswalt
, RHR;
Scott Feldman
, RHR (club option)
Needs/targets
The Rangers will lose several significant arms from their bullpen. They hope to get
Neftali Feliz
back, but both he and
Alexi Ogando
have told the Rangers their preference is to start, so the Rangers must address those bullpen losses. The Rangers also must figure out a plan for top prospect
Jurickson Profar
. Is he ready for the big leagues, and, if so, would he or fellow shortstop
Elvis Andrus
possibly move to center field? But their biggest decisions this offseason will be regarding free agents Josh Hamilton and Mike Napoli. Will the Rangers re-sign or replace them? Here are several possible free-agent targets, including Hamilton and Napoli:
To continue reading this article you must be an Insider
October, 23, 2011
10/23/11
12:15
PM ET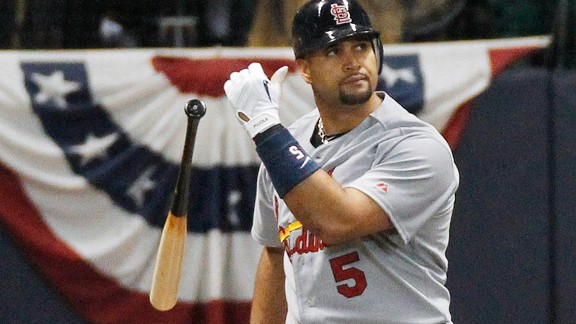 AP Photo/Jeff RobersonAlbert Pujols flips his bat and starts one of his three home run trots of Game 3.
In the not-to-distant future,
Albert Pujols
will become the highest-paid baseball player in the major leagues. Last night, in Game 3 of the World Series, Pujols reminded the entire baseball world that he is the most destructive offensive force in the game and why he deserves to be paid as such.
Until this point, Pujols was enjoying a very good postseason, albeit somewhat quietly. There was no drama to his contributions; he does it so consistently and effortlessly, it's almost as if it's just part of the backdrop. Fans and media have come to expect Pujols to hit. It's almost more noticeable when he doesn't.
And so it was in Game 3 that Pujols found himself 0-for-6 after Games 1 and 2 of the World Series. This despite the fact he had just gone 18-for-43 with two homers and 10 RBIs in the NLDS and NLCS combined. However, if the fans and media wanted drama, they got it, as Pujols nearly matched those power numbers in one night, going 5-for-6 with three home runs and six RBIs and leading the Cardinals to a 16-7 demolition of the
Texas Rangers
.
To continue reading this article you must be an Insider
October, 13, 2011
10/13/11
11:22
AM ET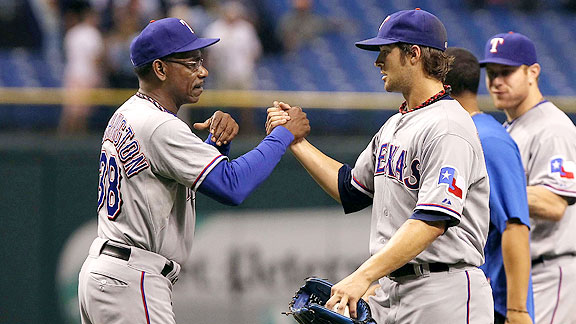 Kim Klement/US PresswireRon Washington's upbeat demeanor has rubbed off on his players and coaches.
One of the charms of
Texas Rangers
manager Ron Washington is his rapport with his players and his ability to stay loose, even under extreme pressure. He always seems to be smiling, shaking hands or laughing. Reds manager Dusty Baker is much the same way.
If ballclubs do indeed reflect the demeanor of their skippers, there is little wonder why the Rangers' clubhouse is one of the loosest I've ever seen during a postseason series.
Any baseball person will tell you that whether you're at the plate, on the mound or in the field, if you aren't loose, you're tight. And when you play tight, bad things happen. However, don't mistake loose for caring less about the game or the situation. As we saw Wednesday night,
Michael Young
was all business when he shot a line drive back up the middle to put the Rangers ahead 3-2; we saw it when catcher
Mike Napoli
gunned down
Austin Jackson
at second base in the 10th; we saw it as right fielder
Nelson Cruz
threw a laser to Napoli to cut down
Miguel Cabrera
at the plate in the eighth.
Tonight, as the Rangers attempt to clinch the American League pennant against the
Detroit Tigers
, Washington's guys will be focused and prepared, but they will also seem to be having as much fun as kids playing Wiffle Ball in the backyard.
To continue reading this article you must be an Insider