The GM's Office:

Miguel Cabrera
March, 27, 2014
3/27/14
9:55
PM ET
Los Angeles Angels
outfielder
Mike Trout
clearly has established himself as the best player in Major League Baseball. He is ranked No. 1 in the "Baseball Tonight" 100, and he will be the favorite to remain on the top of this list for the next five years.
The rest of the top five will turn over, as there are a number of players who will move in and out over the next half-decade. Let's have some fun and take a look at the guys who I think will populate the list of top-five players each year through the 2019 season.
Understand these lists are purely what I think could happen, and I'm assuming some amount of good health and luck during these five years, while hypothesizing some outcomes based on current performance and trajectory. I added some statistical projections courtesy of Dan Szymborski's ZiPS projections system, just to give you a sense of what the stats say about these guys. In some case, I'm a bit more optimistic than the computer models.
Top 5 players in 2015 (projected via ZiPS)
1. Mike Trout, CF, Los Angeles Angels (.289/.384/.505, 42 SB, 8.9 WAR)
2.
March, 27, 2014
3/27/14
8:41
PM ET
Miguel Cabrera
's new contract, which is reportedly worth close to $300 million, should keep him with the
Detroit Tigers
for the rest of his career.
Most of the industry is shell-shocked and isn't sure how to react to this news. Here are my five key takeaways.
1. The timing is weird
If Cabrera happened to be a free agent this offseason, this is the kind of contract I would expect him to get. Problem is, he's not a free agent. In fact, he's under team control for two more years.
To continue reading this article you must be an Insider
October, 23, 2012
10/23/12
3:38
PM ET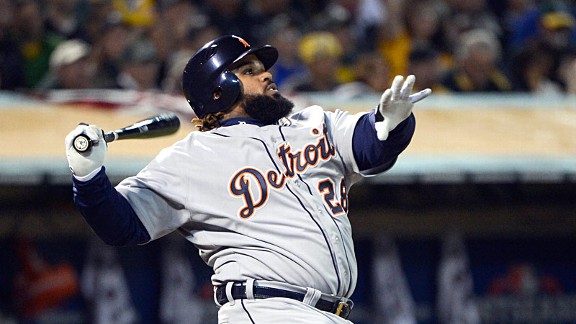 Thearon W. Henderson/Getty ImagesPrince Fielder might be the first Detroit hitter to put one in the right-field cove at AT&T Park.
With the World Series upon us, the 50 players showcased on baseball grandest stage will have varied roles, boasting an assortment of strengths as well as exposing some weaknesses. The
Detroit Tigers
' lineup is fearsome, as are their top three starting pitchers. But the
San Francisco Giants
match up well, and if the length of their series in the first two rounds is any indication, this could go down to the wire.
Let's take a look at those 50 players and rank them according to their potential impact on the series and importance to their respective teams. (Note: At time of publication, official rosters had not been announced.)
1. Justin Verlander, RHP, DET:
Verlander has the best overall stuff of any pitcher in the major leagues, and he is finally dominating the postseason in the same fashion as he does the regular season. He's the Tigers' key to winning the World Series.
2. Miguel Cabrera, 3B, DET:
He will win the AL MVP this November after becoming the first AL Triple Crown winner since Carl Yastrzemski in 1967.
3. Buster Posey, C, SF:
He will win the NL MVP this November, and despite a poor NLCS, I look for him to rebound in the World Series.
4. Matt Cain, RHP, SF:
It was just two years ago that he ran the table in the postseason, leading the Giants to a World Series title. I expect him to repeat what he just did in Game 7 of the NLCS and help give the Giants their second title in three years. He's a true ace.
5. Prince Fielder 1B, DET:
Owner Mike Illitch took a lot of grief from his peers over the nine-year pact he gave Fielder, but that signing has Illitch just four wins away from a world championship.
6. Max Scherzer RHP, DET:
He and Verlander had the highest K/9 ratio of any tandem in baseball this season. As future Hall of Famer
Chipper Jones
once told me, power pitchers win in the postseason. The Tigers have the two best in this series.
7. Austin Jackson CF, DET:
The best defensive outfielder in this series, Jackson runs down fly balls in the gaps better than anyone in this World Series. His ability to get on base will offer RBI opportunities for Cabrera and Fielder.
8. Pablo Sandoval 3B, SF:
"Kung Fu Panda" is the heart, soul and energy of the Giants' lineup. He's locked in at the plate right now with consistent sweet spot contact. Don't be surprised if he's the next one to deposit a home run in the left-field cove at AT&T Park.
9. Ryan Vogelsong RHP, SF:
Who would have thought that Vogelsong would be the best Giants starting pitcher in the postseason, ahead of Cain,
Tim Lincecum
and
Madison Bumgarner
? Vogelsong possesses a 92-93 mph fastball with pinpoint control on the black and changes eye levels.
10. Doug Fister RHP, DET:
Fister pounds the lower part of the zone with a nasty sinker and is one of those players who loves center stage. I expect another good series from him.
11. Marco Scutaro 2B, SF:
He led all NLCS players in on-base percentage and is a true table-setter. His defense has been matching his offense, and he sets the tone for this resilient ballclub.
12. Sergio Romo RHP, SF:
He has one of the best sliders in baseball, and his ability to put away
Jay Bruce
in the NLDS might have been the at-bat that truly put him in the category of an impact closer. Bruce Bochy now has the confidence to use him in the biggest games to close against left-handed hitters as well as right-handed hitters.
13. Barry Zito, LHP, SF:
How does Zito land ahead of Tim Lincecum and Madison Bumgarner on this list? His 15 regular-season wins and his dominant Game 5 performance against St. Louis in the NLCS give him the edge. However, my instincts say his 84 mph fastball is at risk of being exposed by the Tigers. Stay tuned.
14. Anibal Sanchez, RHP, DET:
The Tigers mortgaged the future by trading right-hander
Jacob Turner
and catcher
Rob Brantly
for him at the deadline. If they win the World Series with him, who cares?
15. Delmon Young, LF/DH, DET:
Young entered the postseason with little free-agent value and completely changed that with his second consecutive strong postseason, earning this year's ALCS MVP. He would be higher on the list if he were to play strictly DH, but he will have to play left field in possibly four games of this series.
16. Santiago Casilla, RHR, SF:
Casilla had once been the closer, and he also shared the role, and now he has found a home in the eighth inning. Expect some critical relief outings for him in this series, especially against Cabrera and Young.
17. Tim Lincecum, RHP, SF:
It will be interesting to see if Bochy uses him to start or relieve. He was really effective out of the bullpen, but then gave a mediocre start at best. He's now working exclusively from the stretch, which has somewhat cleaned up his delivery. He's throwing mostly 91-92 mph, but with inconsistent command in the zone.
18. Alex Avila, C, DET:
With the Giants possibly throwing both Zito and Bumgarner against the Tigers in this series, Avila might still have to platoon with
Gerald Laird
.
19. Phil Coke, LHR, DET:
Coke has followed up the best stretch of his career with a stellar postseason. He has usurped the closer's role after failures by both
Jose Valverde
and
Joaquin Benoit
.
20. Javier Lopez, LHR, SF:
Lopez is one of the best situational left-handed relievers in the sport and his matchups against Fielder and Avila in this series will be interesting to watch.
21. Madison Bumgarner, LHP, SF:
What in the world has happened to Bumgarner this postseason? In his last two outings he's thrown 91 mph in the first inning and then 87 mph in the second. His arm slot is down, the ball is coming out on the side, everything is flat, and he looks fatigued. However, with extra rest, I still think he can rebound. If he gets another shot at starting, he might even have a dominating performance left in him unless, of course, he's hurt and not telling anyone.
22. Angel Pagan, CF, SF:
Another one of Brian Sabean's excellent under-the-radar trades. Pagan has stayed focused all year and done a great job of covering ground even when he takes an occasional bad route to a ball. He's done a solid job in the leadoff spot ahead of Scutaro and brought good passion to the team.
23. Hunter Pence, RF, SF:
How do you drive in 100 runs and end up 23rd on this list? But that's how he's looked this postseason. His timing is off and his at-bats have been inconsistent. Will he break out in the World Series? I doubt it while facing Verlander, Scherzer, Fister and Sanchez.
24. Joaquin Benoit, RHR, DET:
He's been one of the best eighth inning relievers in baseball the last few years. The question should that be past tense?
25. Jhonny Peralta, SS, DET:
He makes the routine plays at shortstop, including when the game is on the line.
26. Octavio Dotel, RHR, DET:
He was an important middle reliever for the Cardinals in last year's World Series, and with Valverde falling off the face of the Earth, he'll be even more important this World Series.
27. Brandon Crawford, SS, SF:
He's one of the best defensive shortstops in this postseason. He possesses above-average range to both sides with a gun for an arm and he reads the ball off the bat as good as anyone in the game. The bat is the reason why he's down on the list.
28. Gregor Blanco, LF, SF:
He's a fourth or fifth outfielder playing regularly because of Melky Cabrera's absence. However, his speed on the bases and range in the outfield has been a plus for the Giants. He's also a great character guy.
29. Brandon Belt 1B, SF:
Belt is trying to make adjustments on the fastball inside on the black, where clubs love to pound him. He's cheating some to get to it, but that's making him vulnerable to the outside pitch, although on Monday he crushed a
Jason Motte
98 mph fastball in the same vicinity. His defense at first base is above average.
30. Omar Infante, 2B, DET:
He instantly helped solidify the Tigers' weakest position on the field after coming over from the Marlins in the Anibal Sanchez deal.
31. Jeremy Affeldt, LHR, SF:
Affeldt is used mostly in the sixth and seventh innings, and can get both right- and left-hand hitters out.
32. Hector Sanchez, C, SF:
You will see him start only if Lincecum gets a start. He's solid behind the plate and can drive a key run in the other way.
33. Avisail Garcia, RF, DET:
In a couple of years, Garcia will skyrocket up this list, but his time is not now.
34. Andy Dirks, RF, DET:
He'll get most of the playing time in right field over Garcia this World Series, but Garcia could see action if the Giants throw lefties Bumgarner or Zito at them. Regardless, Dirks is a gamer.
35. Al Alburquerque, RHR, DET:
There should be specific spots against the Giants where Alburquerque can come in and get that much-needed ground ball.
36. Quintin Berry, LF, DET:
His speed is an important element coming off the bench or playing left field for the Tigers.
37. Ryan Theriot, INF, SF:
Theriot is a team player and possesses tremendous makeup. He can help the Giants win games in so many different ways off the bench.
38. Joaquin Arias, INF, SF:
He's an above-average defender at second base, shortstop and third base, and could become valuable if there is an injury.
39. Drew Smyly, LHP, DET:
Has a chance to develop into a 12- to 15-game winner but will have a limited role in this World Series.
40. George Kontos, RHP, SF:
Picked up in the
Chris Stewart
deal with the
New York Yankees
, the Northwestern product played an important role of giving the Giants quality bullpen depth in the second half.
41. Rick Porcello, RHP, DET:
This could be his final season as a Tiger and is a candidate to be traded this winter.
42. Jose Valverde, RHR, DET:
He's gone from a top 10 player to 42nd on this list. Oh how life can change quickly for closers in Major League Baseball.
43. Gerald Laird, C, DET:
Has done a great job against left-handed starters and could see time if the Giants run out Bumgarner or Zito.
44. Brennan Boesch OF DET:
Has great power from the left side and stock just collapsed. Great guy.
45. Ramon Santiago, INF, DET:
The switch hitter could be called upon to pinch hit or as a defensive replacement, but not much more.
46. Jose Mijares LHR, SF:
The third left:hander out of the bullpen picked up from the Royals during the season. He'll be the first left out of the bullpen if needed early in the game only.
47. Xavier Nady OF, SF:
Veteran bat with power from right side.
48. Aubrey Huff 1B, SF:
Veteran bat with power from left side.
49. Guillermo Mota, RHR, SF:
No longer taking cough medicine.
50. Danny Worth, INF, DET:
He might get an at-bat or two during the series. However, if he's not on this list,
Brayan Villarreal
will be. The hard-throwing right-hander struck out 66 in 54.2 innings pitched. He's got future closer written all over him.
June, 8, 2012
6/08/12
10:18
AM ET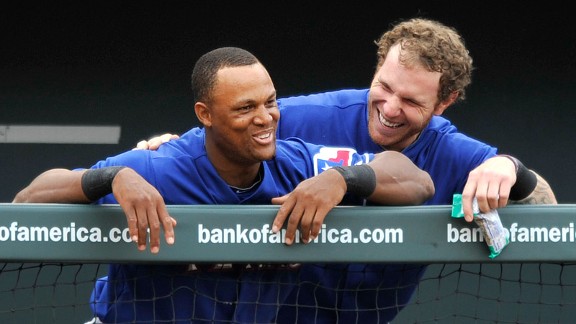 AP Photo/Gail BurtonBeltre and Hamilton remain the Rangers' best players and should be All-Stars again.
After two months of the season, there are already some clear and obvious choices for the 2012 All-Star Game. But there are also some not so obvious names, as well as intriguing names among as possible first-time All-Stars, too.
The fans will vote the starters in; managers will pick their favorites. So while the best players in baseball are supposed to be representing both leagues, due to the process, however, the best players often times don't start or even make the team.
So free from any variables like that, here are my first-guess picks for the American League All-Star team. This includes the starting lineup, the bench and the pitching staff. To view my first-guess picks for the National League roster,
click here
. Tomorrow we will follow up with the 10 most intriguing possible All-Stars from my rosters.
Don't agree? Leave a comment and tell me who you think should be on the 2012 All-Star Teams.
AL starting lineup
First base: Paul Konerko, Chicago White Sox
This will be his sixth All-Star appearance and third consecutive nod. Despite missing games after getting hit in the face by a
Jeff Samardzija
fastball, Konerko leads all AL first basemen in OPS, and his clutch hitting has been instrumental in the White Sox's first place start.
To continue reading this article you must be an Insider
April, 12, 2012
4/12/12
11:30
AM ET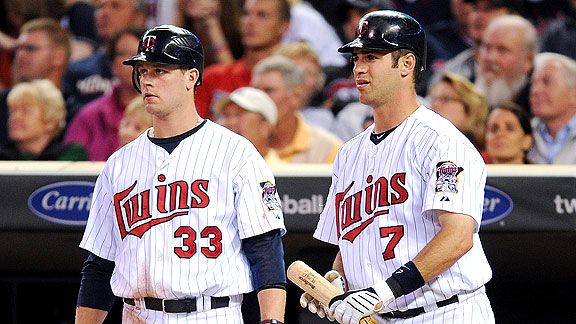 Tom Dahlin/Getty ImagesJoe Mauer (right) is virtually untradable, but there could be a market for Justin Morneau.
Oh, how things can change in 18 months.
It was just a short time ago when baseball was talking about its best hitting tandems. Among them were the
St. Louis Cardinals
'
Albert Pujols
and
Matt Holliday
, the
Milwaukee Brewers
'
Ryan Braun
and
Prince Fielder
, and the
Minnesota Twins
'
Joe Mauer
and
Justin Morneau
.
Now, 18 months later, Pujols is in Los Angeles and Fielder is in Detroit, but Mauer and Morneau remain Twins, literally and figuratively, joined by their sheer lack of tradability due to their massive contracts.
They were supposed to be the Twins' cornerstones after helping the team to division titles in 2004, 2006, 2009 and 2010. Their contracts ensured the duo would remain together through the opening of Target Field and beyond. Morneau signed first, inking a six-year, $80 million deal in 2008. Then Mauer signed a club-record eight-year, $184 million deal after the 2010 season.
However, what seemed like a dream scenario with the Twins' two biggest stars devolved into a nightmare of injuries from the 2009 season through the 2011 season.
To continue reading this article you must be an Insider
March, 13, 2012
3/13/12
11:30
AM ET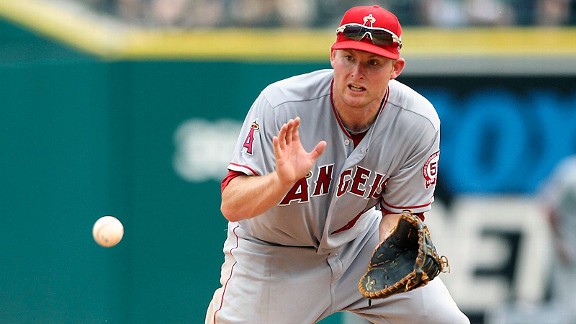 Leon Halip/Getty ImagesMark Trumbo's transition to third will be more difficult than Hanley Ramirez's and Miguel Cabrera's.
JUPITER, Fla. –- The beaming smile on Hanley Ramirez's face wakes me up more than the Starbucks coffee in my hand. Ramirez is happy once again and the
Miami Marlins
will be the beneficiaries of that new, great attitude. Ramirez is one of three high-profile players making the transition to third base this spring, along with
Miguel Cabrera
of the
Detroit Tigers
and
Mark Trumbo
of the
Los Angeles Angels
. Much of spring camp already has been dedicated to getting reps at the hot corner for these three, and Ramirez should have the easiest adjustment, even though Cabrera is the one with previous experience at third. Let's break down each player's chances of sticking at third one by one.
---
Hanley Ramirez
The reason Ramirez should have the easiest transition is because he is moving from shortstop, which is a more difficult position, and he has the right body type.

His hands have always been above average, and because third is a reactionary position, the transition has been smooth thus far. He and coach Joey Cora have worked hard on the drop step to create the good hop. At times he still hops into his throwing motion instead of trading places with his feet and gaining ground toward the target. It's a work in progress. I've seen him make three or four web-gem-type plays so far this spring, as well as a couple of errors, too.
To continue reading this article you must be an Insider
January, 25, 2012
1/25/12
11:41
AM ET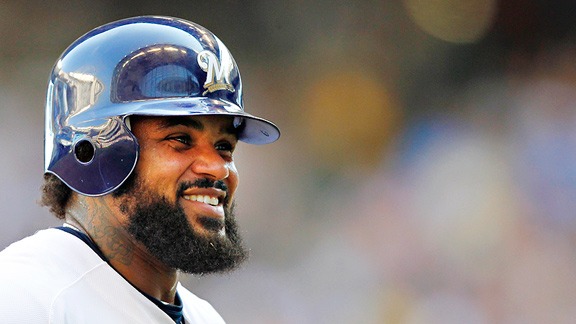 AP Photo/Jeffrey PhelpsHe's headed to the team his father played for, but Prince will leave his own footprint.
While Cecil Fielder launched home runs for the
Detroit Tigers
from 1990-96, legend has it his 12-year-old son, Prince, hit a home run into the upper deck of cavernous Tiger Stadium.
Of course, legends are embellished, and Prince's shot merely went over the fence and not into the upper deck. However, after signing a reported nine-year deal with the Tigers worth $214 million yesterday (remarkably close to
our projections
), it's time a new legend of Prince began in Detroit.
It was a deal that came together quickly, not unlike how the
Los Angeles Angels
rocked baseball's winter meetings by signing the top free-agent hitter in
Albert Pujols
and the top free-agent pitcher in
C.J. Wilson
.
It also was a deal that might never have happened were it not for
Victor Martinez
.
To continue reading this article you must be an Insider
January, 18, 2012
1/18/12
10:05
AM ET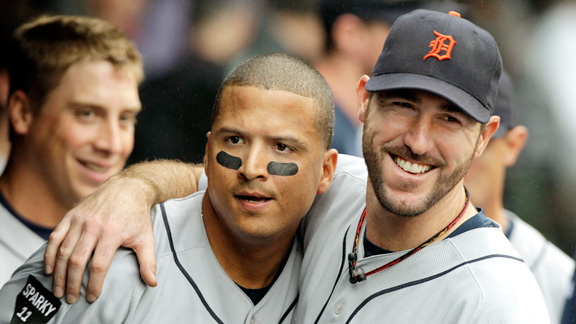 AP Photo/Mark DuncanThe Tigers will miss Martinez's bat and his affect on teammates like Justin Verlander.
After designated hitter
Victor Martinez
tore his ACL during offseason workouts
, the
Detroit Tigers
are in the market for another established hitter.
However, that doesn't mean the Tigers are going to break the bank for
Prince Fielder
. Rather, general manager Dave Dombrowski will dip into the pool of decent hitters still looking for jobs. Though the Tigers likely won't be able to completely replace the 33-year-old Martinez's production from 2011, when he hit .330 with 103 RBIs, certainly the designated hitter/part-time first baseman role is one of the easier positions to fill. And it will be equally as challenging to find a clubhouse presence such as Martinez, who excelled at keeping the team loose and happy.
Here are the top five candidates the Tigers should consider to replace Martinez:
1. Yoenis Cespedes
This would be the best option to replace Martinez. Cespedes is an all-around player who could take over left field and allow the Tigers to move
Delmon Young
back to the DH position. This would improve the Tigers defensively in left and provide the necessary protection for
Miguel Cabrera
so teams don't pitch around him while Martinez is out. Don't put too much stock in Cespedes' inauspicious debut in winter ball. He hasn't seen game action for a while, and teams remain high on him.
To continue reading this article you must be an Insider
October, 11, 2011
10/11/11
12:12
PM ET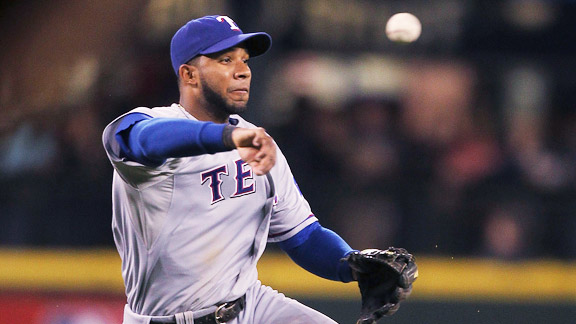 Otto Greule Jr/Getty ImagesElvis Andrus and Texas' defense defused two Tigers bases-loaded threats.
Down two games to none, the Detroit Tigers are happily returning home, but they'll receive no reprieve from Texas' offensive onslaught.
Nelson Cruz
's walk-off grand slam almost seemed to capture all of the problems facing the Tigers, some over which they have no control.
With outfielders
Magglio Ordonez
(ankle) out and
Delmon Young
(oblique) hurting, the Tigers simply do not have enough firepower to match up with the Rangers. That's allowed Texas to pitch around
Miguel Cabrera
, Detroit's best hitter, especially with cleanup man
Victor Martinez
struggling at an 0-for-7 clip in the ALCS.
Tigers Hall of Famer Al Kaline said to me yesterday there was no doubt in his mind that Cabrera is the greatest hitter in Tigers history, or at least since Ty Cobb, and that includes himself! Lofty praise, indeed.
And so it was that Rangers manager Ron Washington continued to make good on his promise of not letting Cabrera beat his team when he intentionally walked Cabrera in the ninth inning with two men on and two outs. Martinez immediately popped out.
The Rangers have also outclassed the Tigers in the field. On two separate occasions with the bases loaded, the Rangers saved themselves with terrific defense. In the second inning, second baseman
Ian Kinsler
ranged far to his right to make a terrific inning-ending force play on a
Ramon Santiago
grounder. Later in the ninth inning, with two outs, shortstop
Elvis Andrus
showed phenomenal range, getting to a Martinez flyball that very few shortstops would reach. He pretty much saved the game for the Rangers with that play. It was a play I doubt Tigers shortstop
Jhonny Peralta
would have made and underscores the limits of the Tigers' defense.
Then, in the outfield, late-inning replacement
Andy Dirks
dropped a
Mike Napoli
flyball that set the stage for Cruz's grand slam.
Here's what I'm looking for in Game 3 at Comerica Park tonight.
To continue reading this article you must be an Insider
October, 6, 2011
10/06/11
2:41
PM ET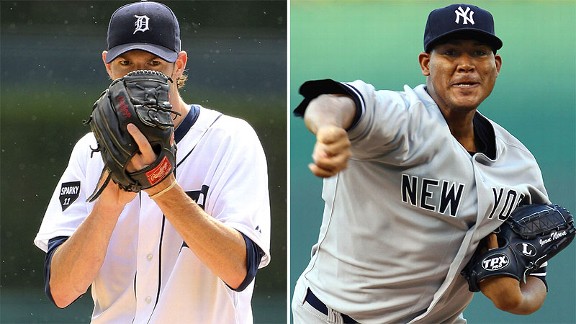 Getty ImagesDoug Fister or Ivan Nova could decide who goes on to face the Rangers in the ALCS.
There are few things more exciting than an elimination game, which is what we have in the Bronx tonight. Here's what I'm looking for in Game 5 of the ALDS between the
New York Yankees
and
Detroit Tigers
:
• Rookie
Ivan Nova
put together the quietest 16-win season in recent memory. What is also fresh on the Tigers' minds is the Yankees' 9-3 win in Game 1, in which Nova gave up just two runs on four hits and four walks, striking out five. Nova's composure and demeanor will help him stay in control during this pressure-filled start. He's figured it out, doesn't pitch like a rookie and will run through the Tigers' lineup two or three times before he comes out.
To continue reading this article you must be an Insider
May, 10, 2011
5/10/11
10:22
AM ET
Six major league players have been arrested for DUI since Jan. 1:
Miguel Cabrera
,
Coco Crisp
,
Austin Kearns
,
Derek Lowe
,
Shin-Soo Choo
and
Adam Kennedy
. Law enforcement is doing its job. Major League Baseball and the players' association is not. After the tragic death of Cardinals pitcher Josh Hancock and the unfortunate death caused in an accident involving former Yankee Jim Leyritz in Fort Lauderdale, Fla., haven't we learned our lesson?
How many more deaths will it take before baseball does something about this problem? Do we have to lose our children, parents, siblings or friends before we take action? Enough of the problem. Let's find a solution.
Here are my ideas:
To continue reading this article you must be an Insider