The GM's Office:

Melky Cabrera
December, 10, 2014
12/10/14
4:12
AM ET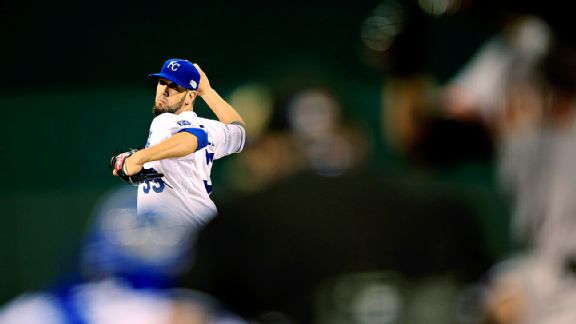 Jamie Squire/Getty ImagesWith Jon Lester unavailable, teams in need of starting pitching can now focus in on James Shields.
Now that
Jon Lester
has decided to call Chicago home, agreeing to a
six-year, $155 million deal with the Cubs
, it's time for the next dominoes to fall.
What's next on the agenda? The players below have been waiting patiently for one of the "big fishes" on the MLB free-agent market to decide on a destination, and now have a bit more clarity on what the market looks like.
---
James Shields, SP, free agent
So why isn't
Max Scherzer
the next domino to fall? Well, Scherzer is the top free agent on the market, but he's also a client of Scott Boras, who is notorious for waiting on the market to fully establish itself. Besides, the Tigers and Yankees are still the overwhelming favorites for him.
So Shields would be the next domino.
June, 7, 2013
6/07/13
12:08
PM ET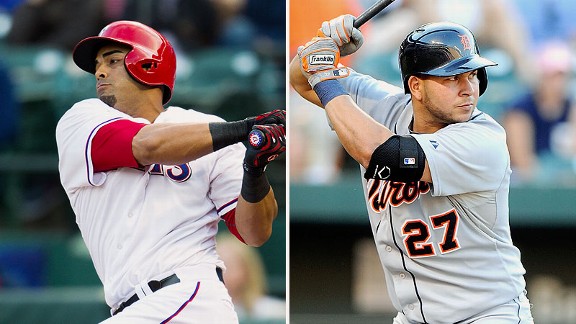 Getty ImagesWith Nelson Cruz and Jhonny Peralta possibly facing suspension, their GMs must prepare now.
It isn't hyperbole to suggest that the ripples from baseball's most recent performance-enhancing drug scandal could have an impact on the World Series.
This week, ESPN's T.J. Quinn, Mike Fish and Pedro Gomez
reported on "Outside the Lines"
that Major League Baseball is seeking to suspend approximately 20 players connected to Biogenesis, the Miami-area clinic that is accused of manufacturing and distributing PEDs.
The scandal could affect pennant races just as a serious injury, a trade or a minor league call-up would. The problem that general managers face right now is they do not know the names of all the players involved, and they don't know how successful MLB will be in its pursuit of suspensions. General managers of contending teams cannot ignore the specter of perhaps one of their key players being on that list.
Quite simply, they've got to prepare for the worst. But with the trade deadline just a month and half away, that makes the timing awkward. Take, for example, the
San Francisco Giants
last season.
To continue reading this article you must be an Insider
November, 26, 2012
11/26/12
10:25
AM ET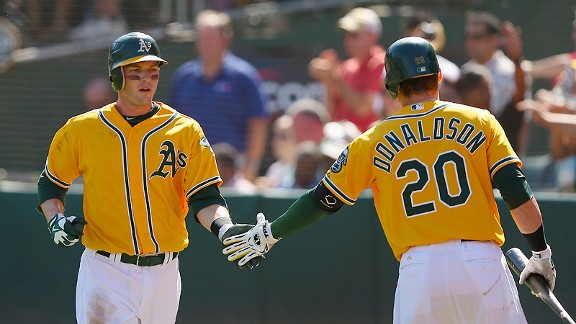 Ezra Shaw/Getty ImagesStephen Drew (left) got his groove back after being traded to Oakland last season.
The
Toronto Blue Jays
might have signed the most undervalued free agent position player from this year's class when they inked outfielder
Melky Cabrera
to a two-year, $16 million deal. Melky was in line for a four-year deal in the $50 million range before he failed a PED test over the summer, but could still prove to be a great signing if he shows that his performance over the last two seasons was not a PED mirage.
Likewise, the Chicago Cubs' signing of right-hander
Scott Baker
to a one-year, $5.5 million deal might be the most undervalued starting pitching signing of the offseason so far. Baker was undervalued because he's coming back from Tommy John surgery. However, he should be able to give the Cubs some solid innings and, perhaps more importantly, a trade chip come next July.
Here are five other potential undervalued free agents who are still available on the open market:
Why he's undervalued:
Drew is the best shortstop on the free agent market. Period. He has the offensive capability for a .330 OBP with 30 doubles and 15 home runs annually. Defensively, he possesses above-average range to both sides with a strong arm. But he's had to overcome numerous injuries in his career, the worst being a severely broken ankle back in July 2011 that took more than a year to heal. Drew didn't come back from injury as quick as the Diamondbacks hoped and was sent to Oakland at midseason, where he played an integral part in helping the A's leapfrog the
Texas Rangers
for the AL West title. Drew's offense and defense looked like it was all coming back by late September, and a big 2013 could be in store. Drew is quiet and thus seen by many as aloof and selfish. But watch him play day in and day out, and it's easy to see why he's one of the most underrated shortstops in the majors.
Best fits
: Athletics,
Detroit Tigers
,
Pittsburgh Pirates
and
Boston Red Sox
---
Why he's undervalued
: He missed all of the 2012 season after undergoing Tommy John surgery on his right elbow. The Royals declined his $8 million club option for 2013, making Soria a free agent. Soria was one of the AL's best closers from 2008-11, when he averaged close to 36 saves per season. Soria has a career 2.40 ERA and 1.043 WHIP, and he's saved 40 games and had an ERA under 1.80 twice in his career, all with the Royals. His rehabilitation is going well, and there is a good chance that by July or August he could be back being a dominant closer and difference maker in a pennant race.
Best fits
:
Los Angeles Angels
, Tigers,
Cincinnati Reds
,
New York Yankees
and Red Sox
---
Why he's undervalued
: Young has two strikes against him: He is a very poor defender, and he has had some off-field problems. Young pleaded guilty earlier this month to aggravated harassment for yelling an anti-Semitic slur and wrestling a man to the ground outside of the New York Hilton last spring. He handled this incident as well as he could, sincerely apologizing to all parties involved, and he will perform some community service and attend a tolerance seminar as part of his punishment.
The Tigers moved him to full-time DH during the season, which seemed to help his bat, and I think he could have value as a full-time DH. The market isn't big for that kind of player, so he'll probably come cheap, but his impressive postseason success the past four years -- including winning the ALCS MVP award last month -- will be enough for someone to take a chance on him.
Best fits
:
Cleveland Indians
,
Seattle Mariners
,
Houston Astros
---
Why he's undervalued
: Uehara was so bad down the stretch in 2011 that the Rangers left him off their postseason roster. And his subpar performance left a bad taste with many scouts who had a hard time adjusting to his incredible turnaround this past year. Uehara's 43 strikeouts and three walks for Texas gave him an incredible 14.33 strikeout-to-walk ratio. His 88-89 mph fastball with command and control and unhittable splitter were so impressive that anyone who evaluated him in 2012 had to just completely forget about 2011. Uehara should be a lockdown setup man for someone in 2013.
Best fits
:
Philadelphia Phillies
, Rangers,
Milwaukee Brewers
, Red Sox and
Baltimore Orioles
.
---
Why he's undervalued
: Grilli's age and inconsistent career make some wonder if his 2012 season was a fluke. While Grilli has had longevity in the major leagues -- pitching 10 years with an ERA of 4.34 – he's also had an unimpressive 1.413 career WHIP. So what's there to undervalue?
Grilli has been dominant out of the bullpen in each of the past two years for the Pirates. His success started in 2011 when he finished with a 2.48 ERA and a WHIP of 1.19 in 28 games after not even pitching in the major leagues in 2010. There weren't any clubs buying his success as he signed a $1.1 million deal to go back to Pittsburgh. This season he not only proved 2011 was no fluke but also showed he could take his arm to an even higher level. In 2012 he pitched 58 2/3 innings and punched out a whopping 90 hitters. His 92-94 mph fastball and nasty slider are good enough to help any team's bullpen.
Best fits
: Phillies, Pirates, Red Sox, Brewers, Rangers,
Miami Marlins
,
New York Mets
August, 20, 2012
8/20/12
12:40
PM ET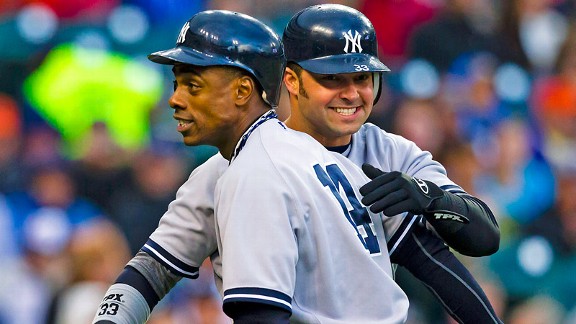 Rick Osentoski/US PresswireNick Swisher keeps his teammates loose and has produced consistently over the last six years.
For most people watching
San Francisco Giants
outfielder
Melky Cabrera
, his 2012 season so far seemed almost too good to be true. Turns out it was.
His dream season began in May when he earned the 100th hit of 2012 in his 291st plate appearance, breaking Willie Mays' 54-year-old team record of fewest plate appearances needed to achieve 100 hits. Cabrera then added All-Star Game MVP honors, and his offensive production helped keep the Giants in first place for much of the season.
The dream soured into a nightmare after Cabrera tested positive for performance enhancing drugs and was suspended for 50 games. He's exacerbated the situation with new reports that he paid a consultant to
create a phony website to fool the players' union and MLB
into believing he had accidentally ingested a supplement spiked with testosterone.
Investigations are ongoing, but the upshot of it all is that Cabrera had nearly paved the way for a potential contract in the range of five to six years between $12 and $15 million per season or a total package of $72 million-$90 million.
Not anymore. And the great beneficiary of this mess?
New York Yankees
outfielder
Nick Swisher
.
To continue reading this article you must be an Insider
June, 9, 2012
6/09/12
11:13
AM ET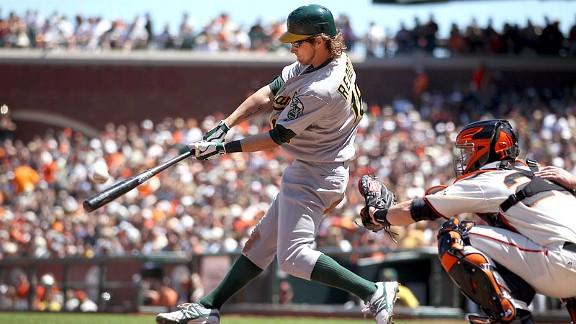 Brad Mangin/Getty ImagesReddick tweaked his swing and unlocked power at the plate.
This year's All-Star Game could showcase some interesting first-time All-Stars. I offered my early All-Star picks in the
National League
and
American League
and pulled from there 10 intriguing players who could be first-time All-Stars. Some are phenoms, others are finally fulfilling the expectations heaped on them years ago. Others still just needed a chance or found a way to reinvent themselves. Regardless, these 10 guys have made their cases be in Kansas City on July 10.
American League

Edwin Encarnacion, DH, Toronto Blue Jays
Eleven years ago I traded Rob Bell to the Texas Rangers for Encarnacion and Ruben Mateo. I made the deal with then-Rangers general manager Doug Melvin. Trade negotiations dragged on for two months because of his reluctance to give up the 18-year-old Encarnacion. A decade later, Blue Jays fans are seeing why Melvin and I wanted him. Encarnacion, a below average defender at third base, has done a good job adapting to the DH role and been adequate at first base when manager John Farrell puts him there. It may have taken a decade for him to live up to his potential, but he's finally having his breakout season.

To continue reading this article you must be an Insider
November, 7, 2011
11/07/11
4:45
PM ET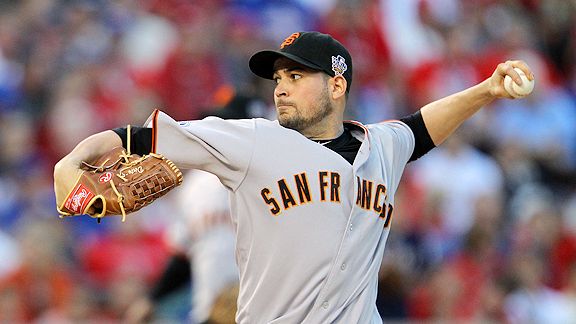 Ronald Martinez/Getty ImagesDespite his strong arm and upside, the Giants cut bait on left-hander Jonathan Sanchez.
The
San Francisco Giants
could not wait any longer for left-hander
Jonathan Sanchez
to live up to his potential, sending him and minor leaguer Ryan Verdugo to the
Kansas City Royals
in exchange for center fielder
Melky Cabrera
.
Call it an underachieving pitcher for a second-division center fielder.
The flame-throwing Sanchez has long intrigued baseball people for his arm, displaying flashes of brilliance with a devastating slider and a mid-90s darting fastball. The problem is that his fastball has darted out of the strike zone more often than in it. In 708 career innings, Sanchez has struck out 736 men but also walked 376. The Royals liked him enough to trade their starting center fielder for him.
Cabrera enjoyed a good season, hitting .305 with 18 homers and 87 RBIs and showed some of the promise the Yankees thought they would see at some point after he made his big league debut in 2005. Like Sanchez, Cabrera has largely disappointed during his career so far, but he seemed to have turned a corner in 2011 and matured into a decent division outfielder. Verdugo has tremendous makeup and is a left-handed pitcher who pounds the zone and attacks hitters. He was put in the rotation last year with the intent of improving the quality of his pitches and struck out 9.2 men per nine innings for Double-A Richmond. However, the Royals see Verdugo as a quality left-handed setup reliever in the future for them.
To continue reading this article you must be an Insider