The GM's Office:

Matt Cain
February, 22, 2015
Feb 22
2:10
PM ET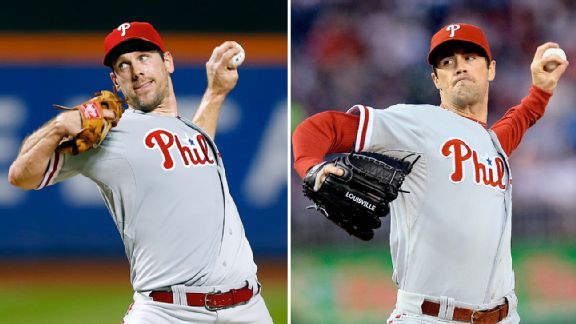 Getty ImagesPhillies pitchers Cliff Lee and Cole Hamels are two players worth tracking closely this spring.
Pitchers and catchers for nearly all MLB teams have reported by now, and the drama is ongoing. We are already monitoring injuries, trade rumors, comebacks and how players on new teams are fitting in. I'll be in Arizona and Florida at various times this spring, and here are 12 pitchers and catchers I'll be monitoring closely and talking to people about.
1. Cole Hamels, SP, Philadelphia Phillies (trade candidate)
The Hamels trade talks are not going away. It's pretty simple: The Phillies must rebuild, and teams needing the final piece to get them to October will stay engaged with the Phillies, as well as scout Hamels' every appearance. Every pitch, everything being said and any soreness, normal or otherwise, will be overanalyzed by scouts and front offices. If there's an injury to a key pitcher or a top prospect doesn't look quite as promising, that's what will make a Hamels deal happen.
February, 26, 2014
2/26/14
10:00
AM ET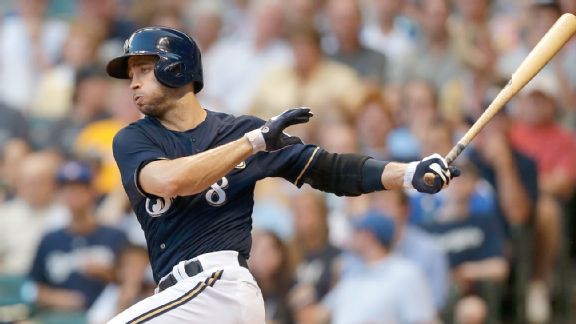 Mike McGinnis/Getty ImagesDespite the Biogenesis scandal, don't forget about Ryan Braun, who could put up big numbers.
Most fantasy baseball players are going to have the usual suspects atop their draft boards:
Mike Trout
,
Miguel Cabrera
,
Andrew McCutchen
.
However, to "win" drafts, the key is to find the undervalued players. Perhaps a player is coming off of an injury-plagued campaign. Or he has perennially flown under the radar like Baltimore's
Chris Davis
did for a couple of years before breaking out in 2013.
The one thing these undervalued targets all have in common is they're coming off relatively poor seasons so a shrewd fantasy player could nab one or two at a lower draft slot than that player has traditionally had.
Here is a list of 10 players who I think will have significantly better seasons than they did in 2013. If you select them at the right spot, they could become difference-makers for your team.
1. Ryan Braun | RF | Milwaukee Brewers

Braun is coming off his worst season after being suspended for his involvement in the Biogenesis scandal. Certainly there are reasons to be concerned -- we don't know if his career numbers were influenced by PED use, and he's also switching positions.
I don't think Braun's success was a product of PEDs and believe he wants to prove that to the world.
To continue reading this article you must be an Insider
September, 18, 2013
9/18/13
10:45
AM ET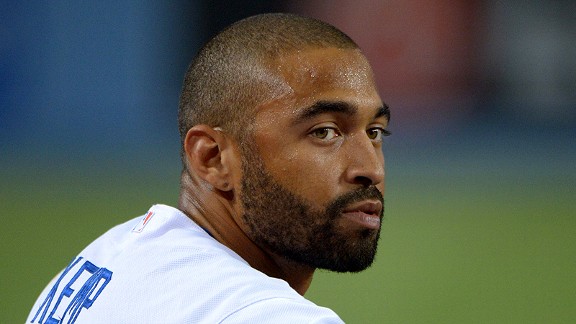 Kirby Lee/USA TODAY SportsMatt Kemp has endured a nightmare 2013, but all signs point to a resurgent 2014.
Teams can rely on offseason trades and free agency to supplement their teams for the next season. But one of the easiest and most gratifying methods is simply having an important player return to form.
In 2013, baseball has witnessed the comebacks of a number of players who have had a direct impact on their teams' success this season.
Pitchers bouncing back from lackluster 2012 seasons include
Ubaldo Jimenez
(
Cleveland Indians
),
Francisco Liriano
(
Pittsburgh Pirates
),
Jorge De La Rosa
(
Colorado Rockies
),
John Lackey
(
Boston Red Sox
) and
Ervin Santana
(
Kansas City Royals
).
Bounce-back position players who made the biggest impacts include
Jayson Werth
(
Washington Nationals
),
Eric Hosmer
(Royals),
Shane Victorino
(Red Sox),
Hanley Ramirez
(
Los Angeles Dodgers
),
Jacoby Ellsbury
(Red Sox) and
James Loney
(
Tampa Bay Rays
).
Forecasting how well these players will bounce back can be tricky, but based on a player's track record and work ethic, general managers often will take gambles based on hunches. They often are the best offseason acquisitions because they cost nothing in terms of trade assets or signing values.
Here are seven players who I believe will have bounce-back seasons in 2014 after subpar 2013 seasons:
---
1. Matt Kemp | CF | Los Angeles Dodgers

Kemp's injury-plagued 2013 season was nothing short of a nightmare. Early in the season he didn't display his typical power, and while the team maintained he was healthy, most observers attributed his lack of power to a surgically repaired shoulder. He also was hampered by a sore right hamstring in May, then again in June.
To continue reading this article you must be an Insider
October, 24, 2012
10/24/12
11:45
AM ET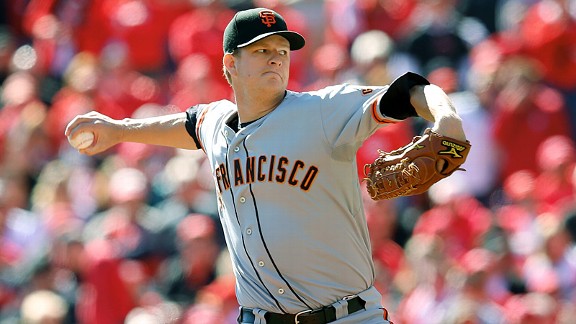 Andy Lyons/Getty ImagesMatt Cain has developed into the Giants' No. 1 starter, but they were lucky to draft him.
On Monday we discussed the
five moves that helped get the
Detroit Tigers
to the World Series and established that to get this far, you not only need good, shrewd decisions, but also a little luck.

For the
San Francisco Giants
, their drafts have had a direct impact on developing a core of players most responsible for their success. Here are the five crucial moves that helped the Giants reach the World Series:
The Giants drafted Matt Cain in the first round of the 2002 draft with the 25th pick overall. This was the stocked draft in which the
Pittsburgh Pirates
whiffed by taking
Bryan Bullington
with the first overall pick, and it included several other All-Star players such as
Zack Greinke
,
Cole Hamels
and
Prince Fielder
.
The Giants have done a great job taking pitchers in the first round; they selected both
Tim Lincecum
and
Madison Bumgarner
with the 10th overall pick in 2006 and 2007, respectively. The Cain pick stands out because he came a little later in the first round and he has become the Giants' ace, and a pitcher who is now 4-2 lifetime in the postseason with an ERA of 1.83 in five different series. The Giants also have him signed to what amounts to an eight-year, $139.75 million contract from 2010 to 2017 with a club option for 2018. They've got a big-game pitcher thanks to a big-time draft decision.
By hitting .336/.408/.549 with 39 doubles, 24 home runs and 103 RBIs, Posey won the NL batting title and I expect him to be named the NL Most Valuable Player in November. The Giants' scouting department selected him fifth overall in the 2008 draft. The Giants were fortunate that Tim Beckham,
Pedro Alvarez
,
Eric Hosmer
and
Brian Matusz
were all picked before them, so they had the opportunity to take Posey. (It helped that some of those clubs were scared off by Posey's bonus demands, but kudos to the Giants for taking -- and paying -- the guy they wanted.)
Posey does a tremendous job of calling a game, framing pitches and maintaining consistent solid contact with his pitcher. Giants pitchers rarely shake him off because of their trust in him. It is remarkable that Posey will have already played in two World Series in the first three years of his major league career, all while hitting cleanup and shouldering the catching duties, which can by physically and mentally onerous. He's a Hall of Famer in the making at an early age.
He was just named the NLCS MVP after going 14-for-28 and getting on base an incredible 16 times in the seven-game series. Giants GM Brian Sabean acquired Scutaro from the
Colorado Rockies
on July 27, costing only minor league infielder
Charlie Culberson
.
Scutaro is an above-average defensive second baseman and has brought stability and experience to the middle of the diamond. His leadership helped develop his double play partner,
Brandon Crawford
, who was much more consistent defensively after Scutaro arrived. There are many baseball clichés that best describe Scutaro, such as "dirt bag," "gamer," and "winner." He's the ideal No. 2 hitter in the lineup because he can hit-and-run, bunt, move runners and take pitches. And he very rarely strikes out.
Romo was the Giants' 28th-round pick of the 2005 draft, and although it's taken time for him to develop into a closer, his nasty slider and incredible spirit and heart have always made him a special player. Romo was 4-2 this year with a 1.79 ERA, .087 WHIP and 14 saves. He's symbolic of the many successful late-round picks that the Giants scouting staff has made over the years and another example of how hard-core scouting can be a difference maker.
Sabean has made it routine the past few years to acquire a significant outfield bat either in the offseason or during the season to help the Giants improve their offense and defense. Last year he acquired
Carlos Beltran
from the
New York Mets
and then this past offseason he traded for both
Melky Cabrera
and
Angel Pagan
. On July 31 he traded
Nate Schierholtz
and prospects Tommy Joseph and Seth Rosin to the
Philadelphia Phillies
for Pence.
On the year, Pence hit .253/.319/.425 with 24 doubles, 24 home runs and 104 RBIs. Though his playing style is somewhat awkward, Pence has brought outfield stability to the Giants. This was critical, especially because no less than a month later Cabrera -- the All-Star Game MVP -- tested positive for PEDs and his year with the Giants was finished.
Pence's pregame pep talks compare to those of Baltimore Ravens linebacker Ray Lewis, with the same bizarre glares that put fear in you if you don't know him. Pence is all heart and just wants to help the players stay loose and motivated. He's not a true "impact" player, but he's a solid player who drove in 45 runs in just 59 games to finish the season, helping the Giants hold off the Dodgers in the NL West.
October, 23, 2012
10/23/12
3:38
PM ET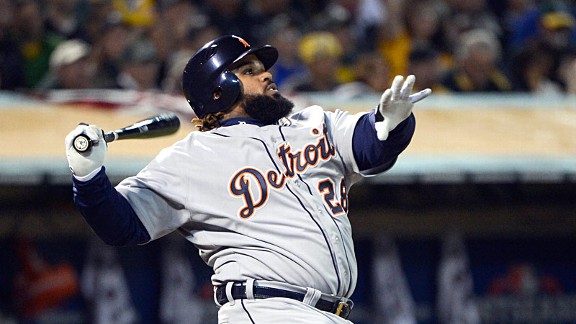 Thearon W. Henderson/Getty ImagesPrince Fielder might be the first Detroit hitter to put one in the right-field cove at AT&T Park.
With the World Series upon us, the 50 players showcased on baseball grandest stage will have varied roles, boasting an assortment of strengths as well as exposing some weaknesses. The
Detroit Tigers
' lineup is fearsome, as are their top three starting pitchers. But the
San Francisco Giants
match up well, and if the length of their series in the first two rounds is any indication, this could go down to the wire.
Let's take a look at those 50 players and rank them according to their potential impact on the series and importance to their respective teams. (Note: At time of publication, official rosters had not been announced.)
1. Justin Verlander, RHP, DET:
Verlander has the best overall stuff of any pitcher in the major leagues, and he is finally dominating the postseason in the same fashion as he does the regular season. He's the Tigers' key to winning the World Series.
2. Miguel Cabrera, 3B, DET:
He will win the AL MVP this November after becoming the first AL Triple Crown winner since Carl Yastrzemski in 1967.
3. Buster Posey, C, SF:
He will win the NL MVP this November, and despite a poor NLCS, I look for him to rebound in the World Series.
4. Matt Cain, RHP, SF:
It was just two years ago that he ran the table in the postseason, leading the Giants to a World Series title. I expect him to repeat what he just did in Game 7 of the NLCS and help give the Giants their second title in three years. He's a true ace.
5. Prince Fielder 1B, DET:
Owner Mike Illitch took a lot of grief from his peers over the nine-year pact he gave Fielder, but that signing has Illitch just four wins away from a world championship.
6. Max Scherzer RHP, DET:
He and Verlander had the highest K/9 ratio of any tandem in baseball this season. As future Hall of Famer
Chipper Jones
once told me, power pitchers win in the postseason. The Tigers have the two best in this series.
7. Austin Jackson CF, DET:
The best defensive outfielder in this series, Jackson runs down fly balls in the gaps better than anyone in this World Series. His ability to get on base will offer RBI opportunities for Cabrera and Fielder.
8. Pablo Sandoval 3B, SF:
"Kung Fu Panda" is the heart, soul and energy of the Giants' lineup. He's locked in at the plate right now with consistent sweet spot contact. Don't be surprised if he's the next one to deposit a home run in the left-field cove at AT&T Park.
9. Ryan Vogelsong RHP, SF:
Who would have thought that Vogelsong would be the best Giants starting pitcher in the postseason, ahead of Cain,
Tim Lincecum
and
Madison Bumgarner
? Vogelsong possesses a 92-93 mph fastball with pinpoint control on the black and changes eye levels.
10. Doug Fister RHP, DET:
Fister pounds the lower part of the zone with a nasty sinker and is one of those players who loves center stage. I expect another good series from him.
11. Marco Scutaro 2B, SF:
He led all NLCS players in on-base percentage and is a true table-setter. His defense has been matching his offense, and he sets the tone for this resilient ballclub.
12. Sergio Romo RHP, SF:
He has one of the best sliders in baseball, and his ability to put away
Jay Bruce
in the NLDS might have been the at-bat that truly put him in the category of an impact closer. Bruce Bochy now has the confidence to use him in the biggest games to close against left-handed hitters as well as right-handed hitters.
13. Barry Zito, LHP, SF:
How does Zito land ahead of Tim Lincecum and Madison Bumgarner on this list? His 15 regular-season wins and his dominant Game 5 performance against St. Louis in the NLCS give him the edge. However, my instincts say his 84 mph fastball is at risk of being exposed by the Tigers. Stay tuned.
14. Anibal Sanchez, RHP, DET:
The Tigers mortgaged the future by trading right-hander
Jacob Turner
and catcher
Rob Brantly
for him at the deadline. If they win the World Series with him, who cares?
15. Delmon Young, LF/DH, DET:
Young entered the postseason with little free-agent value and completely changed that with his second consecutive strong postseason, earning this year's ALCS MVP. He would be higher on the list if he were to play strictly DH, but he will have to play left field in possibly four games of this series.
16. Santiago Casilla, RHR, SF:
Casilla had once been the closer, and he also shared the role, and now he has found a home in the eighth inning. Expect some critical relief outings for him in this series, especially against Cabrera and Young.
17. Tim Lincecum, RHP, SF:
It will be interesting to see if Bochy uses him to start or relieve. He was really effective out of the bullpen, but then gave a mediocre start at best. He's now working exclusively from the stretch, which has somewhat cleaned up his delivery. He's throwing mostly 91-92 mph, but with inconsistent command in the zone.
18. Alex Avila, C, DET:
With the Giants possibly throwing both Zito and Bumgarner against the Tigers in this series, Avila might still have to platoon with
Gerald Laird
.
19. Phil Coke, LHR, DET:
Coke has followed up the best stretch of his career with a stellar postseason. He has usurped the closer's role after failures by both
Jose Valverde
and
Joaquin Benoit
.
20. Javier Lopez, LHR, SF:
Lopez is one of the best situational left-handed relievers in the sport and his matchups against Fielder and Avila in this series will be interesting to watch.
21. Madison Bumgarner, LHP, SF:
What in the world has happened to Bumgarner this postseason? In his last two outings he's thrown 91 mph in the first inning and then 87 mph in the second. His arm slot is down, the ball is coming out on the side, everything is flat, and he looks fatigued. However, with extra rest, I still think he can rebound. If he gets another shot at starting, he might even have a dominating performance left in him unless, of course, he's hurt and not telling anyone.
22. Angel Pagan, CF, SF:
Another one of Brian Sabean's excellent under-the-radar trades. Pagan has stayed focused all year and done a great job of covering ground even when he takes an occasional bad route to a ball. He's done a solid job in the leadoff spot ahead of Scutaro and brought good passion to the team.
23. Hunter Pence, RF, SF:
How do you drive in 100 runs and end up 23rd on this list? But that's how he's looked this postseason. His timing is off and his at-bats have been inconsistent. Will he break out in the World Series? I doubt it while facing Verlander, Scherzer, Fister and Sanchez.
24. Joaquin Benoit, RHR, DET:
He's been one of the best eighth inning relievers in baseball the last few years. The question should that be past tense?
25. Jhonny Peralta, SS, DET:
He makes the routine plays at shortstop, including when the game is on the line.
26. Octavio Dotel, RHR, DET:
He was an important middle reliever for the Cardinals in last year's World Series, and with Valverde falling off the face of the Earth, he'll be even more important this World Series.
27. Brandon Crawford, SS, SF:
He's one of the best defensive shortstops in this postseason. He possesses above-average range to both sides with a gun for an arm and he reads the ball off the bat as good as anyone in the game. The bat is the reason why he's down on the list.
28. Gregor Blanco, LF, SF:
He's a fourth or fifth outfielder playing regularly because of Melky Cabrera's absence. However, his speed on the bases and range in the outfield has been a plus for the Giants. He's also a great character guy.
29. Brandon Belt 1B, SF:
Belt is trying to make adjustments on the fastball inside on the black, where clubs love to pound him. He's cheating some to get to it, but that's making him vulnerable to the outside pitch, although on Monday he crushed a
Jason Motte
98 mph fastball in the same vicinity. His defense at first base is above average.
30. Omar Infante, 2B, DET:
He instantly helped solidify the Tigers' weakest position on the field after coming over from the Marlins in the Anibal Sanchez deal.
31. Jeremy Affeldt, LHR, SF:
Affeldt is used mostly in the sixth and seventh innings, and can get both right- and left-hand hitters out.
32. Hector Sanchez, C, SF:
You will see him start only if Lincecum gets a start. He's solid behind the plate and can drive a key run in the other way.
33. Avisail Garcia, RF, DET:
In a couple of years, Garcia will skyrocket up this list, but his time is not now.
34. Andy Dirks, RF, DET:
He'll get most of the playing time in right field over Garcia this World Series, but Garcia could see action if the Giants throw lefties Bumgarner or Zito at them. Regardless, Dirks is a gamer.
35. Al Alburquerque, RHR, DET:
There should be specific spots against the Giants where Alburquerque can come in and get that much-needed ground ball.
36. Quintin Berry, LF, DET:
His speed is an important element coming off the bench or playing left field for the Tigers.
37. Ryan Theriot, INF, SF:
Theriot is a team player and possesses tremendous makeup. He can help the Giants win games in so many different ways off the bench.
38. Joaquin Arias, INF, SF:
He's an above-average defender at second base, shortstop and third base, and could become valuable if there is an injury.
39. Drew Smyly, LHP, DET:
Has a chance to develop into a 12- to 15-game winner but will have a limited role in this World Series.
40. George Kontos, RHP, SF:
Picked up in the
Chris Stewart
deal with the
New York Yankees
, the Northwestern product played an important role of giving the Giants quality bullpen depth in the second half.
41. Rick Porcello, RHP, DET:
This could be his final season as a Tiger and is a candidate to be traded this winter.
42. Jose Valverde, RHR, DET:
He's gone from a top 10 player to 42nd on this list. Oh how life can change quickly for closers in Major League Baseball.
43. Gerald Laird, C, DET:
Has done a great job against left-handed starters and could see time if the Giants run out Bumgarner or Zito.
44. Brennan Boesch OF DET:
Has great power from the left side and stock just collapsed. Great guy.
45. Ramon Santiago, INF, DET:
The switch hitter could be called upon to pinch hit or as a defensive replacement, but not much more.
46. Jose Mijares LHR, SF:
The third left:hander out of the bullpen picked up from the Royals during the season. He'll be the first left out of the bullpen if needed early in the game only.
47. Xavier Nady OF, SF:
Veteran bat with power from right side.
48. Aubrey Huff 1B, SF:
Veteran bat with power from left side.
49. Guillermo Mota, RHR, SF:
No longer taking cough medicine.
50. Danny Worth, INF, DET:
He might get an at-bat or two during the series. However, if he's not on this list,
Brayan Villarreal
will be. The hard-throwing right-hander struck out 66 in 54.2 innings pitched. He's got future closer written all over him.
August, 13, 2012
8/13/12
2:10
PM ET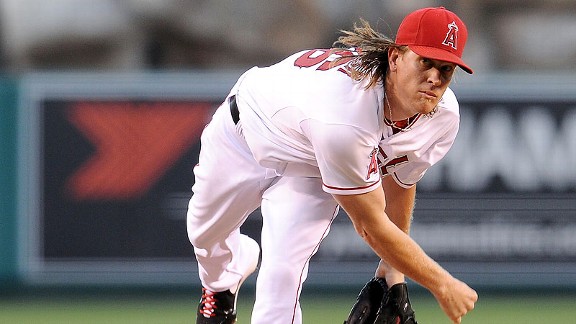 Jayne Kamin-Oncea/US PresswireAlong with Weaver, C.J. Wilson, Dan Haren and Zack Greinke offer histories of late-season success.
It was a year ago when the
St. Louis Cardinals
sat five games over .500 at 67-62, 10 games behind the National League Central-leading
Milwaukee Brewers
and 10½ games behind the
Atlanta Braves
for the NL wild card. The Cardinals ended up going 23-10 the rest of the way to overtake the collapsing Braves en route to the World Series championship.
The Cardinals' incredible finish had much to do with a complete and balanced attack led by veteran starting pitching featuring
Chris Carpenter
,
Jaime Garcia
,
Edwin Jackson
,
Kyle Lohse
and
Jake Westbrook
. With veteran hurlers, a good litmus test is how well they hold up through innings 150 to 200 in a given season. Having pitchers who can finish a season strong is like having a thoroughbred with a good kick at the end of the race. For the Cardinals, Carpenter, Garcia, Jackson, Lohse and Westbrook were all coming off seasons during which they had success in innings 150 through 200.
Teams that have workhorse pitchers like the Cardinals did typically will finish stronger than clubs with pitchers who have entered the 150-200 inning range for the first time in their careers or haven't sniffed that range for a couple of years due to injury.
This season, the
Tampa Bay Rays
,
San Francisco Giants
and
Los Angeles Angels
are the three teams most likely to pull off a feat of the Cardinals' magnitude. Just like the Cardinals from a year ago, all three clubs have deep starting pitching and are loaded with arms who have proved they can pitch deep into a season.
Let's take a look at how these teams stack up going into the stretch run.
To continue reading this article you must be an Insider
June, 19, 2012
6/19/12
11:45
AM ET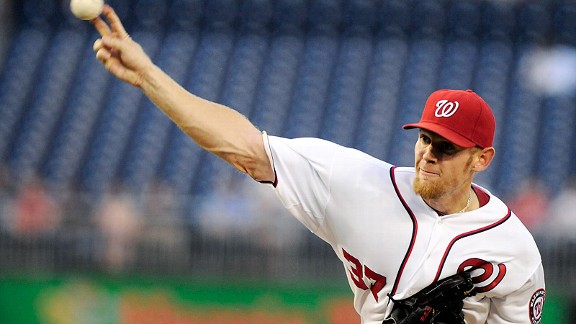 Brad Mills/US PresswireEven if it's for only one inning, Strasburg should pitch in the All-Star Game.
Washington Nationals
right-hander
Stephen Strasburg
has been superb in the first half and is sure to be selected to the National League All-Star team by the players or by manager Tony La Russa.
However, the Nationals have said they have installed an innings limit on Strasburg for the 2012 regular season, and although general manager Mike Rizzo and manager Davey Johnson haven't said specifically what that number is, they've hinted publicly that it's between 160 to 185 innings. And whenever Strasburg reaches the upper limit of that range, they plan to shut him down. This innings limit ostensibly includes any time logged during the All-Star Game, and there is already some talk about whether Strasburg will pitch in the All-Star Game because of this limit.
But if Strasburg makes the All-Star team, he will pitch. And he
should
pitch.
To continue reading this article you must be an Insider
April, 2, 2012
4/02/12
3:40
PM ET
The
San Francisco Giants
were criticized in some circles for being inactive this winter, but that doesn't mean they lacked direction. Their recent success has been predicated on pitching and defense, and they stayed true to their ways on Wednesday by signing right-hander
Matt Cain
to a
five-year, $112.5 million extension
.
Cain was set to be a free agent after the 2012 season, so now the Giants have him,
Tim Lincecum
and
Madison Bumgarner
under contract through 2013, which gives them one of the best rotations in all of baseball for the next two seasons.
Obviously, any long-term deal for a pitcher carries a great deal of risk, but at 6-foot-3, 230 pounds, Cain has a sturdy frame that bodes well for durability. He's already proven as much by topping 200 innings in each of the past five seasons, and his ERA has been below 3.00 in two of the past three seasons. He's a classic four-pitch pitcher who would be a No. 1 starter in many rotations, and I can easily see him winning a Cy Young Award. He proved he can hang with the best of the best when he made three starts in the 2010 postseason without giving up an earned run while helping the Giants win the World Series.
To continue reading this article you must be an Insider
March, 16, 2012
3/16/12
2:00
PM ET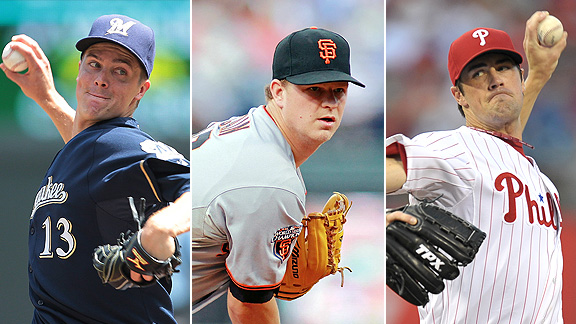 Getty Images, US PresswireThe top three pitchers in 2012's free-agent class won't be offering any hometown discounts.
While their negotiations will differ greatly, the common refrain from
Cole Hamels
,
Matt Cain
and
Zack Greinke
is that the current teams shouldn't expect any hometown discounts.
To continue reading this article you must be an Insider