The GM's Office:

Mark Buehrle
June, 14, 2013
6/14/13
9:35
AM ET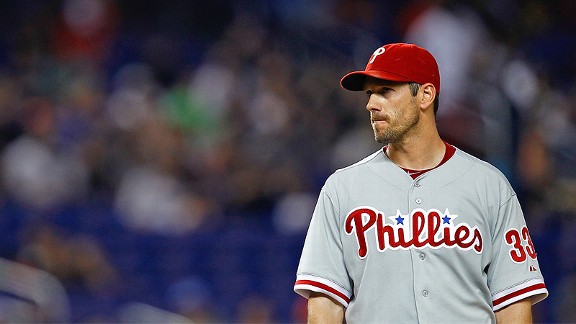 Sarah Glenn/Getty ImagesIf the Phillies falter by July, Cliff Lee could be the No. 1 pitcher on the trade market.
With MLB's trade deadline just six weeks away, there are presently 22 teams within eight games of making the playoffs. This means just eight teams can be considered "sellers" at this juncture. Many of the contenders are looking for elite starting pitching, but the reality is probably only one or two will be traded and contending teams will have to settle for middle- or back-end rotation types.
I'm hearing teams that already have been in trade talks for potential available starters include the
San Francisco Giants
,
Colorado Rockies
,
Washington Nationals
,
Texas Rangers
,
Cleveland Indians
and
Baltimore Orioles
. Here is a list of the top 20 starting pitchers who could be traded between now and the July 31 trade deadline:
No. 1 starters
Cliff Lee | LHP | Age: 34

Contract status:
$25M per year through '15 with vesting option of $27.5M
November, 14, 2012
11/14/12
11:25
AM ET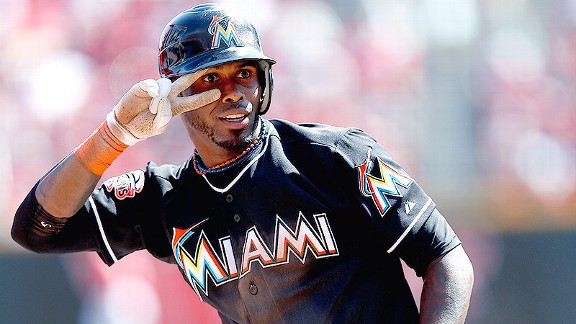 Joe Robbins/Getty ImagesPeace out! After only one season, Jose Reyes is leaving Miami and headed to Toronto.
We thought we had seen it all with the
super-blockbuster nine-player trade in August
between the
Los Angeles Dodgers
and
Boston Red Sox
.
Then this happens.
Like the Red Sox-Dodgers deal, it's a megatrade that works for both parties as one team rids itself of onerous contracts to another team that's starving to win. Until now,
Toronto Blue Jays
general manager Alex Anthopoulos has operated with shrewdness and precision. If this deal works out, he'll be on the short list for 2013 Executive of the Year.
Meanwhile, after the
Miami Marlins
endured a disastrous debut season in their new ballpark, wearing new uniforms, with a new team and a new manager, Marlins owner Jeffrey Loria is going back to an old technique: the fire sale.
Regardless of Loria and his track record of gutting his teams, the deal made sense for the Marlins from a baseball perspective, as well as the Blue Jays. It looks lopsided, but the Marlins did much better in this megatrade than people think. By acknowledging they simply weren't going to win with the team they had, they cleared out almost $185 million in payroll and moved a bunch of veterans in one fell swoop.
How it makes sense
For the Blue Jays:
Anthopoulos acquired some rotation leadership to mentor the Blue Jays' young starters in
Mark Buehrle
and
Josh Johnson
. Their presence will be significant for
Kyle Drabek
and
Drew Hutchison
as they return from Tommy John surgery as well as helping
Ricky Romero
bounce back from a horrendous 2012 season.
Anthopoulos also brought catcher
John Buck
back to the team with whom he enjoyed a career year in 2010, hitting .281 with 20 homers and 66 RBIs. Buck had lost his starting job to
Rob Brantly
, whom the Marlins had acquired from the Tigers. The Blue Jays now will have Buck and fellow catcher J.P. Arencibia to keep the seat warm for top catching prospect Travis d'Arnaud, and trade one of them when d'Arnaud is ready for the big leagues.
I'm not sold completely the Blue Jays will win the AL East outright because of the injury history of Jose Reyes and Johnson, but they have instantly become contenders for the division title if they get reasonably healthy seasons from the players they acquired.
For the Marlins:
After recognizing their team simply wasn't going to win with the players they had, selling them off was the most logical next step for Marlins president Larry Beinfest and general manager Mike Hill. They already had begun the process over the summer, dealing
Hanley Ramirez
,
Anibal Sanchez
and
Omar Infante
.
They had a serious medical question mark in Johnson. For me, Johnson's shoulder must be considered a high risk; it has hampered him since his All-Star campaign in 2010. With only one year left on his contract at more than $13 million, moving him made sense because they certainly weren't going to re-sign him. And the worry would always be if he reinjured his shoulder, what could they get for him then?
In Buehrle they had a solid innings-eater whose best seasons are certainly behind him. And with Buehrle's heavily backloaded contract, the Marlins saw no logic in holding onto the decline for two more years when their team had little chance to contend.
Jose Reyes
was the one major piece the Marlins had to give up in order to shed the other two. Reyes will immediately improve the Blue Jays at the top of the order, on the field and in the dugout and clubhouse, where his high energy and enthusiasm is priceless. He is one of the game's best shortstops and was perhaps the one brilliant move the Marlins made last December. But like Buehrle, his deal is backloaded, so the Jays are taking on a heavy financial burden.
If the Marlins truly believe that Johnson and Buehrle's trade value will only go down from here, you can't blame them for making this deal.
What's next for the Marlins?
Shortly after news of the deal broke, Marlins outfielder
Giancarlo Stanton
sent out a tweet.
@Giancarlo818
:
Alright, I'm pissed off!!! Plain & Simple
He probably has every right to be upset. With his team gutted, he won't sniff the postseason until at least 2015. New Marlins manager
Mike Redmond
probably knew this was going to happen -- that's why he got a three-year deal.
Naturally, this got many people wondering: "What is Stanton's fate?" With Stanton ineligible for free agency until 2017, he's not going anywhere and eventually should share the outfield with newly acquired prospect Jake Marisnick and current Marlins top prospect Christian Yelich. However, that doesn't mean the Marlins are done dealing.
Look for them to move right-hander
Ricky Nolasco
next. Either
Henderson Alvarez
or Justin Nicolino can take Nolasco's place in the rotation at some point. Alvarez, with improved command and a better breaking ball, can be a solid middle-of-the-rotation arm in time. Likewise, Nicolino's easy delivery and advanced poise and control could easily help him develop into a solid starter.
With what they acquired for Hanley Ramirez and
Heath Bell
, the Marlins' starting rotation could eventually looking something like this. (For those who don't know, Fernandez is one of the game's best pitching prospects who posted a 1.75 ERA across two levels of Class A this season.)
Jose Fernandez, RHP
Jacob Turner, RHP
Justin Nicolino, LHP
Henderson Alvarez, RHP
Nate Eovaldi, RHP
Another move the Marlins could make is flip shortstop
Yunel Escobar
to the
Oakland Athletics
. In the event the A's are unable to re-sign
Stephen Drew
, the Marlins could spin Escobar to Oakland and play
Adeiny Hechavarria
-- whom they also acquired from Toronto -- at shortstop. Hechavarria is an exceptional fielder, but his bat lags far behind. Outfielder
Logan Morrison
also is a candidate to be moved, but he more likely will serve as a stop-gap player until Yelich arrives in Miami.
It's true the Marlins now enjoy massive payroll flexibility and could theoretically afford to sign a free agent for other needs. However, no significant free agent is ever again going to sign with the Marlins without a complete no-trade clause after watching them deal Reyes, Buehrle and Bell less than a year after signing them.
March, 14, 2012
3/14/12
11:30
AM ET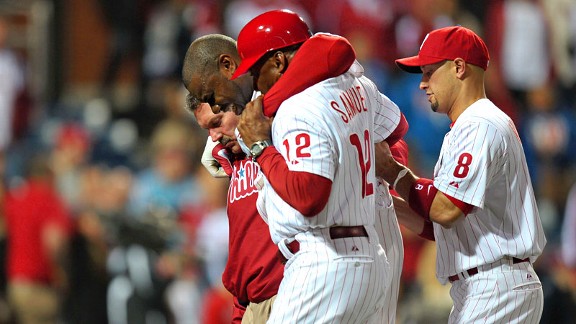 Drew Hallowell/Getty ImagesHow well Howard comes back from his Achilles injury will heavily impact the Phillies' offense.
Last year, the National League East was a two-horse race, with the
Philadelphia Phillies
and
Atlanta Braves
jockeying for position on the strength of deep starting pitching. The
Washington Nationals
and
Miami Marlins
were essentially afterthoughts, but each has made tremendous strides filling out their respective rosters and have nearly caught up to the Phillies and Braves. The NL East pennant race, save for the
New York Mets
, will be a much closer contest than most realize, and don't be surprised if Miami or Washington comes out on top. Here's why:

Phillies ages and injury
Ryan Howard
's Achilles injury will be a major factor and will dictate the Phillies' success. They need his home runs and RBIs and don't have enough at first base and left field when he's not in the lineup. Further, Chase Utley's knees are questionable. Will he have power at the plate and range in the field?
Jimmy Rollins
and
Placido Polanco
are getting long in the tooth and could see more decline this season. As Jayson Stark writes today,
this once great infield is fading
.
To continue reading this article you must be an Insider
February, 17, 2012
2/17/12
8:15
AM ET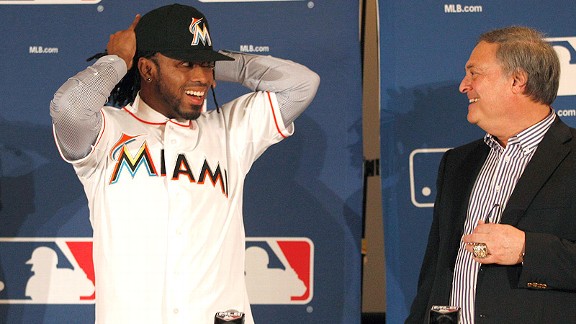 AP Photo/LM OteroMarlins owner Jeffrey Loria (right) opened up the wallet and grabbed Jose Reyes.
To say baseball's landscape has shifted this offseason is an understatement. The gap between the top and the bottom isn't as vast in the NL as it is in the AL, but this offseason was a time of reckoning for some teams with ownership troubles (Dodgers and Mets) and a time of emergence for others (Marlins). Here's how each NL team did during the winter. (You can find
my AL grades here.
)

Key Transactions
: Acquired RHP
Carlos Zambrano
and cash from
Chicago Cubs
for RHP
Chris Volstad
; signed SS
Jose Reyes
, six years, $106 million; signed LHP
Mark Buehrle
, four years, $58 million; signed RHP
Heath Bell
, three years, $27 million; signed IF
Greg Dobbs
, two years, $3 million.
Bowden's Take
The Marlins hadn't signed a major free agent since they inked
Carlos Delgado
back in 2005. However, with the excitement of a new stadium and Ozzie Guillen as manager, owner Jeffrey Loria opened up the checkbook. They signed the second-best shortstop in baseball, improved the rotation, upgraded the bullpen and improved the clubhouse by 180 degrees. The Marlins are finally legitimate contenders for the division or a wild-card berth.

Key Transactions
: Acquired RHP
Mat Latos
from San Diego for 1B
Yonder Alonso
, C
Yasmani Grandal
, RHP
Edinson Volquez
and RHP Brad Boxberger; acquired LHP
Sean Marshall
from Chicago Cubs for LHP
Travis Wood
, OF
Dave Sappelt
and IF Ronald Torreyes; acquired IF
Wilson Valdez
from Philadelphia for LHP
Jeremy Horst
; signed RHP
Ryan Madson
, one year, $8.5 million; signed OF
Ryan Ludwick
, one year, $6.78 million; signed LHP
Jeff Francis
, one year, $2 million; signed RHP
Andrew Brackman
, one year, $500,000.
Bowden's Take
The Reds weren't afraid to trade away four of their top 10 prospects this offseason, but the haul from those deals at the major league club was astounding. Latos is a potential No. 1 starter; Marshall is a shutdown left-handed setup man; and Madson is an impact closer. Ludwick was a solid midlevel free-agent signing who should add some pop in the small confines of Great American Ball Park. The Reds are primed to return to the postseason this year.
To continue reading this article you must be an Insider
December, 8, 2011
12/08/11
8:43
AM ET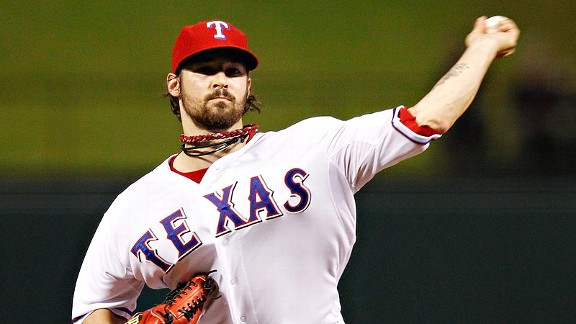 Mike Segar/US PresswireC.J. Wilson will make up his mind between SoCal and South Beach today.
• Multiple sources said
C.J. Wilson
spent Wednesday night visiting with both the
Los Angeles Angels
and Florida Marlins one final time before making his decision. If the Angels don't add a sixth year to their offer, it appears Wilson will join
Mark Buehrle
,
Heath Bell
and
Jose Reyes
in Miami. The Marlins have six years on the table for Wilson already.
• Rays manager Joe Maddon acknowledged his team has enough starting-pitching depth to trade one starter for a long-term solution at first base and catcher. Following are some scenarios for first basemen who could become available for one of the Rays' starting pitchers (
Wade Davis
,
Jeff Niemann
or
Alex Cobb
):
To continue reading this article you must be an Insider
December, 7, 2011
12/07/11
2:33
AM ET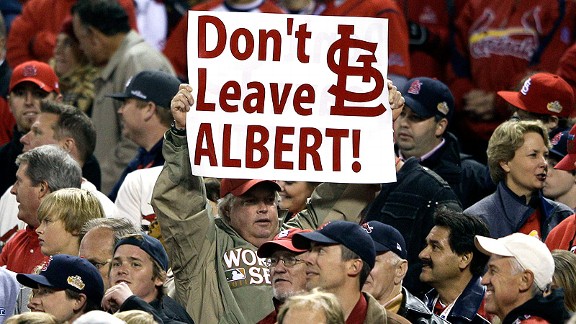 AP Photo/Matt SlocumWhere will Albert Pujols land? Will it be Florida or will he remain in St. Louis?
At the time of this posting, the
Albert Pujols
mega-bidding war reached its zenith just past midnight early Wednesday morning. The
Miami Marlins
made a 10-year offer that was so complicated it required the attention of Dan Halem, MLB's senior vice president and general counsel, for his sign-off on some new concepts the Marlins engineered in the "special covenants" portion of the offer.
• The St. Louis Cardinals, facing the possibility of losing Pujols, increased their offer from last January. It is believed to match the 10-year length of the Marlins' offer but at substantially less money. The Pujols situation has a pretty good chance of getting resolved sometime Wednesday morning, with the Cardinals remaining the favorite for Pujols' services.
•
Mark Buehrle
narrowed his list from 14 to five teams; the Rangers, Nationals and Marlins are acknowledged as three of those teams. The Cardinals could also be one of the teams if they lose Pujols to the Marlins. It is believed the
Washington Nationals
will try to separate themselves by giving in on a fourth year either as an option or a guaranteed year. The Rangers quietly believe they have a real shot at Buehrle if
C.J. Wilson
decides to leave them. The Marlins are not willing to include a no-trade clause for Buehrle, and that could end up being a deal buster.
To continue reading this article you must be an Insider
December, 5, 2011
12/05/11
11:12
PM ET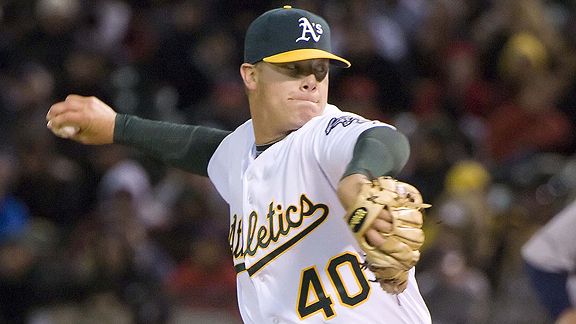 Kyle Terada/US PresswireBilly Beane continues to shop closer Andrew Bailey and lefty Gio Gonzalez for a young outfielder.
At the winter meetings, things can spin on dime. That's what makes it fun, as well as frustrating at times.
One minute a general manager or team owner will boast -- off the record -- how "on" a particular player his team is, then one bad negotiating session later the agent and player are gone just like that team's chances of signing him. Or, sometimes it's the other way around -- an agent tells you a deal is done, but the GM says it's not so you wait … and wait.
• The Oakland A's are talking to everyone regarding their starting rotation and closer
Andrew Bailey
trying to get young outfielders in trade. The
Kansas City Royals
might have a prospect package that could land left-hander
Gio Gonzalez
, which would be a coup by Royals GM Dayton Moore, if he can pull it off. The A's might ask for a package that starts with top prospect Wil Myers.
To continue reading this article you must be an Insider
December, 5, 2011
12/05/11
12:16
PM ET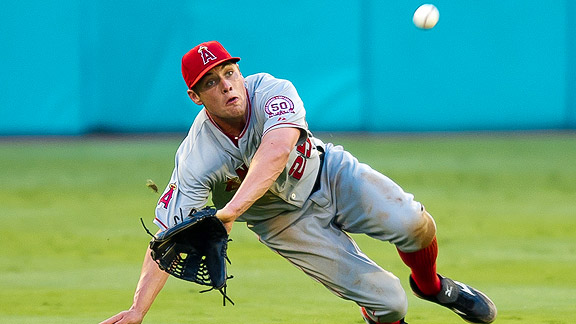 Steve Mitchell/US PresswireWould the Angels part with rangy center fielder Bourjos? For David Wright they might.
With free-agent shortstop
Jose Reyes
signing with the
Miami Marlins
, the winter meetings have begun with a bang.
• The Marlins are not done, either, as one top-ranking team official insists that Miami is still in on left-hander
Mark Buehrle
(No. 6 on my
free-agent value rankings
) and first baseman
Albert Pujols
. Signing Pujols after adding Reyes and
Heath Bell
would equal the Miami Heat's coup two years ago when they signed LeBron James and Chris Bosh.
• New Angels general manager Jerry Dipoto will be busy this week. He is targeting starting pitcher
C.J. Wilson
and closer
Ryan Madson
, the two best hurlers in their respective markets. He also might be in the market for a third baseman, and the Mets match up well with the Angels. With Reyes leaving the Mets, it only makes sense for Mets GM Sandy Alderson to trade
David Wright
now and begin the rebuilding mode in earnest. The Mets might be able to get a package of
Peter Bourjos
and
Hank Conger
for Wright. Wright would solve the Angels' nagging third-base problem, and they could insert prospect
Mike Trout
in center field.
• It would be shocking if the
Washington Nationals
did not land Buehrle or Wilson. They prefer Buehrle because they feel they can get him for three years rather than the five years it will take to get Wilson. And like the Marlins, the Nationals feel they are well in the hunt for Pujols or
Prince Fielder
. The Nationals also have interest in Bourjos, as they continue to search for a center fielder. They've talked to the Rays about
B.J. Upton
, but the likeliest target is Yoenis Cespedes. Still, they're not convinced that they want to meet Cespedes' asking price, which is in the $50 million neighborhood.
To continue reading this article you must be an Insider
November, 17, 2011
11/17/11
11:21
AM ET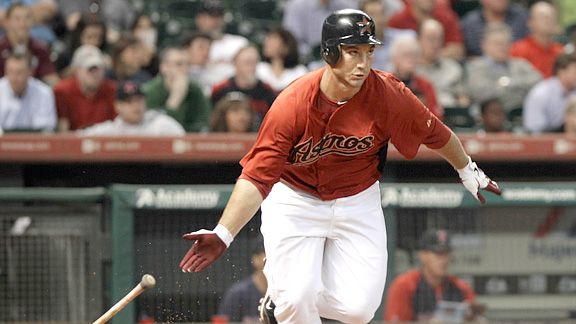 AP photo/Pat SullivanBrett Wallace already has played for four organizations, and it soon could be five.
I come across daily tidbits on possible personnel moves straight from the front offices of all 30 clubs. Here's what I'm hearing on Thursday.
Possible trades and signings
• Astros manager Brad Mills says
Carlos Lee
will be the Astros' starting first baseman in 2012, and that could open up a deal involving
Brett Wallace
to the
Cleveland Indians
. The Indians have been discouraged by
Carlos Pena
's (
No. 17
on my free-agent board) high asking price and are not convinced that
Matt LaPorta
is going to hit well. Wallace has been in four different organizations since being drafted by the St. Louis Cardinals in 2008.
• Multiple teams have inquired about left-hander
Mark Buehrle
, including the
Washington Nationals
, who have made Buehrle a top priority. They feel that he could be the perfect leader for their talented young rotation.
• The
Chicago White Sox
are not confident they will agree with Buehrle on years and salary, so look for lefty
Chris Sale
to replace Buehrle in the rotation. Further, a source close to the White Sox said not to be surprised to see them deal left-hander
John Danks
and right-hander
Gavin Floyd
. Danks will be a free agent next winter, so the Sox could look to move him while he still has a lot of trade value. Floyd's ERA has risen in each of the past three seasons, and the White Sox might try get a decent return before his value bottoms out. A rotation of
Jake Peavy
, Phil Humber, Sale and
Zach Stewart
is entirely possible.
To continue reading this article you must be an Insider
September, 2, 2011
9/02/11
4:00
PM ET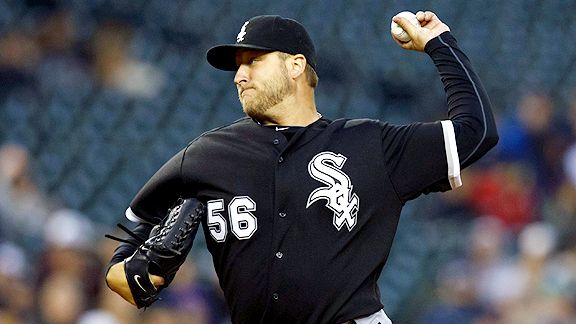 Rick Osentoski/US PresswireWhite Sox left-hander Mark Buerhle will lean heavily on his agents at CAA for what could be the biggest payday of his career.
We've discussed scouting out the top free agents this week, but what about the people representing those free agents? Here's a scouting report on the agents who will play an integral part in negotiations for four big free agents this offseason.
Mark Buehrle, LHP,
Chicago White Sox
To continue reading this article you must be an Insider