The GM's Office:

Marco Scutaro
October, 18, 2014
10/18/14
1:49
PM ET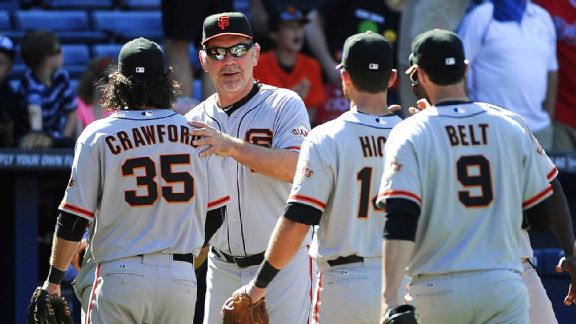 AP Photo/David TulisManager Bruce Bochy has exemplified loyalty in his leadership of the San Francisco Giants.
The
San Francisco Giants
hired Brian Sabean as their senior vice president and general manager on Sept. 30, 1996. Since then, he has led the Giants to seven postseason berths and, with this year's team, four World Series appearances, including two world championships and counting. He is presently the longest-tenured GM in the sport.
One of his best moves was made almost exactly a decade after he took the job -- on Oct. 26, 2006, he hired Bruce Bochy away from the
San Diego Padres
to be the manager of the Giants. Together they have become this generation's best general manager-manager combination. They have a strong working relationship, but most importantly, are closest of friends both on and off the field.
They represent the stability and continuity that every major league owner strives for.
January, 14, 2013
1/14/13
11:35
AM ET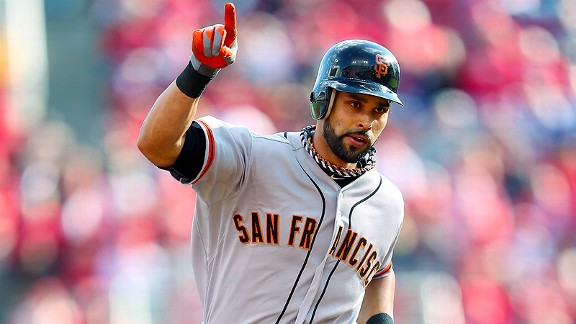 Andy Lyons/Getty ImagesAngel Pagan has never shown the consistency to warrant the contract he earned this offseason.
Recall the saying "it seemed like a good idea at the time" and you'll be able to apply it to a number of baseball's 30 teams. Indeed, most general managers would love to call a mulligan or two during their careers. As such, the following five players are, in my opinion, the most likely to end up as someone's mulligan. Their contracts are simply more than they are worth, whether it be dollars or number of years, and thus could very easily backfire on the general manager.
---
Contract:
Four years, $40 million |
AAV:
$10 million

Giants senior vice president/general manager Brian Sabean is one of the best in the business, with two world championships in the past three years. That doesn't mean he doesn't make his fair share of mistakes on long-term contracts, such as
Barry Zito
's seven-year, $126 million deal or
Aaron Rowand
's five-year, $60 million albatross. Sabean's history also includes being loyal to players (read: overpaying) who helped him win rings. After winning the World Series in 2010, he overpaid
Aubrey Huff
by re-signing him to a two-year, $20 million deal.
To continue reading this article you must be an Insider
October, 24, 2012
10/24/12
11:45
AM ET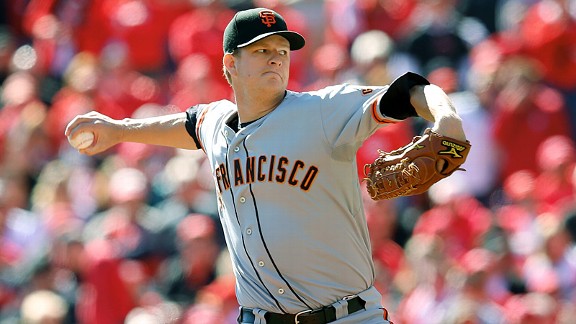 Andy Lyons/Getty ImagesMatt Cain has developed into the Giants' No. 1 starter, but they were lucky to draft him.
On Monday we discussed the
five moves that helped get the
Detroit Tigers
to the World Series and established that to get this far, you not only need good, shrewd decisions, but also a little luck.

For the
San Francisco Giants
, their drafts have had a direct impact on developing a core of players most responsible for their success. Here are the five crucial moves that helped the Giants reach the World Series:
The Giants drafted Matt Cain in the first round of the 2002 draft with the 25th pick overall. This was the stocked draft in which the
Pittsburgh Pirates
whiffed by taking
Bryan Bullington
with the first overall pick, and it included several other All-Star players such as
Zack Greinke
,
Cole Hamels
and
Prince Fielder
.
The Giants have done a great job taking pitchers in the first round; they selected both
Tim Lincecum
and
Madison Bumgarner
with the 10th overall pick in 2006 and 2007, respectively. The Cain pick stands out because he came a little later in the first round and he has become the Giants' ace, and a pitcher who is now 4-2 lifetime in the postseason with an ERA of 1.83 in five different series. The Giants also have him signed to what amounts to an eight-year, $139.75 million contract from 2010 to 2017 with a club option for 2018. They've got a big-game pitcher thanks to a big-time draft decision.
By hitting .336/.408/.549 with 39 doubles, 24 home runs and 103 RBIs, Posey won the NL batting title and I expect him to be named the NL Most Valuable Player in November. The Giants' scouting department selected him fifth overall in the 2008 draft. The Giants were fortunate that Tim Beckham,
Pedro Alvarez
,
Eric Hosmer
and
Brian Matusz
were all picked before them, so they had the opportunity to take Posey. (It helped that some of those clubs were scared off by Posey's bonus demands, but kudos to the Giants for taking -- and paying -- the guy they wanted.)
Posey does a tremendous job of calling a game, framing pitches and maintaining consistent solid contact with his pitcher. Giants pitchers rarely shake him off because of their trust in him. It is remarkable that Posey will have already played in two World Series in the first three years of his major league career, all while hitting cleanup and shouldering the catching duties, which can by physically and mentally onerous. He's a Hall of Famer in the making at an early age.
He was just named the NLCS MVP after going 14-for-28 and getting on base an incredible 16 times in the seven-game series. Giants GM Brian Sabean acquired Scutaro from the
Colorado Rockies
on July 27, costing only minor league infielder
Charlie Culberson
.
Scutaro is an above-average defensive second baseman and has brought stability and experience to the middle of the diamond. His leadership helped develop his double play partner,
Brandon Crawford
, who was much more consistent defensively after Scutaro arrived. There are many baseball clichés that best describe Scutaro, such as "dirt bag," "gamer," and "winner." He's the ideal No. 2 hitter in the lineup because he can hit-and-run, bunt, move runners and take pitches. And he very rarely strikes out.
Romo was the Giants' 28th-round pick of the 2005 draft, and although it's taken time for him to develop into a closer, his nasty slider and incredible spirit and heart have always made him a special player. Romo was 4-2 this year with a 1.79 ERA, .087 WHIP and 14 saves. He's symbolic of the many successful late-round picks that the Giants scouting staff has made over the years and another example of how hard-core scouting can be a difference maker.
Sabean has made it routine the past few years to acquire a significant outfield bat either in the offseason or during the season to help the Giants improve their offense and defense. Last year he acquired
Carlos Beltran
from the
New York Mets
and then this past offseason he traded for both
Melky Cabrera
and
Angel Pagan
. On July 31 he traded
Nate Schierholtz
and prospects Tommy Joseph and Seth Rosin to the
Philadelphia Phillies
for Pence.
On the year, Pence hit .253/.319/.425 with 24 doubles, 24 home runs and 104 RBIs. Though his playing style is somewhat awkward, Pence has brought outfield stability to the Giants. This was critical, especially because no less than a month later Cabrera -- the All-Star Game MVP -- tested positive for PEDs and his year with the Giants was finished.
Pence's pregame pep talks compare to those of Baltimore Ravens linebacker Ray Lewis, with the same bizarre glares that put fear in you if you don't know him. Pence is all heart and just wants to help the players stay loose and motivated. He's not a true "impact" player, but he's a solid player who drove in 45 runs in just 59 games to finish the season, helping the Giants hold off the Dodgers in the NL West.
July, 10, 2012
7/10/12
11:06
AM ET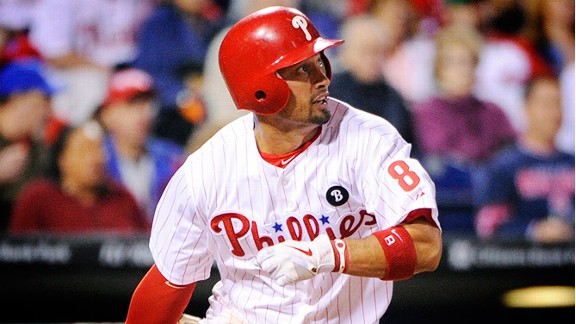 Howard Smith/US PresswireThe Dodgers will be in hot pursuit of Victorino, who could help L.A. get their offense back on track.
KANSAS CITY, Mo. --
Philadelphia Phillies
outfielder
Shane Victorino
might not be attending or playing in the 2012 All-Star Game, but lots of buzz around Kauffman Stadium has centered on him.
Most baseball executives believe that Victorino will be dealt to the
Los Angeles Dodgers
or
Cincinnati Reds
before the July 31 trade deadline regardless of how the Phillies do after the break. On the other hand, those same general managers get the distinct feeling that Phillies GM Ruben Amaro will hold on to left-hander
Cole Hamels
.
To continue reading this article you must be an Insider
July, 3, 2012
7/03/12
9:30
AM ET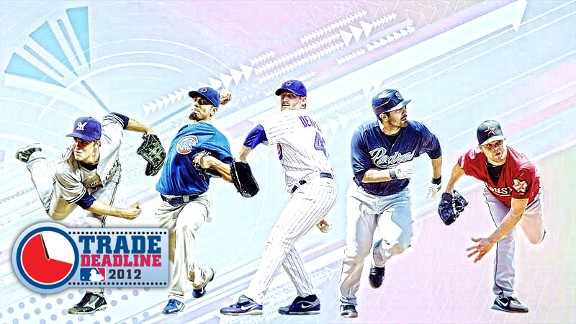 ESPN.com IllustrationThis year's trade deadline could be very active, especially for teams seeking starting pitching.
With increased parity and two wild-card berths available, there are fewer sellers this season than ever just before MLB's July 31 trade deadline. Because of that, conventional wisdom dictates it could be a slow go for teams in search of help.
However, I think it could be a very active period with more top-of-the-rotation starters moved than in any previous season. And even though
Cole Hamels
is not included on this list (I believe the
Philadelphia Phillies
could still make a run), he also could be traded.
Here are 10 players who are most likely to be traded, based on my conversations with multiple general managers.

1. Zack Greinke, RHP
The
Texas Rangers
won't move prospect Jurickson Profar and will try everything in their power to exclude
Martin Perez
and Mike Olt from any deal. However, with a deep major league club and farm system, the Rangers have enough to make the
Milwaukee Brewers
an offer they can't refuse and allow them to place Greinke at the top of their rotation.
---
To continue reading this article you must be an Insider