The GM's Office:

Kevin Youkilis
December, 3, 2012
12/03/12
2:30
PM ET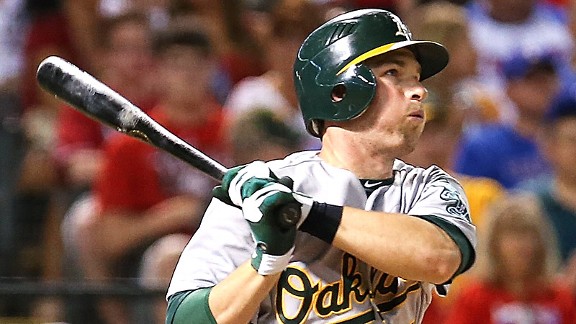 Kevin Jairaj/US PresswireStephen Drew could solve a lot of the Yankees' problems on the left side.
Even before
Alex Rodriguez
needed
another hip surgery
that is almost certain to keep him out for a huge chunk of the 2013 season, if not the full year, he was being dominated by right-handed pitching. What you saw in the playoffs wasn't an anomaly or something new. It's been my position going back well into
last
season that New York would be best served to get A-Rod into the role of designated hitter, primarily against left-handed pitching. By the time he gets back from this latest setback, A-Rod could be 38 with diminished bat speed and range. If you want to maximize him, DH is your only hope.
That said, in analyzing this from a purely baseball sense, the injury offers the Yankees a no-excuses transition point. But to whom do they transition? The obvious option here is to bring back
Eric Chavez
, but my sense in talking to folks is the Yankees will be looking hard at other options.
Really, there isn't an obvious solution, not only internally but also in the free agency or trade markets. Nevertheless, I came up with five calls the Yankees could make to try to put a Band-Aid on the position in the year to come.
1. Sign Stephen Drew
Drew, a former first-round pick, has come back from his own recent injuries, but he could shift to third base and play shortstop. The Yankees will need guys who offer positional flexibility, as
Derek Jeter
will also be coming back from a significant injury. Drew's career .762 OPS won't look special to Yankees fans, but he's a good stopgap solution for a team that should be able to score runs, and his ability to play more than one position adds value. He moves well both directions on defense and could save some runs on the left side of the infield.
2. Call the Astros about Jed Lowrie
Everybody's favorite trade target last season before the deadline, Lowrie had put up career-best totals and was showing routine power (16 homers in 97 games) before he got injured down the stretch. Lowrie doesn't have a great arm at third base, but he's another guy who can play multiple positions, and Houston would certainly be willing to listen on pitches. The concern is that Lowrie, who will be 29 in April, has never managed to stay healthy himself.
3. Call the Padres about Jedd Gyorko
This is a really tough sell, and the Padres would start any conversation about Gyorko by bring up Yankees center-field prospect Mason Williams, which could make it a non-starter for New York as well. Gyorko is a solid prospect whom San Diego plans to move to second base, but after hitting .328 with 24 homers last year in Triple-A (yes, in the admittedly hitter-friendly Pacific Coast League), he's ready for his promotion. Again, I don't think the Padres would be willing to make the deal unless they got a lot in return, but it's a call worth making.
4. Sign Kevin Youkilis
Purely a bandage purchase, Youkilis doesn't have great range at third, to say the least, and he's coming off a season in which he hit just .236. That said, Youk can still grind out at-bats and will always find ways to get on base. Despite his low average, his OBP was still .346 this past season.
5. Call the Nationals about two options
First, Yankees GM Brian Cashman could at least ask about the price for third-base prospect
Anthony Rendon
. Nationals GM Mike Rizzo will probably give a good laugh, but the Nats could listen. Their plan is to move Rendon to second base when he's finally ready. If and when the Rendon idea goes nowhere,
Danny Espinosa
should be discussed. Espinosa is limited at the plate and strikes out way too often but offers punch from down in the lineup -- he could hit 20-plus homers in Yankee Stadium -- and can play the position.
September, 6, 2012
9/06/12
11:11
AM ET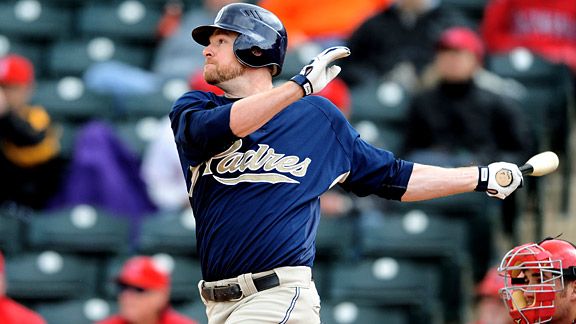 Mark J. Rebilas/US PresswireThe Phillies should acquire Chase Headley if Chase Utley isn't moved to third base in the offseason.
As the pennant races come down the stretch, many teams already have set their sights on 2013. There are three that stand out to me as poised to make a quick turnaround. In fact, two of the three teams won their division in 2011, and all three have set themselves up well -- whether by acquiring players or jettisoning them at the July 31 trade deadline -- for 2013. With just a couple of additional pieces, as well as some star players returning to form and a precocious prospect or two, these three teams will be in the postseason hunt next year.

Arizona's 94-68 record and NL West title in 2011 were driven mainly by MVP candidate
Justin Upton
and Cy Young Award candidate
Ian Kennedy
. Only a year later, however, both have struggled mightily. Arizona might not even finish .500, leaving management no recourse but to retool. As such, the left side of the infield has been traded, with
Ryan Roberts
sent to the
Tampa Bay Rays
and
Stephen Drew
to the
Oakland Athletics
. But that retooling also has left the Diamondbacks in great position to jump right back in the race in 2013.
July, 10, 2012
7/10/12
11:06
AM ET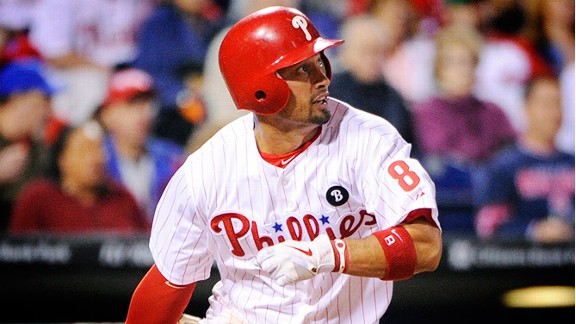 Howard Smith/US PresswireThe Dodgers will be in hot pursuit of Victorino, who could help L.A. get their offense back on track.
KANSAS CITY, Mo. --
Philadelphia Phillies
outfielder
Shane Victorino
might not be attending or playing in the 2012 All-Star Game, but lots of buzz around Kauffman Stadium has centered on him.
Most baseball executives believe that Victorino will be dealt to the
Los Angeles Dodgers
or
Cincinnati Reds
before the July 31 trade deadline regardless of how the Phillies do after the break. On the other hand, those same general managers get the distinct feeling that Phillies GM Ruben Amaro will hold on to left-hander
Cole Hamels
.
To continue reading this article you must be an Insider
May, 23, 2012
5/23/12
11:09
AM ET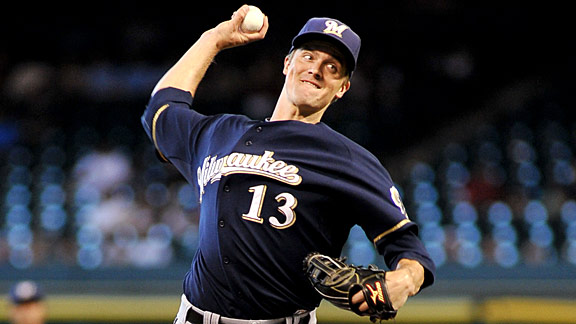 Patrick Green/Icon SMIIf the Brewers don't turn it around, Greinke surely will be shopped by July 31.
The trade deadline is more than two months away. However, with all the parity we've seen in the past two decades, most teams will still be buyers come July 31. Few teams outside of the
Minnesota Twins
,
Chicago Cubs
and
San Diego Padres
are assured to be sellers. This could be an indication there could be as many buyers trading with other buyers as there will be buyers trading with sellers.
This year at the deadline there should be plenty of closers who will be traded, such as
Joel Hanrahan
,
Brandon League
and
Huston Street
, provided they are all healthy and still pitching well.
But if you are looking for big names, here are five who I think will be moved in significant trades between now and the deadline.
1. Zack Greinke, Milwaukee Brewers
Brewers general manager Doug Melvin shocked the baseball world back in December 2010 when he acquired Zack Greinke from the Royals in exchange for
Alcides Escobar
,
Lorenzo Cain
,
Jeremy Jeffress
and Jake Odorizzi. Contract negotiations between the Brewers and Greinke's agent, Casey Close, have been professional, but there is a significant gap in terms of length and dollars in their talks. If the Brewers aren't in the pennant race come July, Greinke will be traded.
To continue reading this article you must be an Insider
May, 16, 2012
5/16/12
11:15
AM ET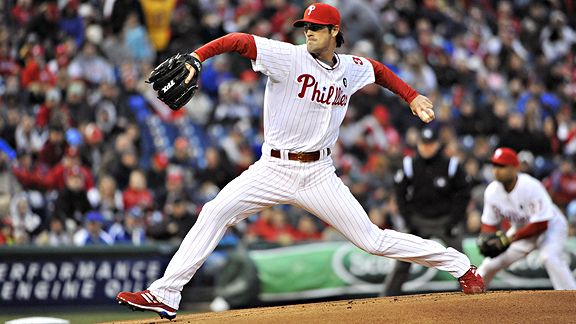 Howard Smith/US PresswireThe Phillies might think about dealing Cole Hamels this summer if they can't extend him.
Both the
Boston Red Sox
and
Philadelphia Phillies
are unaccustomed to approaching the July 31 trade deadline as "sellers." And yet, that's perhaps their best course of action.
Despite extremely slow starts, the two teams still have enough collective talent to contend for at least wild-card berths this season. A couple of winning streaks and the Red Sox or Phillies could find themselves back in the thick of a division race. And their places in the standings might determine whether the sell or buy. Understandably, the allure of going on a late-season run can motivate a team's front office to acquire players rather than trade them for prospects. If they're deep in the hunt, these two proud teams will jump in.
But if they're on the fringe, both organizations have to take a hard look at where their teams are and the direction in which they are heading. They might consider being sellers instead and use the opportunity to retool their teams for the long-term rather than considering the short-term and trying to win the World Series this year. Such an effort could come at the expense of long-term improvement over the next several years.
To continue reading this article you must be an Insider
April, 24, 2012
4/24/12
5:22
PM ET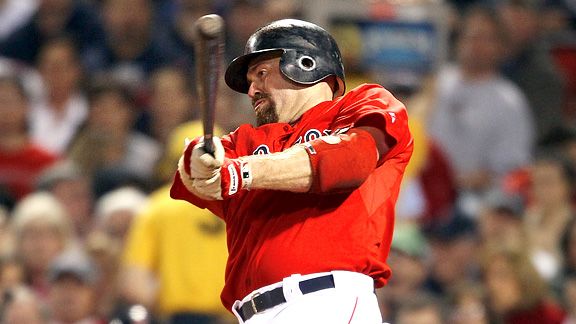 Elsa/Getty ImagesTrading Kevin Youkilis wouldn't be popular, but he could fetch some youth and pitching.
The basement is an unappetizing venue for the
Boston Red Sox
.
At 5-10, they sit at the bottom of the American League East behind a number of excellent teams. But unlike last year, when the club also started 5-10, the 2012 team is not good enough to make a dramatic turnaround as last year's team did when it went on a torrid 45-25 run from May through July. Coupled with manager
Bobby Valentine's media miscues last week
, pressure is mounting for rookie general manager Ben Cherington to make a move to help his ballclub.
Valentine is getting blamed for everything, but the fact is this team came into the season with major flaws in the outfield, starting rotation and bullpen. The Red Sox also had areas that needed upgrades at shortstop and catcher. They also have incurred major injuries. But most importantly, this team simply cannot pitch right now. And when your team can't pitch, all the other problems become magnified.
So here are five moves that could solve some of those problems and help the Red Sox climb out of the AL East cellar. The overwhelming theme here is that with each move, the Red Sox not only get better, but they also get depth for the bullpen, starting rotation and outfield positions -- something they've sorely lacked and a major reason for their late-season collapse in 2011.
To continue reading this article you must be an Insider
April, 18, 2012
4/18/12
9:15
AM ET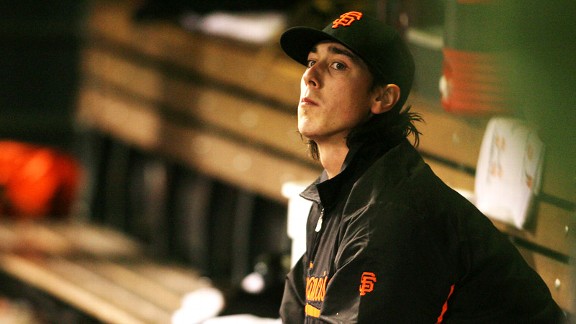 Chris Humphreys/US PresswireLincecum looks worried, and GM Brian Sabean probably is, too.
From a general manager's point of view, April and May are pitfalls.
Everything gets magnified at the beginning of the season. You have to be extremely careful because it's much easier to make mistakes in evaluations in April and May than at any other time of year. Early-season performances are overrated for both players and teams.
For instance, when a great team like the
Los Angeles Angels
struggles, people immediately jump off the bandwagon. Or when a team like the
New York Mets
starts off strong, people actually believe this is the year. In the end, we all know where both those teams are headed.
With a player, there could be a myriad of reasons he is struggling. Anything from an injury to mechanics, the weather, age, playing in a new league, off-field/family issues or a long layoff can contribute to a slow start.
However, by the end of May, GMs should be able to make solid player evaluations in order to prepare trade options and targeting ways to improve the team by the July 31 trade deadline. The key is to discern the real red flags from the red herrings early in the season, and several players clearly have legitimate issues. Their GMs have every right to be nervous about their slow starts. Here are five players whose recent performances are great cause for concern:

Lincecum said he was going to scrap his slider this year because of the wear and tear it puts on his arm. I don't know if that means the slider bothers his elbow, shoulder, biceps or forearm. But what that does tell me is that he has some pain. So when he says he's healthy, but his velocity is down and command is off, it's time to make sure he really is healthy.
To continue reading this article you must be an Insider