The GM's Office:

Justin Verlander
April, 16, 2014
4/16/14
10:00
AM ET
On Wednesday night, baseball fans will be treated to one of the best pitching matchups of the season, as
Felix Hernandez
toes the rubber in Texas against
Yu Darvish
.
These are two of the best pitchers in the game in the midst of their respective peaks, and this matchup got me thinking about the best big-game pitchers in the baseball right now. We've seen a number of guys with a history of shining in big spots recently retire, such as
Chris Carpenter
and
Andy Pettitte
, which has me re-calibrating my ranking of the best big-game pitchers in the game.
Here is my list of the top 10 big-game pitchers in MLB today, based on how I've seen them pitch in their biggest games and how I think they would do if given the opportunity to pitch in Game 7 of a World Series.
A couple of players who I would have included in past years but didn't make the cut here are
Matt Cain
and
Cole Hamels
. Cain hasn't been the same pitcher in the past 13 months, but if he can recapture his 2012 form, he'd be in the top five. As for Hamels, his recent injury raises questions about whether he will be able to dominate when he returns.
On to the rankings.
1. Clayton Kershaw | LHP | Los Angeles Dodgers
Like Hamels, Kershaw is also on the DL, but he is so good that I can't justify putting anyone else at No. 1 on this list. (Also, his ailment, a back issue, is not related to his arm.)
Some might question Kershaw's placement here based on getting shelled in his most recent postseason start, Game 6 of the 2013 NLCS, but let's not forget how dominant he was in the LDS, when he allowed only one run in two starts against Atlanta while striking out 18.
2. Madison Bumgarner | LHP | San Francisco Giants
Bumgarner has pitched in two World Series and has yet to give up an earned run, going 2-0 and yielding just five hits in 15 innings while punching out 14.
June, 5, 2013
6/05/13
11:00
AM ET
In their heyday during the late 1990s and early 2000s, the
Houston Astros
boasted a pack of "Killer B's" and routinely sat atop the National League Central.
A lot has changed.
Jeff Bagwell
,
Craig Biggio
and
Lance Berkman
are long gone, the Astros have been transplanted into the American League West under new ownership, and the team, which finished last or second-to-last in four of the past five seasons, is mired in last place again. They are in full rebuilding mode, working diligently since last season to restock a weak farm system.
Of course, the upside to that failure is the Astros own the first overall pick in Thursday's draft. All season, two college pitchers -- Stanford's Mark Appel and Oklahoma's Jonathan Gray -- flip-flopped as the projected top pick. While conventional wisdom dictates the Astros select one of them, to me the wiser choice would be to pass on both and select the next Killer B -- San Diego slugger Kris Bryant.
To continue reading this article you must be an Insider
February, 28, 2013
2/28/13
5:08
PM ET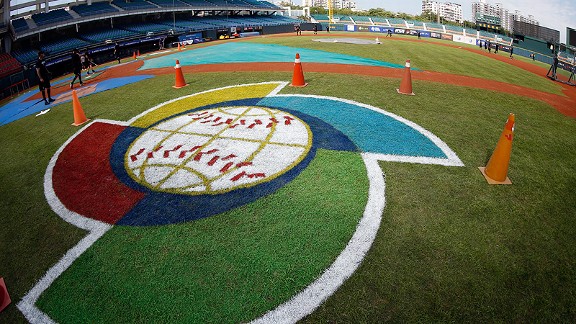 Yuki Taguchi/Getty ImagesThe only way to elevate MLB player participation in the WBC is to make it mandatory.
In the combined 15 years I served as general manager of both the
Cincinnati Reds
and
Washington Nationals
, I was always a huge proponent of the World Baseball Classic. Baseball is an international sport, and perhaps someday the World Series will include teams from around the world rather than just clubs from the United States and Canada.
Until then, the WBC is a welcome alternative. It's been a relative success internationally, underscored in 2009, when each game averaged 2 million viewers. Japan won both the 2006 and 2009 tournaments, while the United States, which has arguably the best collection of players in the world, has not fared well in the WBC mainly because so many players decline invitations to participate.
Their reasons for not playing are varied and justified to a certain degree. Money plays a part;
Justin Verlander
isn't participating for fear of injury during contract negotiations;
Jurickson Profar
is focused on making the
Texas Rangers
. If Profar plays in the WBC, it could mean the difference between making the team or not and receiving a big league paycheck or not.
Mike Trout
simply thought he needed a full spring training to be prepared for the regular season.
On the other hand,
Russell Martin
's
cavalier withdrawal from Team Canada
because they wouldn't let him play shortstop illustrates the somewhat lax attitude many MLB players have toward the tournament. Martin's actions essentially mock the WBC. Team USA has been guilty of this; they simply do not take the same amount of pride in the tournament as other countries such as Japan, Cuba, South Korea, Venezuela and the Dominican Republic. Sure, it's not the Olympics, but those countries seem to better understand the honor and privilege of representing one's country.
However, if the World Baseball Classic is to reach its potential and help the sport open doors to new revenues and audiences, we need to change the culture and attitude regarding major league players' participation. For this to happen, baseball must make participation mandatory by all healthy players, just as it does for the All-Star Game. It should become part of the player uniform contract as well as the collective bargaining agreement.
To continue reading this article you must be an Insider
January, 30, 2013
1/30/13
11:00
AM ET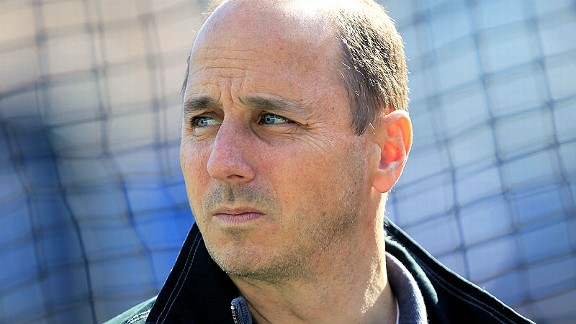 John Munson/The Star-Ledger/US PresswireBrian Cashman is trying to clear payroll in preparation for potential monster 2014 free agent class.
The
New York Yankees
have been relatively inactive this offseason, but that doesn't mean general manager Brian Cashman hasn't been busy.
Fans might wonder why their team, which has historically used free agency to fortify its roster, would limit spending and hold off on signing the big free agents this year and instead just bring back veterans such as
Andy Pettitte
,
Mariano Rivera
and
Hiroki Kuroda
after the Yankees' disappointing 2012 campaign. But Cashman has been adamant to get his payroll below $189 million by 2014, and for good reason.
Most important is the Yankees' luxury tax goes up to 50 percent for every dollar over $189 million in 2014. The Yankees are the only team in baseball in that situation, because they've been over the threshold limit three times in a row. If they stay under the $189 million in 2014, they won't pay a tax that year and they get to restart their luxury tax history. By restarting that history, the tax rate reverts to just 17.5 percent the next time they exceed it, which we should all expect to be 2015.
As the Yankees get below the luxury tax threshold, Cashman will have lined up his team for a possible bonanza free-agent haul – specifically starting pitchers -- in 2014 and perhaps 2015. The timing could not be better for the Yankees over the next two years. Here are several reasons why it should surprise no one if the Yankees blitz the 2014 offseason with a major spending spree.
Best free-agent class ever?
To continue reading this article you must be an Insider
October, 23, 2012
10/23/12
3:38
PM ET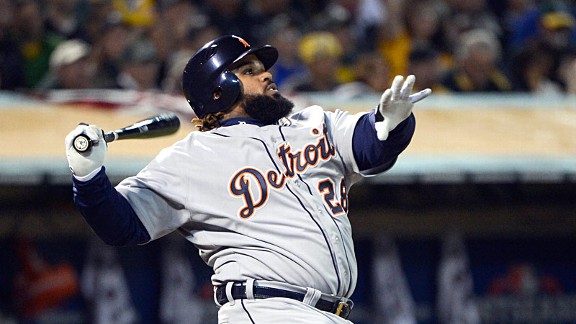 Thearon W. Henderson/Getty ImagesPrince Fielder might be the first Detroit hitter to put one in the right-field cove at AT&T Park.
With the World Series upon us, the 50 players showcased on baseball grandest stage will have varied roles, boasting an assortment of strengths as well as exposing some weaknesses. The
Detroit Tigers
' lineup is fearsome, as are their top three starting pitchers. But the
San Francisco Giants
match up well, and if the length of their series in the first two rounds is any indication, this could go down to the wire.
Let's take a look at those 50 players and rank them according to their potential impact on the series and importance to their respective teams. (Note: At time of publication, official rosters had not been announced.)
1. Justin Verlander, RHP, DET:
Verlander has the best overall stuff of any pitcher in the major leagues, and he is finally dominating the postseason in the same fashion as he does the regular season. He's the Tigers' key to winning the World Series.
2. Miguel Cabrera, 3B, DET:
He will win the AL MVP this November after becoming the first AL Triple Crown winner since Carl Yastrzemski in 1967.
3. Buster Posey, C, SF:
He will win the NL MVP this November, and despite a poor NLCS, I look for him to rebound in the World Series.
4. Matt Cain, RHP, SF:
It was just two years ago that he ran the table in the postseason, leading the Giants to a World Series title. I expect him to repeat what he just did in Game 7 of the NLCS and help give the Giants their second title in three years. He's a true ace.
5. Prince Fielder 1B, DET:
Owner Mike Illitch took a lot of grief from his peers over the nine-year pact he gave Fielder, but that signing has Illitch just four wins away from a world championship.
6. Max Scherzer RHP, DET:
He and Verlander had the highest K/9 ratio of any tandem in baseball this season. As future Hall of Famer
Chipper Jones
once told me, power pitchers win in the postseason. The Tigers have the two best in this series.
7. Austin Jackson CF, DET:
The best defensive outfielder in this series, Jackson runs down fly balls in the gaps better than anyone in this World Series. His ability to get on base will offer RBI opportunities for Cabrera and Fielder.
8. Pablo Sandoval 3B, SF:
"Kung Fu Panda" is the heart, soul and energy of the Giants' lineup. He's locked in at the plate right now with consistent sweet spot contact. Don't be surprised if he's the next one to deposit a home run in the left-field cove at AT&T Park.
9. Ryan Vogelsong RHP, SF:
Who would have thought that Vogelsong would be the best Giants starting pitcher in the postseason, ahead of Cain,
Tim Lincecum
and
Madison Bumgarner
? Vogelsong possesses a 92-93 mph fastball with pinpoint control on the black and changes eye levels.
10. Doug Fister RHP, DET:
Fister pounds the lower part of the zone with a nasty sinker and is one of those players who loves center stage. I expect another good series from him.
11. Marco Scutaro 2B, SF:
He led all NLCS players in on-base percentage and is a true table-setter. His defense has been matching his offense, and he sets the tone for this resilient ballclub.
12. Sergio Romo RHP, SF:
He has one of the best sliders in baseball, and his ability to put away
Jay Bruce
in the NLDS might have been the at-bat that truly put him in the category of an impact closer. Bruce Bochy now has the confidence to use him in the biggest games to close against left-handed hitters as well as right-handed hitters.
13. Barry Zito, LHP, SF:
How does Zito land ahead of Tim Lincecum and Madison Bumgarner on this list? His 15 regular-season wins and his dominant Game 5 performance against St. Louis in the NLCS give him the edge. However, my instincts say his 84 mph fastball is at risk of being exposed by the Tigers. Stay tuned.
14. Anibal Sanchez, RHP, DET:
The Tigers mortgaged the future by trading right-hander
Jacob Turner
and catcher
Rob Brantly
for him at the deadline. If they win the World Series with him, who cares?
15. Delmon Young, LF/DH, DET:
Young entered the postseason with little free-agent value and completely changed that with his second consecutive strong postseason, earning this year's ALCS MVP. He would be higher on the list if he were to play strictly DH, but he will have to play left field in possibly four games of this series.
16. Santiago Casilla, RHR, SF:
Casilla had once been the closer, and he also shared the role, and now he has found a home in the eighth inning. Expect some critical relief outings for him in this series, especially against Cabrera and Young.
17. Tim Lincecum, RHP, SF:
It will be interesting to see if Bochy uses him to start or relieve. He was really effective out of the bullpen, but then gave a mediocre start at best. He's now working exclusively from the stretch, which has somewhat cleaned up his delivery. He's throwing mostly 91-92 mph, but with inconsistent command in the zone.
18. Alex Avila, C, DET:
With the Giants possibly throwing both Zito and Bumgarner against the Tigers in this series, Avila might still have to platoon with
Gerald Laird
.
19. Phil Coke, LHR, DET:
Coke has followed up the best stretch of his career with a stellar postseason. He has usurped the closer's role after failures by both
Jose Valverde
and
Joaquin Benoit
.
20. Javier Lopez, LHR, SF:
Lopez is one of the best situational left-handed relievers in the sport and his matchups against Fielder and Avila in this series will be interesting to watch.
21. Madison Bumgarner, LHP, SF:
What in the world has happened to Bumgarner this postseason? In his last two outings he's thrown 91 mph in the first inning and then 87 mph in the second. His arm slot is down, the ball is coming out on the side, everything is flat, and he looks fatigued. However, with extra rest, I still think he can rebound. If he gets another shot at starting, he might even have a dominating performance left in him unless, of course, he's hurt and not telling anyone.
22. Angel Pagan, CF, SF:
Another one of Brian Sabean's excellent under-the-radar trades. Pagan has stayed focused all year and done a great job of covering ground even when he takes an occasional bad route to a ball. He's done a solid job in the leadoff spot ahead of Scutaro and brought good passion to the team.
23. Hunter Pence, RF, SF:
How do you drive in 100 runs and end up 23rd on this list? But that's how he's looked this postseason. His timing is off and his at-bats have been inconsistent. Will he break out in the World Series? I doubt it while facing Verlander, Scherzer, Fister and Sanchez.
24. Joaquin Benoit, RHR, DET:
He's been one of the best eighth inning relievers in baseball the last few years. The question should that be past tense?
25. Jhonny Peralta, SS, DET:
He makes the routine plays at shortstop, including when the game is on the line.
26. Octavio Dotel, RHR, DET:
He was an important middle reliever for the Cardinals in last year's World Series, and with Valverde falling off the face of the Earth, he'll be even more important this World Series.
27. Brandon Crawford, SS, SF:
He's one of the best defensive shortstops in this postseason. He possesses above-average range to both sides with a gun for an arm and he reads the ball off the bat as good as anyone in the game. The bat is the reason why he's down on the list.
28. Gregor Blanco, LF, SF:
He's a fourth or fifth outfielder playing regularly because of Melky Cabrera's absence. However, his speed on the bases and range in the outfield has been a plus for the Giants. He's also a great character guy.
29. Brandon Belt 1B, SF:
Belt is trying to make adjustments on the fastball inside on the black, where clubs love to pound him. He's cheating some to get to it, but that's making him vulnerable to the outside pitch, although on Monday he crushed a
Jason Motte
98 mph fastball in the same vicinity. His defense at first base is above average.
30. Omar Infante, 2B, DET:
He instantly helped solidify the Tigers' weakest position on the field after coming over from the Marlins in the Anibal Sanchez deal.
31. Jeremy Affeldt, LHR, SF:
Affeldt is used mostly in the sixth and seventh innings, and can get both right- and left-hand hitters out.
32. Hector Sanchez, C, SF:
You will see him start only if Lincecum gets a start. He's solid behind the plate and can drive a key run in the other way.
33. Avisail Garcia, RF, DET:
In a couple of years, Garcia will skyrocket up this list, but his time is not now.
34. Andy Dirks, RF, DET:
He'll get most of the playing time in right field over Garcia this World Series, but Garcia could see action if the Giants throw lefties Bumgarner or Zito at them. Regardless, Dirks is a gamer.
35. Al Alburquerque, RHR, DET:
There should be specific spots against the Giants where Alburquerque can come in and get that much-needed ground ball.
36. Quintin Berry, LF, DET:
His speed is an important element coming off the bench or playing left field for the Tigers.
37. Ryan Theriot, INF, SF:
Theriot is a team player and possesses tremendous makeup. He can help the Giants win games in so many different ways off the bench.
38. Joaquin Arias, INF, SF:
He's an above-average defender at second base, shortstop and third base, and could become valuable if there is an injury.
39. Drew Smyly, LHP, DET:
Has a chance to develop into a 12- to 15-game winner but will have a limited role in this World Series.
40. George Kontos, RHP, SF:
Picked up in the
Chris Stewart
deal with the
New York Yankees
, the Northwestern product played an important role of giving the Giants quality bullpen depth in the second half.
41. Rick Porcello, RHP, DET:
This could be his final season as a Tiger and is a candidate to be traded this winter.
42. Jose Valverde, RHR, DET:
He's gone from a top 10 player to 42nd on this list. Oh how life can change quickly for closers in Major League Baseball.
43. Gerald Laird, C, DET:
Has done a great job against left-handed starters and could see time if the Giants run out Bumgarner or Zito.
44. Brennan Boesch OF DET:
Has great power from the left side and stock just collapsed. Great guy.
45. Ramon Santiago, INF, DET:
The switch hitter could be called upon to pinch hit or as a defensive replacement, but not much more.
46. Jose Mijares LHR, SF:
The third left:hander out of the bullpen picked up from the Royals during the season. He'll be the first left out of the bullpen if needed early in the game only.
47. Xavier Nady OF, SF:
Veteran bat with power from right side.
48. Aubrey Huff 1B, SF:
Veteran bat with power from left side.
49. Guillermo Mota, RHR, SF:
No longer taking cough medicine.
50. Danny Worth, INF, DET:
He might get an at-bat or two during the series. However, if he's not on this list,
Brayan Villarreal
will be. The hard-throwing right-hander struck out 66 in 54.2 innings pitched. He's got future closer written all over him.
October, 22, 2012
10/22/12
12:45
PM ET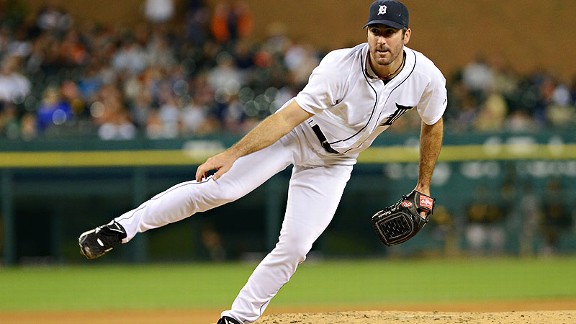 Mark Cunningham/Getty ImagesDrafting Justin Verlander in 2004 served as the bedrock move for this year's AL Central champs.
Getting to the World Series is difficult and requires not only shrewd personnel decisions but also a little luck. For the
Detroit Tigers
, their moves have culminated in back-to-back AL Central Division titles and their first appearance in the Fall Classic since 2006.

Let's take a look at the five pivotal moves made by Detroit Tigers president/general manager Dave Dombrowski and Tigers owner Mike Ilitch and their front-office staff that got the Tigers to where they are today.
A room full of Tigers scouts sighed with relief when the
San Diego Padres
selected Mission Bay (Calif.) H.S. shortstop
Matt Bush
with the first overall pick in the 2004 draft, as that allowed Detroit to take Old Dominion flamethrower Justin Verlander with No. 2 pick.
The Tigers' leadership, led by Dombrowski, had previously worked for the Marlins, and they felt they were able to accomplish the same thing when they took
Josh Beckett
with the second overall pick in 1999. To build a championship-caliber team, you have to start with an ace -- and that's exactly what the Tigers accomplished with Verlander, who is both a Cy Young Award winner and an AL MVP.
The Tigers shocked the baseball world in December 2007 when they were able to get one of the game's best bats, Cabrera, along with
Dontrelle Willis
for a package of five prospects, including overrated former first-round selections
Cameron Maybin
and
Andrew Miller
, among others. None of the five prospects is still with the Marlins, and only Maybin has made any sort of impact at the major league level. Cabrera has hit .323/.401/.579 with an average of 37 homers per year since coming to Detroit. It was one of the most lopsided trades in generations.
The game's biggest three-team trade in the last decade was orchestrated by Dombrowski, as he entertained everyone at the 2009 winter meetings in Indianapolis. By dealing the team's most popular player,
Curtis Granderson
, to the
New York Yankees
, and right-handed starter
Edwin Jackson
to the Diamondbacks, the Tigers got Coke and Jackson from the Yankees, as well as Scherzer and LHP
Daniel Schlereth
, while the Yankees got Granderson and shipped
Ian Kennedy
to the Diamondbacks.
The deal worked for all three teams and, interestingly, each club has enjoyed times when it has gotten the best of the trade. However, the real winner in this triangular transaction is the Tigers. Without this move, they're not playing in the World Series. Jackson has developed into a Gold Glove-caliber center fielder who can run it down in the gaps while providing the Tigers with a legitimate leadoff hitter. Scherzer has become arguably their second-best starter behind Verlander, and Coke became their closer this postseason; his 0.00 ERA in the ALCS shut the door on the team that traded him -- the Yankees.
Tigers manager Jim Leyland was told last offseason the team didn't have enough money to sign an additional bullpen arm that would have cost them approximately $1 million. A week later he was informed that Ilitch -- who made his money as founder of the Little Caesar's franchise -- had approved a nine-year, $214 million contract for Prince Fielder.
Of course, it was the injury to DH
Victor Martinez
that opened the door for the Fielder signing. Nonetheless, the signing sent shockwaves throughout the industry. Many teams weren't willing to give more than five years, let alone nine. Owners throughout the game bristled at the contract. Without Fielder the Tigers are not in the World Series, and Little Caesars Pizza never tasted better.
Ilitch wants to a win a World Series so bad that he was willing to pull the trigger on this magnificent power-hitting first baseman who brought leadership, production and a winning attitude from Milwaukee. Fielder helped former teammate
Ryan Braun
win the NL MVP in 2011, and this year gave the same protection to Cabrera, who won the Triple Crown. And although a lot of risk remains for the latter three years of this contract, the investment was made so Ilitch could have the best possible chance to win a World Series. And he's now just four wins away.
The Tigers made another lopsided trade just before the deadline in 2011, when they sent
Charlie Furbush
, Francisco Martinez,
Casper Wells
and
Chance Ruffin
to the
Seattle Mariners
in exchange for Doug Fister and
David Pauley
. Fister was by far the best player in the deal and gave the Tigers the No. 3 starter they so desperately needed. His nasty sinker and ability to pound the strike zone and pitch in big games has made him incredibly valuable. Fister has gone 18-11 with a 2.95 ERA since joining the Tigers, with an impressive WHIP of 1.08.
June, 8, 2012
6/08/12
10:18
AM ET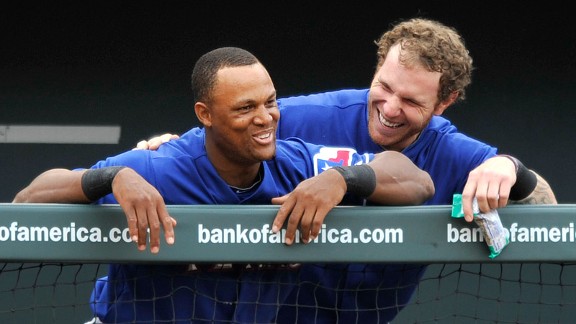 AP Photo/Gail BurtonBeltre and Hamilton remain the Rangers' best players and should be All-Stars again.
After two months of the season, there are already some clear and obvious choices for the 2012 All-Star Game. But there are also some not so obvious names, as well as intriguing names among as possible first-time All-Stars, too.
The fans will vote the starters in; managers will pick their favorites. So while the best players in baseball are supposed to be representing both leagues, due to the process, however, the best players often times don't start or even make the team.
So free from any variables like that, here are my first-guess picks for the American League All-Star team. This includes the starting lineup, the bench and the pitching staff. To view my first-guess picks for the National League roster,
click here
. Tomorrow we will follow up with the 10 most intriguing possible All-Stars from my rosters.
Don't agree? Leave a comment and tell me who you think should be on the 2012 All-Star Teams.
AL starting lineup
First base: Paul Konerko, Chicago White Sox
This will be his sixth All-Star appearance and third consecutive nod. Despite missing games after getting hit in the face by a
Jeff Samardzija
fastball, Konerko leads all AL first basemen in OPS, and his clutch hitting has been instrumental in the White Sox's first place start.
To continue reading this article you must be an Insider
January, 25, 2012
1/25/12
11:41
AM ET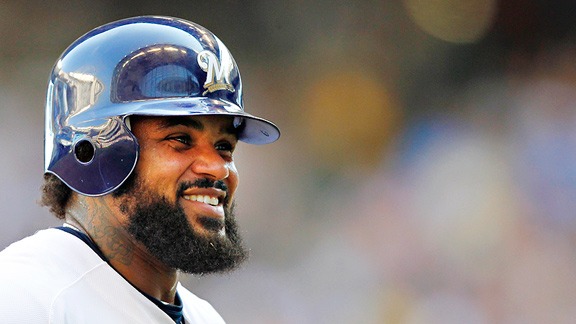 AP Photo/Jeffrey PhelpsHe's headed to the team his father played for, but Prince will leave his own footprint.
While Cecil Fielder launched home runs for the
Detroit Tigers
from 1990-96, legend has it his 12-year-old son, Prince, hit a home run into the upper deck of cavernous Tiger Stadium.
Of course, legends are embellished, and Prince's shot merely went over the fence and not into the upper deck. However, after signing a reported nine-year deal with the Tigers worth $214 million yesterday (remarkably close to
our projections
), it's time a new legend of Prince began in Detroit.
It was a deal that came together quickly, not unlike how the
Los Angeles Angels
rocked baseball's winter meetings by signing the top free-agent hitter in
Albert Pujols
and the top free-agent pitcher in
C.J. Wilson
.
It also was a deal that might never have happened were it not for
Victor Martinez
.
To continue reading this article you must be an Insider
October, 13, 2011
10/13/11
11:22
AM ET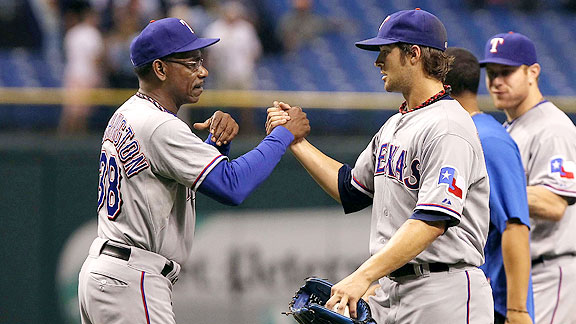 Kim Klement/US PresswireRon Washington's upbeat demeanor has rubbed off on his players and coaches.
One of the charms of
Texas Rangers
manager Ron Washington is his rapport with his players and his ability to stay loose, even under extreme pressure. He always seems to be smiling, shaking hands or laughing. Reds manager Dusty Baker is much the same way.
If ballclubs do indeed reflect the demeanor of their skippers, there is little wonder why the Rangers' clubhouse is one of the loosest I've ever seen during a postseason series.
Any baseball person will tell you that whether you're at the plate, on the mound or in the field, if you aren't loose, you're tight. And when you play tight, bad things happen. However, don't mistake loose for caring less about the game or the situation. As we saw Wednesday night,
Michael Young
was all business when he shot a line drive back up the middle to put the Rangers ahead 3-2; we saw it when catcher
Mike Napoli
gunned down
Austin Jackson
at second base in the 10th; we saw it as right fielder
Nelson Cruz
threw a laser to Napoli to cut down
Miguel Cabrera
at the plate in the eighth.
Tonight, as the Rangers attempt to clinch the American League pennant against the
Detroit Tigers
, Washington's guys will be focused and prepared, but they will also seem to be having as much fun as kids playing Wiffle Ball in the backyard.
To continue reading this article you must be an Insider
October, 8, 2011
10/08/11
12:36
PM ET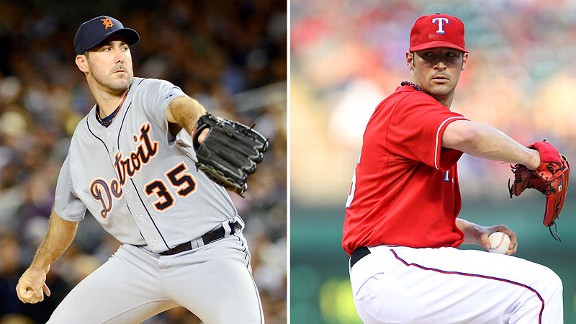 Getty Images, US PresswireJustin Verlander and C.J. Wilson take the mound in Game 1 of the ALCS.
The
Detroit Tigers
and
Texas Rangers
followed very similar paths to the American League Championship Series. Over the last 12 months, both signed impact free agents and made shrewd trades for undervalued players in the offseason and at the July 31 trade deadline. They both acquired effective eighth-inning relievers to set up their closers and boast young, strong-armed rotations. Indeed, Tigers general manager Dave Dombrowski and the Rangers' Jon Daniels followed the same template for success and find their teams pitted against near mirror images of themselves.
• Their managers, Jim Leyland and Ron Washington, respectively, pushed all the right buttons in the AL Division Series and have ample World Series experience. Both are very intelligent, calm, level-headed, focused and tremendous under pressure.
That includes making unpopular decisions as Leyland did by holding back
Justin Verlander
and not allowing him to pitch in Game 5 of the ALDS. The gamble paid off and Verlander will be well-rested for this series. Verlander boasts a fastball that will routinely touch 96-97 mph, even in the late innings, with a curve and changeup that easily rates a 70 across the scouting 20-80 scale.
To continue reading this article you must be an Insider
September, 30, 2011
9/30/11
2:20
PM ET
Here's what I'll be looking for as I watch Game 1 of both American League Division Series tonight.
• Realistically, Detroit ace
Justin Verlander
has to beat
CC Sabathia
for the Tigers to have a chance of winning the series. I'm looking to see how well Verlander can utilize his secondary offerings against the Yankees' potent lineup. Unlike a lot of teams, the Yankees can handle high-90s velocity, as they showed against
David Price
on Wednesday night.
To continue reading this article you must be an Insider