The GM's Office:

Justin Upton
November, 20, 2014
Nov 20
11:17
AM ET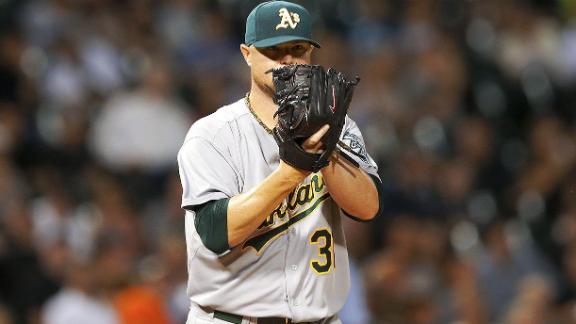 Major League Baseball's offseason is in full swing, complete with 13-year contracts, a trade including a Gold Glover and a good, young pitcher, and a key free-agent signing or two. But that's just the beginning of this wild and wooly offseason.
With that, here are 10 bold predictions I see happening in the weeks ahead:
1. Jon Lester re-signs with the Boston Red Sox
Most analysts think Lester has pitched his last game for the Red Sox. … I'm not one of them. I think the
Chicago Cubs
will offer the most years (six) and dollars, but a return to Boston for fewer years (five) and less money is my prediction. The Red Sox desperately need a top-of-rotation starter and won't be a legitimate contender unless they get one. Lester was happy in Boston, and unless the Cubs blow the Sox's offer away, I think that's where he lands.
---
2. Marlins sign James Shields
The Marlins shocked the baseball world with the signing of
Giancarlo Stanton
to a 13-year deal, and they'll do it again by landing a top-of-rotation starter.
February, 7, 2013
2/07/13
2:00
PM ET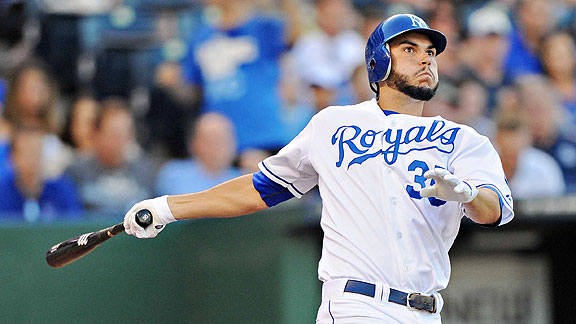 Peter G. Aiken/US PresswireHe had a solid rookie year, but Hosmer is primed for true a breakout year in 2013.
There's an old scouting adage: "He'll tell us when he's ready."
While that mainly pertains to gauging minor league players and their major league readiness, it also applies to young major leaguers trying to live up to their potential and looking for that "breakout" season.
It's that season when all the tools, talent and abilities come together to fulfill the many high expectations on all the scouting reports. It offers the talent evaluators confirmation that they got it right while proving the critics wrong.
Take a look at the breakout seasons
Matt Kemp
,
Andrew McCutchen
and
Carlos Gonzalez
enjoyed over the past several years. Long regarded as five-tool players with elite physical talent, their teams and fans waited and waited for the corresponding elite production to come. It happened for a 24-year-old Kemp in 2009, when he hit 26 homers with 101 RBIs and won his first Gold Glove and Silver Slugger awards after slowly increasing his production since his major league debut in 2006. Likewise, the same explosion happened for Gonzalez in 2010 at age 24, and then for McCutchen in 2012 at age 25.
The 2013 season should be no different. Here are seven individuals, all just about the same age as our aforementioned trio, who have barely scratched the surface of their massive potential and are primed to be among baseball's breakout players in 2013.
1. Justin Upton | OF | Age: 25

With six years of experience, Upton is primed to finally reach his potential. He's different than Kemp, McCutchen and Gonzalez because he's already had a successful start to his career that includes two All-Star appearances, a Silver Slugger Award and a top-five showing in 2011 NL MVP voting. He has the potential to produce 35 homers and 100 RBIs annually, but he has yet to put together a consistent year from start to finish that would really signify his arrival. Being traded to the
Atlanta Braves
might just be the trigger. Playing beside his brother B.J. and surrounded in the lineup with other elite young players such as
Jason Heyward
and
Freddie Freeman
could spur him to bring his game to another level. The Diamondbacks didn't believe in him and he will be motivated to show them that they were wrong to trade him.
To continue reading this article you must be an Insider
December, 27, 2012
12/27/12
8:25
AM ET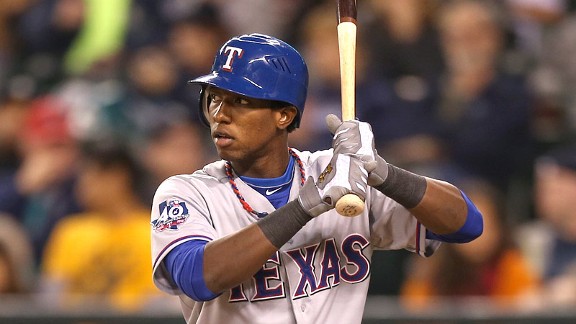 Otto Greule Jr/Getty ImagesTexas is hesitant to trade Jurickson Profar, but a certain slugger could change their mind.
We've already seen plenty of wheeling and dealing this winter, but there are some teams with holes still to fill. Here are five moves out there to be made that would change the fortunes of a few contenders.
1. Texas Rangers-Miami Marlins trade
To continue reading this article you must be an Insider
December, 4, 2012
12/04/12
9:00
PM ET
NASHVILLE -- Trades in Major League Baseball always seem to leave fans on one side unsatisfied. It's not because bad trades are taking place -- it's really about motive. Name a recent trade between two teams that made
both
teams better immediately. It just doesn't happen. Deals get done to shed salary, provide flexibility, clear a personality from the clubhouse, deepen the prospect pool -- you name it. I understand, because I've had to make these deals. But it's a legit complaint: Where is what GMs might call "a good baseball trade?"
They don't exist anymore. Maybe only in your fantasy league, which is part of the reason people love to play.
That said, I can think of a good baseball trade that improves the immediate prospects for two franchises, and makes sense right now. The
Arizona Diamondbacks
should send
Justin Upton
to the
Texas Rangers
for
Elvis Andrus
. Let's look at how this works from both sides.
The Rangers' standpoint
Texas manager Ron Washington has no reason to worry about his future at shortstop. Even in the absence of Andrus,
Jurickson Profar
truly is ready to handle the shortstop job every day. This is a player with an exceptional glove, great range, and the ability to adjust in the face of failures at the plate. As Washington has told me, Profar is the kind of young talent who will "play himself into ready" -- meaning he has the makeup to bounce back, quickly adjust, and fight through failure. And you're still talking about a kid that had an .820 OPS in Double-A last year and doesn't turn 20 until February. The immediate health of the Rangers at shortstop minus Andrus is fine.
Given that Profar needs to be up, Texas would face the issue of moving either an established star in
Ian Kinsler
, a very good shortstop in Andrus, or a prospect in Profar to the outfield or possibly first base (Kinsler). Where's the good option? Kinsler is inked for four more years, isn't really tradable, and doesn't want to switch positions. Andrus is a Gold Glove-quality shortstop, but Profar has more upside. One of these three has to go, and it won't be Kinsler or Profar.
Andrus, 24, has two years left on his deal at just over $11 million total, and he won't be back. It just won't work, not with Profar and Kinsler around, and the Rangers need to have the mindset of moving him when he's at peak value.
[+] Enlarge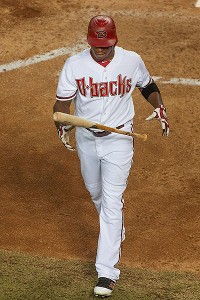 Darren Carroll for ESPN The MagazineUpton was leading MLB in strikeouts when he was benched in June.
Enter Upton.
For one, Texas could use the outfield bat. Upton has three years left on his deal at a total of $38.5 million, so you get a degree of certainty and a chance to further develop the 25-year-old. He make a bit more than Andrus, but you get an extra year and Texas has a bit more payroll to play with. Upton provides another very good bat in a deep lineup and is capable of hitting .300-plus with 30-plus home runs. His bat could thrive in Texas. But that's just the baseball potential. As a young player, he could thrive under Washington, whose enthusiastic style might work better with Upton's makeup than Gibson's hard-nosed approach.
And if Texas retains
Josh Hamilton
, you could have a lineup that starts Kinsler, Profar,
Adrian Beltre
, Hamilton and Upton. Is that terrifying or what? Great power, some speed, and total balance. The deal makes Texas a better team, immediately, and with a better look for the future.
But it helps Arizona, too.
The D-backs' standpoint
Almost two years ago, Diamondbacks GM Kevin Towers publicly floated the idea of dealing Upton. He listened, and when the right package couldn't be put together, he opted not to pull the trigger. Arizona came back, Upton played well, and the team went on to win its division in 2011. By once again publicly floating Upton as a player teams can be bidding on, he's admitting his desire to move the player. You can't float the guy a second time, not pull off a deal, then bring him back to spring training and act like it's business as usual.
Andrus would make the Diamondbacks better, and especially so when you consider the market. The market for shortstops with star potential is obscene. Just look at what
Jose Reyes
got. If you don't have an internal solution at shortstop and aren't playing with Monopoly money, you have to draft or trade for one. With nobody in the pipeline that's ready to fill their void at shortstop, Andrus is that trade.
In Andrus, the D-backs get a guy that is special in the field, and is just 24, so he'll continue to get better. He moves well to both sides, and will save runs in that fast infield in Arizona. His bat has improved in each of the last two seasons, and he has a .727 OPS last year -- and again, this is still a young player by any standard. He's well-liked, and has experienced winning. He'll be a good fit in the clubhouse.
What the D-backs need to remember is it's a lot easier to find 20-plus home runs at a corner outfield position than it will be to find a very good solution at shortstop. Upton has a high ceiling with his bat, but it's rare to be able to move
any
kind of player for a very good major league shortstop.
This is a good baseball trade. Two young players, one 24, one 25; two teams that fill needs; two teams that get out of the trade cycle of perpetual trade whispers surrounding a key member of the team. Texas and Arizona should find a way to get it done.
November, 19, 2012
11/19/12
11:20
AM ET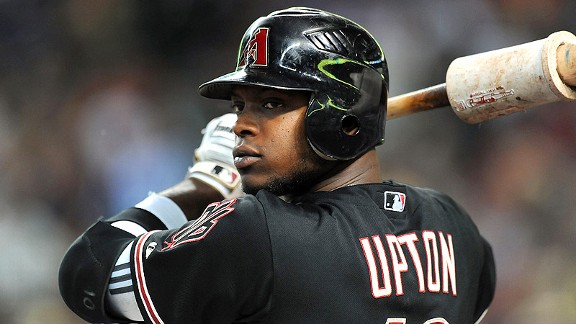 Norm Hall/Getty ImagesWhich trade option will fetch the Diamondbacks a maximum return on Justin Upton?
As early as two years ago the
Arizona Diamondbacks
had already made it public they were open to listening to offers for outfielder
Justin Upton
. They never got an offer they liked, so they held on to him. That decision paid off in 2011 when Upton hit .289 with 39 doubles, 31 home runs and helped lead the D-backs to an NL West championship while finishing fourth in the NL MVP voting.
However, that was then, this is now.
A year later, after Upton hit .280 with just 17 home runs, the club is back listening to offers. Although the team says it'll listen on all players, the fact this has become as public as it has is no coincidence. The team has been aggressively trying to trade its 24-year-old talent and will surely be seeking a long-term solution at shortstop, third base and/or pitching help. While Arizona's ownership is now
trying to downplay the likelihood
of an Upton trade, we know the club is shopping him, and a deal should not surprise anyone.
Here is a look at five teams that might have the players that fit the Diamondbacks' long-term needs. D-backs general manager Kevin Towers certainly should target them for an Upton trade.
Trade option No. 1: SS Elvis Andrus or SS Jurickson Profar


This is one scenario that is already making the rounds, although the Rangers have told the Diamondbacks that they will not move either Andrus or Profar in a deal for Upton. Towers will be patient and meticulously work on persuading Rangers GM Jon Daniels, because the only way the Rangers get Upton is to swap him for one of the talented middle infielders. If Josh Hamilton signs elsewhere, that might force Daniels to change his mind. However, my intel says the Rangers aren't going to change their minds.

Option No. 2: 3B Mike Olt and LHP Martin Perez

If the Rangers really want Upton, they can try to convince Arizona to accept a package of Olt and Perez for Upton. This trade would work well for Texas because Adrian Beltre is signed long-term and with Matt Harrison, Derek Holland, Alexi Ogando and Yu Darvish, Perez is expendable. The problem is although Towers is a fan of Olt, he might not be good enough to be the centerpiece of an Upton deal. While it seems like Upton has been around forever, he is only a year older than Olt.

Detroit Tigers | Trade targets: 3B Nick Castellanos and RF Avisail Garcia



This is probably the best fit for Towers. Castellanos has the potential to be an impact bat who should develop into an average defender at third base, but he is blocked in the big leagues by the AL MVP, which is why the Tigers have tried him in the outfield, where he has less value. Garcia is a good athlete with bat control who should be an asset as a big league regular down the line.

The move would make the Diamondbacks younger and a high-ceiling player like Castellanos would fit their long-term plans. The Tigers, on the other hand, would have three above-average defenders in Torii Hunter, Austin Jackson and Upton and would have arguably the best lineup one through six in the American League with Jackson, Hunter, Miguel Cabrera, Prince Fielder, Upton and Victor Martinez.

Tampa Bay Rays | Trade targets: RHP Jeremy Hellickson and OF Drew Vettleson



The Diamondbacks would like to get another proven starter and Hellickson is one of the better young pitchers in baseball. Hellickson, 25, has a career ERA of 3.06 and a 1.19 WHIP. Vettleson, 21, is a pure hitter with great plate discipline and the ability to use the whole field. His power finally showed up this year at low Class A Bowling Green when the 2010 supplemental first-rounder belted 24 doubles and 15 homers in 132 games.

Cleveland Indians | Trade targets: SS Asdrubal Cabrera, RHP Vinnie Pestano



The Indians need a complete makeover after they went 68-94 last year. They took a step in the right direction with the hiring of two-time world champion manager Terry Francona. However, the next step is to rebuild the starting rotation and the middle of the lineup. The team's best prospect is 18-year old Francisco Lindor, who the Indians feel will be their long-term solution at shortstop.

This might allow them to think about moving Cabrera in the right deal. The Diamondbacks, desperate for a long-term solution of their own at shortstop, would have to at least entertain the thought of an Upton-Cabrera move. Upton would give the Indians a much-needed cleanup hitter and middle-of-the-order bat that could anchor the lineup for years. And with Shin-Soo Choo set to be a free agent next winter, Upton could occupy right field for Cleveland. Knowing that Towers hates making deals without getting a bullpen arm in return, he might as well also ask for Pestano in this major trade.

Atlanta Braves | Trade targets: RHP Julio Teheran, SS Nick Ahmed



The Braves are set at shortstop for years to come with the exciting Andrelton Simmons. He is about as untouchable as any prospect in the organization, and that makes Ahmed expendable. (Word is the Rangers tried to use Olt to get Simmons in hopes of flipping him, Andrus or Profar for Upton, but the Braves wouldn't do it.)

Ahmed, 22, was the Braves' second-round selection in the 2011 draft and had a solid year at high Class A Lynchburg, both offensively and defensively while swiping 40 bases. Teheran remains the Braves' top pitching prospect and once his command and control arrive, he should be a solid No. 2 or No. 3 starter for years. For the Braves, Upton would fit nicely in left field while Martin Prado could be moved to third base to replace Chipper Jones. While the Braves are known for sticking to a strict payroll, they are taking Jones off the books this year, and Upton's contract would replace Jones' in the budget.

If I was in Towers' shoes I wouldn't trade Justin Upton. I would rather spend time trying to sign his brother, B.J., who could play center field next to him, and use Adam Eaton and A.J. Pollock as trade pieces and find lesser upgrades on the left side of the infield. I think both Uptons have the potential of playing at even a higher level than we've seen, especially if they are able to play together. Why not in Arizona?
September, 6, 2012
9/06/12
11:11
AM ET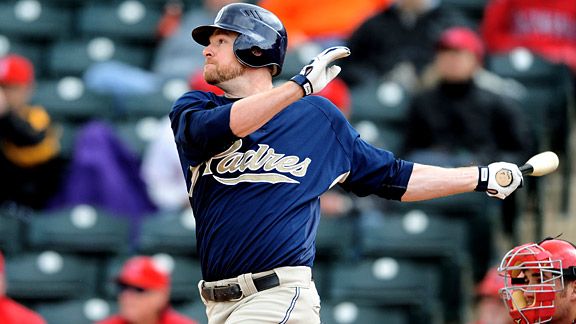 Mark J. Rebilas/US PresswireThe Phillies should acquire Chase Headley if Chase Utley isn't moved to third base in the offseason.
As the pennant races come down the stretch, many teams already have set their sights on 2013. There are three that stand out to me as poised to make a quick turnaround. In fact, two of the three teams won their division in 2011, and all three have set themselves up well -- whether by acquiring players or jettisoning them at the July 31 trade deadline -- for 2013. With just a couple of additional pieces, as well as some star players returning to form and a precocious prospect or two, these three teams will be in the postseason hunt next year.

Arizona's 94-68 record and NL West title in 2011 were driven mainly by MVP candidate
Justin Upton
and Cy Young Award candidate
Ian Kennedy
. Only a year later, however, both have struggled mightily. Arizona might not even finish .500, leaving management no recourse but to retool. As such, the left side of the infield has been traded, with
Ryan Roberts
sent to the
Tampa Bay Rays
and
Stephen Drew
to the
Oakland Athletics
. But that retooling also has left the Diamondbacks in great position to jump right back in the race in 2013.
To continue reading this article you must be an Insider
August, 15, 2012
8/15/12
11:00
AM ET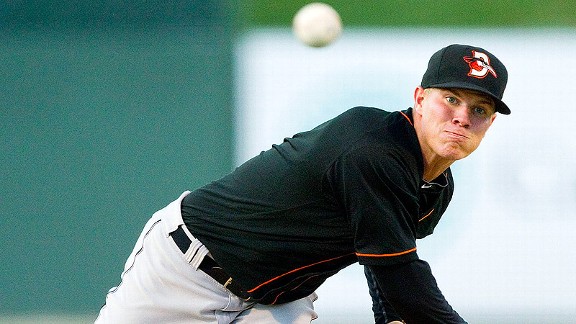 AP Photo/Brian WesterholtTop pitching prospect Dylan Bundy could be an X factor for the Orioles if they call him up.
With a little more than six weeks remaining in the 2012 season, tight divisional races and young, ultra-talented players have made this season one of the most exciting in years.
There are easily 20 teams still within seven games of making the playoffs and blossoming stars such as
Mike Trout
,
Andrew McCutchen
,
Chris Sale
and
Stephen Strasburg
are legitimate contenders for MVP and Cy Young awards in their respective leagues.
However, what adds another dimension to the next six weeks are possible "X factors" -- the circumstance or player who has the potential to determine which of those 20 teams make the playoffs and which go home. Here is a quick look at potential X factors for the top contending playoff teams as of today.
---
National League

Washington Nationals
Circumstance
: The Nationals continue to insist that they'll shut down Strasburg when he reaches an innings pitched total in the 160-180 range despite the fact they have a chance to win the World Series.
X factor
:
Ross Detwiler.
The lefty has pitched at least seven innings and yielded just two earned runs or fewer in four of his past six starts and will be crucial for the Nationals to stave off the
Atlanta Braves
.
To continue reading this article you must be an Insider
July, 18, 2012
7/18/12
12:15
PM ET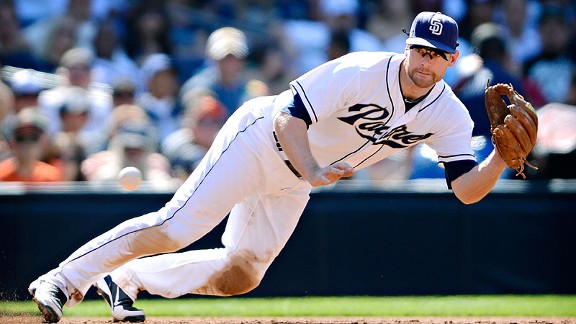 Andy Hayt/Getty ImagesThe Dodgers area looking to upgrade at third base and Headley could be one of their targets.
Conventional wisdom approaching this year's July 31 trade deadline said there would be more buyers than sellers. While that has indeed turned out to be the case, a couple of factors have complicated many possible trade scenarios.
First, the new Collective Bargaining Agreement no longer affords draft-pick compensation for players acquired in an in-season trade who are also free agents at season's end. Thus, a team acquiring
Zack Greinke
this year will receive no compensatory draft picks if they are unable to retain him after the season.
It was supposed to be a seller's market, but buyers have been reluctant to forfeit their futures knowing they might have absolutely nothing to show for it. In other words, teams have to recalibrate their expectations of what they can get back for a rental player.
Secondly, one would have thought the establishment of a second wild-card berth in both leagues would motivate some teams on the lip of the postseason to drive the market. However,
these same teams have been leery of trading for a "rental" player because of the architecture of the wild-card series; it's only one game. To mortgage the future for one nine-inning elimination game just doesn't make sense for teams that are realistically only contending for a wild-card berth.
Therefore, the teams most likely to make a trade for a top-tier "rental" player are clubs that believe they can win the division. A one-game wild card playoff combined with no draft-pick compensation forces a club to realize that renting on Park Place for a couple of months might not be worth the long-term cost.
---
Buzz around the league
• The
Philadelphia Phillies
are prepared to offer
Cole Hamels
a
Matt Cain
-type deal, but if that doesn't work, general manager Ruben Amaro is prepared to trade him. The most likely landing places are the
Texas Rangers
and
Los Angeles Dodgers
.
To continue reading this article you must be an Insider
July, 12, 2012
7/12/12
11:15
AM ET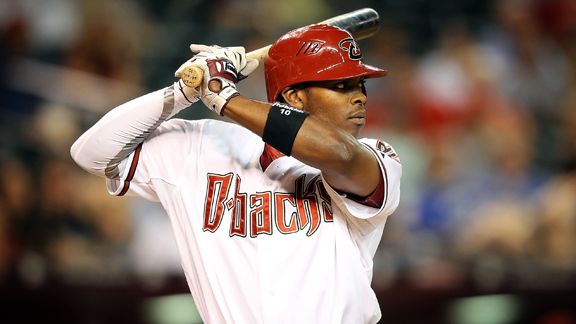 Christian Petersen/Getty ImagesTrading Justin Upton is not impossible. It'll just be really expensive.
Let's clear up some things about
Arizona Diamondbacks
outfielder
Justin Upton
and the rumors he might be traded.
First, understand that general manager Kevin Towers is always willing to listen to trade ideas when other GMs ask about Upton, his best position player. Of course, that doesn't mean Towers is going to trade him. The fact is he isn't close on any deal involving Upton right now.
Rumors have swirled about a potential deal to the
Pittsburgh Pirates
, but the reality is Towers has had very few conversations with the Pirates. GM Neal Huntington did call Towers, as he has every other general manager as he seeks a young middle-of-the-order bat. However, the fact is the two teams don't match up well, and a third team probably would need to be involved for the Pirates to have a chance to trade for Upton.
Despite a slow start, Upton remains one of the best right fielders in baseball, and I can't imagine Arizona actually trading him. He's just a year removed from being an NL MVP candidate and leading the D-backs to an NL West title. At 24, his prime years are ahead of him, and his potential of hitting .300 with 35 home runs and 120 RBIs undoubtedly will be realized in time.
Further complicating matters is Upton's limited no-trade clause to four teams. The teams change from year to year, and ESPN The Magazine's Buster Olney reported that the no-trade clause centers on big-market teams, and almost certainly includes the Yankees.
Nonetheless, where there is smoke there is usually fire, and these trade rumors are not completely without merit. With that in mind, I thought I would try to find five potential deals that might make sense for the D-backs to trade Upton. Keep in mind that these are simply deals I think would make sense for both parties, not necessarily deals that are on the table.
To continue reading this article you must be an Insider
December, 28, 2011
12/28/11
10:40
AM ET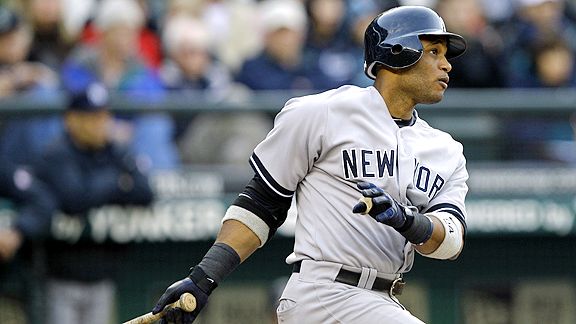 AP Photo/Elaine ThompsonWhen compared to his production, Robinson Cano's contract is a bargain.
It is really difficult to compare the best contracts in baseball based on the present salary infrastructure. To compare and rank them, you have to take into account arbitration eligibility, free-agent years and non-arbitration years. In addition, one must compare each year within arbitration eligibility separately, because a player with three years of eligibility can be worth millions more than a player with one or two years of eligibility.
Keep in mind that these rankings must assume that the player stays relatively healthy through the length of the contract.
When you factor in a player's production against his cost -- by total cost of the contract or by year (average annual value) -- it's easy to see why these are the 10 best contracts in baseball right now.

Hands down, Cano is one of the top five players in the American League right now. For all the great work that Yankees general manager Brian Cashman has done for the Yankees -- signing free agents
CC Sabathia
and
Mark Teixeira
and trading for
Curtis Granderson
or drafting players like
Phil Hughes
-- he doesn't get enough credit for his foresight in shrewd multiyear deals like Cano's.
---
To continue reading this article you must be an Insider
September, 13, 2011
9/13/11
10:22
AM ET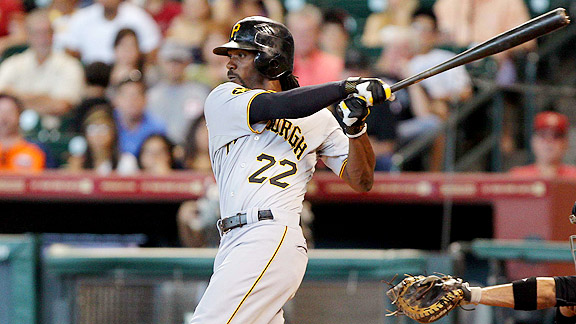 Troy Taormina/US PresswireIt might be best for Andrew McCutchen and the Pirates to wait before inking a long-term contract.
It's been reported throughout the year that the
Pittsburgh Pirates
would like to sign
Andrew McCutchen
to a long-term deal of five or six years that would buy out his arbitration years, as well as a year or two of potential free agency. McCutchen and his agent have engaged in these talks, but from what I'm hearing both sides continue to be far apart.
Negotiations like these can be tricky because McCutchen won't hit the open market until after the 2015 season, and -- unlike with a free agent -- there is no need to strike a deal. The Pirates have their highest leverage this year because McCutchen is not yet eligible for arbitration. Based on the rules of the collective bargaining agreement, he will get a slight raise from the $452,500 he is earning this year. The leverage shifts to McCutchen next offseason if he continues to stay healthy and his production continues to rise. That's because he could be in line for a huge raise via arbitration. The
Colorado Rockies
waited a year too long to extend
Carlos Gonzalez
and it ended up costing them a seven-year, $80 million deal. The
Los Angeles Dodgers
will pay a price this winter or next for not having
Matt Kemp
locked up long-term when they had a chance last offseason.
To continue reading this article you must be an Insider