The GM's Office:

Jurickson Profar
November, 18, 2013
11/18/13
1:35
PM ET
The hot stove league is already fired up, as the
Philadelphia Phillies struck first
by signing outfielder
Marlon Byrd
last week. With such a weak free-agent class this offseason, teams will look heavily in the trade market.
Below you will find a proposed trade or free-agent signing that could help each National League team. On Tuesday I'll address the American League.
NL East
Atlanta Braves

The move:
Trade top pitching prospect Lucas Sims, shortstop Jose Peraza and
Alex Wood
to the
Tampa Bay Rays
in exchange for left-handed pitcher and former Cy Young Award winner
David Price
and outfield prospect Drew Vettleson.
November, 8, 2013
11/08/13
9:21
AM ET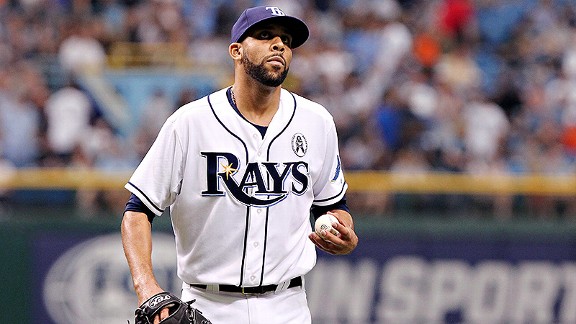 Kim Klement/USA TODAY SportsDavid Price might be wondering just where he'll land if he's traded this offseason.
There might be several quality free agent starting pitchers available this offseason, but the best pitcher on most teams' radars is a former Cy Young Award winner whose team simply can't afford him anymore.
Tampa Bay Rays
left-hander
David Price
has two more years left on his contract. With the cost of ace pitchers soaring toward $30 million per season and no new stadium deal in sight, the fiscally strapped Rays realize it's only a matter of time before they must deal Price.
To continue reading this article you must be an Insider
July, 10, 2013
7/10/13
10:25
AM ET
With just 21 days left before baseball's trade deadline, there's already been a flurry of early activity.
The
Los Angeles Dodgers
acquired
Ricky Nolasco
, the
Baltimore Orioles
added
Scott Feldman
and the
Washington Nationals
traded for
Scott Hairston
.
A number of factors are compelling teams to try to close deals earlier: a dearth of sellers and surplus of buyers created by two extra playoff slots, new free-agent compensation rules, and international bonus slots that teams have been trading left and right.
Still, if trades made in the next 21 days are of the caliber and size of the aforementioned trio, this year's deadline will prove to be somewhat ... boring. So I've cooked up five potential blockbuster trades I'd like to see. They make sense for all the teams involved and might add a little spice to the deadline.
To continue reading this article you must be an Insider
June, 20, 2013
6/20/13
12:15
PM ET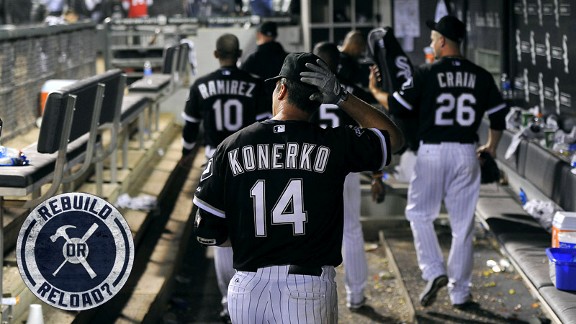 Brian Kersey/Getty ImagesThe White Sox should begin rebuilding and trade Paul Konerko, Alexei Ramirez and Jesse Crain.
With the addition of an extra wild-card team, it's becoming increasingly difficult for GMs to decide whether their teams are contenders, so I've decided to do it for them.
Wednesday I examined three teams on the edge of contention, and explained why the
San Francisco Giants
,
Los Angeles Dodgers
and
Cleveland Indians
should reload for 2013
. Today we look at a trio of clubs who should use the July 31 trade deadline to rebuild instead of chasing postseason aspirations that in all likelihood won't become reality.
The following three teams are in "rebuild" mode because they do not possess a strong enough core of players to allow them to compete this year even if they add a couple of complementary parts. For each club I have outlined their trade deadline strategy, trade chips and targets, as well as their dream deal.
To continue reading this article you must be an Insider
June, 19, 2013
6/19/13
12:40
PM ET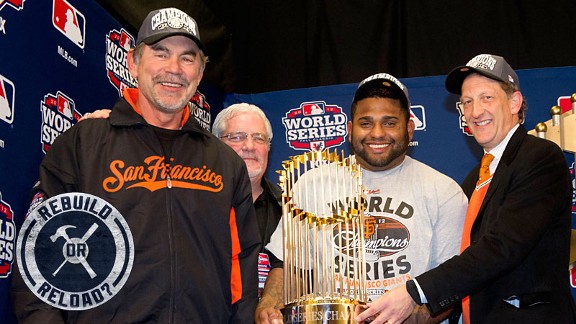 Ron Vesely/MLB Photos/Getty ImagesIf the Giants want to win their third title in four years they must make some moves.
With the addition of an extra wild-card team, it's becoming increasingly difficult for GMs to decide whether their team is a contender, so I've decided to do it for them.
Over the next two days I will be looking at six teams on the edge of contention, and explain whether they should reload for 2013 or take a long-term view and eschew 2013 contention in favor of rebuilding.
The following three teams are in "reload" mode because they all possess a strong enough core of players that will allow them to compete this year if they add a couple of complementary parts. For each club I have outlined their trade deadline strategy, trade chips and targets, as well as their dream deal.
To continue reading this article you must be an Insider
April, 12, 2013
4/12/13
9:04
AM ET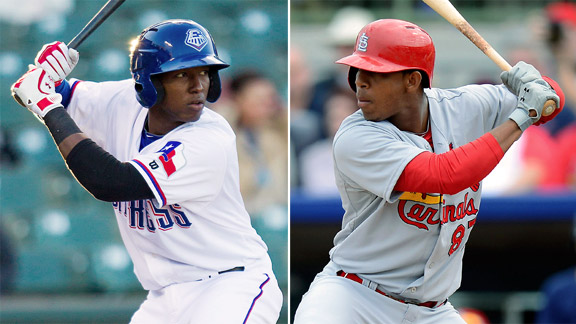 AP PhotoSwapping Jurickson Profar and Oscar Taveras makes sense for Texas and St. Louis.
A bad trade can haunt a general manager for life.
I say this while assessing the positions in which
St. Louis Cardinals
GM John Mozeliak and
Texas Rangers
GM Jon Daniels find themselves. Mind you, it's an enviable position; each GM is blessed to have one of the game's top prospects -- outfielder Oscar Taveras (Cardinals) and shortstop
Jurickson Profar
(Rangers). And yet neither team has any room for them on their major-league rosters.
That is, unless they swapped prospects.
With the Cardinals in need of a long-term solution at shortstop, Profar would fit perfectly with them. Likewise, Taveras fits with the Rangers, who are seeking a middle-of-the-order bat to play right field, especially with
Nelson Cruz
in his free-agent walk year.
A deal of this magnitude is referred to as a "challenge" trade, one that will impact both GMs' careers and their respective teams for years. It takes guts and fortitude to make a trade like this, and how well those players perform will forever be the gauge with which the team and its fans judge who "won" the trade.
To continue reading this article you must be an Insider
March, 22, 2013
3/22/13
10:45
AM ET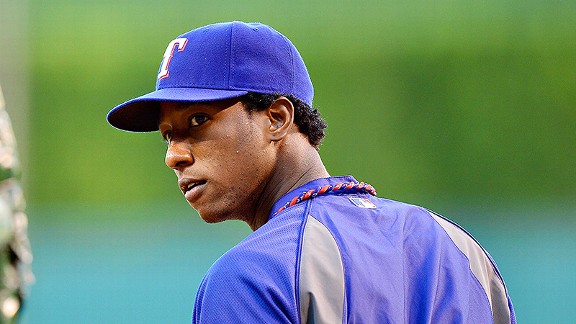 Jake Roth/USA TODAY SportsRangers GM Jon Daniels has a tough decision about what to do with prospect Jurickson Profar.
If the following scenario sounds keenly familiar to
Texas Rangers
fans, it should.
A veteran player realizes he must move to another position to make room for a young budding star, despite making the All-Star team and earning a Gold Glove the prior season. He refuses at first, but finally relents knowing the move is what's best for the team.
In 2009, after being a five time All-Star and coming off two straight Gold Glove campaigns, the Rangers moved
Michael Young
from shortstop to third base to make room for an exciting prospect named
Elvis Andrus
. Still seemingly in the prime of his career, Young bristled at first but eventually knew the team came first and shifted over.
Fast-forward to this spring training, where prospect
Jurickson Profar
has forced the Rangers into another tough decision. Profar is the best middle infield prospect in baseball. His talent says he's ready to be an everyday player at the major league level. Frankly, the Rangers should have named Profar their everyday second baseman before spring training even started. But that means All-Star second baseman
Ian Kinsler
must move to first base.
To continue reading this article you must be an Insider
February, 28, 2013
2/28/13
5:08
PM ET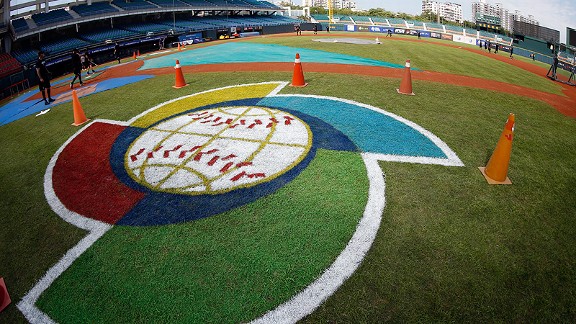 Yuki Taguchi/Getty ImagesThe only way to elevate MLB player participation in the WBC is to make it mandatory.
In the combined 15 years I served as general manager of both the
Cincinnati Reds
and
Washington Nationals
, I was always a huge proponent of the World Baseball Classic. Baseball is an international sport, and perhaps someday the World Series will include teams from around the world rather than just clubs from the United States and Canada.
Until then, the WBC is a welcome alternative. It's been a relative success internationally, underscored in 2009, when each game averaged 2 million viewers. Japan won both the 2006 and 2009 tournaments, while the United States, which has arguably the best collection of players in the world, has not fared well in the WBC mainly because so many players decline invitations to participate.
Their reasons for not playing are varied and justified to a certain degree. Money plays a part;
Justin Verlander
isn't participating for fear of injury during contract negotiations;
Jurickson Profar
is focused on making the
Texas Rangers
. If Profar plays in the WBC, it could mean the difference between making the team or not and receiving a big league paycheck or not.
Mike Trout
simply thought he needed a full spring training to be prepared for the regular season.
On the other hand,
Russell Martin
's
cavalier withdrawal from Team Canada
because they wouldn't let him play shortstop illustrates the somewhat lax attitude many MLB players have toward the tournament. Martin's actions essentially mock the WBC. Team USA has been guilty of this; they simply do not take the same amount of pride in the tournament as other countries such as Japan, Cuba, South Korea, Venezuela and the Dominican Republic. Sure, it's not the Olympics, but those countries seem to better understand the honor and privilege of representing one's country.
However, if the World Baseball Classic is to reach its potential and help the sport open doors to new revenues and audiences, we need to change the culture and attitude regarding major league players' participation. For this to happen, baseball must make participation mandatory by all healthy players, just as it does for the All-Star Game. It should become part of the player uniform contract as well as the collective bargaining agreement.
To continue reading this article you must be an Insider
December, 27, 2012
12/27/12
8:25
AM ET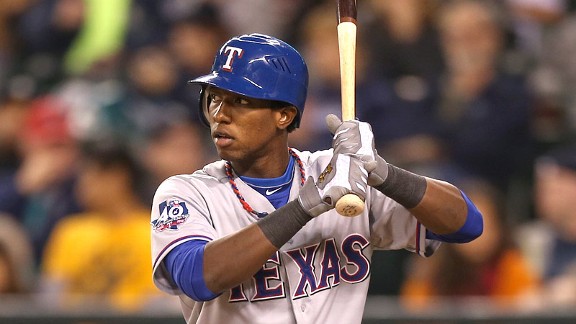 Otto Greule Jr/Getty ImagesTexas is hesitant to trade Jurickson Profar, but a certain slugger could change their mind.
We've already seen plenty of wheeling and dealing this winter, but there are some teams with holes still to fill. Here are five moves out there to be made that would change the fortunes of a few contenders.
1. Texas Rangers-Miami Marlins trade
To continue reading this article you must be an Insider
November, 19, 2012
11/19/12
11:20
AM ET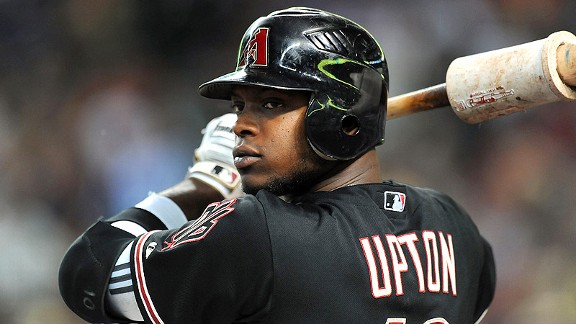 Norm Hall/Getty ImagesWhich trade option will fetch the Diamondbacks a maximum return on Justin Upton?
As early as two years ago the
Arizona Diamondbacks
had already made it public they were open to listening to offers for outfielder
Justin Upton
. They never got an offer they liked, so they held on to him. That decision paid off in 2011 when Upton hit .289 with 39 doubles, 31 home runs and helped lead the D-backs to an NL West championship while finishing fourth in the NL MVP voting.
However, that was then, this is now.
A year later, after Upton hit .280 with just 17 home runs, the club is back listening to offers. Although the team says it'll listen on all players, the fact this has become as public as it has is no coincidence. The team has been aggressively trying to trade its 24-year-old talent and will surely be seeking a long-term solution at shortstop, third base and/or pitching help. While Arizona's ownership is now
trying to downplay the likelihood
of an Upton trade, we know the club is shopping him, and a deal should not surprise anyone.
Here is a look at five teams that might have the players that fit the Diamondbacks' long-term needs. D-backs general manager Kevin Towers certainly should target them for an Upton trade.
Trade option No. 1: SS Elvis Andrus or SS Jurickson Profar


This is one scenario that is already making the rounds, although the Rangers have told the Diamondbacks that they will not move either Andrus or Profar in a deal for Upton. Towers will be patient and meticulously work on persuading Rangers GM Jon Daniels, because the only way the Rangers get Upton is to swap him for one of the talented middle infielders. If Josh Hamilton signs elsewhere, that might force Daniels to change his mind. However, my intel says the Rangers aren't going to change their minds.

Option No. 2: 3B Mike Olt and LHP Martin Perez

If the Rangers really want Upton, they can try to convince Arizona to accept a package of Olt and Perez for Upton. This trade would work well for Texas because Adrian Beltre is signed long-term and with Matt Harrison, Derek Holland, Alexi Ogando and Yu Darvish, Perez is expendable. The problem is although Towers is a fan of Olt, he might not be good enough to be the centerpiece of an Upton deal. While it seems like Upton has been around forever, he is only a year older than Olt.

Detroit Tigers | Trade targets: 3B Nick Castellanos and RF Avisail Garcia



This is probably the best fit for Towers. Castellanos has the potential to be an impact bat who should develop into an average defender at third base, but he is blocked in the big leagues by the AL MVP, which is why the Tigers have tried him in the outfield, where he has less value. Garcia is a good athlete with bat control who should be an asset as a big league regular down the line.

The move would make the Diamondbacks younger and a high-ceiling player like Castellanos would fit their long-term plans. The Tigers, on the other hand, would have three above-average defenders in Torii Hunter, Austin Jackson and Upton and would have arguably the best lineup one through six in the American League with Jackson, Hunter, Miguel Cabrera, Prince Fielder, Upton and Victor Martinez.

Tampa Bay Rays | Trade targets: RHP Jeremy Hellickson and OF Drew Vettleson



The Diamondbacks would like to get another proven starter and Hellickson is one of the better young pitchers in baseball. Hellickson, 25, has a career ERA of 3.06 and a 1.19 WHIP. Vettleson, 21, is a pure hitter with great plate discipline and the ability to use the whole field. His power finally showed up this year at low Class A Bowling Green when the 2010 supplemental first-rounder belted 24 doubles and 15 homers in 132 games.

Cleveland Indians | Trade targets: SS Asdrubal Cabrera, RHP Vinnie Pestano



The Indians need a complete makeover after they went 68-94 last year. They took a step in the right direction with the hiring of two-time world champion manager Terry Francona. However, the next step is to rebuild the starting rotation and the middle of the lineup. The team's best prospect is 18-year old Francisco Lindor, who the Indians feel will be their long-term solution at shortstop.

This might allow them to think about moving Cabrera in the right deal. The Diamondbacks, desperate for a long-term solution of their own at shortstop, would have to at least entertain the thought of an Upton-Cabrera move. Upton would give the Indians a much-needed cleanup hitter and middle-of-the-order bat that could anchor the lineup for years. And with Shin-Soo Choo set to be a free agent next winter, Upton could occupy right field for Cleveland. Knowing that Towers hates making deals without getting a bullpen arm in return, he might as well also ask for Pestano in this major trade.

Atlanta Braves | Trade targets: RHP Julio Teheran, SS Nick Ahmed



The Braves are set at shortstop for years to come with the exciting Andrelton Simmons. He is about as untouchable as any prospect in the organization, and that makes Ahmed expendable. (Word is the Rangers tried to use Olt to get Simmons in hopes of flipping him, Andrus or Profar for Upton, but the Braves wouldn't do it.)

Ahmed, 22, was the Braves' second-round selection in the 2011 draft and had a solid year at high Class A Lynchburg, both offensively and defensively while swiping 40 bases. Teheran remains the Braves' top pitching prospect and once his command and control arrive, he should be a solid No. 2 or No. 3 starter for years. For the Braves, Upton would fit nicely in left field while Martin Prado could be moved to third base to replace Chipper Jones. While the Braves are known for sticking to a strict payroll, they are taking Jones off the books this year, and Upton's contract would replace Jones' in the budget.

If I was in Towers' shoes I wouldn't trade Justin Upton. I would rather spend time trying to sign his brother, B.J., who could play center field next to him, and use Adam Eaton and A.J. Pollock as trade pieces and find lesser upgrades on the left side of the infield. I think both Uptons have the potential of playing at even a higher level than we've seen, especially if they are able to play together. Why not in Arizona?
August, 28, 2012
8/28/12
10:40
AM ET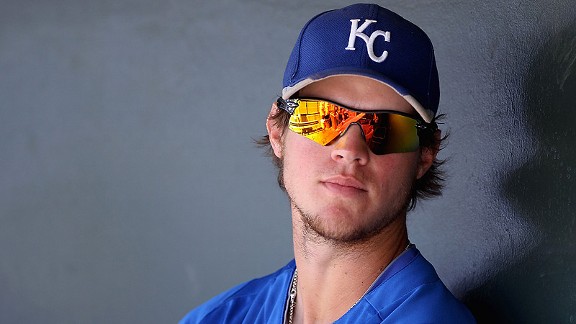 Lisa Blumenfeld/Getty ImagesWil Myers has the look of a big leaguer. He's also got the bat, so it's time to bring him up.
Even with the minor league season ending, the education of some top prospects will continue. Whether their big league clubs are in the pennant race or looking toward next year, the opportunity to learn at the big league level exists -- if they get called up. Of course, because of concerns about roster limits, service time and starting arbitration and free-agent clocks, some of these clubs won't promote the players even though they deserve it. But considering the success these 10 players have had this season as well as the impact they could have on their teams, it's time to bring them up.
Billy Hamilton, SS

Hamilton broke Vince Coleman's pro baseball record of 145 stolen bases in a single season last week. He's got 149 and counting between high Class A and Double-A. Despite that, the Reds are leaning away from bringing up Hamilton due to roster and service-time issues. And even if he is brought up, he probably won't get a chance to play much in the final month of the season with the Reds in the heat of a pennant race. However, a call-up before Aug. 31 is important so that he is postseason-eligible.
To continue reading this article you must be an Insider
July, 28, 2012
7/28/12
11:52
AM ET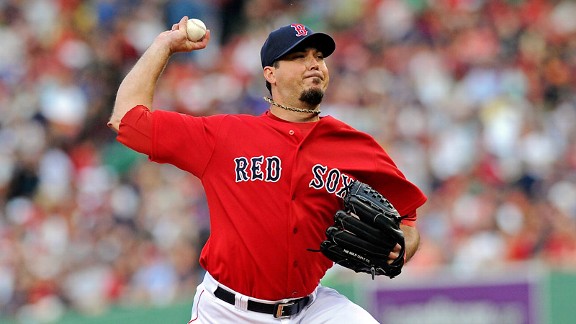 Bob DeChiara/US PresswireAfter losing out on Zack Greinke, Texas could pursue Josh Beckett, but still can't equate to Greinke.
Mike Trout
is putting himself in position to win not only AL Rookie of the Year but AL MVP, and his general manager is making a case for executive of the year. By swinging a blockbuster for
Zack Greinke
on Friday,
Los Angeles Angels
GM Jerry Dipoto has built a club that is set up perfectly for postseason success.
Dipoto's shrewd move to jump in the market and find a way to get the game's best available starting pitcher from the
Milwaukee Brewers
was brilliant.
Jean Segura
-- the key prospect who went to Milwaukee -- is a promising middle infielder, but most Angels evaluators had him slotted behind second baseman Howie Kendrick and
Erick Aybar
, who are each locked up for a few years.
Whether the
Texas Rangers
, who also were in on Greinke, played "chicken" and lost, or just weren't willing to part with prospects Jurickson Profar,
Martin Perez
or Mike Olt can be debated for years depending whom you talk to, but only Rangers GM Jon Daniels and Brewers GM Doug Melvin know for sure.
To continue reading this article you must be an Insider
July, 12, 2012
7/12/12
11:15
AM ET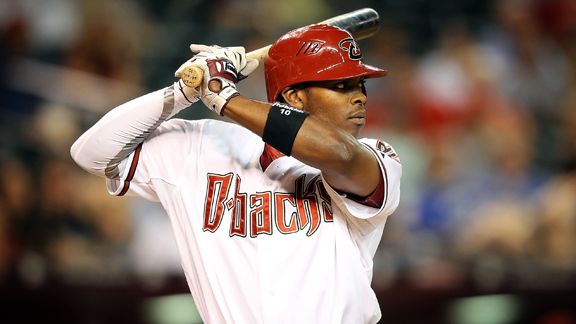 Christian Petersen/Getty ImagesTrading Justin Upton is not impossible. It'll just be really expensive.
Let's clear up some things about
Arizona Diamondbacks
outfielder
Justin Upton
and the rumors he might be traded.
First, understand that general manager Kevin Towers is always willing to listen to trade ideas when other GMs ask about Upton, his best position player. Of course, that doesn't mean Towers is going to trade him. The fact is he isn't close on any deal involving Upton right now.
Rumors have swirled about a potential deal to the
Pittsburgh Pirates
, but the reality is Towers has had very few conversations with the Pirates. GM Neal Huntington did call Towers, as he has every other general manager as he seeks a young middle-of-the-order bat. However, the fact is the two teams don't match up well, and a third team probably would need to be involved for the Pirates to have a chance to trade for Upton.
Despite a slow start, Upton remains one of the best right fielders in baseball, and I can't imagine Arizona actually trading him. He's just a year removed from being an NL MVP candidate and leading the D-backs to an NL West title. At 24, his prime years are ahead of him, and his potential of hitting .300 with 35 home runs and 120 RBIs undoubtedly will be realized in time.
Further complicating matters is Upton's limited no-trade clause to four teams. The teams change from year to year, and ESPN The Magazine's Buster Olney reported that the no-trade clause centers on big-market teams, and almost certainly includes the Yankees.
Nonetheless, where there is smoke there is usually fire, and these trade rumors are not completely without merit. With that in mind, I thought I would try to find five potential deals that might make sense for the D-backs to trade Upton. Keep in mind that these are simply deals I think would make sense for both parties, not necessarily deals that are on the table.
To continue reading this article you must be an Insider
July, 10, 2011
7/10/11
7:00
AM ET
The 13th anniversary of the XM All-Star Futures Game this weekend in Phoenix is a unique opportunity for general managers, assistant GMs, scouting directors, scouts and top evaluators to see the best major league prospects in baseball in one game. During my years as a GM, I always sent at least two of my top evaluators to the game and made it a must-watch for myself for the years I attended the games, starting with the first Futures Game in 1999 at Fenway Park in Boston. Last year, a record 38 All-Stars were alumni of the Futures Game. Seven players who have appeared in this special game were part of an AL or NL All-Star team the next year, including players like
Jason Heyward
,
Evan Longoria
and
Neftali Feliz
.
This game is also an opportunity for "sellers" to scout key players for the trade deadline, which is just three weeks away. The media and fans always tend to focus on the players who could be traded at the deadline from the major league level, like this year's rumors that surround the Padres'
Heath Bell
, the Mets'
Carlos Beltran
and
Francisco Rodriguez
or the Astros'
Wandy Rodriguez
. However, those teams are hoping to acquire in return future major league All-Star-caliber players who might be one to four years from playing in the major leagues.
To continue reading this article you must be an Insider