The GM's Office:

Josh Johnson
June, 14, 2013
6/14/13
9:35
AM ET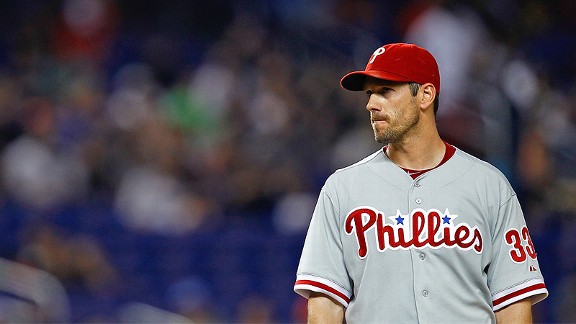 Sarah Glenn/Getty ImagesIf the Phillies falter by July, Cliff Lee could be the No. 1 pitcher on the trade market.
With MLB's trade deadline just six weeks away, there are presently 22 teams within eight games of making the playoffs. This means just eight teams can be considered "sellers" at this juncture. Many of the contenders are looking for elite starting pitching, but the reality is probably only one or two will be traded and contending teams will have to settle for middle- or back-end rotation types.
I'm hearing teams that already have been in trade talks for potential available starters include the
San Francisco Giants
,
Colorado Rockies
,
Washington Nationals
,
Texas Rangers
,
Cleveland Indians
and
Baltimore Orioles
. Here is a list of the top 20 starting pitchers who could be traded between now and the July 31 trade deadline:
No. 1 starters
Cliff Lee | LHP | Age: 34

Contract status:
$25M per year through '15 with vesting option of $27.5M
February, 12, 2013
2/12/13
1:40
PM ET
It was an active offseason that witnessed the trade of a Cy Young Award winner, several large, multiteam trades and an inflated free-agent market. So to evaluate and rank the offseason of all 30 teams, I took into account the following factors:
• How it improved the team for 2013, as well as the next five years.
• How it affected payroll and budgets -- both short and long term.
• How it affected team chemistry and clubhouse culture.
• How effectively needs were filled -- through free agency, trade or farm system.
• The amount of money committed compared with the value received.
• Aggressiveness.
With spring camp upon us, we'll see whose offseason produces the best results. Here are the rankings of all 30 teams' offseason campaigns.
1. Toronto Blue Jays | GM: Alex Anthopoulos

Acquired:
RHPs
R.A. Dickey
,
Josh Johnson
, LHPs
Mark Buehrle
,
Darren Oliver
, SS
Jose Reyes
, C's
Josh Thole
and
Mike Nickeas
, IFs
Emilio Bonifacio
,
Maicer Izturis
, OF
Melky Cabrera
Analysis:
Anthopoulos had a tremendous offseason, making two of the biggest offseason trades in baseball history. It cost him some prospects, and when the dust settled the Blue Jays added three top-of-the-rotation starters to complement
Ricky Romero
and
Brandon Morrow
to give the Jays the best five-man rotation in the division -- on paper. They now have the veteran leadership, speed, energy and enthusiasm to be a legitimate World Series contender.
To continue reading this article you must be an Insider
January, 24, 2013
1/24/13
2:00
PM ET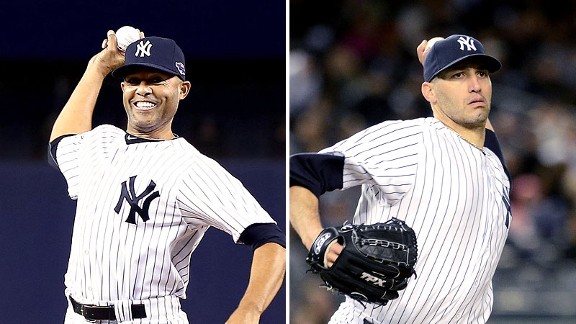 Getty ImagesWith Rivera and Pettitte back, the Yanks can contend. But so can everone else in the AL East.
During my entire 15-year career in baseball as a GM and through today, commissioner Bud Selig has emphasized improving the game's competitive balance.
He said his goal was for all 30 clubs' fan bases to have "hope and faith" on Opening Day that their team would be able to contend for a postseason berth. However, full parity has eluded one division for more than a decade. The American League East stood as an example of how wide the chasm can be between winning and losing teams.
To continue reading this article you must be an Insider
November, 14, 2012
11/14/12
11:25
AM ET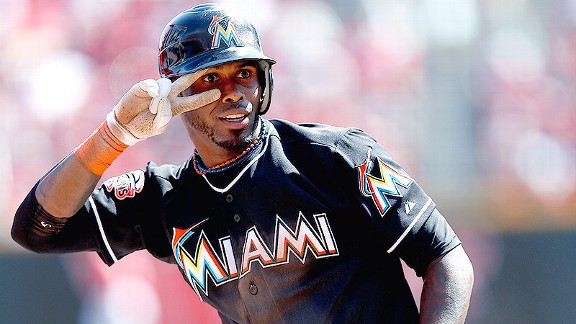 Joe Robbins/Getty ImagesPeace out! After only one season, Jose Reyes is leaving Miami and headed to Toronto.
We thought we had seen it all with the
super-blockbuster nine-player trade in August
between the
Los Angeles Dodgers
and
Boston Red Sox
.
Then this happens.
Like the Red Sox-Dodgers deal, it's a megatrade that works for both parties as one team rids itself of onerous contracts to another team that's starving to win. Until now,
Toronto Blue Jays
general manager Alex Anthopoulos has operated with shrewdness and precision. If this deal works out, he'll be on the short list for 2013 Executive of the Year.
Meanwhile, after the
Miami Marlins
endured a disastrous debut season in their new ballpark, wearing new uniforms, with a new team and a new manager, Marlins owner Jeffrey Loria is going back to an old technique: the fire sale.
Regardless of Loria and his track record of gutting his teams, the deal made sense for the Marlins from a baseball perspective, as well as the Blue Jays. It looks lopsided, but the Marlins did much better in this megatrade than people think. By acknowledging they simply weren't going to win with the team they had, they cleared out almost $185 million in payroll and moved a bunch of veterans in one fell swoop.
How it makes sense
For the Blue Jays:
Anthopoulos acquired some rotation leadership to mentor the Blue Jays' young starters in
Mark Buehrle
and
Josh Johnson
. Their presence will be significant for
Kyle Drabek
and
Drew Hutchison
as they return from Tommy John surgery as well as helping
Ricky Romero
bounce back from a horrendous 2012 season.
Anthopoulos also brought catcher
John Buck
back to the team with whom he enjoyed a career year in 2010, hitting .281 with 20 homers and 66 RBIs. Buck had lost his starting job to
Rob Brantly
, whom the Marlins had acquired from the Tigers. The Blue Jays now will have Buck and fellow catcher J.P. Arencibia to keep the seat warm for top catching prospect Travis d'Arnaud, and trade one of them when d'Arnaud is ready for the big leagues.
I'm not sold completely the Blue Jays will win the AL East outright because of the injury history of Jose Reyes and Johnson, but they have instantly become contenders for the division title if they get reasonably healthy seasons from the players they acquired.
For the Marlins:
After recognizing their team simply wasn't going to win with the players they had, selling them off was the most logical next step for Marlins president Larry Beinfest and general manager Mike Hill. They already had begun the process over the summer, dealing
Hanley Ramirez
,
Anibal Sanchez
and
Omar Infante
.
They had a serious medical question mark in Johnson. For me, Johnson's shoulder must be considered a high risk; it has hampered him since his All-Star campaign in 2010. With only one year left on his contract at more than $13 million, moving him made sense because they certainly weren't going to re-sign him. And the worry would always be if he reinjured his shoulder, what could they get for him then?
In Buehrle they had a solid innings-eater whose best seasons are certainly behind him. And with Buehrle's heavily backloaded contract, the Marlins saw no logic in holding onto the decline for two more years when their team had little chance to contend.
Jose Reyes
was the one major piece the Marlins had to give up in order to shed the other two. Reyes will immediately improve the Blue Jays at the top of the order, on the field and in the dugout and clubhouse, where his high energy and enthusiasm is priceless. He is one of the game's best shortstops and was perhaps the one brilliant move the Marlins made last December. But like Buehrle, his deal is backloaded, so the Jays are taking on a heavy financial burden.
If the Marlins truly believe that Johnson and Buehrle's trade value will only go down from here, you can't blame them for making this deal.
What's next for the Marlins?
Shortly after news of the deal broke, Marlins outfielder
Giancarlo Stanton
sent out a tweet.
@Giancarlo818
:
Alright, I'm pissed off!!! Plain & Simple
He probably has every right to be upset. With his team gutted, he won't sniff the postseason until at least 2015. New Marlins manager
Mike Redmond
probably knew this was going to happen -- that's why he got a three-year deal.
Naturally, this got many people wondering: "What is Stanton's fate?" With Stanton ineligible for free agency until 2017, he's not going anywhere and eventually should share the outfield with newly acquired prospect Jake Marisnick and current Marlins top prospect Christian Yelich. However, that doesn't mean the Marlins are done dealing.
Look for them to move right-hander
Ricky Nolasco
next. Either
Henderson Alvarez
or Justin Nicolino can take Nolasco's place in the rotation at some point. Alvarez, with improved command and a better breaking ball, can be a solid middle-of-the-rotation arm in time. Likewise, Nicolino's easy delivery and advanced poise and control could easily help him develop into a solid starter.
With what they acquired for Hanley Ramirez and
Heath Bell
, the Marlins' starting rotation could eventually looking something like this. (For those who don't know, Fernandez is one of the game's best pitching prospects who posted a 1.75 ERA across two levels of Class A this season.)
Jose Fernandez, RHP
Jacob Turner, RHP
Justin Nicolino, LHP
Henderson Alvarez, RHP
Nate Eovaldi, RHP
Another move the Marlins could make is flip shortstop
Yunel Escobar
to the
Oakland Athletics
. In the event the A's are unable to re-sign
Stephen Drew
, the Marlins could spin Escobar to Oakland and play
Adeiny Hechavarria
-- whom they also acquired from Toronto -- at shortstop. Hechavarria is an exceptional fielder, but his bat lags far behind. Outfielder
Logan Morrison
also is a candidate to be moved, but he more likely will serve as a stop-gap player until Yelich arrives in Miami.
It's true the Marlins now enjoy massive payroll flexibility and could theoretically afford to sign a free agent for other needs. However, no significant free agent is ever again going to sign with the Marlins without a complete no-trade clause after watching them deal Reyes, Buehrle and Bell less than a year after signing them.