September, 19, 2014
Sep 19
9:30
AM ET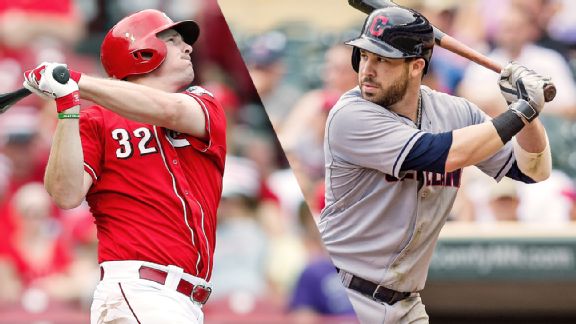 Getty ImagesJay Bruce and Jason Kipnis, both former All-Stars, have been disappointing this season.
Every year there are players who underachieve, and when it happens, opposing general managers pick up the phone and call that team's GM to find out if they can "steal" the player in a trade. GMs view players with the same mindset they do the stock market, trying to acquire players when their stock is down, much like fantasy baseball owners do. Whether it's a real GM or a fantasy GM, identifying those players who will rebound early and getting them before their opponents can is important to success.
As such, I suspect Braves GM Frank Wren, for instance, will be calling Indians GM Chris Antonetti to see if he can pry away
Jason Kipnis
while his stock is down, and I would expect Yankees GM Brian Cashman to call Reds GM Walt Jocketty to see if he can steal
Jay Bruce
from them. Here are five players, including Kipnis and Bruce, who I expect to rebound, whether it's with their existing club or the teams they're traded to this offseason:
1. Jason Kipnis, 2B, Cleveland Indians
Kipnis, 27, signed a six-year, $52.5 million deal through 2019 last offseason, with a team option for 2020. His first year of the deal has been a disaster; he has not been getting on base, not hitting home runs and not driving in runs.