The GM's Office:

Jhonny Peralta
April, 15, 2014
4/15/14
10:00
AM ET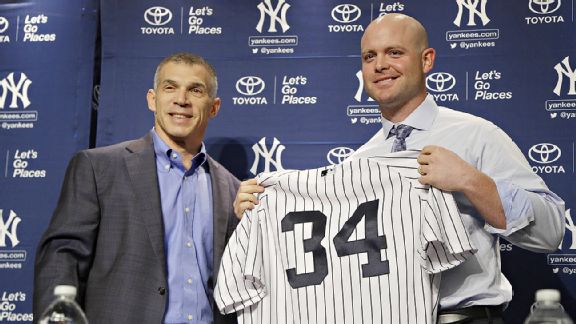 AP Photo/Seth WenigNo free agent got a more market-appropriate deal over the winter than Brian McCann.
One of my favorite pieces I write every year is
my free-agent predictions
. For those unfamiliar, at the start of every offseason, I make my best guess at what each free agent's contract will look like and give a prediction of where he will sign.
In the interest of accountability, I thought it would be a good idea to go back and review my best and worst predictions before the season gets too far along.
This year, I was pretty accurate in predicting the average annual value of most contracts, but I was a little light on years, perhaps not properly adjusting for the game's growing TV revenues. For example, I predicted
Robinson Cano
would get $25 million per season over eight years. He got $24 million per season, but over 10 years.
Here's a look at my best and worst offseason predictions, starting with the best.
Brian McCann, C | New York Yankees
Prediction:
5 years, $90 million
Actual:
5 years, $85 million
Yankees GM Brian Cashman did a great job in getting this deal done quickly and allowing the Yankees' long tradition of distinguished catchers from Yogi Berra to Thurman Munson to
Jorge Posada
to (now) McCann to continue.
November, 26, 2013
11/26/13
11:25
AM ET
October, 4, 2013
10/04/13
10:00
AM ET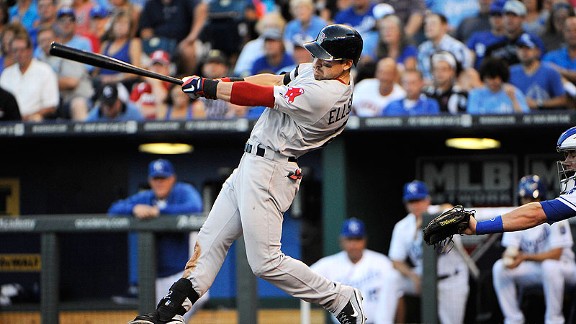 John Rieger/USA TODAY SportsWith a great postseason, Jacoby Ellsbury could see his free agent value rise.
Just a season ago,
Detroit Tigers
right-handed pitcher
Anibal Sanchez
entered the postseason with a 9-13 record, a 3.86 ERA and a track record that saw him post double-digit wins just twice in six previous seasons, all with the Marlins. At best, he was considered a middle-of-the-rotation, innings-eater type of pitcher. His market value going into the postseason was perhaps four years at $12 million per season.
However, after three big starts, a 1.77 ERA and 0.984 WHIP in the 2012 postseason, his value skyrocketed, allowing him to land a five-year, $88 million deal. In turn, the 29-year-old rewarded with a league-leading 2.57 ERA in the first year of a deal he wouldn't have gotten if it weren't for his stellar postseason performance.
Indeed, postseason performances can change the value of a potential free agent. Here are seven players from this postseason who could see their value improve.
To continue reading this article you must be an Insider
July, 22, 2013
7/22/13
11:54
PM ET
In the face of apparently overwhelming evidence,
Ryan Braun
has relented.
Major League Baseball suspended the
Milwaukee Brewers
left fielder on Monday for the remainder of the 2013 seasons, which amounts to 65 games. He avoided suspension in 2012 when it was revealed his urine sample that had tested positive was mishandled.
That sliver of doubt was enough for Braun to win his appeal, but Braun's quick compliance with Bud Selig's decision Monday and the seemingly contrite language in his official statement say a lot about the amount of evidence confronting Braun and more than 20 other players possibly involved with the Biogenesis scandal.
Also telling is the length of Braun's suspension. Had he appealed and dragged out the process, we have no idea how severe the suspension could have been. The leverage possessed by MLB must have convinced Braun to settle quickly, and it could compel the other players whose names have surfaced in connection with the Biogenesis scandal, such as
Texas Rangers
outfielder
Nelson Cruz
and
Detroit Tigers
shortstop
Jhonny Peralta
, to do the same.
But what of Cruz and Peralta's teams? Unlike Braun's Brewers, both Peralta's Tigers and Cruz's Rangers are legitimate World Series contenders. Should Cruz and Peralta follow Braun's lead, their absences will leave massive holes.
For general managers Jon Daniels (Rangers) and Dave Dombrowski (Tigers), what they do in the eight days remaining before MLB's July 31 trade deadline could make or break their teams' seasons.
To continue reading this article you must be an Insider
June, 7, 2013
6/07/13
12:08
PM ET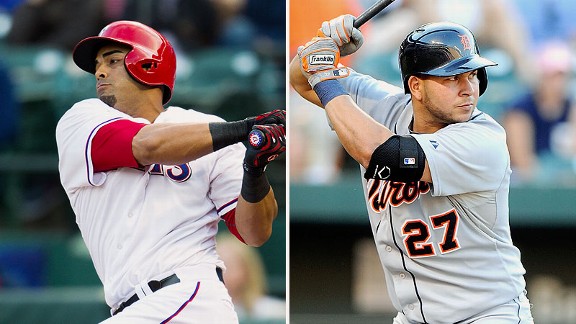 Getty ImagesWith Nelson Cruz and Jhonny Peralta possibly facing suspension, their GMs must prepare now.
It isn't hyperbole to suggest that the ripples from baseball's most recent performance-enhancing drug scandal could have an impact on the World Series.
This week, ESPN's T.J. Quinn, Mike Fish and Pedro Gomez
reported on "Outside the Lines"
that Major League Baseball is seeking to suspend approximately 20 players connected to Biogenesis, the Miami-area clinic that is accused of manufacturing and distributing PEDs.
The scandal could affect pennant races just as a serious injury, a trade or a minor league call-up would. The problem that general managers face right now is they do not know the names of all the players involved, and they don't know how successful MLB will be in its pursuit of suspensions. General managers of contending teams cannot ignore the specter of perhaps one of their key players being on that list.
Quite simply, they've got to prepare for the worst. But with the trade deadline just a month and half away, that makes the timing awkward. Take, for example, the
San Francisco Giants
last season.
To continue reading this article you must be an Insider
October, 29, 2012
10/29/12
12:00
AM ET
While the
Detroit Tigers
and their fans are obviously feeling a bit blue Sunday night, they will soon come to realize that the 2012 season was a huge success. They won the AL Central, swept the
New York Yankees
in the American League Championship Series and appeared in the World Series.
Of course, the club's weaknesses were exposed a bit in losing to the
San Francisco Giants
, but they are in a great position to improve their club this winter. Here are five ways I expect GM Dave Dombrowski to try to improve the club this winter.
1. So long, Delmon
Delmon Young
was fantastic in the ALCS and was named MVP of the series, but as a DH/left fielder he's a below-average player, as evidenced by his .267/.296/.411 line this year. He is a free agent, and the club will gladly let him walk, as they will have
Victor Martinez
coming back from a knee injury that cost him the 2012 season. Martinez will be an upgrade at DH, so the team is getting better without doing anything.
2. Bye-bye, Valverde
[+] Enlarge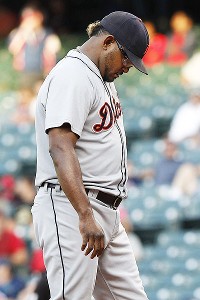 David Maxwell/Getty ImagesAfter repeated postseason failures, Jose Valverde will not be back in 2012.
Speaking of impending free agents,
Jose Valverde
will also be one, and the Tigers, who didn't trust him to pitch in any high-leverage spots in the World Series, won't bring him back. He made $9 million this year, so that will bring some salary relief. Detroit's bullpen was not a strength, and I could see them making a play for
Rafael Soriano
, who will almost certainly opt out of his deal with the Yankees, and would be an upgrade. Yes, he'd be pricey, but owner Mike Illitch has made it clear that he's willing to spend to try to win a World Series, and the club has roughly $90 committed for 2013 as of today. In other words, they have some money to spend.
I could also see the club trying to rebuild their pen by shopping
Rick Porcello
, who is still fairly well-regarded and will turn 24 in December. But as a ground ball pitcher on a team with a bad infield defense, he's a terrible fit. They should shop him to the National League or to clubs with good outfield defense in search of bullpen help. I could see San Diego, Minnesota and Pittsburgh as fits. Maybe Porcello for
Joel Hanrahan
, or possibly to Kansas City for someone such as
Aaron Crow
.
3. Retain Peralta and Sanchez
Jhonny Peralta
has a $6 million option for 2013, and the club will certainly pick that up.
Anibal Sanchez
is set to be a free agent, and he will have suitors, and that's one guy the club will want to make a play for. He has shown this October that he's a solid mid-rotation starter, and if he's paired with
Justin Verlander
,
Max Scherzer
and
Doug Fister
the Tigers will have one of the best rotations in the league.
Further, Sanchez is a strikeout pitcher, which makes him a great fit for the Tigers, as he's less-reliant on his defense, which will always be a team weakness as long as they build their lineup around
Miguel Cabrera
and
Prince Fielder
.
4. Upgrade the outfield corners
Quintin Berry
and
Andy Dirks
are decent role players, but they are not everyday guys. The Tigers have moved top prospect Nick Castellanos from third base to right field because of Miggy, and he could be up some time in the second half of next year. (And one day, don't be surprised if Castellanos is at third with Cabrera in left, a position he played when he came up with the Marlins.)
In the other outfield corner, I could see them making a play for
Nick Swisher
, as he has been one of baseball's most consistent performers over the past few seasons. The Tigers' lineup lacks depth -- something the Giants exposed -- and Swisher would provide that. Again, he won't come cheap, but the Tigers have money. A less pricey alternative would be
Angel Pagan
, who is also a free agent and could be a great No. 2 hitter while upgrading the outfield defense in left.
While they wait for Castellanos, I expect
Avisail Garcia
to man one corner with Berry and/or Dirks on the bench.
5. One more year of Leyland
Manager Jim Leyland's contract is up, and you have to think he wants to get a ring in Detroit. However, at 67 years old, who knows how much longer he will want to manage? I'd bring him back on a one-year deal and let him know that he can have the job as long as he wants it, but at this stage of his career I'd go year-to-year.
Even if they don't do much, the Tigers are probably AL Central favorites. And since Dombrowski will have some payroll flexibility, I could see him turning the Tigers into the dominant AL team next year.