The GM's Office:

Jayson Werth
July, 29, 2013
7/29/13
9:15
AM ET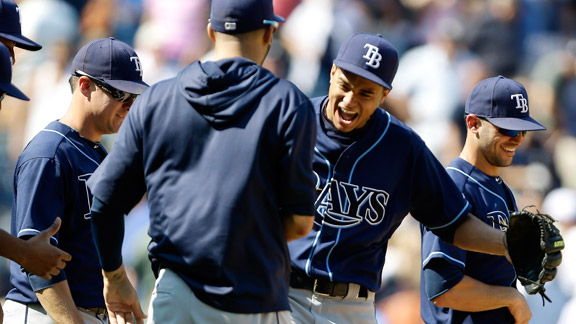 AP Photo/Frank Franklin IIThe emergence of Chris Archer means the Rays don't need to make major moves.
One of my favorite trade deadline baseball clichés is "sometimes the best trades you make are the ones you don't make." Indeed, fans and media clamor at this time of year for teams to make trades, but regardless of how compelling a trade proposal or rumor might be, doing nothing sometimes is a general manager's strongest play.
I remember at the 2006 trade deadline, most of the media and the Washington Nationals' fan base was calling for me to trade
Alfonso Soriano
. The best offers I had for Soriano were from the
Seattle Mariners
-- who offered me hard-throwing reliever
Mark Lowe
-- and the
Minnesota Twins
-- who offered right-handed starter
Kevin Slowey
.
In the end, I felt the best thing for the team was to hold on to Soriano, who eventually left via free agency and signed with the
Chicago Cubs
. Meanwhile, Lowe ended up blowing out his elbow and Slowey has been little more than a fringe starter. The draft pick compensation the Nationals received? It turned out to be the pick used to select right-hander
Jordan Zimmermann
, now one of Washington's best pitchers.
Look, no fan wants to hear his/her team is going to just "stand pat," but that's exactly what these five teams should do in the next 72 hours.
December, 3, 2012
12/03/12
6:11
PM ET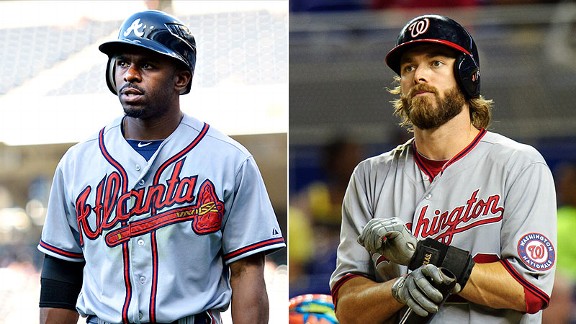 USA TODAY SportsMichael Bourn is right where Jayson Werth was a couple of years ago.
When I made my predictions for how much each of the top free agents would get this winter, I had
Michael Bourn
getting the third-biggest deal of anyone, behind
Josh Hamilton
and
Zack Greinke
.
Not only is Bourn coming off the best season of his career, but his agent is Scott Boras, who always knows how to get the most for his clients. That's a recipe for a monster deal.
However, things are quiet on the Bourn front this week, and there isn't an obvious destination for him. For that reason, I think he could end up with a team that no one expects, much like
Jayson Werth
, one of Boras' high-profile clients from a couple of years ago.
Allow me to explain.
Given the availability of
B.J. Upton
(who already signed with the
Atlanta Braves
),
Angel Pagan
(who has agreed to terms with the Giants),
Shane Victorino
and Hamilton, there is no shortage of good center fielders on the free-agent market this winter. This means demand isn't what it might be in other years. (Not to mention
Dexter Fowler
and
Drew Stubbs
, who are being shopped on the trade market.)
With Pagan and Upton off the board, two fewer teams will be vying for Bourn. The
Philadelphia Phillies
might be interested, but GM Ruben Amaro Jr. and Boras aren't on great terms because of the ill-fated
Ryan Madson
deal that fell apart at the last minute a year ago. That could make negotiations difficult.
When faced with this situation in the past, Boras has been able to find a deal for his player from a source you wouldn't expect. In 2010, there was no obvious fit for Werth, but Boras shocked the baseball world by getting him a seven-year, $126 million deal from the
Washington Nationals
, a team that was a bottom-feeder at the time.
Flash back a few more years, and you might remember that
Ivan Rodriguez
(a Boras guy) signed a four-year, $40 million contract with the
Detroit Tigers
when they were coming off of a 119-loss season. People said the Tigers were nuts, but Pudge led them to the World Series two years later.
When the money isn't there from one of the "obvious" teams, Boras will go find it. So where will he find it for Bourn? I have some theories.
For starters, the
Chicago Cubs
: They're rebuilding, but they have a very low payroll and plenty of money to spend. Boras could try to convince the Cubs that Bourn would give them some excitement at the top of their lineup, along with
Starlin Castro
, and keep fans interested while they rebuild.
The
Seattle Mariners
might be a destination for Bourn. They could have as much as $30 million to spend, and they're looking to make a big signing (or two) this winter.
Another possibility: the
Miami Marlins
. I know this sounds crazy, but I could see Boras making this pitch to Jeffrey Loria: "You need some good PR, the players' union is going to be on your back about not spending money, and you can replace
Jose Reyes
in the leadoff spot for less money."
Remember, no one saw Pudge signing with Detroit back in 2004, and no one saw Werth to the Nats. Bourn is a man without an obvious destination right now, and don't be shocked to see Boras deliver him to someone you wouldn't expect -- like the Cubs.
May, 4, 2012
5/04/12
12:22
PM ET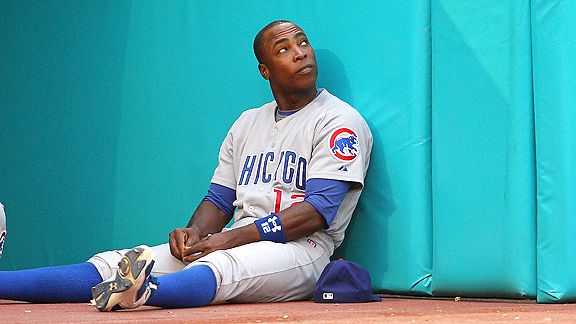 Mike Ehrmann/Getty ImagesEven an "immovable" player like Soriano can be traded if his team is willing to eat most of the contract.
A contract never starts off "bad," per se.
Obviously, a general manager signs a player to a contract with the intent that the player will help the team win, even if the GM knows the criticism over dollars and years is out there. The contract often infuses hope and renewed optimism; there's excitement in the franchise and the fan base. One need only look in Anaheim, where a gargantuan 10-year, $240 million contract for
Albert Pujols
left Angels fans agog not only from the sheer size of the contract but by what they hoped Pujols would bring -- success. The addition even serves as a marketing tool for other players. C.J. Wilson admitted as much when he signed. His current struggles not aside, the excitement trumped any concerns over money or long-term implications. The Angels took care of business and were lauded for doing so.
But it's over the course of time that a contract can sour like milk. Mammoth contracts and their repercussions can linger like a migraine. They are often thought of as "immovable" because possible trade partners are scarce, almost nonexistent. That is, unless the team is willing to absorb a bulk of the dollars left on the contract.
Now we're talking.
During my tenure as GM for the
Cincinnati Reds
and
Washington Nationals
, I saw a number of so-called "immovable" contracts actually get moved, but it nearly always happened only if the player's team ate a large portion of the remaining salary. And why not? The risk is often low and the reward could be potentially great.
The problem is that reward usually never materializes. For all the dollars that are shifted and the cachet that accompanies the names, the production never matches the sizzle. And usually, the player has struggled recently, been injury-prone or is in decline, so his production often doesn't match his salary. Take a look at the chart above and you'll see what I mean. For the right price, everyone is tradable. They're just not productive. It's simple addition by subtraction for one team, and a low-risk proposition for another.
Or in some cases, the players traded even out on salaries. Other times, the GM believes the player can regain form and is young enough to justify the contract (read: Alex Rios).
Below are five active players whose contracts are considered "immovable" by many big league general managers. I didn't include contracts for elite players like Pujols,
Alex Rodriguez
and
Joey Votto
because they are the best at their position, and as such, large contracts like theirs are what a team must pay, or else your team just won't get that player. But with the players below, you'll see in most cases they are not in the same class but are still paid handsomely. Thus their contracts aren't justified. The production doesn't equate to the price. That's why the likelihood of their being traded is small. Some are simply dead weight. But if the financial exposure from a proposed deal is so small that it's nearly a no-risk move, there will undoubtedly be a team out there willing to give it a shot.
To continue reading this article you must be an Insider
August, 26, 2011
8/26/11
2:32
PM ET
Earlier this week,
we took a look at the American League teams
and the dollars coming off their books due to free agency. Today we look at the National League, where the
Philadelphia Phillies
,
St. Louis Cardinals
,
Los Angeles Dodgers
,
Milwaukee Brewers
and
San Francisco Giants
have the most cash coming off their books and should have the most flexibility in terms of offseason spending. However, keep in mind that their arbitration-eligible players and long-term contractual commitments factor into their financial payroll flexibility.
Here is breakdown of each team's estimated 2012 salary commitments compared to their 2011 Opening Day payroll. Remember that 2012 commitments do not include the money that players will get via arbitration. For example, the Phillies' 2012 number does not include the salary that
Cole Hamels
will earn via arbitration, which will almost certainly be more than $10 million.
To continue reading this article you must be an Insider