The GM's Office:

Jacoby Ellsbury
November, 27, 2013
11/27/13
9:30
AM ET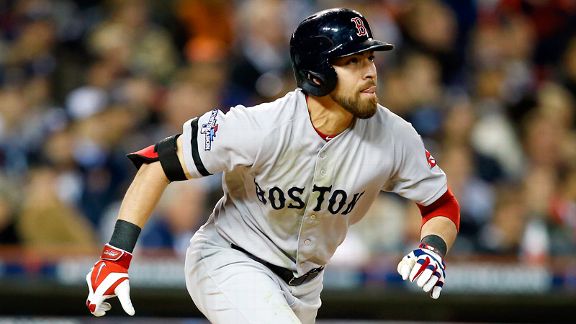 Rick Osentoski/USA TODAY SportsWhere Jacoby Ellsbury lands might determine where other free agent outfielders end up.
Perhaps the most intriguing aspect of the free-agent class is the outfielders, because the future of each player is somewhat dependent on the others. While
Jacoby Ellsbury
seems to be the top outfielder available, signing any of them is liable to force teams to make successive moves.
Beyond waiting to see which team will pony up the dollars for Ellsbury, there are a number of intriguing subplots developing.
For starters, two rebuilding clubs, the
Seattle Mariners
and
New York Mets
, are playing the market but quickly discovering they will have to overpay a big-name outfielder, just as the
Washington Nationals
had to do with
Jayson Werth
in 2011.
The other complicating factor with this is that agent Scott Boras is holding the cards on the top two free-agent outfielders in Ellsbury and
Shin-Soo Choo
, and he doesn't seem to be in a hurry. That could delay
Carlos Beltran
and
Curtis Granderson
from finding homes because they might wait to see where Ellsbury and Choo sign.
Further, the Dodgers have also thrown a wrench into the outfield market because they've told teams they'll at least listen to offers on
Matt Kemp
,
Andre Ethier
and
Carl Crawford
. The Dodgers would love to get out from under some of the financial exposure of their outfielders. As Dodgers general manager Ned Colletti told me, he wants his outfield to get younger, and with top prospect Joc Pederson possibly ready for the majors in August, the Dodgers can afford to trade one outfielder. Most clubs are trying to pry away Kemp, but he's really the only legitimate center fielder the Dodgers have, so they're more likely to deal Ethier.
So where are all these guys going? I've been talking with a lot of executives and agents over the past week, and based on those conversations, here is my best estimate of where these free-agent outfielders will land:
November, 18, 2013
11/18/13
1:35
PM ET
The hot stove league is already fired up, as the
Philadelphia Phillies struck first
by signing outfielder
Marlon Byrd
last week. With such a weak free-agent class this offseason, teams will look heavily in the trade market.
Below you will find a proposed trade or free-agent signing that could help each National League team. On Tuesday I'll address the American League.
NL East
Atlanta Braves

The move:
Trade top pitching prospect Lucas Sims, shortstop Jose Peraza and
Alex Wood
to the
Tampa Bay Rays
in exchange for left-handed pitcher and former Cy Young Award winner
David Price
and outfield prospect Drew Vettleson.
To continue reading this article you must be an Insider
November, 2, 2013
11/02/13
9:00
AM ET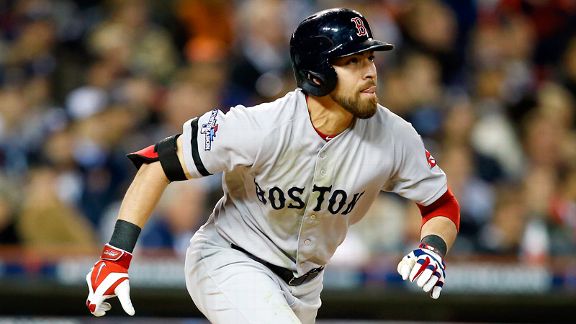 Rick Osentoski/USA TODAY SportsIt's hard to envision the Red Sox ponying up the kind of deal Jacoby Ellsbury is seeking.
Right now, the most pressing thing for the
Boston Red Sox
is the parade celebrating their World Series championship -- the first won in Fenway Park since 1918.
However, once all the celebrations are completed, the Red Sox will begin the same arduous offseason campaign 29 other teams will be engaged in -- preparing for the 2014 season by addressing some significant baseball issues facing them this winter.
Here is a quick look at what Boston must do to repeat.
To continue reading this article you must be an Insider
October, 25, 2013
10/25/13
9:50
AM ET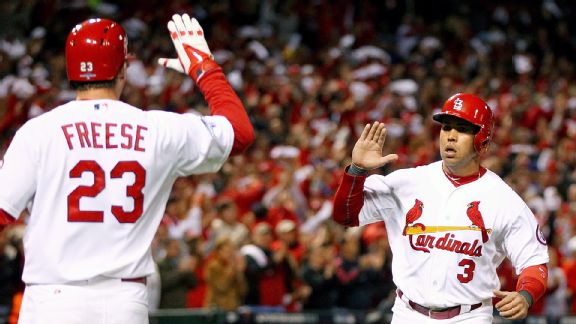 Dilip Vishwanat/Getty ImagesDavid Freese and Carlos Beltran could be playing elsewhere next season.
As the
Boston Red Sox
and
St. Louis Cardinals
battle it out in the 2013 World Series, no one's thinking past the next game, with perhaps the exception of the two managers as they plan out their pitching and lineups. For the players, it's the here and now.
However, there's a very good chance that several key players for both teams will be wearing different uniforms come February, when spring training arrives. And as the players try to win today, their general managers already have started looking at the roster adjustments they will have to make.
Here are nine players in the Fall Classic who could very easily be playing for different teams next season.
1. Jacoby Ellsbury | OF | Boston Red Sox

The Red Sox would love to be able to re-sign Ellsbury to a long-term contract, and Ellsbury would prefer to stay in Boston. However, he's also represented by Scott Boras, who has a proven track record of negotiating record-breaking deals for his clients, leveraging for the most money and most years unless his client insists otherwise.
To continue reading this article you must be an Insider
October, 4, 2013
10/04/13
10:00
AM ET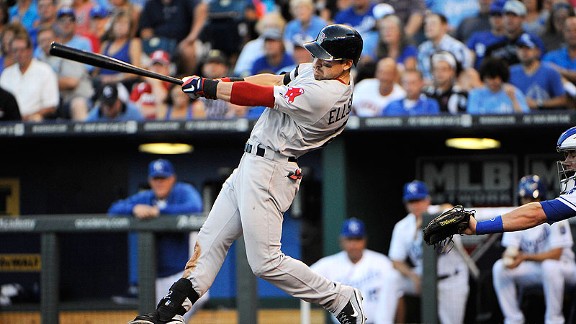 John Rieger/USA TODAY SportsWith a great postseason, Jacoby Ellsbury could see his free agent value rise.
Just a season ago,
Detroit Tigers
right-handed pitcher
Anibal Sanchez
entered the postseason with a 9-13 record, a 3.86 ERA and a track record that saw him post double-digit wins just twice in six previous seasons, all with the Marlins. At best, he was considered a middle-of-the-rotation, innings-eater type of pitcher. His market value going into the postseason was perhaps four years at $12 million per season.
However, after three big starts, a 1.77 ERA and 0.984 WHIP in the 2012 postseason, his value skyrocketed, allowing him to land a five-year, $88 million deal. In turn, the 29-year-old rewarded with a league-leading 2.57 ERA in the first year of a deal he wouldn't have gotten if it weren't for his stellar postseason performance.
Indeed, postseason performances can change the value of a potential free agent. Here are seven players from this postseason who could see their value improve.
To continue reading this article you must be an Insider
August, 14, 2013
8/14/13
9:33
AM ET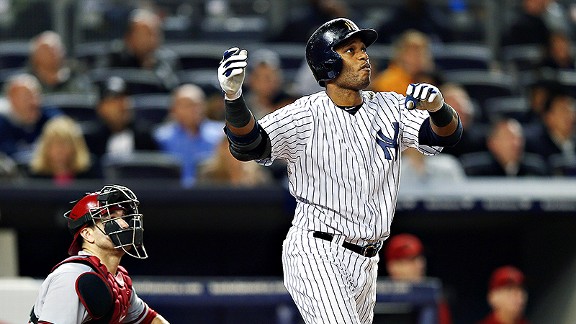 Elsa/Getty ImagesRobinson Cano will command a hefty contract this offseason.
Throughout baseball, general managers and their scouting departments are already out in force evaluating this offseason's impending free-agent class. They're watching every at-bat, every pitch and every defensive touch. They're also conducting background checks on player character and medical reports. The preparation is essential, rigorous and exhaustive considering the millions of dollars that might be invested.
Here is an early breakdown of some of the top free agents who will be available in this year's market:
---
Top position players
Robinson Cano | 2B | .291, 22 HR, 73 RBIs
Cano remains baseball's best second baseman since
Roberto Alomar
. He'd like to start and finish his career with the Yankees. However, with one of the best negotiators in baseball in CAA's Brodie Van Wagenen as his agent and Jay-Z as his marketing/promotional engine, it won't be easy. The length of Cano's contract will be the biggest barrier.
Best fits:
New York Yankees
,
Los Angeles Dodgers
To continue reading this article you must be an Insider
November, 9, 2012
11/09/12
9:30
AM ET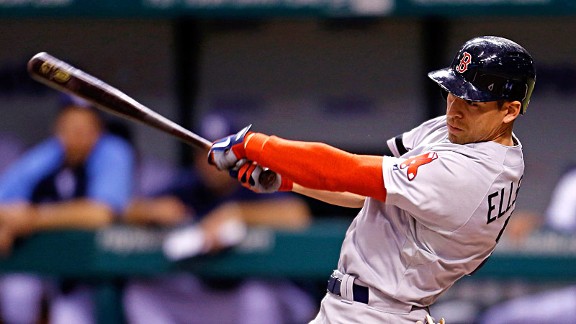 J. Meric/Getty ImagesThe Red Sox have several options with Jacoby Ellsbury.
It wasn't long ago that outfielder
Jacoby Ellsbury
looked like the face of the
Boston Red Sox
. His All-Star campaign in 2011 was highlighted by a .321 average, 32 home runs, 105 RBIs and 39 stolen bases. His five-tool prowess had finally developed, and he looked firmly entrenched as Boston's center fielder for years to come.
Only a season later, things have spun 180 degrees. Ellsbury slogged through an injury-marred 2012 season, still managing to hit .271 in just 303 at-bats, but that 2011 season now seems long ago. Further, Ellsbury is eligible for free agency in a year and is represented by agent Scott Boras, who owns a healthy track record of taking his clients to free agency to maximize their financial opportunities.
Considering that, it looks like the Red Sox have three options:
1.) Settle with Ellsbury on a one-year deal
2.) Take Ellsbury to arbitration, where he will make about $9.5 million on a one-year contract
3.) Trade Ellsbury
While Boston would love to sign Ellsbury to a long-term deal and keep him at Fenway Park, they most likely will have no choice but to test the trade waters to see what they can get for Ellsbury. With the Red Sox a couple seasons away from contention, this move makes sense.
But first, Red Sox general manager Ben Cherington must identify the teams that need a center fielder, would be willing to trade for a "rental" player and could afford to add a $9.5 million player to its payroll.
Because Ellsbury will be a one-year rental, Cherington probably knows he won't get equal return. However, he will start with a high asking price -- in some cases unreasonable -- and negotiate downward. And the Red Sox could have another shot at Ellsbury after the 2013 season since Boras will make certain he reaches the free agent market.
Here are seven conversations Cherington should have with teams:
1. Atlanta Braves | trade targets: SS Nick Ahmed, RHP Julio Teheran
The first place to look is the NL East, where the Braves,
Washington Nationals
and
Philadelphia Phillies
are all looking for short- and long-term solutions for center field. The Braves are set at shortstop for years to come with
Andrelton Simmons
, which makes Ahmed expendable. Ahmed, 22, was the Braves' second-round pick in the 2011 draft and had a solid year at high Class A Lynchburg both offensively and defensively. He stole 40 bases. Teheran remains the Braves' top pitching prospect, and once his command and control arrive, he should be a solid No. 2 or No. 3 starter for years to come.
If the Red Sox could add Teheran to the young starters they acquired in the blockbuster deal with the
Los Angeles Dodgers
last summer (Allen Webster and
Rubby De La Rosa
), it would be a huge step forward in their retooling. Ellsbury would take Bourn's spot in center field and keep the Braves primed for another postseason berth in 2013.
2. Los Angeles Angels | trade target: 1B C.J. Cron, OF Peter Bourjos
How about an Angels outfield of
Mike Trout
, Jacoby Ellsbury and
Mark Trumbo
, with all three combined making less than
Torii Hunter
made in 2011? The Red Sox would get their long-term solution to first base in Cron and a middle-of-the-order bat that they can count on for years to come. Bourjos would give them Gold Glove defense in center field, and perhaps his bat would develop enough to eventually hit at the top of the lineup. Ellsbury for Cron straight up might even be fair value.
3. Los Angeles Dodgers | trade target: OF Andre Ethier
This deal would give the Red Sox cost certainty and their long-term right fielder, as Ethier just signed a six-year $95.5 million deal through 2017 with a vesting option for 2018. The Red Sox have top center field prospect Jackie Bradley Jr. waiting in the wings to eventually take over the position long term. The Dodgers would then have an outfield of
Matt Kemp
, Ellsbury and
Carl Crawford
. When healthy, it would be the best in the National League with an incredible combination of speed and power. More importantly, the Dodgers would have their leadoff hitter.
4. St. Louis Cardinals | trade targets: RHP Trevor Rosenthal, OF Jon Jay
Rosenthal has ability and potential to be a
Craig Kimbrel
or
Aroldis Chapman
-type closer right now, and Jay could take over in center field in Boston. The Red Sox should stop dreaming about
Andrew Bailey
,
Daniel Bard
and
Alfredo Aceves
taking care of the final three outs of the game. Rosenthal can do that now with his 100-mph fastball. Odds are this discussion goes no further than the phone call, as the Cardinals love Rosenthal (who they might also try as a starter) and seem happy with Jay.
5. San Francisco Giants | trade targets: OF Gary Brown, RHP Heath Hembree
The Giants have a chance to win three World Series in four seasons, and Ellsbury would help that cause immensely. He would give them a dynamite leadoff hitter and table-setter for
Pablo Sandoval
,
Buster Posey
and
Hunter Pence
in the middle. He'll be able to run down balls in center field and will give them the additional power they have lacked. Brown is supposed to be their leadoff hitter of the future, but if they were willing to trade top pitching prospect Zach Wheeler for
Carlos Beltran
, they should consider this deal, too. The Red Sox should also ask for Hembree because he throws in the high 90s, and if his command in the zone ever arrives, he could be a candidate to be Boston's closer down the line.
6. Seattle Mariners | trade target: RHP Taijuan Walker
The Mariners have had the worst offense in the American League for three straight seasons, and they have approximately $30 million dollars to spend. Do they trade one of their top pitching prospects for offense as they did last year when they shipped
Michael Pineda
to the
New York Yankees
for catcher
Jesus Montero
? The Red Sox should ask for Walker, but my gut says Cherington would get a polite "no, thank you" from Mariners GM Jack Zdurinecik, who will then counter with an offer of one of lefties James Paxton or
Danny Hultzen
. If that happens, the Red Sox certainly should consider it.
7. Washington Nationals | trade targets: OF Brian Goodwin and RHP Alex Meyer
Goodwin has been wowing scouts in the Arizona Fall League with his range, defense and bat. Meyer was very impressive in his pro debut last season in A-ball, where he went a combined 10-6 with a 2.86 ERA in 25 starts. Meyer was the Nationals' first-round choice in 2011, and the Red Sox have been following him closely since they selected him the 20th round of the 2008 draft but weren't able to sign him. Ellsbury would allow the Nationals to put Bryce Harper in one of the corners with
Jayson Werth
. A deal of this magnitude would put them among the NL's early favorites to reach the World Series.
In the end, it's doubtful any of these trade discussions will end up in a deal. The most likely scenario is Ellsbury ends up with a one-year deal at $9.5 million, and the Red Sox will revisit the trade market for him at next July's trade deadline. That said, perhaps then we'll revisit these trade discussions again when the probability of one of them happening will have increased significantly.
October, 30, 2012
10/30/12
11:30
AM ET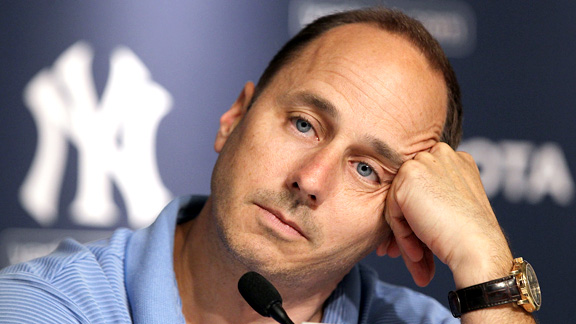 Jim McIsaac/Getty ImagesYankees GM Brian Cashman has an exhausting task ahead of him this offseason.
Even though the offseason has only just commenced for the
San Francisco Giants
and
Detroit Tigers
, general managers of 28 other teams already have been pondering their futures for some time.
For five GMs in particular, their jobs for the next three months are uniquely difficult, perhaps the most difficult in baseball. A variety of obstacles stand in their way of effectively making over their teams. They will have to hurdle those obstacles in order to improve their teams, and that's easier said than done.
Here are the five general managers who have the toughest jobs this winter. For the Giants and Tigers, it's finally time to rest. For these guys, their work has already started.

1. Brian Cashman, New York Yankees
Hands down, Cashman has the most difficult path facing him of any general manager of baseball. Perhaps it just comes with the territory of being the GM of baseball's uber-team, but this offseason is especially difficult. With the Yankees' mandate of "anything less than a World Series is failure" hovering over him, the fixes Cashman faces are not easy. Additionally, the Yankees are trying to get under the luxury tax threshold by 2014, and their best prospects are not close to contributing.
The Yankees have never had the luxury of going with a full-scale youth movement -- they are expected to contend every year, so Cashman must resolve the situation with
Alex Rodriguez
, whose declining skills, massive contract and no-trade clause make him nearly impossible to move. Picking up the contract options for
Robinson Cano
and
Curtis Granderson
was a good first step, but
Mariano Rivera
might retire and
Rafael Soriano
might opt out of his deal. And then you have
Derek Jeter
returning from injury, and who knows what to expect from
Michael Pineda
?
In other words, Cashman must retool a World Series contender with limited money, a fallow farm system and an aging roster rife with no-trade clauses. Toughest job, indeed.

2. Dayton Moore, Kansas City Royals
Moore can position the Royals as 2013's version of the
Baltimore Orioles
or Oakland A's. Position players
Mike Moustakas
,
Eric Hosmer
,
Alex Gordon
and
Billy Butler
are all ready to lead a playoff team. But Moore must completely rebuild his starting rotation, and to do that, he will have to make some uncomfortable decisions, including trading one of the aforementioned players.
Moore has talked about 2014 as the Royals' year to compete. But he has the talent to win now, and he should start by acknowledging the failure of
Luke Hochevar
. Dumping him would serve as a philosophical change for a club that has become enamored with "stuff" rather than results. While
Danny Duffy
and
Jake Odorizzi
are good pitching prospects, the majority of them have been way overhyped. Their only way to improve the rotation so quickly is to bring back
Zack Greinke
or sign
Kyle Lohse
or
Anibal Sanchez
and trade one of those young hitters. I know Moore has gone down this free-agent pitching path before, with the disastrous
Gil Meche
signing, but he can't keep waiting for 2014. It's time to win now.

3. Ben Cherington, Boston Red Sox
The fact is, nearly every move Cherington made last season did not work. From hiring Bobby Valentine, to trading
Jed Lowrie
to Houston and
Kevin Youkilis
to Chicago and
Josh Reddick
to Oakland, to the failed conversion of
Daniel Bard
to the starting rotation, it was a rough rookie year for Cherington.
However, what did work was the massive trade with the
Los Angeles Dodgers
that shed the Red Sox of
Adrian Gonzalez
,
Josh Beckett
,
Carl Crawford
and
Nick Punto
. That move shaved approximately $58 million in 2013 payroll alone. And with the acquisition of manager John Farrell, Cherington is effectively starting from scratch. And he's on the clock now, too.
Cherington's a bright guy and he will have ample opportunity to show what he can do with what almost amounts to a clean slate. He will have some cornerstones such as
Dustin Pedroia
and
Will Middlebrooks
, but he has to also hope
Jon Lester
and Bard return to form in their respective roles. His priority will be to figure out what to do with
Jacoby Ellsbury
, who is a free agent in 2013 and is represented by Scott Boras, so it won't be an easy negotiation. Cherington's team has plenty of holes, and he will have some financial freedom, so there will be opportunities to show last season's disaster was an aberration.

4. GM Mike Hill, president Larry Beinfest, Miami Marlins
It is a difficult situation when you're the general manager of a ballclub, but not really the general manager, or when you're the president of a ballclub, but not really the president. Essentially, owner Jeffrey Loria calls the shots on all personnel decisions and managers, and Ozzie Guillen was the latest casualty. Don't be surprised if outspoken outfielder
Logan Morrison
is next.
Of course, Guillen wasn't without fault here, alienating the Cuban section of the Marlins' fan base early last season. But after signing
Heath Bell
last winter and then trading him to Arizona, free agents will pause before going to Miami. So will managers who see no job security in South Beach -- in a span of six years, three managers (Joe Girardi, Fredi Gonzalez and Guillen) have held the job.
The Marlins will be competing with a resurgent
Philadelphia Phillies
team that still boasts the best rotation in the National League. The
New York Mets
will have lots of money coming off the books in time for the 2014 offseason and the
Atlanta Braves
and
Washington Nationals
are both built to compete for the next five years. But the Fish have some core pieces to work with, namely
Mark Buehrle
,
Jose Reyes
and
Giancarlo Stanton
, as well as some good youngsters in
Rob Brantly
,
Jacob Turner
and Nathan Eovaldi, as well as prospects
Jose Fernandez
and Christian Yelich. If Hill and Beinfest can do something this offseason with some autonomy, they could compete in the NL East.

5. Chris Antonetti, Cleveland Indians
When I say Cashman doesn't have any money and is restricted by his payroll, remember the Yankees' yearly payroll is near $200 million. Cleveland's 2012 Opening Day payroll was $65 million.
So Antonetti really doesn't have any money, nor does he have much of anything else to work with. His hiring of Terry Francona as manager is a step in the right direction. But a manager will only win if he has winning players. The "best" pitching pieces he has to trade are
Ubaldo Jimenez
and
Justin Masterson
, who don't have a ton of value right now. His farm system is below average at best, with the exception of shortstop Francisco Lindor.
Shin-Soo Choo
, arguably Antonetti's best player, is a free agent after 2013, and Boras is his agent. Antonetti simply can't let Choo walk away for only draft-pick compensation.
Further, the AL Central is surprisingly deep with Detroit's dominance, Chicago's surprise and the Royals' rise. Exacerbating things is his team and fan base seem to have lost faith in the front office, with closer
Chris Perez
openly criticizing him in the media. A rough road lies ahead for Antonetti and team president Mark Shapiro, whose own deal is up after 2013.
September, 15, 2011
9/15/11
12:12
PM ET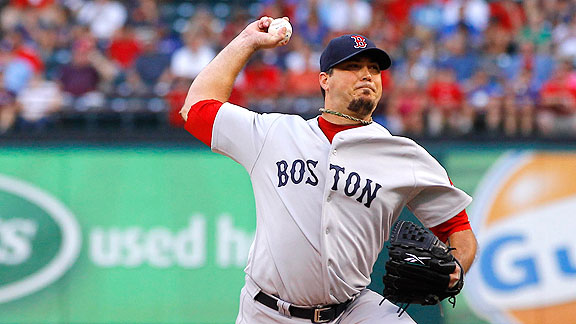 Jim Cowsert/US PresswireThe Red Sox cannot get ace Josh Beckett back in the rotation fast enough.
The
Boston Red Sox
should already have clinched a playoff berth. And yet, with just 14 games to play, they find themselves battling for their postseason lives in a crucial four-game series against the
Tampa Bay Rays
beginning tonight at Fenway Park.
With arguably the best run-producing lineup in the major leagues, a sound defense, a shut-down closer and a rotation that starts with a pair of aces, fighting to get into the postseason wasn't even on Boston's mind three weeks ago. However, due to a perfect storm of injuries, poor planning by the front office and declining performances from veteran pitchers, the Red Sox find themselves with insufficient pitching depth heading into what has turned out to be their most important weekend of the season. And it could be their undoing.
To continue reading this article you must be an Insider