The GM's Office:

Hunter Pence
October, 18, 2014
10/18/14
1:49
PM ET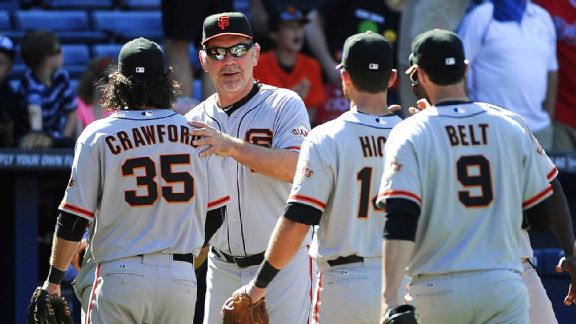 AP Photo/David TulisManager Bruce Bochy has exemplified loyalty in his leadership of the San Francisco Giants.
The
San Francisco Giants
hired Brian Sabean as their senior vice president and general manager on Sept. 30, 1996. Since then, he has led the Giants to seven postseason berths and, with this year's team, four World Series appearances, including two world championships and counting. He is presently the longest-tenured GM in the sport.
One of his best moves was made almost exactly a decade after he took the job -- on Oct. 26, 2006, he hired Bruce Bochy away from the
San Diego Padres
to be the manager of the Giants. Together they have become this generation's best general manager-manager combination. They have a strong working relationship, but most importantly, are closest of friends both on and off the field.
They represent the stability and continuity that every major league owner strives for.
July, 23, 2013
7/23/13
10:55
AM ET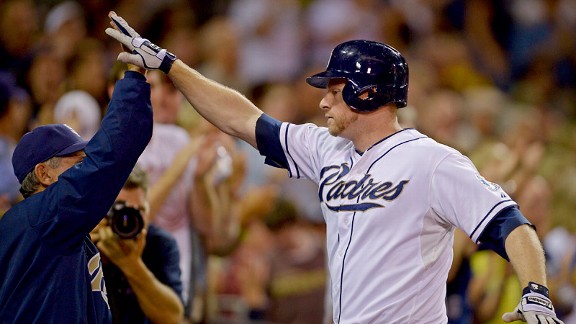 Andy Hayt/San Diego Padres/Getty ImagesThe Padres say they won't move Chase Headley before the deadline, but that could change.
While the
Matt Garza
trade that went down on Monday night created a buzz throughout the industry, it was far from a surprise. In fact, everyone knew Garza was going to be dealt, it was just a matter of where.
But every so often we get surprised at the trade deadline, with a big name getting traded that no one expects, like when the
St. Louis Cardinals
sent
Colby Rasmus
to the
Toronto Blue Jays
just before the 2011 deadline.
There is a possibility -- albeit slim -- that one of these five players that no one is expecting will get traded in a blockbuster over the next week.

Chase Headley 3B, | San Diego Padres
The Padres have told me that they're not trading Headley or signing him to an extension before July 31. Perhaps they think there will be more of a market at the winter meetings, or that the price will come down considerably after his subpar season.
To continue reading this article you must be an Insider
October, 24, 2012
10/24/12
11:45
AM ET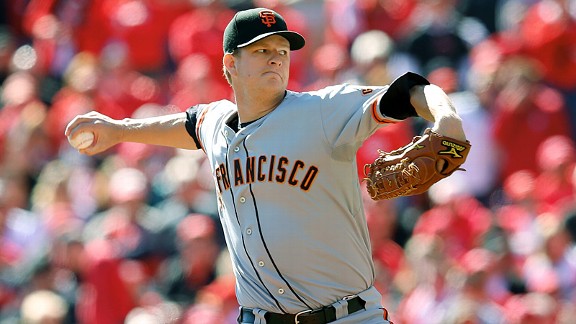 Andy Lyons/Getty ImagesMatt Cain has developed into the Giants' No. 1 starter, but they were lucky to draft him.
On Monday we discussed the
five moves that helped get the
Detroit Tigers
to the World Series and established that to get this far, you not only need good, shrewd decisions, but also a little luck.

For the
San Francisco Giants
, their drafts have had a direct impact on developing a core of players most responsible for their success. Here are the five crucial moves that helped the Giants reach the World Series:
The Giants drafted Matt Cain in the first round of the 2002 draft with the 25th pick overall. This was the stocked draft in which the
Pittsburgh Pirates
whiffed by taking
Bryan Bullington
with the first overall pick, and it included several other All-Star players such as
Zack Greinke
,
Cole Hamels
and
Prince Fielder
.
The Giants have done a great job taking pitchers in the first round; they selected both
Tim Lincecum
and
Madison Bumgarner
with the 10th overall pick in 2006 and 2007, respectively. The Cain pick stands out because he came a little later in the first round and he has become the Giants' ace, and a pitcher who is now 4-2 lifetime in the postseason with an ERA of 1.83 in five different series. The Giants also have him signed to what amounts to an eight-year, $139.75 million contract from 2010 to 2017 with a club option for 2018. They've got a big-game pitcher thanks to a big-time draft decision.
By hitting .336/.408/.549 with 39 doubles, 24 home runs and 103 RBIs, Posey won the NL batting title and I expect him to be named the NL Most Valuable Player in November. The Giants' scouting department selected him fifth overall in the 2008 draft. The Giants were fortunate that Tim Beckham,
Pedro Alvarez
,
Eric Hosmer
and
Brian Matusz
were all picked before them, so they had the opportunity to take Posey. (It helped that some of those clubs were scared off by Posey's bonus demands, but kudos to the Giants for taking -- and paying -- the guy they wanted.)
Posey does a tremendous job of calling a game, framing pitches and maintaining consistent solid contact with his pitcher. Giants pitchers rarely shake him off because of their trust in him. It is remarkable that Posey will have already played in two World Series in the first three years of his major league career, all while hitting cleanup and shouldering the catching duties, which can by physically and mentally onerous. He's a Hall of Famer in the making at an early age.
He was just named the NLCS MVP after going 14-for-28 and getting on base an incredible 16 times in the seven-game series. Giants GM Brian Sabean acquired Scutaro from the
Colorado Rockies
on July 27, costing only minor league infielder
Charlie Culberson
.
Scutaro is an above-average defensive second baseman and has brought stability and experience to the middle of the diamond. His leadership helped develop his double play partner,
Brandon Crawford
, who was much more consistent defensively after Scutaro arrived. There are many baseball clichés that best describe Scutaro, such as "dirt bag," "gamer," and "winner." He's the ideal No. 2 hitter in the lineup because he can hit-and-run, bunt, move runners and take pitches. And he very rarely strikes out.
Romo was the Giants' 28th-round pick of the 2005 draft, and although it's taken time for him to develop into a closer, his nasty slider and incredible spirit and heart have always made him a special player. Romo was 4-2 this year with a 1.79 ERA, .087 WHIP and 14 saves. He's symbolic of the many successful late-round picks that the Giants scouting staff has made over the years and another example of how hard-core scouting can be a difference maker.
Sabean has made it routine the past few years to acquire a significant outfield bat either in the offseason or during the season to help the Giants improve their offense and defense. Last year he acquired
Carlos Beltran
from the
New York Mets
and then this past offseason he traded for both
Melky Cabrera
and
Angel Pagan
. On July 31 he traded
Nate Schierholtz
and prospects Tommy Joseph and Seth Rosin to the
Philadelphia Phillies
for Pence.
On the year, Pence hit .253/.319/.425 with 24 doubles, 24 home runs and 104 RBIs. Though his playing style is somewhat awkward, Pence has brought outfield stability to the Giants. This was critical, especially because no less than a month later Cabrera -- the All-Star Game MVP -- tested positive for PEDs and his year with the Giants was finished.
Pence's pregame pep talks compare to those of Baltimore Ravens linebacker Ray Lewis, with the same bizarre glares that put fear in you if you don't know him. Pence is all heart and just wants to help the players stay loose and motivated. He's not a true "impact" player, but he's a solid player who drove in 45 runs in just 59 games to finish the season, helping the Giants hold off the Dodgers in the NL West.
August, 1, 2012
8/01/12
12:30
PM ET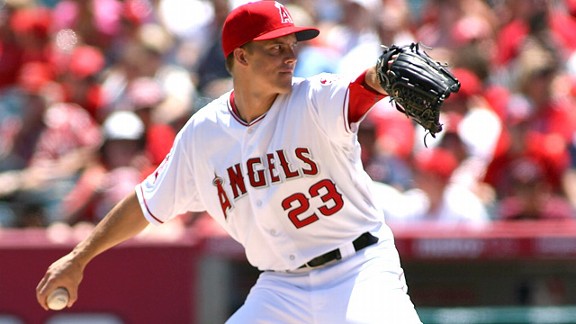 Jeff Golden/Getty ImagesBy acquiring right-hander Zack Greinke, the Angels are poised for a postseason run.
Now that baseball's July 31 trade deadline has come and gone, it's time to assess the aftermath. The flurry of activity up until the very end underscores just how many teams still feel they are in the hunt for postseason play, as well as some very shrewd moves (and non-moves) by both contenders and rebuilders.
Note: Teams that made no notable moves did not receive grades.
Notable additions:
RHP
Zack Greinke
Notable losses:
RHP John Hellweg, RHP Ariel Pena, IF
Jean Segura
Analysis:
The Angels clearly won the trade deadline with the acquisition of former American League Cy Young Award winner Greinke. Segura was expendable because of the long-term deals shelled out to
Howie Kendrick
and
Erick Aybar
. The Angels now have the best top four starters in the American League.
---
Notable additions:
3B
Hanley Ramirez
, OF
Shane Victorino
, LHP
Randy Choate
, RHP
Brandon League
Notable losses:
RHPs Ethan Martin, Nathan Eovaldi,
Josh Lindblom
Analysis:
The acquisition of Ramirez was a steal for the Dodgers, especially considering they will control him for two more years. Ramirez, 28, should benefit from the change of scenery and help protect
Matt Kemp
and
Andre Ethier
in the lineup. Victorino gives the Dodgers a table setter and a stolen base threat while improving their defense in left field. League and Choate improve their sixth- and seventh-inning relief corps.
---
To continue reading this article you must be an Insider
July, 30, 2012
7/30/12
1:45
PM ET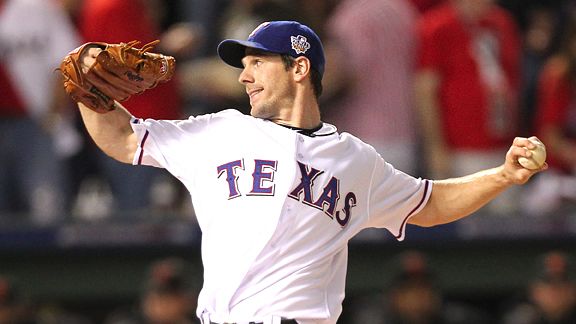 Matthew Emmons/US PresswireCould Cliff Lee be wearing a Texas Rangers uniform again very soon?
For the first time in his career as a general manager,
Philadelphia Phillies
GM Ruben Amaro finds himself a seller as baseball's July 31 trade deadline looms.
At present, his team simply isn't good enough to get back into the postseason race, either for the division crown or even one of the two wild-card berths. Simply put, he should sell ... liberally.
That means
Shane Victorino
,
Cliff Lee
,
Hunter Pence
and
Juan Pierre
.
Amaro's wheeling and dealing over the years to acquire talent such as
Roy Halladay
and Pence has cost the Phillies' farm system depth. Certainly it has seen its share of attrition, but the trades have depleted much of the currency with which Amaro has been accustomed to trading. In effect, by dealing Lee and Pence, he is essentially trying to reverse what he has done.
To continue reading this article you must be an Insider
December, 29, 2011
12/29/11
10:00
AM ET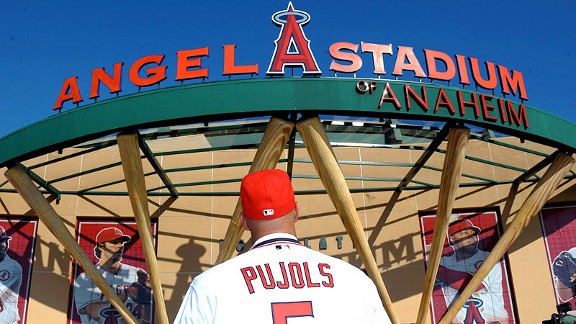 Kirby Lee/US PresswireIn 2011, Pujols found greener pastures in a land bathed in Angels red, not Cardinals.
Albert Pujols' name already is often mentioned among a trio of baseball legends – Babe Ruth, Hank Aaron and
Barry Bonds
. His prodigious career thus far has earned him that nod of respect, as well as a mammoth 10-year, $254 million contract in December from the
Los Angeles Angels
, which is justifiably the 2011 Transaction of the Year.
The speed with which the deal was completed, as well as the sheer financial numbers turned baseball's annual winter meetings on its head. But there also was symmetry; Pujols left the only team he's ever known, similar to Ruth, Aaron and Bonds. And as the sport's best active player his departure was made all the more curious by St. Louis' zeal to sign teammate
Matt Holliday
to an extension rather than Pujols. Despite his accolades and production Pujols never felt he got a full market value offer from the Cardinals. Likewise, the
Pittsburgh Pirates
knew Bonds would leave after the 1992 season, seemingly too expensive to re-sign.
To many, the historical significance of his deal was on par with Boston's selling of Ruth's contract to the
New York Yankees
in 1919, if not equal to Bonds leaving for San Francisco or an aging Aaron traded from Atlanta. Indeed, there's little doubt Pujols eventually will rank among that trio of home run hitters, so perhaps it was a move destined to happen.
---
Honorable mention:
1. Colby Rasmus traded to the Toronto Blue Jays
In a complex, three-team trade that involved 11 players, the Cardinals netted several players who were integral to their World Series championship run. On July 27, they sent former No. 1 pick Rasmus to Toronto, which had coveted the 24-year-old Rasmus for some time. Knowing that the departures of Pujols and manager Tony La Russa were distinct possibilities after the season, trading a talent like Rasmus was worth the risk to try and win now. Without role players such as
Edwin Jackson
,
Octavio Dotel
, Mark Rzepczynski, the Cardinals' run might never have reached the heights that it eventually would.
2. Doug Fister traded to the Detroit Tigers
Tigers President/CEO and general manager Dave Dombrowski's main intent in acquiring right-hander Doug Fister on July 30 from the
Seattle Mariners
was to improve his team's fifth starter. Production from that slot in the first half of the season had proven disastrous. In Fister, however, they got a No. 3 starter. With Fister's off-balance approach, the Tigers said good bye to the rest of the American League Central and said hello to the playoffs. Like the Cardinals, it is likely their postseason run would never have started without this trade.
3. Hunter Pence traded to the Philadelphia Phillies
The
Houston Astros
were selling, and the Phillies needed another right-handed bat. Pence had always been an above-average player, but after he arrived in Philadelphia on July 30, he completely changed the offense and became one of the team's best players. Even more significant was the fact the Phillies did not surrender either No. 1 prospect
Domonic Brown
or emerging right-handed starter
Vance Worley
. Instead, the Phillies gave up a decent package including pitcher Jarred Cosart and first baseman Jonathan Singleton.
July, 30, 2011
7/30/11
1:48
AM ET
The
Philadelphia Phillies
have acquired right fielder
Hunter Pence
from the
Houston Astros
for four minor league players. The Phillies had one glaring need at the trade deadline, and this trade filled it with a right-handed bat for their lineup's five hole, while also giving them a good defensive right fielder. Pence is a two-time All-Star who was one of the most popular Astros players in the clubhouse and with the fans. He is only 28 years old, and the Phillies now have control of him for two more full seasons beyond 2011.

Pence
In making the trade, the Astros acquired the Phillies' best pitching prospect, 21-year-old right-hander Jarred Cosart, and their best position player prospect, first baseman/left fielder Jonathan Singleton. However, neither player has played a full season against competition better than Class A, so they both have a long path to the major leagues -- 2014 is the most optimistic timetable for their arrivals. On the surface, most people will evaluate this deal as positive for the Astros, based on long-term projections and visions of the type of players Cosart and Singleton can become. However, Cosart has a history of health issues, and there are questions about whether Singleton will have much game power and will be able to hit good major league pitching.
The Astros didn't get enough for the best player on their team, as this deal has a lot of risk for them. In a deal such as this, it would have been better to acquire at least one major league player or top prospects who were closer to the major leagues.
Every GM I worked for always preached the importance of trading for proven major league players or prospects who were close to the major leagues to reduce the risk of failure or injuries, unless of course the player was a sure thing. Early in my career, in 1987, the late Syd Thrift, GM of the
Pittsburgh Pirates
, traded All-Star catcher
Tony Pena
to the St. Louis Cardinals. Pena was the team's most popular player, but Thrift got center fielder Andy Van Slyke, catcher Mike LaValliere and pitcher Mike Dunne. It was an unpopular deal at the time, but it ended up being a key trade in reshaping the Pirates into a contender. The difference between that trade and this one is that Van Slyke, LaValliere and Dunne already had some major league service time, which lessened the risk of the transaction not playing up to its potential. This deal has no major league player coming back, and the two best prospects in the package haven't even made it to Double-A.
Billy Beane, president and GM of the Oakland A's, has a philosophy that is backed up by history. For every three top pitching prospects, one gets hurt, one stumbles and one makes it. In short, that means you need three top pitching prospects to get one. Cosart has a chance to become a top-of-the-rotation starter, if he's fortunate enough to be the one of three. Singleton has a chance to hit and hit for power; he also might never succeed against the game's best pitchers and their best stuff. Pitcher Josh Zeid, the third player in the trade, has a good arm and might make it to the Astros' bullpen. The player to be named later will eventually get named (of course), and when he is, it probably will be someone with an even smaller chance of making it successfully in the big leagues. We all love prospects and we all hope they reach their potential, but we all know the gigantic risk that exists for even the game's best prospects.
If this was the best deal the Astros could have made for Hunter Pence, they should have waited until a better deal came to them, either Sunday or in the offseason.
On the other side of the deal, the Phillies, under the leadership of GM Ruben Amaro, have made a significant deadline trade for the third consecutive year. In 2009 they acquired
Cliff Lee
from the
Cleveland Indians
. In 2010 it was
Roy Oswalt
from the Astros. And this year it's Hunter Pence, again from the Astros. All these moves give the Phillies their best chance of returning to the World Series for the first time since 2009 with home-field advantage.
Pence will be the Phillies' starting right fielder next to
Shane Victorino
in center field and
Raul Ibanez
in left. The deal will allow the Phillies to be more patient with the development of
Domonic Brown
, whom they're expected to option to the minors to make room for Pence. The demotion will allow Brown to get playing time to continue his development instead of sticking as their fourth outfielder and prepare him to take over Ibanez's spot in the outfield when the veteran becomes a free agent at season's end.
Here's a breakdown of the players involved in the deal:
Hunter Pence
The 28-year-old Pence was the Astros' representative in the All-Star Game this year. He's a complete player who looks awkward in everything he does. He is a support player, not an impact player, but one who will fit in nicely in right field for the Phillies, and most importantly fit in nicely in the fifth position of the Phillies' lineup behind
Chase Utley
and
Ryan Howard
. Pence is not a high-OPS or high-OBP player, and has never driven in 100 runs.
However, he has been one of the most consistent hitters in the National League over the past four years. Pence should benefit from playing at Citizens Bank Park, and should improve on his normal .280 average with 25 home runs and 80 RBIs. Besides getting a boost from the park, being inserted in a lineup to bat after Utley and Howard will definitely help.
He is not the kind of player you measure by stats, and he's extremely strange looking at times, from the awkward throwing angle to the weird leg pattern as he rounds the bases. But he is a winner and definitely helps the Phillies' chances of getting to the World Series.
He was hitting .309/.356/.472 (BA/OBP/SLG) with 26 doubles, 11 home runs and 62 RBIs in 99 games at the time of the trade, on pace for career bests in many categories. He's a good right fielder on a world championship-caliber team.
Jarred Cosart
Cosart, 21, has an electric arm with a fastball clocked at 93-98 mph with good late life. His curveball is slightly above average at times, and his changeup continues to develop. He has clean arm action and a chance to develop into a top-of-the-rotation starter.
This year he was pitching at the Phillies' Clearwater affiliate in the High-A Florida State League, where he was 9-8 with a 3.92 ERA with 79 strikeouts and 43 walks in 108 innings pitched. His WHIP was 1.30.
He was the Phillies' 38th-round selection of the June 2008 free-agent amateur draft. He's had a history of shoulder, elbow and back problems; some scouts have questioned his desire and work ethic.
Jonathan Singleton
To continue reading this article you must be an Insider
July, 22, 2011
7/22/11
2:40
AM ET
Most fans are following the trade negotiations involving players like
Hunter Pence
,
Carlos Beltran
and
Heath Bell
because they are the biggest, sexiest names being discussed among the 30 major league teams. However, fans should also be following the top prospects from non-contending teams because they are the game's potential future stars.
As a former general manager, when our team was in the "seller" mode we would hold out for a top-tier prospect if we were trading away a star player that the other club would control beyond the existing year. On the other hand, if the player was a "rental" player for the balance of the season, the bar would always be set north of the potential compensation of two first-round draft choices.
You have to be realistic, though, and ask yourself if you would make the deal if you were in the other GM's position. Deals are supposed to work for both sides.
Most GMs know how they value the players involved in the trade negotiations and how far they'll go before the process even commences. Then, if you don't get the deal you like, you wait until the deadline to see if the other party blinks. As a result, 95 percent of the deals you work on never come to fruition. You must be able to walk away from a deal as easily as you would pull the trigger. The "sellers" are always chasing the
top
prospects, and the "buyers" are always trying to get you to take lower-tier compensation from among their prospects. At the end of the day, both teams know the value of players. And if there is a deal to be made, it will get done. No team wants to trade their top prospects, and no team wants to trade their star players. Both sides just try to make it work for each other's needs and direction.
Here is a look at some of the "buyers" top seven prospects, any of whom teams like the Astros, Mets and Padres are hoping to acquire in packages for stars like Pence, Beltran and Bell:
To continue reading this article you must be an Insider