The GM's Office:

hot stove
February, 12, 2015
Feb 12
10:52
AM ET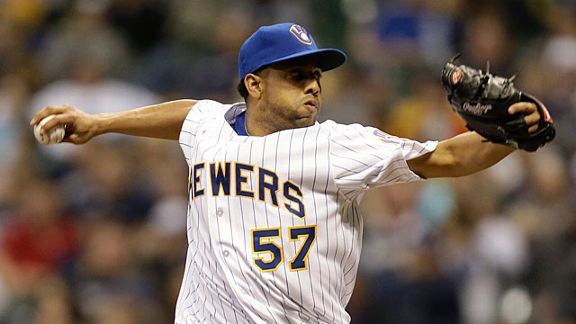 Mike McGinnis/Getty ImagesFrancisco Rodriguez led the National League in games finished (66), including 44 saves.
Major League Baseball officially opens spring training next week, when pitchers and catchers report to Florida and Arizona. However, there are still some free agents without teams, including three valuable relievers in
Francisco Rodriguez
,
Rafael Soriano
and
Joba Chamberlain
.
The
Milwaukee Brewers
appear to be the team holding up the reliever market as they wait to see if they can work out a deal with the
Philadelphia Phillies
for their closer,
Jonathan Papelbon
. If they conclude that it's not going to happen -- for either financial or prospect-return reasons -- they are prepared to turn their attention to a reunion with Rodriguez. That won't be an easy negotiation with the Boras Corporation, but should get done because K-Rod wants to return.
The
Miami Marlins
are the next team in line, and it appears they also are looking to add a reliever before next week.
February, 5, 2015
Feb 5
9:06
AM ET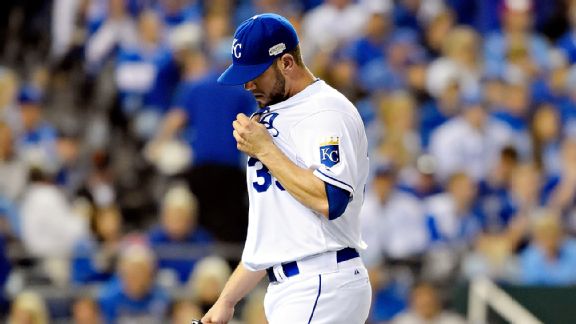 Denny Medley/USA TODAY SportsPitchers and catchers report in a couple of weeks, and James Shields remains a free agent.
Before the offseason began, I projected that
James Shields
would receive a five-year deal for around a $100 million (or a $20 million average annual value). But I also wrote that there was a question as to whether he would get that fifth year. I can answer that question now: He's not getting the fifth year.
As a former general manager, I can tell you that when a player gets to the first week of February unsigned, there's usually a good reason. If something were going to happen, it would have by then. Now Shields is looking at a four-year deal in the $70-$80 million range as the best possible result, and the price tag could be even lower than that.
There are still several clubs engaged with Shields, including the
San Diego Padres
, my current best guess to sign him. But the
Miami Marlins
and several other teams are in play, too.
Shields and his representatives overshot at the outset of free agency, and have been stubborn to come down. It has even been reported that his camp was claiming to have turned down a five-year, $110 million deal. If that's true, it was a colossal blunder.
To continue reading this article you must be an Insider
January, 9, 2015
Jan 9
12:03
PM ET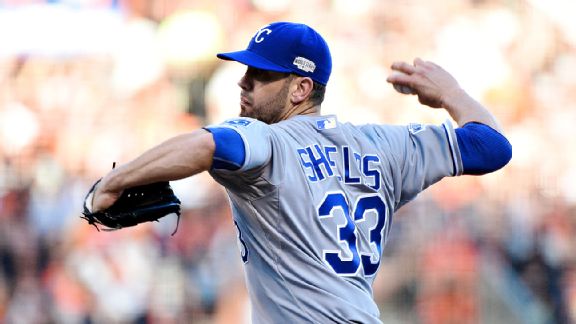 Kyle Terada/USA TODAY SportsSeveral NL teams could use a top-of-rotation starter such as free agent James Shields.
Just as I did with the
American League on Wednesday
, here's the missing link for each NL team and potential solutions:
Atlanta Braves

The Braves' offseason has been all about building for the opening of their new stadium in 2017. Braves GM John Hart has been active in rebuilding and reloading both the player development and scouting departments while doing a makeover of the major league team. The Braves traded two of their best players in
Jason Heyward
and
Justin Upton
after concluding they were not going to be able to extend their contracts until at least they reached free agency. Hart wasn't afraid to take huge gambles, including the acquisition of Max Fried, who is recovering from Tommy John surgery, in the Upton deal.
To continue reading this article you must be an Insider
January, 7, 2015
Jan 7
12:44
PM ET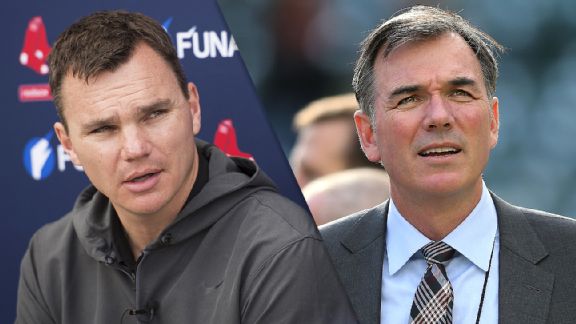 Getty ImagesGMs Ben Cherington and Billy Beane have been busy this offseason, but they still have work left to do.
There have been a lot of trades and signings already this offseason, but there's still time for more. Here's the missing link for each AL team and potential solutions:
Baltimore Orioles

The Orioles have had a disappointing offseason after reaching the ALCS in 2014, including the loss of free agents
Nelson Cruz
and
Nick Markakis
. The Orioles are hoping the returns of
Manny Machado
(knee injury),
Chris Davis
(suspension) and
Matt Wieters
(elbow) will help make up for it, but losing Cruz and Markakis definitely hurt. The Orioles feel they showed great restraint by not overpaying to keep both players, which might help them in the long run but will definitely hurt them in 2015. They've failed so far to replace them, but they are still working on signing lesser free agents such as
Colby Rasmus
and
Nori Aoki
and continue to have trade conversations with the Dodgers regarding
Andre Ethier
.
Missing link:
Corner outfield power bat
Possible solutions:
Colby Rasmus, Nori Aoki, Andre Ethier
---
Boston Red Sox

The Red Sox have had a tremendous offseason, adding middle-of-the-order bats (
Pablo Sandoval
,
Hanley Ramirez
) and starting pitchers (
Rick Porcello
,
Wade Miley
). But they still lack a No. 1 starter. The good news is their farm system is loaded, and they have enough to make a run at
Cole Hamels
,
Johnny Cueto
or
Jordan Zimmermann
if any of them are traded between now and the July trade deadline.
To continue reading this article you must be an Insider
December, 15, 2014
12/15/14
1:40
PM ET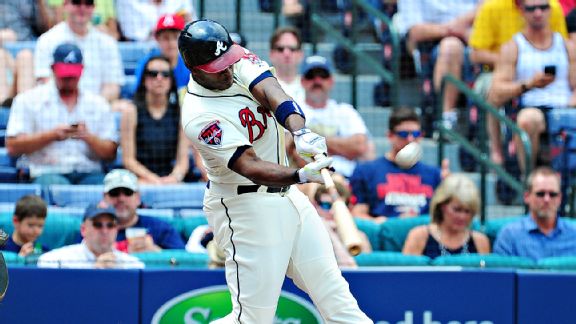 Scott Cunningham/Getty ImagesWith just one year remaining on his contract, Justin Upton has been the subject of recent trade talks.
When the offseason began, many insiders believed a trio of power-hitting outfielders would be dealt, including former Dodger
Matt Kemp
, former Red Sox left fielder
Yoenis Cespedes
and the Braves'
Justin Upton
. Kemp already has been traded (to the Padres), as has Cespedes (to the Tigers) … now we wait to see where the Braves trade Upton.
At age 27, Upton is just entering his prime years after another solid season (.270/.342/.491, 34 doubles, 29 home runs, 102 RBIs). The Braves would love to sign him long term, but with the recent signing of
Giancarlo Stanton
and the Braves' own signing of
Freddie Freeman
, the market has quickly inflated in terms of both years and dollars, which lessens the Braves' chances of retaining him. Atlanta also has
Evan Gattis
, who can play catcher and left field (albeit below average) and whom they control for five more seasons. If the Braves are unable to extend Upton, the smart business decision would be to trade Gattis as well. The team would take a step back in 2015, but the Braves would be building a squad that is ready to win when their new ballpark opens in 2017.
The Braves are ideally looking for young starting pitching and a second base upgrade in return for Upton, but like any other trade scenario, they're more concerned about the overall talent, affordability and controllability coming back in this type of transaction.
There are at least five clubs that remain interested in Upton, and here's an idea of what the return would look like with each of those teams:
1. San Diego Padres

Padres rookie GM A.J. Preller is focused on improving the Padres' lineup for 2015 and is off to a great start in landing Kemp.
To continue reading this article you must be an Insider
November, 23, 2014
11/23/14
11:57
AM ET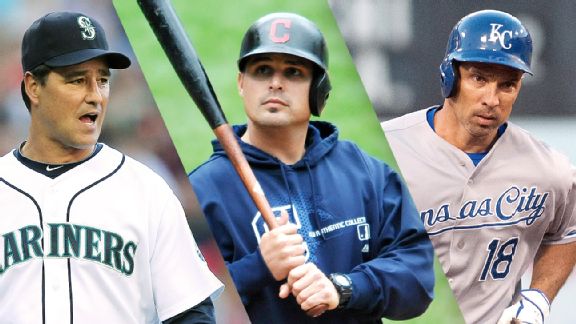 Getty Images, USA TODAY Sports, USA TODAY SportsThe Rays will choose either Don Wakamatsu, Kevin Cash or Raul Ibanez as their next manager.
With some offseason dominoes having already fallen around Major League Baseball, let's check in with the latest buzz on the biggest topics around the sport:
The Tampa Bay Rays' managerial search
The Rays' managerial search took another bizarre twist Friday when it was announced that their three finalists were Don Wakamatsu, Raul Ibanez and Kevin Cash. Their initial list of eight individuals to interview was puzzling to begin with, considering just two of those candidates were former big league managers: Wakamatsu and Manny Acta.
Wakamatsu's first managerial stint lasted only 274 games with the
Seattle Mariners
, and he was 28 games under .500 when he was fired in 2010. Acta has six years of MLB managerial experience, but his career win percentage is just .418, and he hasn't had a winning season.
But the surprising part wasn't that those two got interviews; they're both solid baseball men and deserve another chance. Instead, it was more about which experienced managers did
not
get an interview.
To continue reading this article you must be an Insider
November, 20, 2014
11/20/14
11:17
AM ET
Major League Baseball's offseason is in full swing, complete with 13-year contracts, a trade including a Gold Glover and a good, young pitcher, and a key free-agent signing or two. But that's just the beginning of this wild and wooly offseason.
With that, here are 10 bold predictions I see happening in the weeks ahead:
1. Jon Lester re-signs with the Boston Red Sox
Most analysts think Lester has pitched his last game for the Red Sox. … I'm not one of them. I think the
Chicago Cubs
will offer the most years (six) and dollars, but a return to Boston for fewer years (five) and less money is my prediction. The Red Sox desperately need a top-of-rotation starter and won't be a legitimate contender unless they get one. Lester was happy in Boston, and unless the Cubs blow the Sox's offer away, I think that's where he lands.
---
2. Marlins sign James Shields
The Marlins shocked the baseball world with the signing of
Giancarlo Stanton
to a 13-year deal, and they'll do it again by landing a top-of-rotation starter.
To continue reading this article you must be an Insider
November, 16, 2014
11/16/14
10:30
AM ET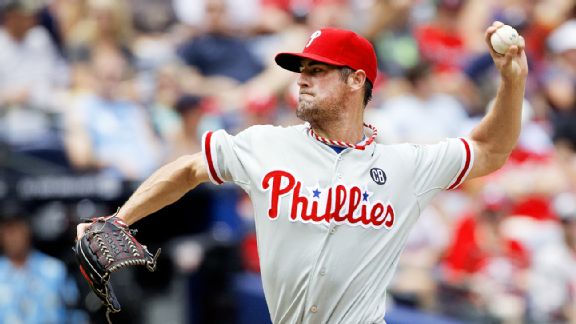 AP Photo/John BazemoreMany teams would love to have Cole Hamels, but four teams have the best chance to get him.
The Phillies' rebuilding program really won't commence until they deal their most valuable asset, left-handed starting pitcher
Cole Hamels
, who is also the most valuable player on the trade market right now.
The Phillies probably will have to wait until free agents
Max Scherzer
and
Jon Lester
have found new homes before they find the right trade partner, but that won't stop Phillies GM Ruben Amaro from laying the groundwork between now and then. Hamels, 30, is one of the best left-handed pitchers in baseball and is coming off another sensational year (6.6 WAR, 2.46 ERA, 3.07 FIP and 1.15 WHIP in 30 starts). His contract is also club-friendly, with four years remaining at a fair market value of $22.5 million per season.
One of the problems the Phillies have to deal with, however, is Hamels has 20 teams on his no-trade list, which leaves just nine teams. He might be willing to waive it for certain clubs, especially if they agree to pick up his option year or if he is given some type of assignment bonus, but the Phillies also have a limited market of teams that both can afford to take on Hamels' contract and have the top prospects to send back in this magnitude of a deal.
Although there are other possibilities, the Cubs, Cardinals, Dodgers and Red Sox are probably the four teams that match up the best with the Phillies.
To continue reading this article you must be an Insider
November, 26, 2013
11/26/13
11:25
AM ET
October, 20, 2013
10/20/13
12:00
AM ET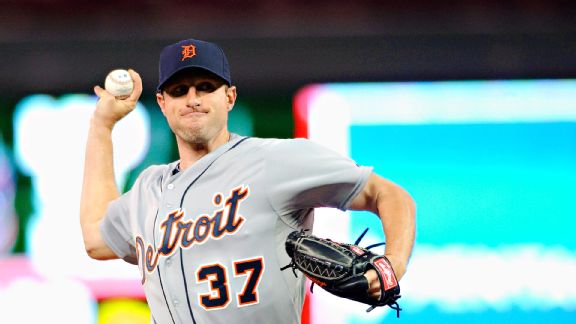 Hannah Foslien/Getty ImagesMax Scherzer is going to be expensive, but Detroit must give him an extension.
The
Detroit Tigers
were swept in the 2012 World Series by the
San Francisco Giants
four games to none and this year weren't able to get back after losing in the American League Championship Series to the
Boston Red Sox
. This despite the fact that the Tigers had a better team this year than last year with a healthy
Victor Martinez
at DH, improved defense in right field thanks to
Torii Hunter
, an impact closer in
Joaquin Benoit
, and a fully developed
Max Scherzer
, who should win the AL Cy Young Award next month.
The Tigers head to the offseason knowing their core is intact for another run in 2014. All five members of the rotation -- Scherzer,
Justin Verlander
,
Anibal Sanchez
,
Doug Fister
and
Rick Porcello
-- are signed for 2014, and the same can be said for their lineup core including:
Miguel Cabrera
,
Prince Fielder
, Martinez, Hunter,
Alex Avila
and shortstop
Jose Iglesias
.
But as the Red Sox showed, the Tigers still have some weaknesses. Here is how GM Dave Dombrowski can shore them up for 2014.
1. Tough decisions on free agents
Benoit developed into one of the American League's best closers this year, and the Tigers would like to bring him back. The good news for them is that there are a number of other closers set to be available as free agents, such as
Fernando Rodney
and
Grant Balfour
, so they have options if Benoit signs elsewhere. The Tigers could hand the job to
Bruce Rondon
, but I'm guessing they will sign someone with more of a track record.
To continue reading this article you must be an Insider
December, 13, 2012
12/13/12
3:40
PM ET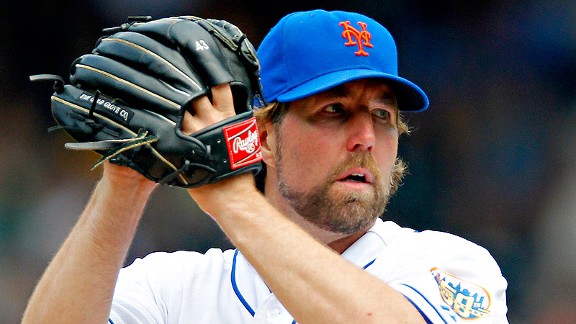 AP Photo/Paul J. BereswillIf the Angels really want to win the winter, they should make a strong push for R.A. Dickey.
For the second straight year, the
Los Angeles Angels
have swooped in to land the biggest free agent out there, signing
Josh Hamilton
to a five-year deal worth $125 million.
The Angels got incredible production from
Torii Hunter
last year, so Hamilton will fill the void Hunter left when he signed with the
Detroit Tigers
a few weeks ago. However, signing Hamilton creates the same problem the Angels had last year: too many outfielders.
As I see it, the Angels have three options for handling this logjam.
1. Trade for R.A. Dickey
To continue reading this article you must be an Insider
December, 2, 2012
12/02/12
4:30
PM ET
Not every team will make a trade at this week's winter meetings in Nashville, but every team could. With that in mind, let's take a look at one player (or more) who could be on the trade block this week from each of the 30 teams.
American League

Baltimore Orioles
Player:
Brian Matusz
, LHP
Reason:
There are several teams that believe what Matusz did in relief for the Orioles down the stretch he can also do in the starting rotation if given another opportunity. The Orioles want a corner guy/DH, and they might have to use Matusz to fill that hole.
Possible trade partners:
Mets, Padres, Indians, Cubs
To continue reading this article you must be an Insider
October, 29, 2012
10/29/12
12:00
AM ET
While the
Detroit Tigers
and their fans are obviously feeling a bit blue Sunday night, they will soon come to realize that the 2012 season was a huge success. They won the AL Central, swept the
New York Yankees
in the American League Championship Series and appeared in the World Series.
Of course, the club's weaknesses were exposed a bit in losing to the
San Francisco Giants
, but they are in a great position to improve their club this winter. Here are five ways I expect GM Dave Dombrowski to try to improve the club this winter.
1. So long, Delmon
Delmon Young
was fantastic in the ALCS and was named MVP of the series, but as a DH/left fielder he's a below-average player, as evidenced by his .267/.296/.411 line this year. He is a free agent, and the club will gladly let him walk, as they will have
Victor Martinez
coming back from a knee injury that cost him the 2012 season. Martinez will be an upgrade at DH, so the team is getting better without doing anything.
2. Bye-bye, Valverde
[+] Enlarge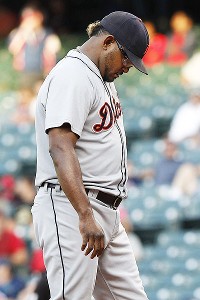 David Maxwell/Getty ImagesAfter repeated postseason failures, Jose Valverde will not be back in 2012.
Speaking of impending free agents,
Jose Valverde
will also be one, and the Tigers, who didn't trust him to pitch in any high-leverage spots in the World Series, won't bring him back. He made $9 million this year, so that will bring some salary relief. Detroit's bullpen was not a strength, and I could see them making a play for
Rafael Soriano
, who will almost certainly opt out of his deal with the Yankees, and would be an upgrade. Yes, he'd be pricey, but owner Mike Illitch has made it clear that he's willing to spend to try to win a World Series, and the club has roughly $90 committed for 2013 as of today. In other words, they have some money to spend.
I could also see the club trying to rebuild their pen by shopping
Rick Porcello
, who is still fairly well-regarded and will turn 24 in December. But as a ground ball pitcher on a team with a bad infield defense, he's a terrible fit. They should shop him to the National League or to clubs with good outfield defense in search of bullpen help. I could see San Diego, Minnesota and Pittsburgh as fits. Maybe Porcello for
Joel Hanrahan
, or possibly to Kansas City for someone such as
Aaron Crow
.
3. Retain Peralta and Sanchez
Jhonny Peralta
has a $6 million option for 2013, and the club will certainly pick that up.
Anibal Sanchez
is set to be a free agent, and he will have suitors, and that's one guy the club will want to make a play for. He has shown this October that he's a solid mid-rotation starter, and if he's paired with
Justin Verlander
,
Max Scherzer
and
Doug Fister
the Tigers will have one of the best rotations in the league.
Further, Sanchez is a strikeout pitcher, which makes him a great fit for the Tigers, as he's less-reliant on his defense, which will always be a team weakness as long as they build their lineup around
Miguel Cabrera
and
Prince Fielder
.
4. Upgrade the outfield corners
Quintin Berry
and
Andy Dirks
are decent role players, but they are not everyday guys. The Tigers have moved top prospect Nick Castellanos from third base to right field because of Miggy, and he could be up some time in the second half of next year. (And one day, don't be surprised if Castellanos is at third with Cabrera in left, a position he played when he came up with the Marlins.)
In the other outfield corner, I could see them making a play for
Nick Swisher
, as he has been one of baseball's most consistent performers over the past few seasons. The Tigers' lineup lacks depth -- something the Giants exposed -- and Swisher would provide that. Again, he won't come cheap, but the Tigers have money. A less pricey alternative would be
Angel Pagan
, who is also a free agent and could be a great No. 2 hitter while upgrading the outfield defense in left.
While they wait for Castellanos, I expect
Avisail Garcia
to man one corner with Berry and/or Dirks on the bench.
5. One more year of Leyland
Manager Jim Leyland's contract is up, and you have to think he wants to get a ring in Detroit. However, at 67 years old, who knows how much longer he will want to manage? I'd bring him back on a one-year deal and let him know that he can have the job as long as he wants it, but at this stage of his career I'd go year-to-year.
Even if they don't do much, the Tigers are probably AL Central favorites. And since Dombrowski will have some payroll flexibility, I could see him turning the Tigers into the dominant AL team next year.