The GM's Office:

Hiroki Kuroda
December, 4, 2013
12/04/13
10:30
AM ET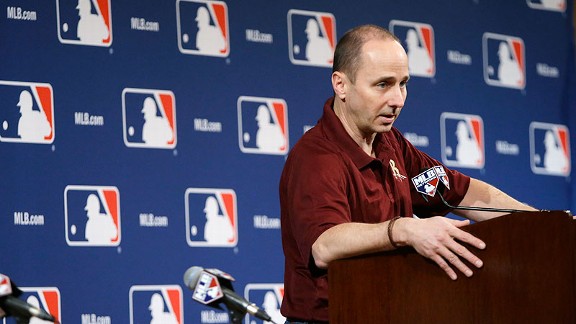 AP Photo/Mark HumphreyExpect Brian Cashman at the podium sometime during the Winter Meetings.
Baseball's annual winter meetings in Orlando, Fla., don't commence until Sunday, Dec. 8, but several general managers already have made waves this offseason.
Tigers president/GM Dave Dombrowski has made the biggest splash of the offseason so far after dealing first baseman
Prince Fielder
and right-hander
Doug Fister
, and signing free-agent closer
Joe Nathan
.
But
St. Louis Cardinals
GM John Mozeliak isn't far behind after trading for center fielder
Peter Bourjos
and signing free-agent shortstop
Jhonny Peralta
. Likewise,
Minnesota Twins
GM Terry Ryan has been active, bolstering his starting rotation by signing free-agent pitchers
Ricky Nolasco
and
Phil Hughes
to long-term deals.
However, 12 out of the top 15 free agents this offseason are still without homes, and there are several prominent players being mentioned in trade rumors, including
David Price
and
Jeff Samardzija
.
So let's take a look at some of the GMs who could join Dombrowski, Mozeliak and Ryan in making a huge splash of their own at the winter meetings.
Brian Cashman | Needs: starting pitching, second base, closer

I know what you are thinking: Cashman already made a splash by signing
Brian McCann
to a five-year, $85 million contract and
Jacoby Ellsbury
to a seven-year pact. But as I see it, that was just the appetizer.
Cashman remains focused on second baseman
Robinson Cano
, and once CAA and RocNation move a little closer to Cashman's numbers, an eight-year, $200 million deal could get done before Cashman leaves the winter meetings.
September, 25, 2013
9/25/13
9:10
AM ET
On Monday, I ranked all the
National League aces of postseason contenders
. The list featured a mixture of young power arms and seasoned veterans with postseason experience. What's more important: ability or experience? While veteran savvy is important and can help to a point, as I wrote, velocity is effective. I lean toward the best and most successful power arms. Usually postseason teams have the best lineups in the game, so the best way to win is with velocity and pitch-ability.
With the postseason almost upon us, I've ranked the No. 1 starters on all the teams still mathematically alive for an AL playoff spot.
20-3, 3.00 ERA, 230 K's, 0.97 WHIP

I asked Tigers manager Jim Leyland this week whether he would have believed me if I had told him in spring training
Justin Verlander
would be his third best starter come October? He responded with a resounding "No!" But that's exactly where the Tigers are, as both Scherzer and
Anibal Sanchez
have not only outpitched Verlander, but outpowered him, too, giving the Tigers arguably the best 1-2 punch in the AL this postseason. Scherzer is the frontrunner for AL Cy Young Award and his power fastball/slider combo and devastating changeup will be formidable in the postseason's short series.
To continue reading this article you must be an Insider
August, 23, 2013
8/23/13
10:10
AM ET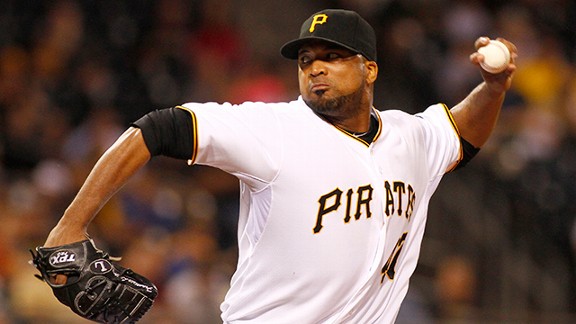 Justin K. Aller/Getty ImagesPittsburgh lefty Francisco Liriano has been one of baseball's best free-agent bargains in 2013.
Let's be honest, the top two position players in last year's free-agent class were complete disasters.
Outfielder
B.J. Upton
has reciprocated his five-year, $72.5 million deal with the
Atlanta Braves
by posting a .183 AVG/.265 OBP/.294 OPS slash line (through Aug. 22). The meager production at least makes him a candidate for NL Comeback Player of the Year in 2014. The Braves certainly hope he will step it up over the next six weeks as they approach the postseason, particularly in the wake of Jason Heyward's injury (fractured jaw) Wednesday.
Then there's
Josh Hamilton
, who signed a five-year, $133 million deal with the
Los Angeles Angels
. He, too, fell flat on his face this season, posting a .229/.286/.418 slash line. Unlike Upton's Braves, the Angels won't sniff the postseason, but their season -- and Hamilton's -- will come to a merciful end.
To continue reading this article you must be an Insider
November, 13, 2012
11/13/12
11:30
AM ET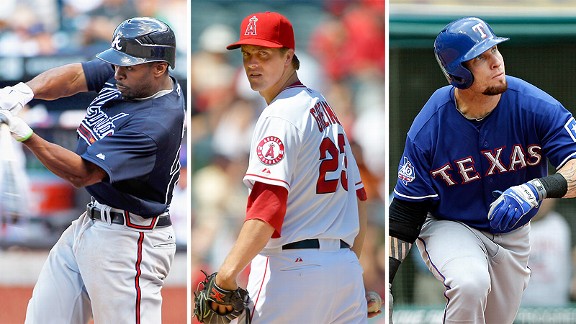 AP PhotoWith which team will Michael Bourn, Zack Greinke and Josh Hamilton sign?
Every team entering the offseason would love a shot at even one (if not several) of the top available players on the free-agent market. But that often only comes with a particular equilibrium of financial resources and baseball needs.
Below are 10 of the top available free agents, and I've ordered them based on
how much I think they will earn in their next contract
. I've also indicated where they fit best -- never listing a team more than once -- as well as how probable that signing might be.
(Check out the
Bowden Big Board
, which ranks the top 50 free agents based on what I expect them to earn on their next contact based on average annual value or AAV.)
Josh Hamilton | OF | Best fit: Texas Rangers
I won't be surprised if Hamilton's best offer comes from a surprise team like the
Seattle Mariners
,
Baltimore Orioles
or
Milwaukee Brewers
. But I think the best fit for Hamilton remains the Rangers. They are the most familiar with Hamilton and all the issues that come with him. They have a strong support team in place for him and are willing to give him a competitive average annual value. I don't think three years will get it done, and I'll be shocked if the Rangers don't go to a fourth or even a fifth year for him. Simply, the Rangers have been a much better team over the past three years with Hamilton in the lineup and he won't be easily replaced if he leaves.
Probability:
Medium
Zack Greinke | RHP | Best fit: Los Angeles Dodgers
Greinke might end up the highest-paid right-handed starting pitcher in baseball history by the time the winter meetings conclude in Nashville, Tenn., next month. The
Los Angeles Angels
, Dodgers and Rangers appear to be the teams with the most interest and wherewithal to make a play at this level, though the Nationals could be a dark horse.
I think Southern California is the best spot for Greinke, and he proved last September that he can handle the pressure of the large market. In fact, he pitched his best games against contending teams down the stretch. I think he ends up signing with the Angels because they're more likely than the Dodgers to give him an extra year. However, the Dodgers would be a tremendous fit for him, pitching alongside
Clayton Kershaw
at the top of the Dodgers' rotation. And by signing Greinke, the Dodgers certainly would assume sole possession of the highest payroll in baseball. West Coast
New York Yankees
, indeed.
Probability:
Medium
Michael Bourn | CF | Best fit: Washington Nationals
Bourn is the best leadoff hitter available on the free-agent market. Possible fits for the two-time Gold Glove Award winner include the
Philadelphia Phillies
,
Cincinnati Reds
and
Atlanta Braves
. However, he's potentially a postseason game-changer for the Nationals. They would love to move
Bryce Harper
to one of the outfield corners and put a defender in center field who can run down fly balls as well as anyone.
Offensively, having a leadoff hitter who can help manufacture runs with his speed would really improve the Nats' chances of winning the World Series, but general manager Mike Rizzo told me this week that
Adam LaRoche
is his top priority this offseason. If the Nationals re-sign him, they will probably keep Harper in center field until their top center field prospect, Brian Goodwin, is ready. It sounds like the only way they make a play on Bourn is if LaRoche signs with the
Boston Red Sox
, Rangers or Orioles.
Probability:
Low
B.J. Upton | CF | Best fit: Philadelphia Phillies
The Phillies' No. 1 priority this offseason is improving center field with a long-term solution and Upton is their No. 1 free-agent target. Upton would be an excellent fit with the Phillies because they need another right-handed bat to better balance their lineup, and his raw power should result in more than 30 home runs per season at Citizens Bank Park.
Upton would also give the team some much-needed speed, and he's a No. 2 or No. 6 hitter in a championship-caliber lineup. From my discussions with Rays manager Joe Maddon it sounds like Upton's really starting to mature. Sure, he's going to strike out 160 times, but with his power, speed and above-average defense, Upton would be a huge plus for the Phillies.
Probability:
Medium
Anibal Sanchez | RHP | Best fit: Baltimore Orioles
The Orioles made their mark in 2012 and are set up as a solid contender in the AL East for the next several years. However, to win the division or a wild-card berth next year, they'll have to count on their starting pitchers to repeat their 2012 success, which is easier said than done with so many first-year pitchers.
Sanchez would really help improve the Orioles' chances, and he looks like he's finally figured it out, as illustrated by his impressive postseason performances with the Tigers. Sanchez, 29, was throwing mostly 93-95 mph down the stretch with a nasty change, solid slider and decent curveball and his free-agent value might have soared more than any other free agent this past season.
Probability:
Medium
Rafael Soriano | RHP | Best fit: Los Angeles Angels
The Angels are not going to spend the kind of money Soriano's seeking on a closer because it's against the philosophy of GM Jerry DiPoto, who would prefer to fill the role with more inexpensive options like
Ernesto Frieri
or
Jordan Walden
. However, Soriano would be a perfect fit for the Angels, who suffered in 2012 without a lockdown closer. The Angels had a whopping 22 blown saves and would have made the playoffs if the bullpen was more effective protecting leads late in games.
Probability:
Low
Hiroki Kuroda | RHP | Best fit: New York Yankees
The Dodgers, Red Sox and Yankees all have strong interest in Kuroda, who I expect will either return to the Yankees or go back to Japan. Kuroda had a solid first year with the Yankees and handled New York like he'd pitched there his entire career. He had his best ground ball rate of his career in 2012 and developed a strong working relationship with Yankees pitching coach Larry Rothschild.
Probability:
High
Kyle Lohse | RHP | Best fit: Kansas City Royals
The Royals' early acquisitions of
Ervin Santana
and
Chris Volstad
were a start, but the Royals must be aggressive this offseason in building up their starting rotation. Lohse was the Cardinals' best starting pitcher in the regular season this year, going 16-3 with an ERA of 2.86 and he pounds the zone with the ability to keep it on the black on both sides of the plate and rarely misses in the middle.
Lohse will consider his family needs when making a choice, and it appears that the Royals and Kansas City fit that criteria. Seems like a solid fit for both Lohse and the Royals.
Probability:
Medium
Torii Hunter | RF | Best fit: Detroit Tigers
I expect Hunter to sign with the Tigers or another team before Thanksgiving. Hunter is a perfect fit for the Tigers, who can use his leadership and positive energy on the field, in the dugout and around their young players. With the Angels, Hunter was a great influence on
Mike Trout
,
Peter Bourjos
and
Mark Trumbo
, and would be a phenomenal teacher for the Tigers' young outfielders
Avisail Garcia
and
Austin Jackson
. Manager Jim Leyland told me that he'd like to add a 15-20 home run bat who can drive in 80 and play above-average defense on one of the corners. Obviously, Hunter fits the bill better than anyone else on the open market.
Probability:
High
Stephen Drew | SS | Best fit: St. Louis Cardinals
Drew is the best available free agent on the market at his position, and there isn't much else out there. He owns a strong arm and plus range to both sides. He has the ability to hit 20 home runs and should be close to 100 percent health by spring training. Drew's consistent play at shortstop and offensive game would be a significant upgrade.
With an aging
Rafael Furcal
trying to come back from injury, there is a high probability his decline will continue and include future injuries. If they can sign Drew and Furcal shows up to camp healthy, they can trade him during spring training. The Cardinals liked what they saw from
Pete Kozma
in September, but after his NLCS meltdown, I'm not so sure it wouldn't make sense to park him in Triple-A for a year and let him keep developing.
Probability:
Medium
January, 10, 2012
1/10/12
12:02
PM ET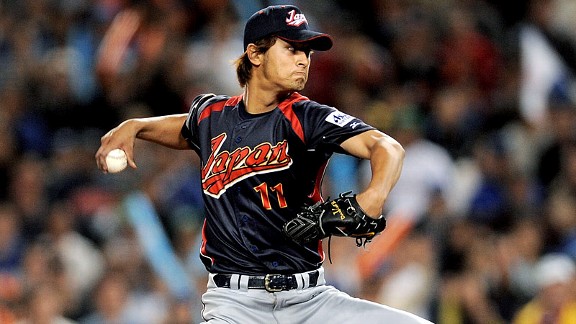 Kevork Djansezian/Getty ImagesFree agent Yu Darvish is not afraid to return to Japan if he doesn't get a C.J. Wilson-type deal.
• The
Texas Rangers
have been low-balling Japanese free-agent pitcher Yu Darvish, hoping he agrees to a deal far south of the $75-80 million range he's seeking. Darvish is such a competitor that he won't be afraid to return to Japan if the Rangers don't at least offer him a C.J. Wilson-type contract (five years, $77.5 million).
To continue reading this article you must be an Insider
December, 17, 2011
12/17/11
8:43
PM ET
Here is my list of the five most undervalued free agents remaining on the market:
1. Carlos Beltran, RF
Age: 34 | 2011 stats: .300/.385/.910, 22 HR, 84 RBI
To continue reading this article you must be an Insider
December, 9, 2011
12/09/11
7:50
PM ET
In the wake of the winter meetings and the big moves made by the
Miami Marlins
and
Los Angeles Angels
, here are the top 10 moves that didn't happen but still might.
1. Texas Rangers sign Prince Fielder for eight years, $192 million
There's an arms race brewing in the American League West, and the Los Angeles Angels just fired the first salvo with their signings of
Albert Pujols
and
C.J. Wilson
at the winter meetings. Rangers assistant general manager Thad Levine said the team likely would have to circle back and reassess whether to pursue Fielder. When a division rival makes moves as large as the Angels', Levine said, his team's entire offseason strategy must be re-evaluated. Armed with a new TV contract with Fox, Texas has the money to sign Fielder.
2. Milwaukee Brewers sign Aramis Ramirez for three years, $36 million
Once Fielder is signed, that should pave the way for the Brewers to bring Ramirez into Milwaukee. Brewers GM Doug Melvin and manager Ron Roenicke think Ramirez is the perfect fit for the lineup and the left side of their infield. However, don't count out the Angels,
Detroit Tigers
,
Philadelphia Phillies
and Marlins from bidding on him, too.
To continue reading this article you must be an Insider
December, 5, 2011
12/05/11
11:12
PM ET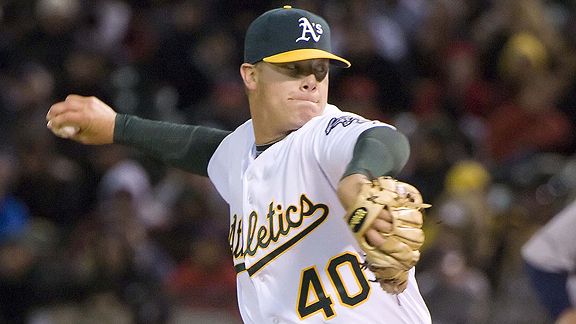 Kyle Terada/US PresswireBilly Beane continues to shop closer Andrew Bailey and lefty Gio Gonzalez for a young outfielder.
At the winter meetings, things can spin on dime. That's what makes it fun, as well as frustrating at times.
One minute a general manager or team owner will boast -- off the record -- how "on" a particular player his team is, then one bad negotiating session later the agent and player are gone just like that team's chances of signing him. Or, sometimes it's the other way around -- an agent tells you a deal is done, but the GM says it's not so you wait … and wait.
• The Oakland A's are talking to everyone regarding their starting rotation and closer
Andrew Bailey
trying to get young outfielders in trade. The
Kansas City Royals
might have a prospect package that could land left-hander
Gio Gonzalez
, which would be a coup by Royals GM Dayton Moore, if he can pull it off. The A's might ask for a package that starts with top prospect Wil Myers.
To continue reading this article you must be an Insider
November, 17, 2011
11/17/11
11:21
AM ET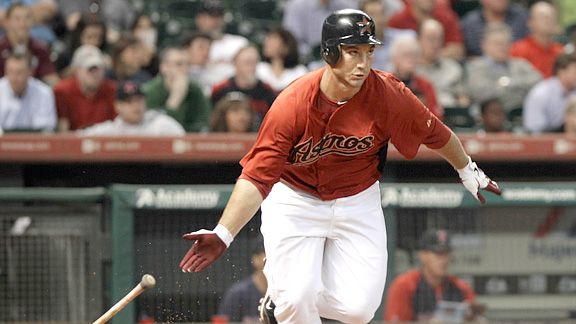 AP photo/Pat SullivanBrett Wallace already has played for four organizations, and it soon could be five.
I come across daily tidbits on possible personnel moves straight from the front offices of all 30 clubs. Here's what I'm hearing on Thursday.
Possible trades and signings
• Astros manager Brad Mills says
Carlos Lee
will be the Astros' starting first baseman in 2012, and that could open up a deal involving
Brett Wallace
to the
Cleveland Indians
. The Indians have been discouraged by
Carlos Pena
's (
No. 17
on my free-agent board) high asking price and are not convinced that
Matt LaPorta
is going to hit well. Wallace has been in four different organizations since being drafted by the St. Louis Cardinals in 2008.
• Multiple teams have inquired about left-hander
Mark Buehrle
, including the
Washington Nationals
, who have made Buehrle a top priority. They feel that he could be the perfect leader for their talented young rotation.
• The
Chicago White Sox
are not confident they will agree with Buehrle on years and salary, so look for lefty
Chris Sale
to replace Buehrle in the rotation. Further, a source close to the White Sox said not to be surprised to see them deal left-hander
John Danks
and right-hander
Gavin Floyd
. Danks will be a free agent next winter, so the Sox could look to move him while he still has a lot of trade value. Floyd's ERA has risen in each of the past three seasons, and the White Sox might try get a decent return before his value bottoms out. A rotation of
Jake Peavy
, Phil Humber, Sale and
Zach Stewart
is entirely possible.
To continue reading this article you must be an Insider