The GM's Office:

Giancarlo Stanton
November, 23, 2014
11/23/14
11:57
AM ET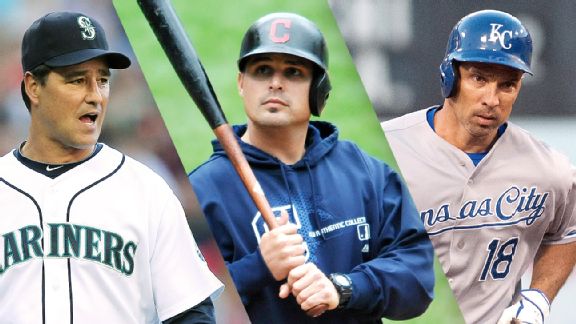 Getty Images, USA TODAY Sports, USA TODAY SportsThe Rays will choose either Don Wakamatsu, Kevin Cash or Raul Ibanez as their next manager.
With some offseason dominoes having already fallen around Major League Baseball, let's check in with the latest buzz on the biggest topics around the sport:
The Tampa Bay Rays' managerial search
The Rays' managerial search took another bizarre twist Friday when it was announced that their three finalists were Don Wakamatsu, Raul Ibanez and Kevin Cash. Their initial list of eight individuals to interview was puzzling to begin with, considering just two of those candidates were former big league managers: Wakamatsu and Manny Acta.
Wakamatsu's first managerial stint lasted only 274 games with the
Seattle Mariners
, and he was 28 games under .500 when he was fired in 2010. Acta has six years of MLB managerial experience, but his career win percentage is just .418, and he hasn't had a winning season.
But the surprising part wasn't that those two got interviews; they're both solid baseball men and deserve another chance. Instead, it was more about which experienced managers did
not
get an interview.
November, 18, 2014
11/18/14
9:41
AM ET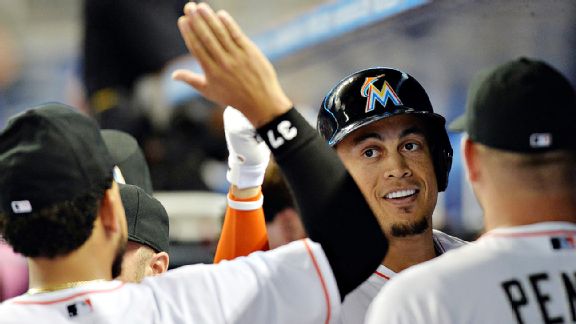 Steve Mitchell/USA TODAY SportsThe Marlins have more than just slugger Giancarlo Stanton to build a team around.
The
Miami Marlins
just agreed to terms with their star slugger,
Giancarlo Stanton
, for 13 years and $325 million, but that doesn't mean they're done spending money.
They're looking at contract extensions for their top young players, another top-of-rotation type starting pitcher and more offensive punch from some of their infield positions. Here's my quick breakdown of what's next for the Marlins:
Contract extensions
The Marlins would like to sign
Jose Fernandez
to a long-term contract next, but based on initial negotiations with his agent Scott Boras, it's highly unlikely something gets done anytime soon. That's better for the club anyway since they don't know how well he'll bounce back from Tommy John surgery.
To continue reading this article you must be an Insider
August, 21, 2013
8/21/13
10:14
AM ET
Major League Baseball is loaded with more impact stars who are non-arbitration eligible than the game has seen in decades. Although teams can control the salaries of these young stars for the first three years of their service time, it won't be long before they become arbitration eligible and their salaries skyrocket to record-breaking levels.
The fact is that for young superstar players, the closer they get to free agency, the more likely they are to reach it. So smart teams are locking them up early and buying out their arbitration years in order to save money in the long run.
Signing their non-arbitration-eligible young stars to long-term contracts keeps the players relatively cost efficient. In turn, these young stars net millions of guaranteed dollars early in their careers, which sets them up for life and eliminates any injury and/or baseball risk. And everyone agrees that it's difficult for a player in his early 20s to turn down approximately $100 million to instead wait four or five more years with the hopes of getting more. It's a smart play for both the team and the player.
Before this type of action is taken, however, position players must prove to the team they can hit all types of pitches and can sufficiently counter all the adjustments pitchers have when facing them. Teams need to make sure these guys are two-way players (offensively and defensively), low medical risks and that their makeup and character fits the team in the long term. Clubs also have to make sure that long-term security won't negatively impact these young players' work ethic, passion and will to be the best they can be.
It should be noted that two of the best young starting pitchers in baseball,
Jose Fernandez
of the
Miami Marlins
and
Matt Harvey
of the
New York Mets
, should also be under consideration for long-term deals if their respective teams aren't afraid of the inherent injury risk that often accompanies pitchers.
The deliveries of both Harvey and Fernandez are so clean that both pitchers are solid bets to succeed and stay healthy. Both are No. 1 starters and, in my mind, represent the lowest risks of any non-arbitration-eligible pitchers in baseball. But to be clear, I am not a proponent of signing pitchers to long-term deals until they have logged at least four consecutive years of approximately 200 innings pitched without arm troubles.
Therefore, here are the six position players who match the criteria I laid out above. Their long-term contracts should avoid the three years of salary arbitration and tie up at least two years of free agency, ending no later than when the players are between the ages of 30 and 32.
To continue reading this article you must be an Insider
July, 10, 2013
7/10/13
10:25
AM ET
With just 21 days left before baseball's trade deadline, there's already been a flurry of early activity.
The
Los Angeles Dodgers
acquired
Ricky Nolasco
, the
Baltimore Orioles
added
Scott Feldman
and the
Washington Nationals
traded for
Scott Hairston
.
A number of factors are compelling teams to try to close deals earlier: a dearth of sellers and surplus of buyers created by two extra playoff slots, new free-agent compensation rules, and international bonus slots that teams have been trading left and right.
Still, if trades made in the next 21 days are of the caliber and size of the aforementioned trio, this year's deadline will prove to be somewhat ... boring. So I've cooked up five potential blockbuster trades I'd like to see. They make sense for all the teams involved and might add a little spice to the deadline.
To continue reading this article you must be an Insider
January, 22, 2013
1/22/13
12:50
PM ET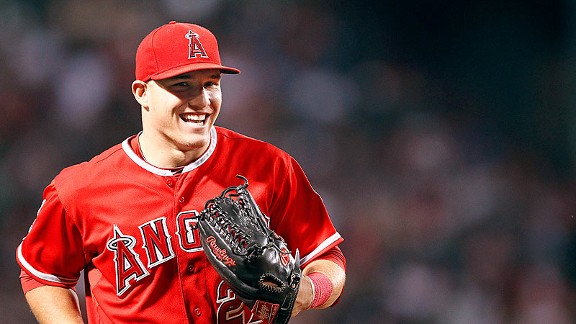 Mark L. BaerMike Trout is so good, a 10-year deal might not sound all that crazy.
The phrase "timing is everything" might be cliché, but when it comes to deciding to which young superstar he should offer a multiyear contract, a general manager's timing must be impeccable, as is his organization's evaluation and projection of a player's ability.
Signing players to long-term extensions benefits the team for two obvious reasons: It can save money in the long run and it delays a player's free-agent eligibility. It behooves any club with good, young non-arbitration eligible players with four or fewer years of service to try to sign its best players long-term. The further a player is from free agency, the lower the deal and the greater the discount.
To continue reading this article you must be an Insider
December, 27, 2012
12/27/12
8:25
AM ET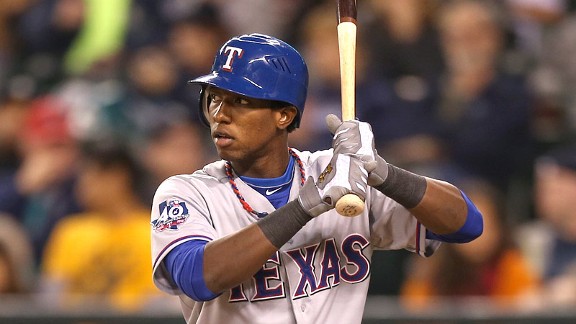 Otto Greule Jr/Getty ImagesTexas is hesitant to trade Jurickson Profar, but a certain slugger could change their mind.
We've already seen plenty of wheeling and dealing this winter, but there are some teams with holes still to fill. Here are five moves out there to be made that would change the fortunes of a few contenders.
1. Texas Rangers-Miami Marlins trade
To continue reading this article you must be an Insider
December, 21, 2012
12/21/12
1:00
PM ET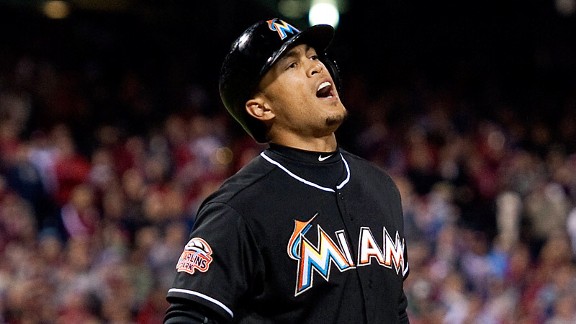 Howard Smith/US PresswireGet used to it, Giancarlo. Unless Stanton gets traded, life will be frustrating.
An emotional reaction was not a surprise and probably warranted. Shortly after the
Miami Marlins
' blockbuster trade of
Jose Reyes
,
Mark Buehrle
and
Josh Johnson
to the
Toronto Blue Jays
in November, Marlins outfielder
Giancarlo Stanton
sent out the following tweet:
@Giancarlo818: "Alright, I'm pissed off!!! Plain & Simple"
He watched as his team's management decimated the roster for a package of prospects. Now Stanton sits in the wreckage of what used to be a team most thought would contend for the National League East Division title. Now they'll be lucky not to lose 100 games.
Stanton has been very open about his desire to be traded, but the Marlins have control of his contract through 2016. The question now will be whether he gets his wish. If you believe the Marlins' front office, it's not happening.
When great players are stuck in bad situations, they must possess and display great character and intensity to perform at the same level as if they were on a contending team. Here are five examples of great players who will have to perform in bad situations in 2013, as well as a look at how these players might be able to get out of their current mess:
To continue reading this article you must be an Insider
November, 14, 2012
11/14/12
11:25
AM ET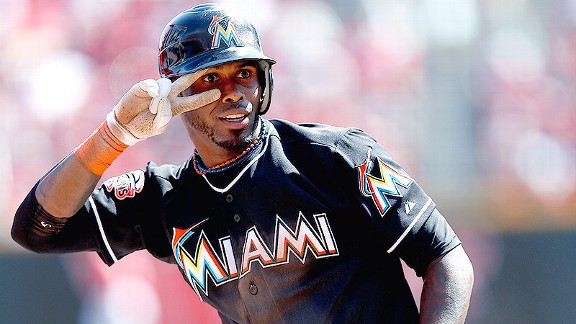 Joe Robbins/Getty ImagesPeace out! After only one season, Jose Reyes is leaving Miami and headed to Toronto.
We thought we had seen it all with the
super-blockbuster nine-player trade in August
between the
Los Angeles Dodgers
and
Boston Red Sox
.
Then this happens.
Like the Red Sox-Dodgers deal, it's a megatrade that works for both parties as one team rids itself of onerous contracts to another team that's starving to win. Until now,
Toronto Blue Jays
general manager Alex Anthopoulos has operated with shrewdness and precision. If this deal works out, he'll be on the short list for 2013 Executive of the Year.
Meanwhile, after the
Miami Marlins
endured a disastrous debut season in their new ballpark, wearing new uniforms, with a new team and a new manager, Marlins owner Jeffrey Loria is going back to an old technique: the fire sale.
Regardless of Loria and his track record of gutting his teams, the deal made sense for the Marlins from a baseball perspective, as well as the Blue Jays. It looks lopsided, but the Marlins did much better in this megatrade than people think. By acknowledging they simply weren't going to win with the team they had, they cleared out almost $185 million in payroll and moved a bunch of veterans in one fell swoop.
How it makes sense
For the Blue Jays:
Anthopoulos acquired some rotation leadership to mentor the Blue Jays' young starters in
Mark Buehrle
and
Josh Johnson
. Their presence will be significant for
Kyle Drabek
and
Drew Hutchison
as they return from Tommy John surgery as well as helping
Ricky Romero
bounce back from a horrendous 2012 season.
Anthopoulos also brought catcher
John Buck
back to the team with whom he enjoyed a career year in 2010, hitting .281 with 20 homers and 66 RBIs. Buck had lost his starting job to
Rob Brantly
, whom the Marlins had acquired from the Tigers. The Blue Jays now will have Buck and fellow catcher J.P. Arencibia to keep the seat warm for top catching prospect Travis d'Arnaud, and trade one of them when d'Arnaud is ready for the big leagues.
I'm not sold completely the Blue Jays will win the AL East outright because of the injury history of Jose Reyes and Johnson, but they have instantly become contenders for the division title if they get reasonably healthy seasons from the players they acquired.
For the Marlins:
After recognizing their team simply wasn't going to win with the players they had, selling them off was the most logical next step for Marlins president Larry Beinfest and general manager Mike Hill. They already had begun the process over the summer, dealing
Hanley Ramirez
,
Anibal Sanchez
and
Omar Infante
.
They had a serious medical question mark in Johnson. For me, Johnson's shoulder must be considered a high risk; it has hampered him since his All-Star campaign in 2010. With only one year left on his contract at more than $13 million, moving him made sense because they certainly weren't going to re-sign him. And the worry would always be if he reinjured his shoulder, what could they get for him then?
In Buehrle they had a solid innings-eater whose best seasons are certainly behind him. And with Buehrle's heavily backloaded contract, the Marlins saw no logic in holding onto the decline for two more years when their team had little chance to contend.
Jose Reyes
was the one major piece the Marlins had to give up in order to shed the other two. Reyes will immediately improve the Blue Jays at the top of the order, on the field and in the dugout and clubhouse, where his high energy and enthusiasm is priceless. He is one of the game's best shortstops and was perhaps the one brilliant move the Marlins made last December. But like Buehrle, his deal is backloaded, so the Jays are taking on a heavy financial burden.
If the Marlins truly believe that Johnson and Buehrle's trade value will only go down from here, you can't blame them for making this deal.
What's next for the Marlins?
Shortly after news of the deal broke, Marlins outfielder
Giancarlo Stanton
sent out a tweet.
@Giancarlo818
:
Alright, I'm pissed off!!! Plain & Simple
He probably has every right to be upset. With his team gutted, he won't sniff the postseason until at least 2015. New Marlins manager
Mike Redmond
probably knew this was going to happen -- that's why he got a three-year deal.
Naturally, this got many people wondering: "What is Stanton's fate?" With Stanton ineligible for free agency until 2017, he's not going anywhere and eventually should share the outfield with newly acquired prospect Jake Marisnick and current Marlins top prospect Christian Yelich. However, that doesn't mean the Marlins are done dealing.
Look for them to move right-hander
Ricky Nolasco
next. Either
Henderson Alvarez
or Justin Nicolino can take Nolasco's place in the rotation at some point. Alvarez, with improved command and a better breaking ball, can be a solid middle-of-the-rotation arm in time. Likewise, Nicolino's easy delivery and advanced poise and control could easily help him develop into a solid starter.
With what they acquired for Hanley Ramirez and
Heath Bell
, the Marlins' starting rotation could eventually looking something like this. (For those who don't know, Fernandez is one of the game's best pitching prospects who posted a 1.75 ERA across two levels of Class A this season.)
Jose Fernandez, RHP
Jacob Turner, RHP
Justin Nicolino, LHP
Henderson Alvarez, RHP
Nate Eovaldi, RHP
Another move the Marlins could make is flip shortstop
Yunel Escobar
to the
Oakland Athletics
. In the event the A's are unable to re-sign
Stephen Drew
, the Marlins could spin Escobar to Oakland and play
Adeiny Hechavarria
-- whom they also acquired from Toronto -- at shortstop. Hechavarria is an exceptional fielder, but his bat lags far behind. Outfielder
Logan Morrison
also is a candidate to be moved, but he more likely will serve as a stop-gap player until Yelich arrives in Miami.
It's true the Marlins now enjoy massive payroll flexibility and could theoretically afford to sign a free agent for other needs. However, no significant free agent is ever again going to sign with the Marlins without a complete no-trade clause after watching them deal Reyes, Buehrle and Bell less than a year after signing them.
June, 8, 2012
6/08/12
10:15
AM ET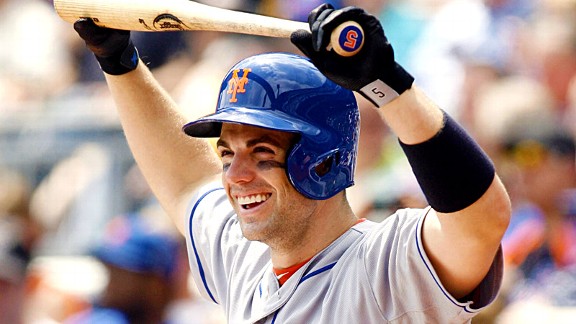 Charles LeClaire/US PresswireFree of injuries, Wright has returned to his All-Star form.
After two months of the season, there are already some clear and obvious choices for the 2012 All-Star Game. But there are also some intriguing names as possible first-time All-Stars, too.
The fans will vote the starters in; managers will pick their favorites. So while the best players in baseball are supposed to be representing both leagues, due to the process, some great players often don't start or even make the team.
So free from any variables like that, here are my first-guess picks for the National League All-Star team. This includes the starting lineup, the bench and the pitching staff. To view my first-guess picks for the American League roster, click here. On Saturday we will follow up with the 10 most intriguing possible All-Stars from both rosters.
Leave a comment and tell me who you think should be on the 2012 All-Star teams.
National League starting lineup
First base: Joey Votto, Cincinnati Reds
With the departures of
Albert Pujols
,
Prince Fielder
and
Adrian Gonzalez
to the AL the last few years, Votto has separated himself as clearly the best in the NL both offensively and defensively.
To continue reading this article you must be an Insider
April, 26, 2012
4/26/12
10:30
AM ET
Earlier this week,
Los Angeles Dodgers
general manager Ned Colletti said he's already talked to the team's new ownership about a
contract extension for outfielder
Andre Ethier
. At 30, Ethier is a two-time All-Star, has earned Gold Glove and Silver Slugger awards and is in the prime of his career. He currently leads the majors in RBIs with 23. He also leads a list of seven players who should be signed to contract extensions now. Most of these players are in or are entering their most productive years, or perhaps are talented young players whose stardom is easily projectable. So it might behoove teams to stay ahead of the market and lock them in now.

1. Andre Ethier, RF
With the Dodgers' $2 billion sale from Frank McCourt to the group led by Magic Johnson, Stan Kasten and Mark Walter -- the CEO of Guggenheim Partners -- officially closing in less than a week, one of the team's first orders of business should be to extend Ethier. He is the only legitimate protection for Matt Kemp the Dodgers have in the middle of their lineup. And with a farm system that will offer very little offensive help, this is an important signing. Further, the Dodgers' new ownership might also want to have a conversation with Cy Young Award winner Clayton Kershaw. They control his rights through 2015 but might want to start talks with him to stay ahead of a rapidly ballooning market for starting pitching.

To continue reading this article you must be an Insider