The GM's Office:

Elvis Andrus
November, 13, 2014
11/13/14
11:09
AM ET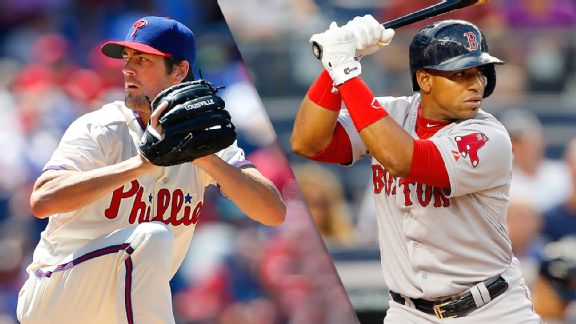 Getty ImagesCole Hamels and Yoenis Cespedes are two players who could be dealt this offseason.
Get ready for a busy MLB offseason. Here is a ranking of the 10 players who I think are the most likely to be traded, from the most likely (No. 1) to the least likely (No. 10) among the group.
1. Cole Hamels, LHP, Philadelphia Phillies
The Phillies' rebuilding program doesn't officially begin until they deal their biggest trade asset in Hamels, who is also the player (among those available) with the most trade value in baseball right now.
Hamels, 30, is coming off his fifth consecutive year of 200 innings pitched and his lowest ERA (2.46) in his career. He has four years and $90 million remaining on his contract, with a team or vesting option at either $20 million or $24 million. The challenge for the Phillies with regard to dealing him is two-fold: Hamels has a 20-team no-trade list, and only a few of those remaining nine teams have enough in their farm system to satisfy the Phillies with three top prospects. However, once free agents
Max Scherzer
and
Jon Lester
find new homes, the interested teams that lose out will certainly be considering Hamels.
April, 12, 2013
4/12/13
9:04
AM ET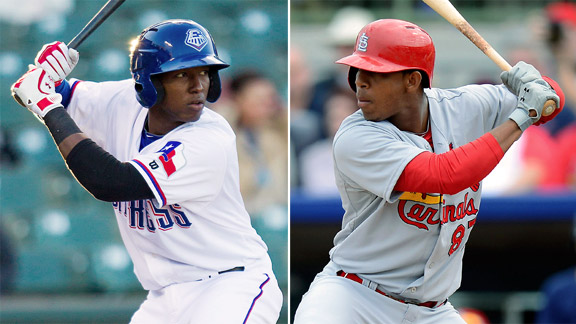 AP PhotoSwapping Jurickson Profar and Oscar Taveras makes sense for Texas and St. Louis.
A bad trade can haunt a general manager for life.
I say this while assessing the positions in which
St. Louis Cardinals
GM John Mozeliak and
Texas Rangers
GM Jon Daniels find themselves. Mind you, it's an enviable position; each GM is blessed to have one of the game's top prospects -- outfielder Oscar Taveras (Cardinals) and shortstop
Jurickson Profar
(Rangers). And yet neither team has any room for them on their major-league rosters.
That is, unless they swapped prospects.
With the Cardinals in need of a long-term solution at shortstop, Profar would fit perfectly with them. Likewise, Taveras fits with the Rangers, who are seeking a middle-of-the-order bat to play right field, especially with
Nelson Cruz
in his free-agent walk year.
A deal of this magnitude is referred to as a "challenge" trade, one that will impact both GMs' careers and their respective teams for years. It takes guts and fortitude to make a trade like this, and how well those players perform will forever be the gauge with which the team and its fans judge who "won" the trade.
To continue reading this article you must be an Insider
March, 22, 2013
3/22/13
10:45
AM ET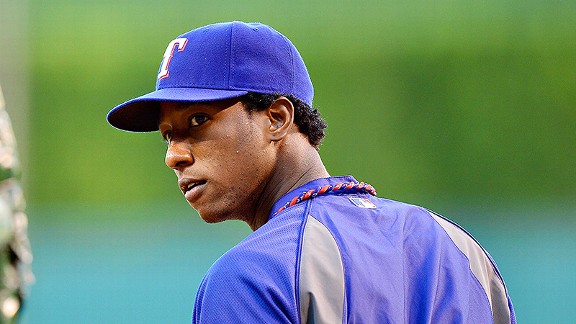 Jake Roth/USA TODAY SportsRangers GM Jon Daniels has a tough decision about what to do with prospect Jurickson Profar.
If the following scenario sounds keenly familiar to
Texas Rangers
fans, it should.
A veteran player realizes he must move to another position to make room for a young budding star, despite making the All-Star team and earning a Gold Glove the prior season. He refuses at first, but finally relents knowing the move is what's best for the team.
In 2009, after being a five time All-Star and coming off two straight Gold Glove campaigns, the Rangers moved
Michael Young
from shortstop to third base to make room for an exciting prospect named
Elvis Andrus
. Still seemingly in the prime of his career, Young bristled at first but eventually knew the team came first and shifted over.
Fast-forward to this spring training, where prospect
Jurickson Profar
has forced the Rangers into another tough decision. Profar is the best middle infield prospect in baseball. His talent says he's ready to be an everyday player at the major league level. Frankly, the Rangers should have named Profar their everyday second baseman before spring training even started. But that means All-Star second baseman
Ian Kinsler
must move to first base.
To continue reading this article you must be an Insider
December, 4, 2012
12/04/12
9:00
PM ET
NASHVILLE -- Trades in Major League Baseball always seem to leave fans on one side unsatisfied. It's not because bad trades are taking place -- it's really about motive. Name a recent trade between two teams that made
both
teams better immediately. It just doesn't happen. Deals get done to shed salary, provide flexibility, clear a personality from the clubhouse, deepen the prospect pool -- you name it. I understand, because I've had to make these deals. But it's a legit complaint: Where is what GMs might call "a good baseball trade?"
They don't exist anymore. Maybe only in your fantasy league, which is part of the reason people love to play.
That said, I can think of a good baseball trade that improves the immediate prospects for two franchises, and makes sense right now. The
Arizona Diamondbacks
should send
Justin Upton
to the
Texas Rangers
for
Elvis Andrus
. Let's look at how this works from both sides.
The Rangers' standpoint
Texas manager Ron Washington has no reason to worry about his future at shortstop. Even in the absence of Andrus,
Jurickson Profar
truly is ready to handle the shortstop job every day. This is a player with an exceptional glove, great range, and the ability to adjust in the face of failures at the plate. As Washington has told me, Profar is the kind of young talent who will "play himself into ready" -- meaning he has the makeup to bounce back, quickly adjust, and fight through failure. And you're still talking about a kid that had an .820 OPS in Double-A last year and doesn't turn 20 until February. The immediate health of the Rangers at shortstop minus Andrus is fine.
Given that Profar needs to be up, Texas would face the issue of moving either an established star in
Ian Kinsler
, a very good shortstop in Andrus, or a prospect in Profar to the outfield or possibly first base (Kinsler). Where's the good option? Kinsler is inked for four more years, isn't really tradable, and doesn't want to switch positions. Andrus is a Gold Glove-quality shortstop, but Profar has more upside. One of these three has to go, and it won't be Kinsler or Profar.
Andrus, 24, has two years left on his deal at just over $11 million total, and he won't be back. It just won't work, not with Profar and Kinsler around, and the Rangers need to have the mindset of moving him when he's at peak value.
[+] Enlarge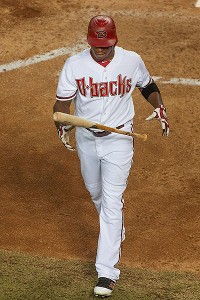 Darren Carroll for ESPN The MagazineUpton was leading MLB in strikeouts when he was benched in June.
Enter Upton.
For one, Texas could use the outfield bat. Upton has three years left on his deal at a total of $38.5 million, so you get a degree of certainty and a chance to further develop the 25-year-old. He make a bit more than Andrus, but you get an extra year and Texas has a bit more payroll to play with. Upton provides another very good bat in a deep lineup and is capable of hitting .300-plus with 30-plus home runs. His bat could thrive in Texas. But that's just the baseball potential. As a young player, he could thrive under Washington, whose enthusiastic style might work better with Upton's makeup than Gibson's hard-nosed approach.
And if Texas retains
Josh Hamilton
, you could have a lineup that starts Kinsler, Profar,
Adrian Beltre
, Hamilton and Upton. Is that terrifying or what? Great power, some speed, and total balance. The deal makes Texas a better team, immediately, and with a better look for the future.
But it helps Arizona, too.
The D-backs' standpoint
Almost two years ago, Diamondbacks GM Kevin Towers publicly floated the idea of dealing Upton. He listened, and when the right package couldn't be put together, he opted not to pull the trigger. Arizona came back, Upton played well, and the team went on to win its division in 2011. By once again publicly floating Upton as a player teams can be bidding on, he's admitting his desire to move the player. You can't float the guy a second time, not pull off a deal, then bring him back to spring training and act like it's business as usual.
Andrus would make the Diamondbacks better, and especially so when you consider the market. The market for shortstops with star potential is obscene. Just look at what
Jose Reyes
got. If you don't have an internal solution at shortstop and aren't playing with Monopoly money, you have to draft or trade for one. With nobody in the pipeline that's ready to fill their void at shortstop, Andrus is that trade.
In Andrus, the D-backs get a guy that is special in the field, and is just 24, so he'll continue to get better. He moves well to both sides, and will save runs in that fast infield in Arizona. His bat has improved in each of the last two seasons, and he has a .727 OPS last year -- and again, this is still a young player by any standard. He's well-liked, and has experienced winning. He'll be a good fit in the clubhouse.
What the D-backs need to remember is it's a lot easier to find 20-plus home runs at a corner outfield position than it will be to find a very good solution at shortstop. Upton has a high ceiling with his bat, but it's rare to be able to move
any
kind of player for a very good major league shortstop.
This is a good baseball trade. Two young players, one 24, one 25; two teams that fill needs; two teams that get out of the trade cycle of perpetual trade whispers surrounding a key member of the team. Texas and Arizona should find a way to get it done.
October, 26, 2011
10/26/11
11:44
AM ET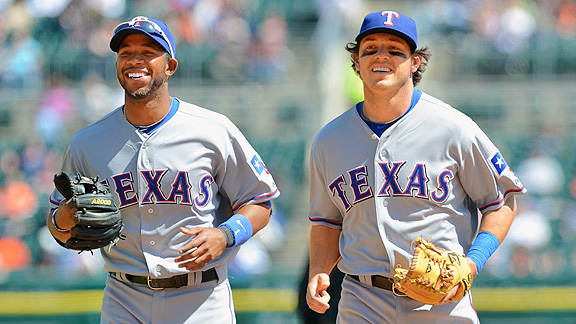 Mark Cunningham/MLB Photos/Getty Images Elvis Andrus and Ian Kinsler have meshed well as a double-play combination.
Call the
St. Louis Cardinals
opportunistic. They saw their chance to pounce on a limping
Atlanta Braves
squad and earned the NL wild-card berth. They saw a Phillies lineup vulnerable to lefties and exploited it to their advantage. Against the
Milwaukee Brewers
, they took advantage of a poor defense -- one that committed 12 errors in 11 postseason games -- and propelled themselves to the World Series.
They've gotten nearly the same amount of help from the
Texas Rangers
, who have committed 10 errors in their 15 postseason games. Yet the Cardinals have not been able to leverage those mistakes. Because while shortstop
Elvis Andrus
and second baseman
Ian Kinsler
have tallied four errors between them this postseason, they've saved more runs than they've cost their team. The same can be said of third baseman
Adrian Beltre
and right fielder
Nelson Cruz
.
Giving your opposition extra outs is one thing, and certainly errors are an easy way of showing that. But what standard statistics don't show are the runs that great plays take away. In high-leverage situations, Andrus and Kinsler have seemed to come up with an amazing play to turn a difficult double play or get the runner in a bang-bang play at first. Likewise, Beltre's and Andrus' range from right to left have prevented extra baserunners throughout the postseason. And who can forget Cruz's throw to cut down
Miguel Cabrera
in the ALCS?
To continue reading this article you must be an Insider
October, 11, 2011
10/11/11
12:12
PM ET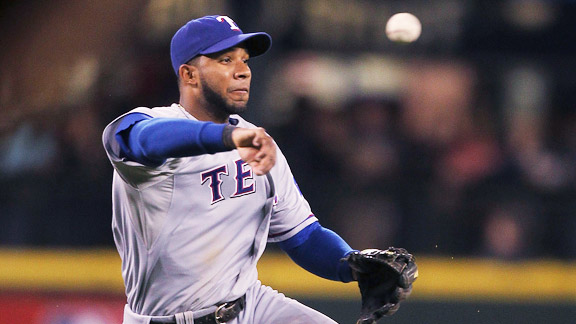 Otto Greule Jr/Getty ImagesElvis Andrus and Texas' defense defused two Tigers bases-loaded threats.
Down two games to none, the Detroit Tigers are happily returning home, but they'll receive no reprieve from Texas' offensive onslaught.
Nelson Cruz
's walk-off grand slam almost seemed to capture all of the problems facing the Tigers, some over which they have no control.
With outfielders
Magglio Ordonez
(ankle) out and
Delmon Young
(oblique) hurting, the Tigers simply do not have enough firepower to match up with the Rangers. That's allowed Texas to pitch around
Miguel Cabrera
, Detroit's best hitter, especially with cleanup man
Victor Martinez
struggling at an 0-for-7 clip in the ALCS.
Tigers Hall of Famer Al Kaline said to me yesterday there was no doubt in his mind that Cabrera is the greatest hitter in Tigers history, or at least since Ty Cobb, and that includes himself! Lofty praise, indeed.
And so it was that Rangers manager Ron Washington continued to make good on his promise of not letting Cabrera beat his team when he intentionally walked Cabrera in the ninth inning with two men on and two outs. Martinez immediately popped out.
The Rangers have also outclassed the Tigers in the field. On two separate occasions with the bases loaded, the Rangers saved themselves with terrific defense. In the second inning, second baseman
Ian Kinsler
ranged far to his right to make a terrific inning-ending force play on a
Ramon Santiago
grounder. Later in the ninth inning, with two outs, shortstop
Elvis Andrus
showed phenomenal range, getting to a Martinez flyball that very few shortstops would reach. He pretty much saved the game for the Rangers with that play. It was a play I doubt Tigers shortstop
Jhonny Peralta
would have made and underscores the limits of the Tigers' defense.
Then, in the outfield, late-inning replacement
Andy Dirks
dropped a
Mike Napoli
flyball that set the stage for Cruz's grand slam.
Here's what I'm looking for in Game 3 at Comerica Park tonight.
To continue reading this article you must be an Insider