The GM's Office:

Derek Jeter
March, 29, 2014
3/29/14
9:25
AM ET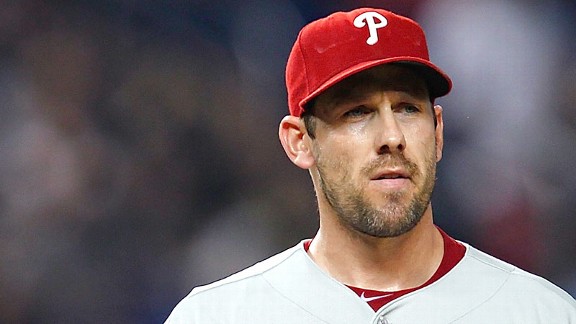 Rich Schultz/Getty ImagesCliff Lee has a lot to be worried about if things go sideways for the Phillies.
With the start of the 2014 season upon us, it's time to take a guess at what might happen this year.
In
this space last season
, I predicted that
Yasiel Puig
would become an instant hit in Los Angeles and envisioned a last-place finish for the
New York Yankees
. Although the Yankees did not end up in the AL East cellar, they definitely fell off, and "Puigmania" did indeed ensue. So here are seven predictions I'm making for 2014.
1. Phillies finish last in the NL East

The
Philadelphia Phillies
might not have the worst roster in baseball, but they do have the oldest, and it's a team that has been on a steady decline for the past few years.
January, 13, 2014
1/13/14
9:00
AM ET
In my opinion,
Alex Rodriguez
has probably played his last major league game. When his suspension is up at the end of the 2014 season, I expect the
New York Yankees
to release him unconditionally and pay him the remaining $61 million of his contract. I also don't think there is an owner or GM in baseball who will sign him -- even for the league minimum.
While the Yankees have saved A-Rod's $25 million salary for 2014, they now have a glaring void at third base they need to fill. There are many that are expecting them to spend some of that money on the hot corner, I get the sense they'd prefer to spend the money on Masahiro Tanaka and/or bullpen help while staying below the $189 million luxury tax threshold. Therefore, a stop-gap approach to begin the 2014 season is the most likely direction that GM Brian Cashman will be going with the goal of solving it long term by next offseason.
With that in mind, I thought it would be a good idea to run down all of the Yankees' options at third base, both for 2014 and beyond.
1. Call on the Captain
The Yankees say they are comfortable with some type of platoon with players such as
Kelly Johnson
,
Scott Sizemore
,
Eduardo Nunez
,
Dean Anna
, Yangervis Solarte and
Corban Joseph
. Obviously, none of those guys are long-term solutions, and some will wonder if they are even viable short-term solutions.
If I'm Cashman, I would have a conversation with
Derek Jeter
to see if he would be willing to move over to third base.
To continue reading this article you must be an Insider
May, 24, 2013
5/24/13
9:44
AM ET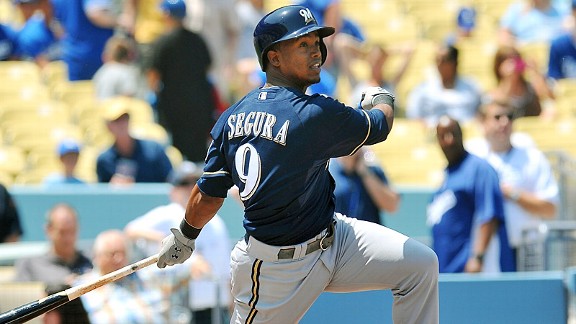 Gary A. Vasquez/USA TODAY SportsJean Segura has made believers out of those who scoffed after the Brewers traded for him.
Sparky Anderson once told me he didn't believe in anything he saw on the field until June 1. Only after two months of baseball could he have confidence a player or team's performance was legitimate.
With June just around the corner, there are several teams and players who I believe and don't believe in. Last week I wrote about how the
Seattle Mariners
have what it takes
to contend all season. Then Monday I wrote about how the
Cleveland Indians
can't even be considered
as a wild-card contender unless they acquire more pitching help. In that same vein, here are five other performances I think will either hold up for the rest of the season or won't.
To continue reading this article you must be an Insider
March, 30, 2013
3/30/13
9:24
AM ET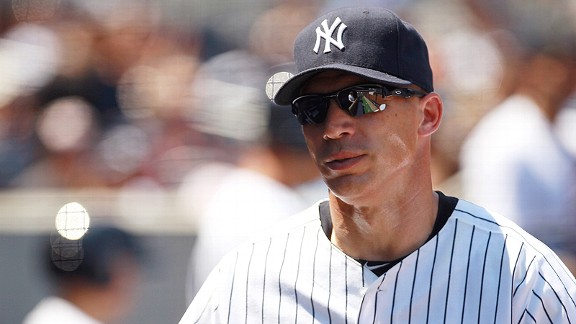 Mike Stobe/Getty ImagesIs Yankees skipper Joe Girardi staring at a last-place finish in 2013?
With Friday's news of right-hander
Justin Verlander
and the
Detroit Tigers
agreeing to a record-setting contract, the drama of whether baseball's best pitcher would see free agency in two years came to an end.
Some could say it was predictable in a sense. After all, the Tigers would look extremely foolhardy to allow Verlander to walk via free agency after his current contract expires after 2014. Saying Verlander was going to sign an extension at some point isn't going out very far on that proverbial limb. It's just not a
bold prediction
.
So, what craziness could happen in 2013? With Opening Day just around the corner, here are my 10 bold predictions for the 2013 baseball season:
1. New York Yankees finish last in AL East.

It hasn't happened in 22 years, since the Yankees finished 67-95 and seven games in back of the
Milwaukee Brewers
, but the Yankees could very easily go from first in 2012 to worst in 2013. And, with the American League's largest payroll, there is additional pressure to win in addition to their own high standards of success.
To continue reading this article you must be an Insider
February, 28, 2013
2/28/13
5:08
PM ET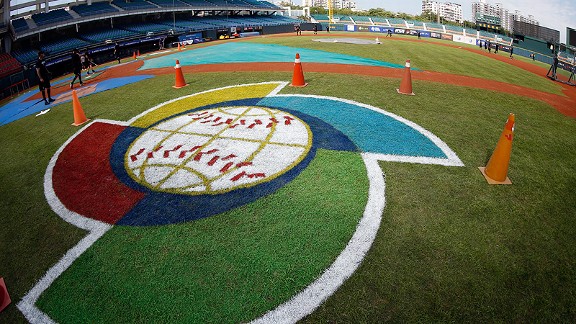 Yuki Taguchi/Getty ImagesThe only way to elevate MLB player participation in the WBC is to make it mandatory.
In the combined 15 years I served as general manager of both the
Cincinnati Reds
and
Washington Nationals
, I was always a huge proponent of the World Baseball Classic. Baseball is an international sport, and perhaps someday the World Series will include teams from around the world rather than just clubs from the United States and Canada.
Until then, the WBC is a welcome alternative. It's been a relative success internationally, underscored in 2009, when each game averaged 2 million viewers. Japan won both the 2006 and 2009 tournaments, while the United States, which has arguably the best collection of players in the world, has not fared well in the WBC mainly because so many players decline invitations to participate.
Their reasons for not playing are varied and justified to a certain degree. Money plays a part;
Justin Verlander
isn't participating for fear of injury during contract negotiations;
Jurickson Profar
is focused on making the
Texas Rangers
. If Profar plays in the WBC, it could mean the difference between making the team or not and receiving a big league paycheck or not.
Mike Trout
simply thought he needed a full spring training to be prepared for the regular season.
On the other hand,
Russell Martin
's
cavalier withdrawal from Team Canada
because they wouldn't let him play shortstop illustrates the somewhat lax attitude many MLB players have toward the tournament. Martin's actions essentially mock the WBC. Team USA has been guilty of this; they simply do not take the same amount of pride in the tournament as other countries such as Japan, Cuba, South Korea, Venezuela and the Dominican Republic. Sure, it's not the Olympics, but those countries seem to better understand the honor and privilege of representing one's country.
However, if the World Baseball Classic is to reach its potential and help the sport open doors to new revenues and audiences, we need to change the culture and attitude regarding major league players' participation. For this to happen, baseball must make participation mandatory by all healthy players, just as it does for the All-Star Game. It should become part of the player uniform contract as well as the collective bargaining agreement.
To continue reading this article you must be an Insider
October, 20, 2012
10/20/12
11:30
AM ET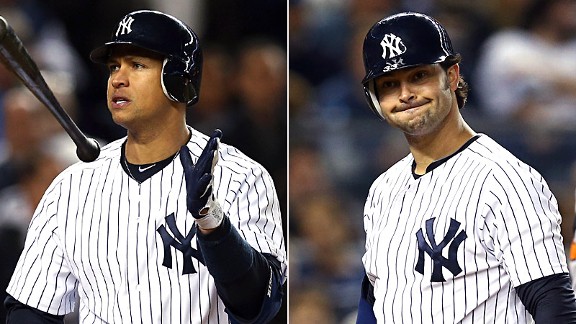 Getty ImagesThe Yankees must resolve the Alex Rodriguez issue and upgrade over Nick Swisher.
Let's consider these facts from ESPN's Stats & Information department regarding the
New York Yankees
' historically poor performance in the American League Championship Series:
• The Yankees' .188 batting average in the 2012 postseason is the lowest in MLB postseason history by any team that played at least seven games. They scored just 22 runs in nine games, for an average of 2.4 runs per game. That's the fourth-fewest runs per game in a single postseason by any team that played at least seven games.
• The Yankees had played 36 consecutive postseason series without being swept -- that was the longest streak in MLB history. This is the first time they've been swept in any series since the 1980 ALCS, when the Royals swept them in a best-of-five series. The last time the Yankees were swept in a best-of-seven series was in the 1976 World Series, when the Reds beat them.
• The Yankees enter an offseason filled with uncertainty. Although they're almost certain to exercise a pair of club options for 2013 on
Robinson Cano
($14 million) and
Curtis Granderson
($13 million), the key players who are eligible for free agency are
Mariano Rivera
,
Andy Pettitte
,
Nick Swisher
,
Ichiro Suzuki
,
Hiroki Kuroda
and
Russell Martin
.
Add the fact that
Rafael Soriano
also has an opt-out clause in his deal, so he is no lock to return.
With all that uncertainty on their roster and questions about things, I've come to one conclusion: It's time to blow up the Yankees.
It's time for the Yankees to get younger and more athletic. For this storied franchise, anything less than a World Series championship is considered a failure. The team is built to withstand a 162-game season in which an aging lineup can routinely feast on fourth and fifth starters. But in the postseason, when those same aging bats see the absolute best pitching in a short series, as the statistics above indicate, they fall short. Outside of
Derek Jeter
and Cano, the lineup's holes and weaknesses were exposed.
But the only way to rebuild and win now is for Hal Steinbrenner to take a page out of his father's strategy -- which sometimes worked, sometimes did not -- and that means spend money and trade prospects.
Start with Rodriguez
The most prudent thing to do is to try to persuade
Alex Rodriguez
to waive his no-trade clause. The Yankees likely would have to pay nearly all of his salary with the exception of perhaps a few million. This would come with the stipulation that the Yankees would pay only if Rodriguez plays and is on an active roster.
There's simply no hiding or denying Rodriguez's decline. As
Dan Szymborski pointed out
, it has been coming for years. Rodriguez at 37 might still be a serviceable player capable of hitting .260 with 20 home runs, but the Yankees would do well to turn the page. Ideally, it would be best to cut ties and pay his salary and move on. But if they cannot, the next move is to convert him to designated hitter.
The Yankees have a track record of leading aging sluggers out to pasture by converting them to designated hitters. In the footsteps of
Bernie Williams
, Paul O'Neill,
Hideki Matsui
,
Jason Giambi
,
Jorge Posada
, Rodriguez should follow suit and join
Raul Ibanez
in what could be turn out to be an effective lefty-righty platoon, albeit perhaps the most expensive DH combination in baseball history.
Resolving Rodriguez would free up the Yankees to chase, well,
Chase Headley
, the Kansas City Royals'
Mike Moustakas
or Washington Nationals prospect Anthony Rendon. To acquire someone like Headley, Yankees general manager Brian Cashman will have to do that which he most despises: trade prospects.
Frankly, I say empty the farm system to get whatever pieces they need. New York's farm system took a hit this year with the poor performance of top pitching prospect Manny Banuelos, and he is going to miss the 2013 season after undergoing Tommy John surgery. Still, the Yankees could get this kind of deal done if they were willing to part with outfield prospect Mason Williams and catching prospect Gary Sanchez. George Steinbrenner never had a problem sacrificing prospects, and New York needs to be aggressive.
Cashman has said repeatedly that he wants complete players, and Headley, for example, is exactly that. Even with Petco Park as his home field, switch-hitting Headley batted .286 with 31 home runs, stole 17 bases and led the NL with 115 RBIs while playing very solid defense. At 28, he enters 2013 in his prime and is about to get very expensive in arbitration. The Padres have built an incredibly deep farm system, and if they sell high on Headley, they can further fortify their farm while freeing payroll to lock up some of their top youngsters.
To get Headley, it probably will take a prospect package similar to what the
Cincinnati Reds
forked over to San Diego for pitcher
Mat Latos
in December.
Buy, buy, buy
Outfielder
Josh Hamilton
will be by far the biggest name on the free-agent market. Fittingly, the team in the biggest market should be the one to reel him in.
Hamilton fits Cashman's proclivity for "complete" players, and his left-handed swing is tailor-made for Yankee Stadium. They Yankees need a better postseason hitter than Swisher, who has been exposed in October, hitting .169 in the playoffs in his career.
Likewise, the Yankees should pursue speedster
Michael Bourn
. Signing Bourn would free Cashman to trade or decline the club option ($2 million buyout) on Granderson and his 195 strikeouts and move
Brett Gardner
to left field. Bourn also would serve as the leadoff man the Yankees desperately need and, once again, add some much-needed speed.
On the mound, Pettitte will announce soon whether he will return in 2013. Outside of
CC Sabathia
, and perhaps Hughes, the rest of the rotation is simply not World Series caliber.
Michael Pineda
should be back from shoulder surgery and could be an upgrade, but there is no way the Yankees can assume he will be an impact player in 2013.
Re-signing Kuroda will help, but signing
Zack Greinke
or
Kyle Lohse
will be necessary to deepen the Yankees' starting rotation. None of the prospects they have will do that, and the Yankees can't afford to wait for kids.
I know there has been talk about the Yankees wanting to avoid the luxury tax, but they're the Yankees -- they should be paying the luxury tax. And let's be honest, George Steinbrenner would have been this aggressive.
Bring back Russell Martin?
As our own Buster Olney suggests, the Yankees
loved Martin's toughness and winning attitude
, but a long-term contract just wouldn't work.
If the Yankees miss out on Hamilton or Greinke, they might think about turning to
Minnesota Twins
catcher
Joe Mauer
. The Twins probably would love the chance to shed Mauer's huge contract, and the Yankees are one of the few teams that can afford him. As noted, the Yankees could end up clearing a lot of payroll this year if Soriano opts out, Swisher leaves and Granderson's option is declined.
As with Hamilton, Mauer's swing is perfect for Yankee Stadium. The Twins are desperate to rebuild their pitching staff, and giving some prospects might appeal to them.
To be sure, the Yankees can't make all of these moves, but the point I'm making is that the team needs to think aggressively. The Yankees have been relatively inactive the past couple of winters, but it's time for them to channel some of The Boss' bold mentality. They are baseball's uber-team, and they should be prepared to lose draft picks and pay the luxury tax. The Yankees have never settled for mediocrity, and they shouldn't now. The time has come for Hal to become George for just a few years to get the Yankees back to where they belong.