The GM's Office:

Delmon Young
February, 26, 2013
2/26/13
10:24
AM ET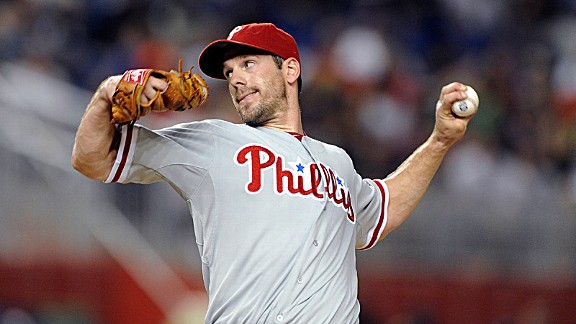 Ronald C. Modra/Sports Imagery/Getty ImagesIf the Phillies aren't in contention by the All-Star break, Cliff Lee should be on the move.
When Ruben Amaro Jr. took over as general manager of the
Philadelphia Phillies
following the 2008 season, he inherited a club that had just won the World Series. He went back to the World Series the next year, then made it back to the playoffs the following two seasons.
A year ago, I predicted the Phillies would miss the playoffs after five straight first-place finishes, and sure enough, they went 81-81. Now, for the first time as Phillies GM, Amaro finds himself in a really tough spot. With age, injuries and lack of depth catching up to his club, he has to start thinking about tearing down a team that is no better than the seventh-best in the National League.
It's basically four months or bust for Amaro and the Phillies. If his team is not contending by the All-Star break, he must gut the team and start dealing his veterans while they retain some value and acquire young talent to replenish a depleted farm system. If Amaro decides to tear it down, everyone but
Cole Hamels
should be available via trade.
Thus, the following are five crucial questions Amaro's team must answer within the first four months of the season. Otherwise, he should get to the task of tearing down and rebuilding the Phillies.
February, 12, 2013
2/12/13
1:40
PM ET
It was an active offseason that witnessed the trade of a Cy Young Award winner, several large, multiteam trades and an inflated free-agent market. So to evaluate and rank the offseason of all 30 teams, I took into account the following factors:
• How it improved the team for 2013, as well as the next five years.
• How it affected payroll and budgets -- both short and long term.
• How it affected team chemistry and clubhouse culture.
• How effectively needs were filled -- through free agency, trade or farm system.
• The amount of money committed compared with the value received.
• Aggressiveness.
With spring camp upon us, we'll see whose offseason produces the best results. Here are the rankings of all 30 teams' offseason campaigns.
1. Toronto Blue Jays | GM: Alex Anthopoulos

Acquired:
RHPs
R.A. Dickey
,
Josh Johnson
, LHPs
Mark Buehrle
,
Darren Oliver
, SS
Jose Reyes
, C's
Josh Thole
and
Mike Nickeas
, IFs
Emilio Bonifacio
,
Maicer Izturis
, OF
Melky Cabrera
Analysis:
Anthopoulos had a tremendous offseason, making two of the biggest offseason trades in baseball history. It cost him some prospects, and when the dust settled the Blue Jays added three top-of-the-rotation starters to complement
Ricky Romero
and
Brandon Morrow
to give the Jays the best five-man rotation in the division -- on paper. They now have the veteran leadership, speed, energy and enthusiasm to be a legitimate World Series contender.
To continue reading this article you must be an Insider
January, 11, 2013
1/11/13
11:00
AM ET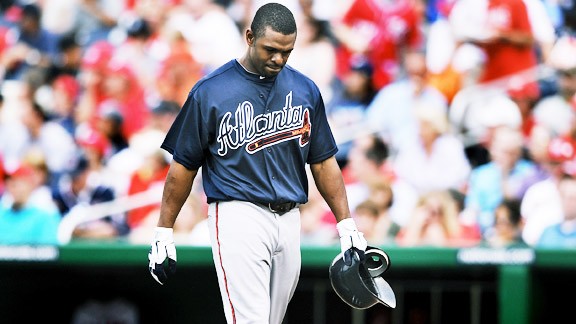 Patrick Smith/Getty ImagesMichael Bourn remains a free agent as many teams quickly filled their center field needs.
In about a month, pitchers and catchers will be reporting for spring training, and yet several significant free agents remain unemployed. Some were even once thought to be among the best in this offseason's free agent class, but because of bad timing, trades or teams' reluctance to part with draft picks, the lucrative contracts these players were seeking simply haven't materialized.
Here are the best players left on the free agent market, as well as where they fit best and a prediction of where I think they will sign.
1. Michael Bourn | CF
The center fielder market collapsed pretty quickly for the best leadoff hitter and defensive center fielder in this year's free agent market when the three NL East teams with obvious holes in center field filled their needs right out of the chute: The
Washington Nationals
traded with the
Minnesota Twins
for
Denard Span
. Then the
Atlanta Braves
signed
B.J. Upton
to a five-year, $75 million deal. Soon after, the
Philadelphia Phillies
acquired
Ben Revere
from the Twins.
To continue reading this article you must be an Insider
November, 26, 2012
11/26/12
10:25
AM ET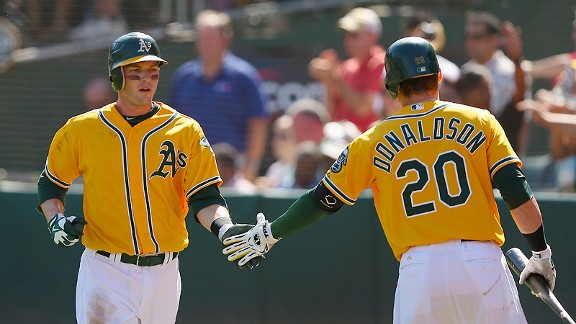 Ezra Shaw/Getty ImagesStephen Drew (left) got his groove back after being traded to Oakland last season.
The
Toronto Blue Jays
might have signed the most undervalued free agent position player from this year's class when they inked outfielder
Melky Cabrera
to a two-year, $16 million deal. Melky was in line for a four-year deal in the $50 million range before he failed a PED test over the summer, but could still prove to be a great signing if he shows that his performance over the last two seasons was not a PED mirage.
Likewise, the Chicago Cubs' signing of right-hander
Scott Baker
to a one-year, $5.5 million deal might be the most undervalued starting pitching signing of the offseason so far. Baker was undervalued because he's coming back from Tommy John surgery. However, he should be able to give the Cubs some solid innings and, perhaps more importantly, a trade chip come next July.
Here are five other potential undervalued free agents who are still available on the open market:
Why he's undervalued:
Drew is the best shortstop on the free agent market. Period. He has the offensive capability for a .330 OBP with 30 doubles and 15 home runs annually. Defensively, he possesses above-average range to both sides with a strong arm. But he's had to overcome numerous injuries in his career, the worst being a severely broken ankle back in July 2011 that took more than a year to heal. Drew didn't come back from injury as quick as the Diamondbacks hoped and was sent to Oakland at midseason, where he played an integral part in helping the A's leapfrog the
Texas Rangers
for the AL West title. Drew's offense and defense looked like it was all coming back by late September, and a big 2013 could be in store. Drew is quiet and thus seen by many as aloof and selfish. But watch him play day in and day out, and it's easy to see why he's one of the most underrated shortstops in the majors.
Best fits
: Athletics,
Detroit Tigers
,
Pittsburgh Pirates
and
Boston Red Sox
---
Why he's undervalued
: He missed all of the 2012 season after undergoing Tommy John surgery on his right elbow. The Royals declined his $8 million club option for 2013, making Soria a free agent. Soria was one of the AL's best closers from 2008-11, when he averaged close to 36 saves per season. Soria has a career 2.40 ERA and 1.043 WHIP, and he's saved 40 games and had an ERA under 1.80 twice in his career, all with the Royals. His rehabilitation is going well, and there is a good chance that by July or August he could be back being a dominant closer and difference maker in a pennant race.
Best fits
:
Los Angeles Angels
, Tigers,
Cincinnati Reds
,
New York Yankees
and Red Sox
---
Why he's undervalued
: Young has two strikes against him: He is a very poor defender, and he has had some off-field problems. Young pleaded guilty earlier this month to aggravated harassment for yelling an anti-Semitic slur and wrestling a man to the ground outside of the New York Hilton last spring. He handled this incident as well as he could, sincerely apologizing to all parties involved, and he will perform some community service and attend a tolerance seminar as part of his punishment.
The Tigers moved him to full-time DH during the season, which seemed to help his bat, and I think he could have value as a full-time DH. The market isn't big for that kind of player, so he'll probably come cheap, but his impressive postseason success the past four years -- including winning the ALCS MVP award last month -- will be enough for someone to take a chance on him.
Best fits
:
Cleveland Indians
,
Seattle Mariners
,
Houston Astros
---
Why he's undervalued
: Uehara was so bad down the stretch in 2011 that the Rangers left him off their postseason roster. And his subpar performance left a bad taste with many scouts who had a hard time adjusting to his incredible turnaround this past year. Uehara's 43 strikeouts and three walks for Texas gave him an incredible 14.33 strikeout-to-walk ratio. His 88-89 mph fastball with command and control and unhittable splitter were so impressive that anyone who evaluated him in 2012 had to just completely forget about 2011. Uehara should be a lockdown setup man for someone in 2013.
Best fits
:
Philadelphia Phillies
, Rangers,
Milwaukee Brewers
, Red Sox and
Baltimore Orioles
.
---
Why he's undervalued
: Grilli's age and inconsistent career make some wonder if his 2012 season was a fluke. While Grilli has had longevity in the major leagues -- pitching 10 years with an ERA of 4.34 – he's also had an unimpressive 1.413 career WHIP. So what's there to undervalue?
Grilli has been dominant out of the bullpen in each of the past two years for the Pirates. His success started in 2011 when he finished with a 2.48 ERA and a WHIP of 1.19 in 28 games after not even pitching in the major leagues in 2010. There weren't any clubs buying his success as he signed a $1.1 million deal to go back to Pittsburgh. This season he not only proved 2011 was no fluke but also showed he could take his arm to an even higher level. In 2012 he pitched 58 2/3 innings and punched out a whopping 90 hitters. His 92-94 mph fastball and nasty slider are good enough to help any team's bullpen.
Best fits
: Phillies, Pirates, Red Sox, Brewers, Rangers,
Miami Marlins
,
New York Mets
October, 3, 2012
10/03/12
10:00
PM ET
In 2004, outfielder
Carlos Beltran
came into the season making $9 million on a one-year contract with the
Kansas City Royals
. By the time 2005 spring training rolled around, he was with the
New York Mets
making $119 million on a seven-year contract with an iron-clad no-trade clause.
Beltran was an All-Star player and soon-to-be free agent peaking for a small-market team that knew it couldn't afford his upcoming contract demands. So the Royals traded him to Houston where he nearly led the Astros to the World Series by hitting .435 with eight home runs, 14 RBIs and six stolen bases in the NLDS and NLCS combined. It was a bonanza postseason en route to a bonanza offseason payday.
Likewise, in this year's postseason there are five players who could use bountiful postseason performances to improve their free-agent value. For a couple, it could mean lucrative paydays. And for one, it offers a shot a redemption.

Josh Hamilton, CF
Hamilton has already publicly stated that there will be no hometown discount for the Texas Rangers. With Hamilton planning on several large charitable endeavors in the near future, he is looking for a maximum contract to help get those plans started.
To continue reading this article you must be an Insider
August, 20, 2012
8/20/12
12:40
PM ET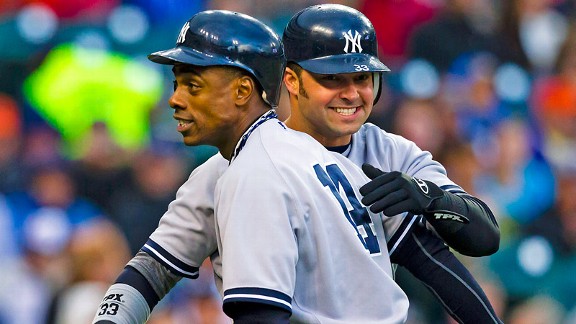 Rick Osentoski/US PresswireNick Swisher keeps his teammates loose and has produced consistently over the last six years.
For most people watching
San Francisco Giants
outfielder
Melky Cabrera
, his 2012 season so far seemed almost too good to be true. Turns out it was.
His dream season began in May when he earned the 100th hit of 2012 in his 291st plate appearance, breaking Willie Mays' 54-year-old team record of fewest plate appearances needed to achieve 100 hits. Cabrera then added All-Star Game MVP honors, and his offensive production helped keep the Giants in first place for much of the season.
The dream soured into a nightmare after Cabrera tested positive for performance enhancing drugs and was suspended for 50 games. He's exacerbated the situation with new reports that he paid a consultant to
create a phony website to fool the players' union and MLB
into believing he had accidentally ingested a supplement spiked with testosterone.
Investigations are ongoing, but the upshot of it all is that Cabrera had nearly paved the way for a potential contract in the range of five to six years between $12 and $15 million per season or a total package of $72 million-$90 million.
Not anymore. And the great beneficiary of this mess?
New York Yankees
outfielder
Nick Swisher
.
To continue reading this article you must be an Insider
January, 18, 2012
1/18/12
10:05
AM ET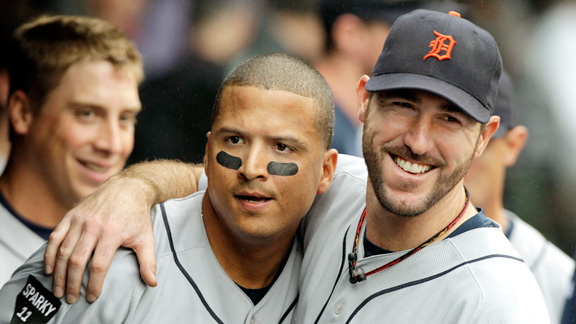 AP Photo/Mark DuncanThe Tigers will miss Martinez's bat and his affect on teammates like Justin Verlander.
After designated hitter
Victor Martinez
tore his ACL during offseason workouts
, the
Detroit Tigers
are in the market for another established hitter.
However, that doesn't mean the Tigers are going to break the bank for
Prince Fielder
. Rather, general manager Dave Dombrowski will dip into the pool of decent hitters still looking for jobs. Though the Tigers likely won't be able to completely replace the 33-year-old Martinez's production from 2011, when he hit .330 with 103 RBIs, certainly the designated hitter/part-time first baseman role is one of the easier positions to fill. And it will be equally as challenging to find a clubhouse presence such as Martinez, who excelled at keeping the team loose and happy.
Here are the top five candidates the Tigers should consider to replace Martinez:
1. Yoenis Cespedes
This would be the best option to replace Martinez. Cespedes is an all-around player who could take over left field and allow the Tigers to move
Delmon Young
back to the DH position. This would improve the Tigers defensively in left and provide the necessary protection for
Miguel Cabrera
so teams don't pitch around him while Martinez is out. Don't put too much stock in Cespedes' inauspicious debut in winter ball. He hasn't seen game action for a while, and teams remain high on him.
To continue reading this article you must be an Insider
December, 1, 2011
12/01/11
12:46
PM ET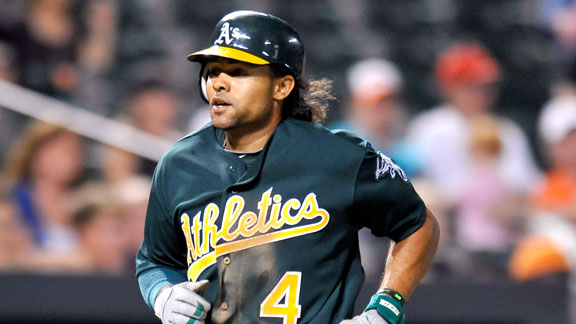 AP Photo/Gail BurtonThe Tigers have outfielder Coco Crisp in their free-agent crosshairs.
• The Detroit Tigers are interested in
Coco Crisp
to help them at the top of the order, as well as Cuban outfielder Yoennis Cespedes, and there are indications that they are open to dealing left fielder
Delmon Young
in the right deal.
• It looks like the Tigers won't be able to pursue
Jose Reyes
or Jimmy Rollins but might be able to persuade
Aramis Ramirez
to take fewer years to play third base for them. The
Milwaukee Brewers
and
Miami Marlins
also are playing on Ramirez. The Tigers re-signed the underrated
Ramon Santiago
, who did an adequate job for them last year. If Santiago had speed or power, he would be an everyday player. Instead he will platoon with
Ryan Raburn
at second base.
To continue reading this article you must be an Insider
November, 15, 2011
11/15/11
12:00
PM ET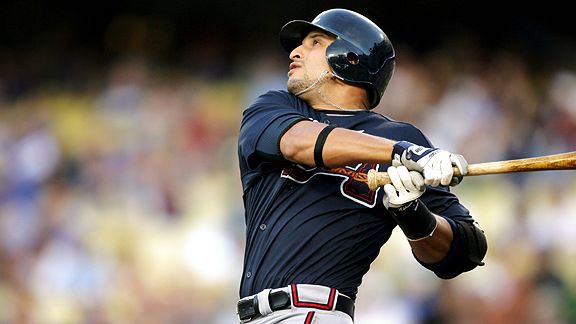 Larry Goren/Icon SMIMartin Prado might be on the move for Delmon Young.
I come across daily tidbits on possible personnel moves straight from the front offices of all 30 clubs. Here's what I'm hearing today.
Possible trades and signings
• There is a trade brewing between the
Atlanta Braves
and
Detroit Tigers
centering around
Martin Prado
for
Delmon Young
. Braves manager Fredi Gonzalez told me he wants an impact right-handed bat. Trading Prado, who can play second, third and left, would sacrifice the Braves' insurance plan for aging veteran
Chipper Jones
, who is a major health risk at third base.
•
As ESPN reported early this morning
,
Los Angeles Angels
GM Jerry Dipoto said his team is interested in left-hander
C.J. Wilson
(
No. 5 on my Free Agent Board
), but his offseason priorities also include an impact right-handed reliever, perhaps
Heath Bell
(
No. 13
). Both Bell and Wilson live in Southern California and want to play in the area, so this is a natural fit.
To continue reading this article you must be an Insider
October, 15, 2011
10/15/11
8:59
AM ET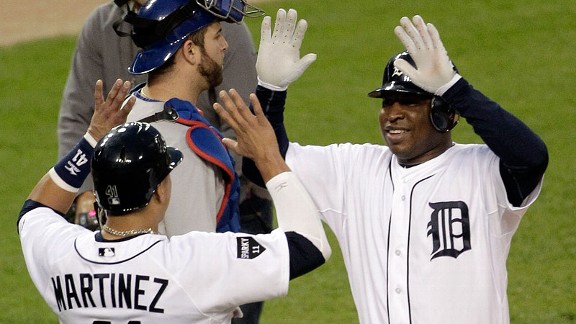 AP Photo/Duane BurlesonDelmon Young has hit five home runs in the postseason.
In retrospect, it could have been a monumental error. After injuring his left oblique in Game 1 of the ALCS,
Detroit Tigers
left fielder
Delmon Young
was placed on the disabled list, effectively eliminating him from the series.
Oddly enough, teammate
Magglio Ordonez
re-fractured his ankle during batting practice before Game 1. Though Ordonez played on it, after the game he was placed on the disabled list, and suddenly Young was back on the roster. On Thursday night in Game 5, Young, along with a
wayward ground ball
, led the Tigers back from the brink of elimination to defeat the
Texas Rangers
7-5. Amazingly, the man who should've been out of commission launched two homers and drove in three runs.
It has been a strange turn of events for the Tigers, a string of good fortune and lucky breaks (Ordonez included) for the Tigers to find themselves going back to Texas down three games to two. Young was acquired from the Twins at the July 31 trade deadline for minor-league pitcher Cole Nelson. The deal has proven advantageous for the Tigers, as the 25-year-old Young has flourished since and should be a core player for Detroit for years to come along with
Miguel Cabrera
,
Justin Verlander
and
Victor Martinez
.
I first saw Delmon Young swing a bat when he was just 12 years old. I had acquired his brother Dmitri in the 1997 offseason. Dmitri brought Delmon to spring training and to Cincinnati, and on occasion Delmon would take BP with the big-leaguers. Even having just turned 13, you could tell what kind of hitter he was going to be. To possess such bat speed and discriminating plate discipline at so young an age was unique.
To continue reading this article you must be an Insider
October, 9, 2011
10/09/11
2:02
PM ET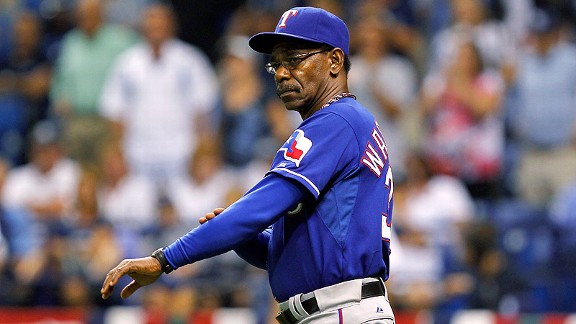 Mike Ehrmann/Getty ImagesRon Washington showed he has several bullpen and lineup options the Tigers simply do not have.
Though it seemed as though Tigers manager Jim Leyland pushed all the right buttons up to this point, his players must execute if they are put in positions to succeed. In Game 1 of the ALCS, one Tiger didn't get the job done on two separate occasions.
Before the game, Leyland told me that
Ryan Raburn
and
Brandon Inge
were going to be keys for the Tigers' offense. With
Delmon Young
out with an oblique injury, the Tigers will be hard pressed to replace his bat. Last night, Raburn did his job in the No. 2 hole by getting on base three times, but Inge failed in both of his RBI opportunities.
In the second inning, with two men on and one out, Inge was punched out on a
C.J. Wilson
slider. Later in the fifth, with a man on second, Inge grounded out. The Tigers' lack of depth can't sustain losing a starter like Young, and it severely hampers Leyland's mix-and-match lineup and defensive strategies. On the other hand, Texas can carry a slumping
Nelson Cruz
until he breaks out because of ample outfield depth, and last night it paid off with Cruz slamming a 396-foot home run in the bottom of the fourth.
Key players to watch:
• In Game 1,
Rick Porcello
relieved
Justin Verlander
in the bottom of the fifth after the rain delay and looked superb. It might have been the best I've seen him since July. His movement was terrific, getting four easy groundouts and striking out
Mike Napoli
with a 93 mph sinker.
To continue reading this article you must be an Insider
August, 15, 2011
8/15/11
6:24
PM ET
The
Detroit Tigers
and
Minnesota Twins
have completed the first major August waiver deal of the summer with the Tigers picking up left fielder
Delmon Young
from the Twins in exchange for minor league prospect Cole Nelson and a player to be named later. I think this is a significant deal for the Tigers.
To continue reading this article you must be an Insider